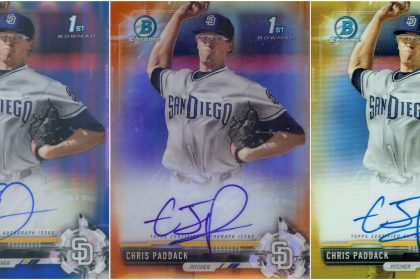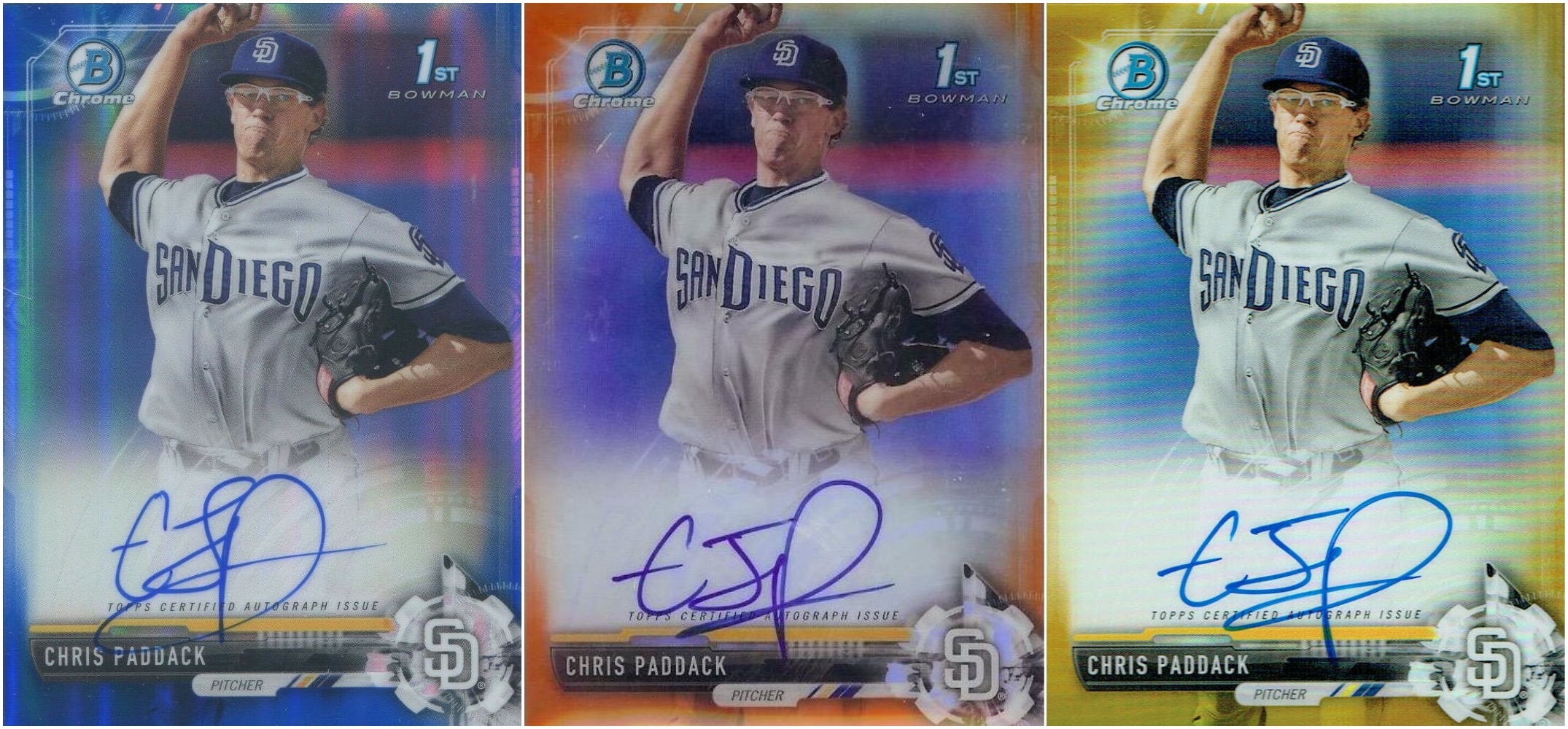 When a team is building up their farm system, which position do they stock up, pitchers or hitters? Minus a few amazing hitting prospects under their control, the Padres have largely been developing pitchers. Their top 10 pitching prospects are better than almost all teams top 10 prospects.
They've got a little bit of everything in their pitching prospects, too. You want an elite pitching prospect? I give you, Mackenzie Gore. You want some high upside teens? Let me introduce you to Ryan Weathers and Luis Patino. You want potential bounce back candidates? Anderson Espinoza and Cal Quantrill, come on down.
Any of the Padres top pitching prospects could become a really good major league starter. At the same time, any of the Padres' pitching prospects could fail to make the majors. Such is the life of a pitching prospect. I have heard 70% of top prospects fail, and the number of failed pitching prospects is even higher than that. When looking at the Padres' list, how do you decide which pitchers are safe bets considering the odds are against you? If it were me, I'd be looking at the players command grade.
Do you know who has the highest command grade among Padres pitching prospects? That would be Chris Paddack. He was given a 65 command grade by MLB Pipeline and a 60 by Fangraphs (the 60 ties for the best on the Padres). If I was banking on one of the Padres pitchers to make the majors and produce, it would be Paddack. To me, he's the safest investment, but unlike most safe investments, he has some upside. Let's take a closer look.
Prospect Overview
Paddack isn't a one-trick pony. Yes, he's got great command, but he also has some plus pitches to go along with it. He's got a plus fastball he can locate anywhere and combines it with a plus-plus changeup. His third pitch is an average/below-average curveball that's good enough for him to not become a two-pitch pitcher. Based on his repertoire, I expect him to be better against lefties than righties.* This is backed up by his pitching splits. Against right-handed hitters, he had a pitching slash line of .241/.267/.354 (AVG/OBP/SLG). While that's great, his slash line of .148/.193/.227 against lefties was even better.
*Generally, a pitcher's out pitch throwing to same-handed hitters is the breaking ball, as it moves away from the hitter. The out pitch for a pitcher throwing to an opposite-handed hitter is the changeup, or something of that type, as it should generally move away from the hitter. You rarely want to throw a pitch that breaks in toward the hitter, which is why most starters need a fastball, an off-speed, and a breaking ball.
Based on Paddack's grades and slash lines, the guy never (well, let's say very rarely) walks hitters. He threw 90 innings last year; he had 120 strikeouts to only 8 walks. He also only gave up 66 hits, four of which were home runs. A pitcher that limits walks and hits doesn't give up home runs, and gets strikeouts is a quality pitcher to have.
Prospect Outlook
To say I'm high on Paddack is an understatement. Based on this guy's command and solid pitches, I expect him to at least be a number 4 pitcher with a high likelihood of being a mid-rotation starter on any team. Once you factor in the Padres' team defense, I could see his counting stats, like ERA, resembling more of a number 2 pitcher. They have above-average defenders at 3rd (Machado), SS (assuming it's Tatis), 2nd (assuming it's Urias), catcher (Hedges) and CF (Margot). They have average defenders at 1st (Hosmer) and 4th OF (Janikowski). That defense should help any pitcher, but especially one that doesn't give players free passes and keeps the ball in the yard. With that being said, I worry about two things: his breaking ball and his health.
His breaking ball clearly trails behind his other pitches. If it's not consistently an average offering, he could have nights he struggles getting right-handed hitters out. I think if he were to gain an above-average breaking ball, he would be my favorite pitching prospect in the minors.
His health is a major concern for me. He's already lost one year to Tommy John surgery. In his other three years, he's pitched 45, 42, and 90 innings. It doesn't matter how good of a prospect you are if you can't rack up the innings. His health and innings limit will be something to keep track of this year.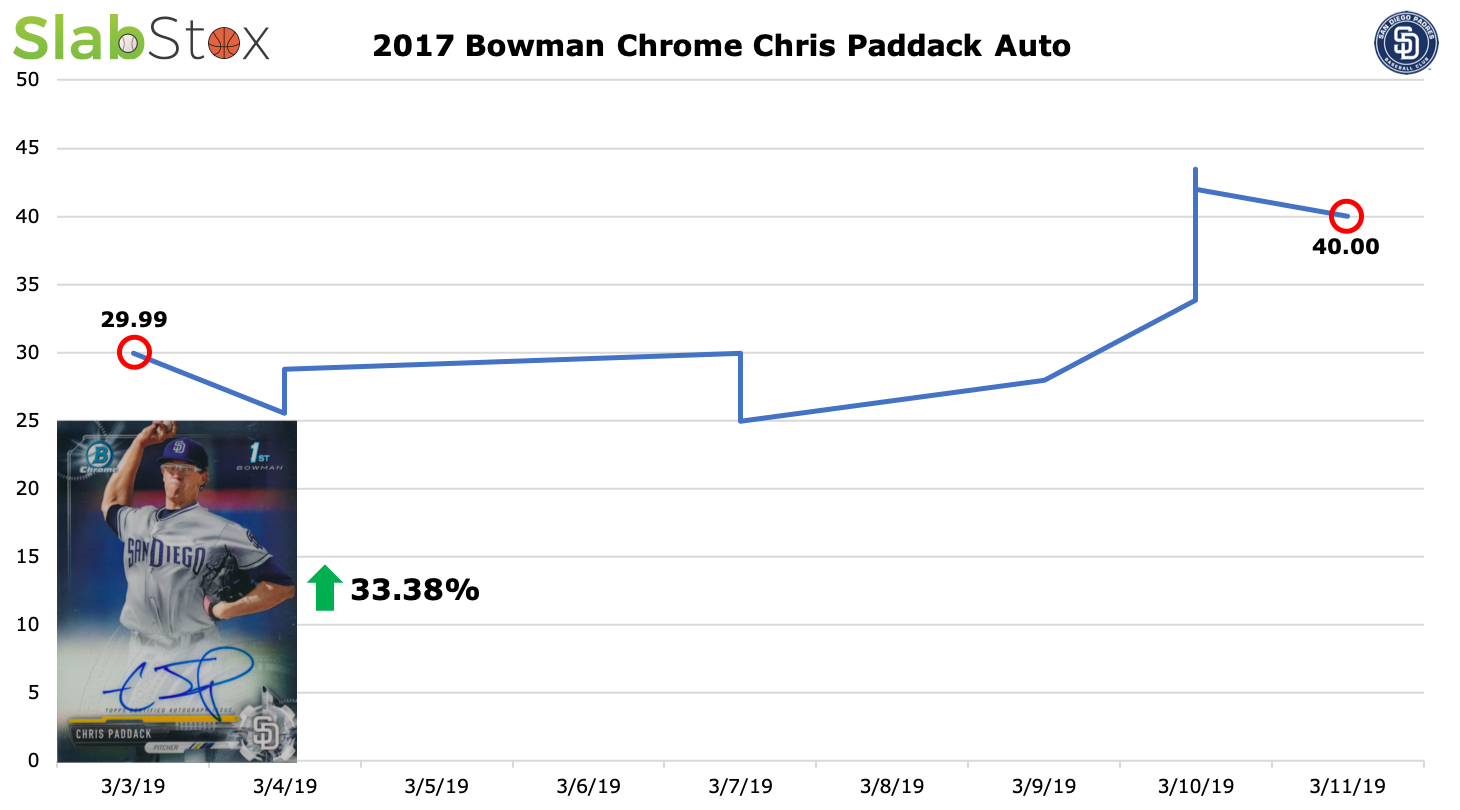 Investment Outlook
Obviously, I really like Paddack. As it stands, he's one of the best bets in the minors to be a solid major league pitcher. I really like his chance to hit his mid-rotation upside, with a chance to be more depending on breaking ball development and the defense behind him.
At $40 a base, I don't know how much more upside he has as an investment. Forrest Whitley's base autos are selling for about $15 more, and Whitley is both a top 10 prospect and has a superior arsenal of pitches, albeit with worse command.
Considering the price levels he is already at, I may buy a base hoping for a big first start or two. I wouldn't want to sink a big investment in him, though. I like the player but don't love the investment opportunity.
Previously on SlabStox: We All Want 1st Bowmans, but Is There Potential in 2nd Bowmans?
Next on SlabStox: Is Kristian Robinson the Best Investment Out There?
Sign up for The Daily Slab email to get the most up-to-date sports card insights straight to your inbox.