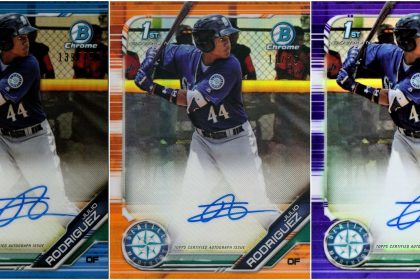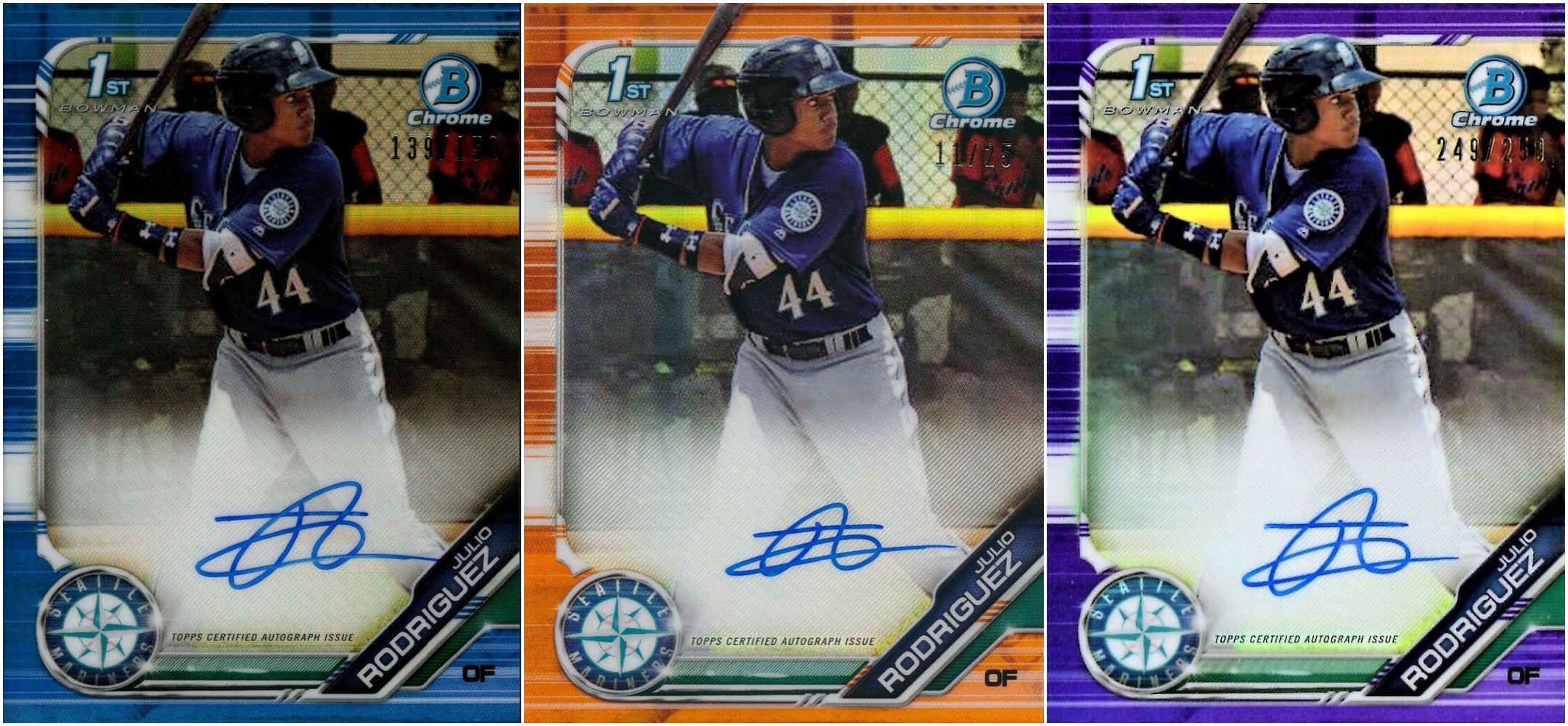 With 2019 Bowman releasing this week, I wanted to talk about one of our favorite prospects on the checklist: Julio Rodriguez. This isn't a full prospect profile like normal, but more quick notes on him since he is so young, and we don't know enough about his auto prices.
When it comes to exciting young hitters, there are not many more promising than Julio Rodriguez. The 18yr old Mariners prospect has everything you could want in a right field prospect. For starters, he has insane power. Baseball America just upgraded his power tool to a 70, citing future 35+ homerun potential. He also appears to have a great eye at the plate, having walked over 10% of the time and only striking out around 15% of the time in his stops in the Dominican Summer League (DSL) last year and A-ball this year. He has a power and patience profile similar to Juan Soto, albeit with more expected raw power.
In addition to a very enticing power profile, Rodriguez has the defensive chops to be average in right field due to a plus throwing arm. While he's not fast, he's apparently no slouch on the base paths either, having stolen ten bases in ten tries in the DSL. He has a chance to be an all-around valuable player with big time power.
While there are many things to like about Rodriguez, I am worried about his pull heavy approach. With his amount of power, no field will be able to hold him (T-Mobile park especially since they moved the fences in a few years back and turned it into a league average home run hitters park, according to Roto Grinders ball park metrics). I worry about his pull happy approach combined with his early career ground ball trends. He had a 47% ground ball rate with a 52% pull rate last year, and this year a 62% GB rate with a 54% pull rate (small sample size alert). If this trend continues, teams will be able to shift on him causing him to hit into a ton of outs. Juan Soto on the other hand has a fairly even distribution of hits per direction, making shifting on him useless.
Julio Rodriguez has a very interesting profile. The power and patience at such a young age screams star potential, especially when that is added to probable league average defender in right field. He has also performed well in A-ball as an 18 year old, so far. While I don't like using A-ball stats as an indicator for future success, I do think there is some merit to using Rodriguez's stats. He skipped over rookie league ball completely, and at 18, is holding his own against "more advanced" competition. However, I would be very concerned about the likelihood of him hitting into cheap outs, via the shift, if he doesn't make some changes to his swing.
If you aren't aware, Rodriguez just suffered a hairline fracture in his hand the other day and will be out for a little over a month. This doesn't change anything about my outlook, due to him being 18 in A-ball, and you won't be buying his prices to try to quick flip.
This article is neither written to tell you to buy or sell at his current prices of around $125 a base auto, as this price point will be changing over the coming weeks. I merely want to better inform you of a player who has tools reminiscent of Juan Soto, albeit with a more powerful and pull-happy approach.
*All unattributed stats are from Fangraphs.
*SlabStox doesn't own any cards of Julio Rodriguez.