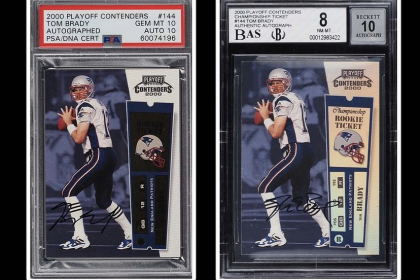 What played out at this big-time auction could impact the card market for every investor and collector. (In partnership with PWCC)
August was BIG. The PWCC August Premier Auction closed at over $13M in total sales, and the extended bidding window yielded massive gains for multiple different items up for auction.
SlabStox has partnered with PWCC to create independent content and analysis of these events. All reporting and insights are fully objective. Our key takeaway: While every collector may not have the budget to bid on Premier Auctions, the results carry over into the hobby at all levels.
The cards below are what the SlabStox team believes to have been the most interesting and noteworthy cards from the recent auction. However, this is not to say other cards in the auction were not worth the time to discuss. Be sure to check out all of the results of the auction on the PWCC website.
Storyline #1: Brady Contenders
2000 Playoff Contenders Championship Ticket Tom Brady Rookie RC Auto /100 BGS 8
This rare and highly sought after Tom Brady parallel sold for just north of $1M, with a final price of $1.02M. With this card being numbered out of 100, graded a BGS 8 and having a pristine 10 auto, it is easy to understand why this card demanded such a high price. Unlike the base Playoff Contenders card, the Championship ticket parallel is much rarer due to it being numbered and being one of the most condition sensitive cards ever made.
2000 Playoff Contenders Tom Brady Rookie RC Auto #144 PSA 10/10
This card ended up being the most expensive card of the auction, fetching a record breaking $2.88M. This particular Brady card is a POP 2, meaning only 2 cards in the world are graded a PSA 10 with the auto also being graded a 10. This card is arguably the most important football card created during the modern era and will only go up in value considering how Brady has cemented his status as one of the all time greats.
The Debate:
Through the half-way point of the August Premier Auction, we ran Instagram polls prompting the audience to vote on which they'd think will/should sell for more. The Championship Ticket /100 got more votes, yet the final sale prices show the exact opposite. The PSA 10/10 POP 2 clearly created a bidding war between investors, as this rose well over $1,000,000 in value over the extended window. The frequency of this card popping up is so low, they saw it as now or never.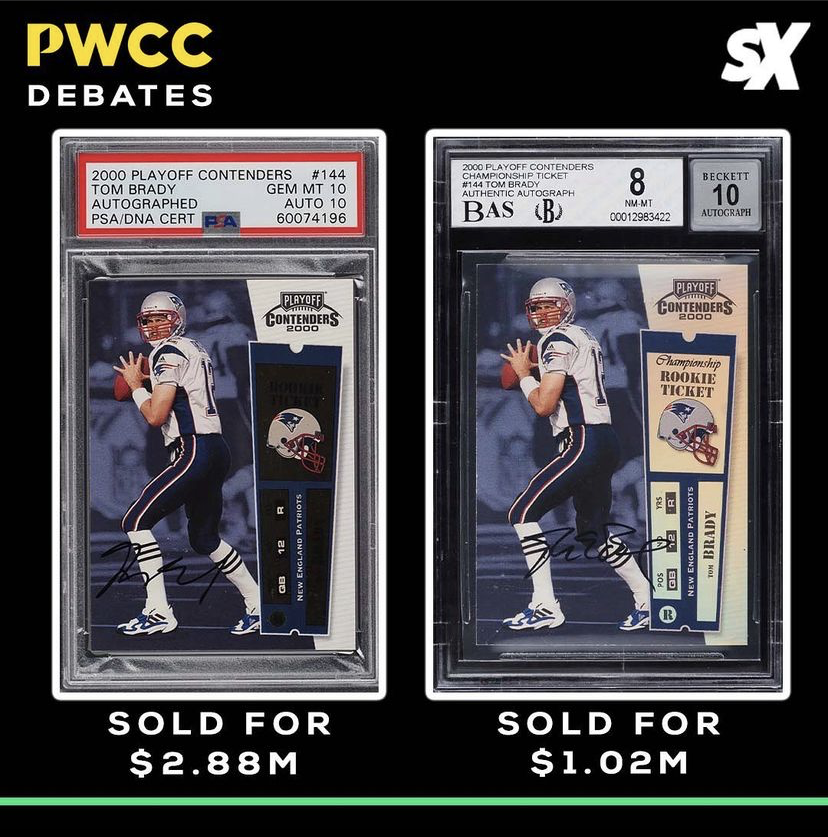 Storyline #2: Luka vs Giannis
2018 National Treasures Horizontal Luka Doncic Rookie Patch Auto /49 #127 BGS 9
A young player who has already established himself as a top player in the NBA, Luka Doncic rookie cards are highly coveted in the sports card market. This National Treasures RPA has a pristine 10 auto grade that comes with a beautiful 3-color player-worn patch. Finishing at a price of $57,600, it is hard to imagine that you could go wrong investing in a player of Doncic's caliber who has a very promising future in the league.
2013 Immaculate Premium Gold Giannis Antetokounmpo Rookie Patch Auto /10 BGS 9
Dubbed the "Greek Freak", Giannis Antetokounmpo has taken the NBA by storm, racking up accolades left and right, with the most recent being an NBA championship. Much like the Luka Doncic National Treasures RPA in this auction, this Giannis Antetokounmpo Immaculate RPA contains a player-worn patch from Giannis and has a pristine 10 auto grade. Gold parallels are one of the rarest and sought after parallels in the market, with this card being numbered 6/10. This card ended on a bid of $60,000.
The Debate:
This was clearly a case of buying the future versus buying the present; however, the present is also the future. The Giannis card is far rarer, more aesthetically pleasing, and features a two-time MVP, NBA Champion, and NBA Finals MVP, yet it barely sold for more than the Luka Doncic. In 5 years, it will be exciting to see how this one plays out.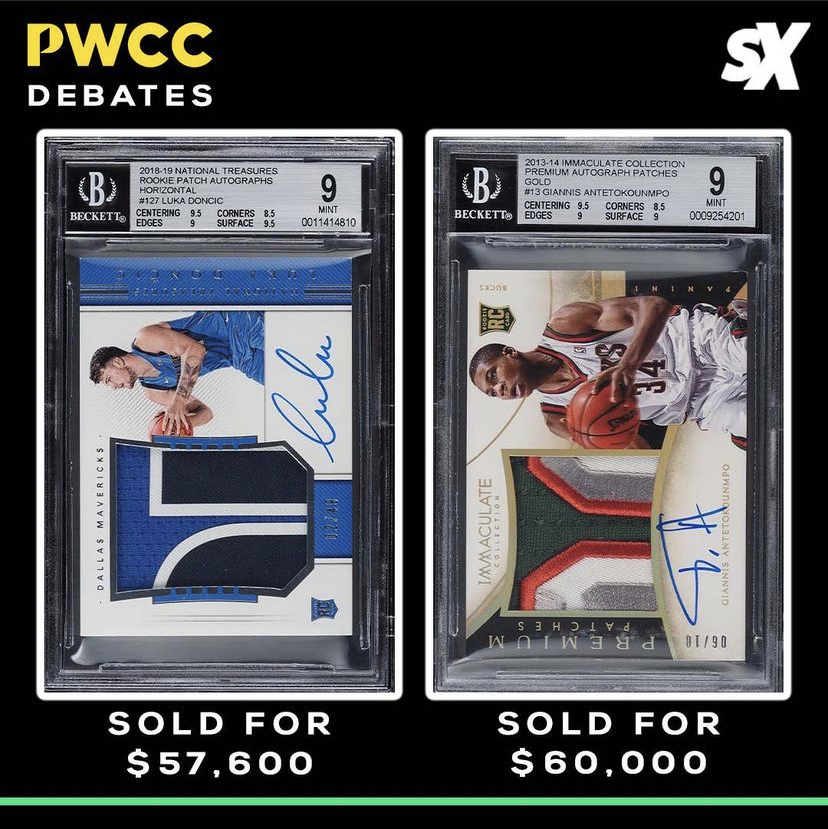 Storyline #3: Iconic Cards
1986 Fleer Basketball Michael Jordan Rookie RC #57 PSA 10
It is hard to name a more iconic basketball card than the 1986 Fleer Michael Jordan rookie card. Jordan is arguably one of the greatest players to ever lace them up, with his rookie card reflecting his legendary status. This card boasts the highest grade from PSA, being a PSA 10, and is one of only 318 confirmed copies. Being how rare it is to get a PSA 10 of this card puts it in elite company and can be rivaled by very few cards. The final price of this card during the auction was $408,000.
2018 National Treasures Luka Doncic Rookie RC Patch Auto /99 #127 BGS 9.5
Rookie patch autos are some of the biggest cards in the industry and the National Treasures RPA out of 99 is frequently compared to the Prizm Gold out of 10. The LeBron James Exquisite RPA /99 from 2003 set the stage for RPA's in the current card market. While this Luka Doncic card might not be on the same level as the LeBron James RPA, it is still a very valuable card. This card is also much more rare than the '86 Fleer Jordan rookie card PSA 10 and is numbered 71/99. The final price of this card was $288,000.
The Debate:
Fleer MJ: one of the most iconic cards ever. NT Luka: one of the most important cards of the 2010's. As of right now, it's clear people still prefer to get the GOAT PSA 10. In the future, we could see the Luka rise to new heights, or we could see it crumble to mediocre status. It all depends on how Luka's career plays out.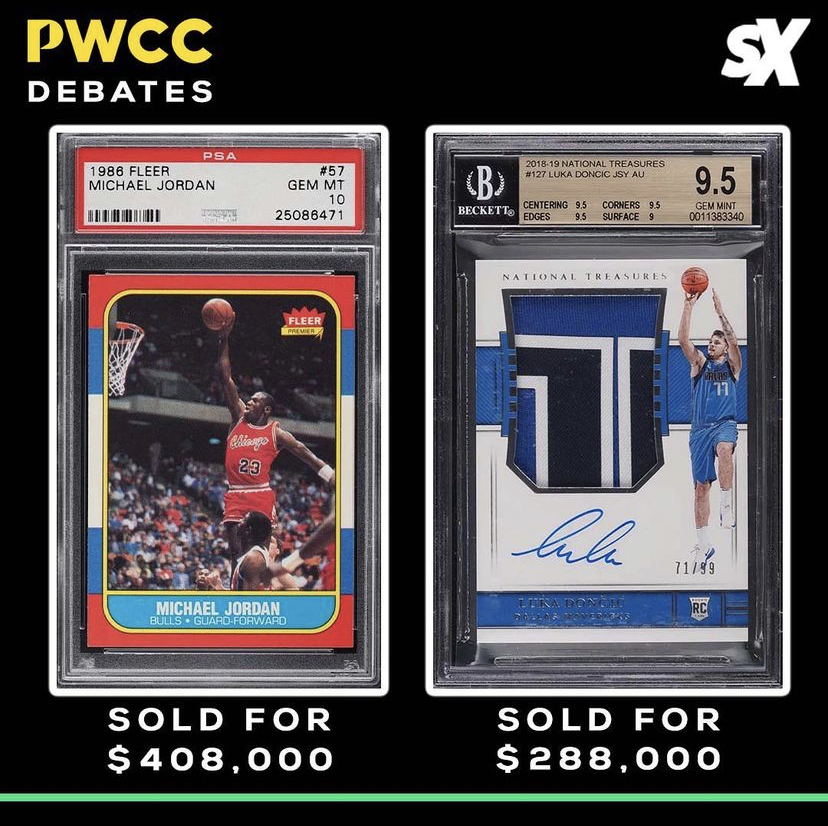 Storyline #4: High-End Haaland
2019 Topps Chrome UEFA Red Wave Refractor Erling Haaland Rookie RC /10 PSA 10
The Norwegian and Borussia Dortmund star forward has been making his mark on the game of soccer ever since joining RB Salzburg back in 2019. Flash forward only two years later and he is one of the most promising young players in the world. This card may not be signed by Haaland, but it is one of the rarest rookie parallels from the very popular Topps Chrome UCL set. Numbered out of 10 and graded a PSA 10, the Red Wave Refractor is a top Haaland rookie card, and it sold for $21,000 during the Premier Auction.
2019 Topps Chrome CL Footballer Superfractor Erling Haaland RC Auto 1/1 BGS 9.5
This Superfractor 1/1 graded a BGS 9.5, with a pristine 10 auto, is a thing of beauty. This card is an insert, called the Footballer Flash, which is also from Topps Chrome Champions League set. Which Haaland card is better is completely a personal preference, since both are huge cards. This card is arguably the most desired insert from the Topps Chrome UCL set, which is reflected through its final price of $42,000.
The Debate:
The 1/1 sold double the Red Wave /10 PSA 10, which was predictable, but there is a real debate to be had for auto versus non-auto cards. Some prefer no auto on the card, especially if it's a sticker, which is why we see these prices closer together than some might think given the rarity/status of an auto and superfractor.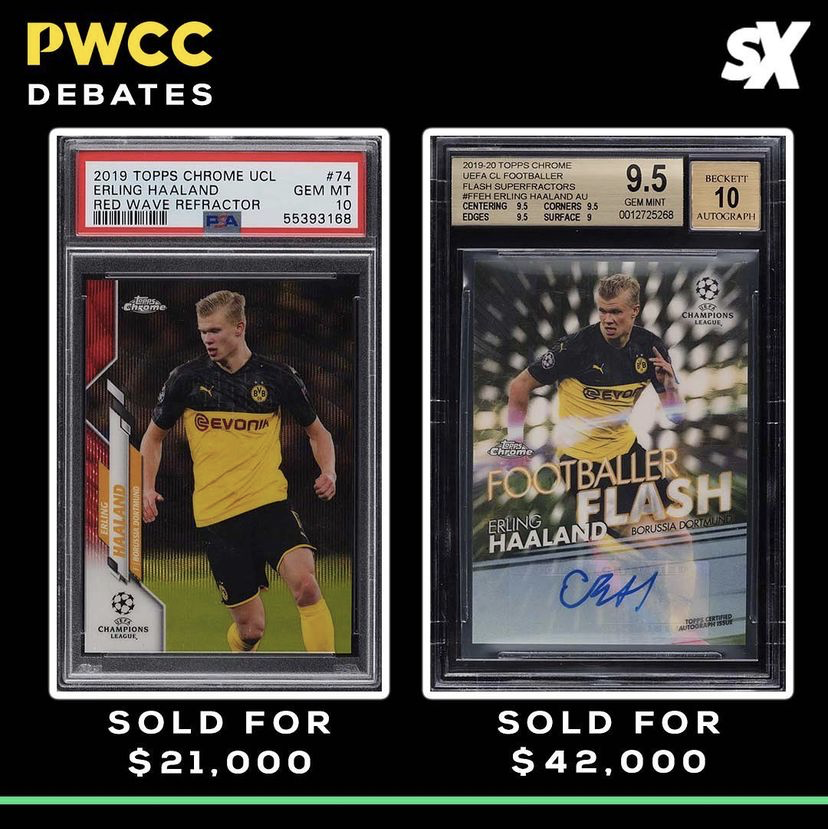 Storyline #5: Ohtani Autos
2018 Bowman Chrome Blue Refractor Shohei Ohtani Rookie RC /150 PSA 10/10
Being one of the hottest players in baseball, both on the diamond and behind the plate, Shohei Ohtani has been tearing it up in the MLB. This Ohtani card is very important because it was one of the first main cards released of Ohtani. Since he came from Japan there was no "1st" Bowman Chrome autograph. Being a highly sought after Blue Refractor with a PSA 10 and 10 auto makes this a super historic card. Many people consider the Bowman Chrome auto as the top in the market, which can explain why this card sold for $21,000.
2018 Topps Heritage Real One Red Ink Shohei Ohtani Rookie RC Auto /69 PSA 10
This card is also incredibly important and pays homage to the 1969 Topps production. Just like the two Haaland cards, it is completely subjective as to which card is better. So many people love Topps Heritage, especially the Red Ink autos. Ultimately, you cannot go wrong with an Ohtani card of this caliber, which sold for $36,000.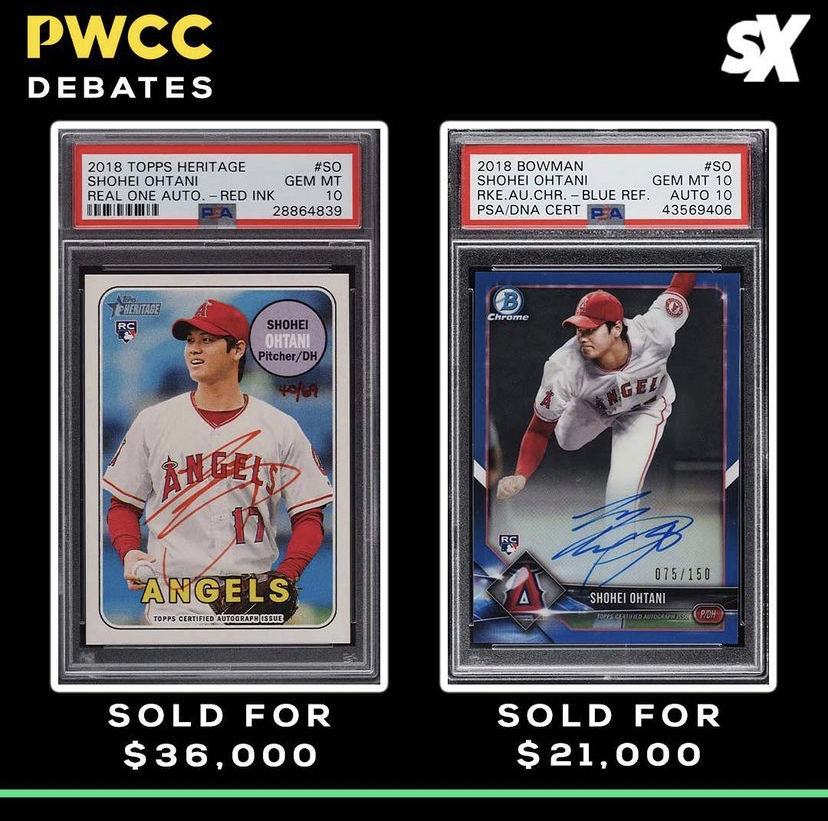 If you didn't get a chance to track this month's auction items for the PWCC Premier Auction, be sure to check out the next one in September. Again, this auction may not be for everyone due to high-priced items, but it is important to understand what is happening in these auctions as it will have an impact on the card market for the everyday investor.
Head over to the SlabStox Instagram recap post and drop your thoughts on the PWCC Premier Auction results in the comments.