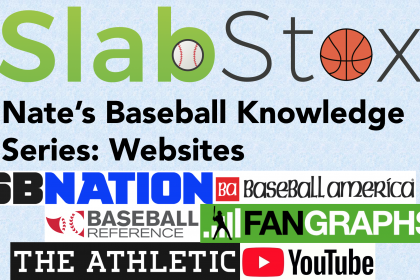 A while back, we started a series that provides valuable resources for different baseball purposes. The first article was on Twitter profiles you should follow to help build your knowledge of prospects and baseball in general. The second installment in this series will be covering websites I use to gain baseball knowledge.
When it comes to investing in cards, gaining as much knowledge as possible is paramount. There are many ways of going about this, but one of the simplest ways is to find websites with good information THAT YOU TRUST. Obviously, the amount you trust a website comes down to personal preference. For me, I would never use an article from a site like Fansided to base my investments on, and I'd really have to trust the specific writer on an SB Nation site to use their info. On the flip side, I trust almost everything from a website like Fangraphs because they do a good job hiring qualified writers. Trust is very important in this process. If you don't trust the website/writer and invest in a player, you'll be more likely to overreact to a poor week and sell, when patience is key with that investment.
I'll cover some websites I use and trust for my various prospecting needs. A good thing to note is with the end of the baseball season approaching fast, these websites aren't as valuable now. They will become immensely valuable in November and December for off-season research. First, we'll cover the free websites.
Free Sites

Baseball-Reference.com – B-REF is one of the most useful statistics website on the internet. It has all of your basic stats and OPS+. OPS+ takes a player's on-base plus slugging percentage and normalizes the number across the entire league. It accounts for external factors like ballparks. It then adjusts the numbers so a score of 100 is league average, and 150 is 50 percent better than the league average (per MLB.com). It is also valuable for their splits page on each player, the transaction history on a specific player, and basic contract terms.
B-REF has a Play Index that costs money but is an extremely valuable research tool I use often when writing articles. The Play Index gives you access to B-Ref's entire database of stats and allows to you make specific searches (ie. you can put in hitters with an over .400 OBP, under .300 AVG and over 40 doubles, and it will give you every player who has ever hit that criteria and the year they hit it in).

Fangraphs.com – Another really good website for stats, especially advanced stats. They also write articles, have videos of prospects on their Twitter and Instagram pages and do extremely valuable live chats during the week with various writers. The most valuable chats to use as card investors are by Kiley McDaniel and Eric Longenhagen. They both cover prospects, so it's nice to be able to pick their brains directly (if they pick your question). One of their most valuable articles that I missed the past couple years, but stumbled upon unfortunately after the season started this year, was their Picks to Click.
Obviously, there are a ton of players on this list and not all of them hit, but a solid number of them have gone on to have good years including my guy Josiah Gray.

SBNation.com – Like I stated earlier, it comes down to trusting the particular writer of article you're reading. The nice thing about SB Nation is they have team specific sites for every MLB team. Some sites like brewcrewball.com (BCB) have daily prospect updates for every player in their organization; in BCB's case, it's Brewer prospects.

MLBTradeRumors.com – If you don't have Twitter, this is an extremely valuable source for staying up to date on all the rumors, trades, injuries, hirings and firings in the MLB and MiLB. I should mention even if you do have Twitter, it's nice because stuff gets lost in the shuffle on Twitter from time to time.
TheBaseballCube.com – Useful when looking up a particular players college stats.

YouTube.com – You probably all know this, but if you're looking for a specific thing about a player's game, you may be able to find video of them on Youtube. Like this video of Jarred Kelenic and Julio Rodriguez hitting.
BaseballSavant.com – They run Statcast for the MLB. Also great for finding matchup stats and batted ball profiles on player pages.
beyondtheboxscore.com – In their own words, they are a saber-slanted baseball community. They focus on more in depth articles on certain trends within a player's game. Always interesting reads and can be useful if they cover one of your players.
Paid Websites

BaseballAmerica.com – BA covers various facets of the baseball world with articles, lists, podcasts and videos. To access all of their content, it'll cost you around $70 a year. I've used it in the past and have gained tons of valuable information from them. The one thing I don't like is they don't have their prospect evaluators produce all of the team top prospect lists. Tom Haurdicourt, who is the Brewers beat writer, writes the Brewers top 20 list every year. While I don't doubt his writing or general knowledge of the Brewers, he's not a scout nor does he deal with the players in the minors on a day-to-day basis. I'm sure he gets advice from their prospect evaluators when creating the list, but it would make me more trusting if they covered it themselves.

TheAthletic.com – Another website that is going to cost you, but not as much as BA. Right now, you can get a year subscription for $48. The Athletic has team coverage and general baseball coverage by many well respected journalist. They also snagged John Sickels, formerly of Minor League Ball. to write about prospects for them. I have always enjoyed his top prospect lists. They also grabbed Eno Sarris, formerly of Fangraphs, to cover baseball analytics.
BaseballProspectus.com – B-Pro has two levels of subscriptions: premium for $45 and super-premium for $67. B-Pro covers various baseball topics, including a top prospect list. Their big draw is the stat DRA which is a better indicator of how a pitcher is performing than ERA or FIP. A second big draw is their PECOTA projection system which projects player and team performance over the course of the year.
Free but Hit or Miss
TheRinger.com – I really enjoy Ben Lindbergh, Michael Baumann and Zach Kram's baseball writing for The Ringer. The problem is for every baseball article that's put out, there are a trillion basketball, football and pop culture articles published there (I also really enjoy the rest of their content, but wish there was more baseball). The baseball articles that are put out there are always interesting and enjoyable to read.
ESPN.com – If we're being honest, I never use ESPN for baseball info. I know their head baseball writer, Keith Law, is well respected in the game, but I've never really liked his prospect lists. He also has a history of going after people on Twitter, which is unprofessional at best. With that being said, there can still be nuggets of useful information on ESPN.
Not all the articles on ESPN are free and you'll occasionally need ESPN+ to read an article. The good news is if you're a fan of sports, Cable TV shows, and all things Disney, you'll soon be able to get ESPN+, Disney+, and Hulu in a bundle for $12.99.
Wrap-up
Hopefully this list of websites will give you a better baseline of where to start when researching prospects. A lot of these websites are valuable for a specific thing or two, so you'll want to use them all when researching a certain player. If this seems like a lot, especially in connection with our previous Twitter list, remember, the more knowledge you can gain before making an investment, the better. If you have any questions regarding this list or any of my research methods, please reach out to our SlabStox account on Instagram, and we'll be happy to help.
Happy collecting!
*We were not paid to promote any of these websites or give subscription prices.
---
Looking to get more connected to the hobby? Sign-up for our free weekly newsletter, The Sunday Slab!