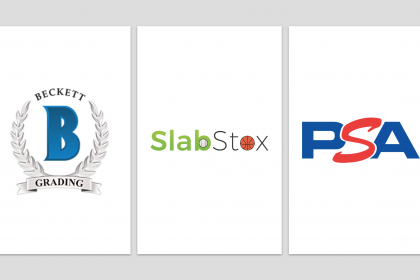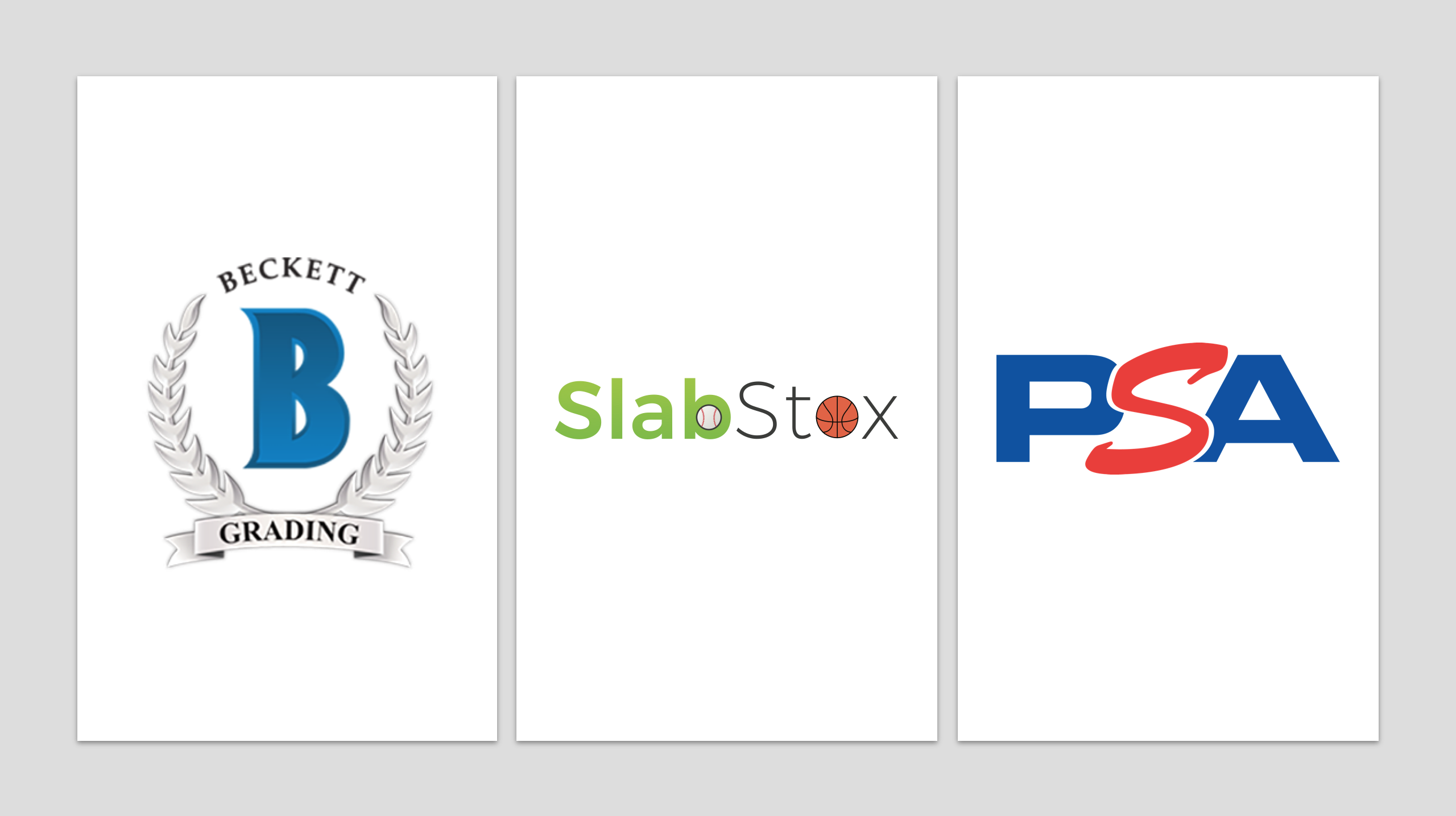 After refining it for a month, the SlabStox grading multiplier is here.
Right after I published my color multiplier, I got to work on a grading multiplier. I had over 1,000 data points in the color multiplier, but there were a few shortcomings (relevant time period to sales which skewed some results). I tried to make those tweaks with this grading multiplier, and later at some point, I will update my color multiplier and make it as cohesive as possible with the grading multiplier.
This grading multiplier was created using over 1,200 base auto sales from the past few years. I tried to pull in a diverse amount of time periods accounting for differences in prospects' life span, meaning, not every sale was taken when they were top ten prospects.
Of those 1,200 sales, players included are: Brendan McKay, Royce Lewis, Heliot Ramos, Alex Kirilloff, Keston Hiura, MacKenzie Gore, Kyle Lewis, Keibert Ruiz, Carter Kieboom, Sixto Sanchez, Bo Bichette, Jesus Luzardo, Kyle Tucker, Nick Senzel, Jazz Chisholm, Forrest Whitley, Victor Robles, Eloy Jimenez, Juan Soto, Vladimir Guerrero Jr., Fernando Tatis, Alex Bregman, Ronald Acuña Jr., Mickey Moniak, Estevan Florial, Andres Gimenez, Nolan Gorman, Nico Hoerner
Before viewing and using the grading multiplier, there are a few notes to point out.
This is NOT a be-all, end-all grading multiplier. It is impossible to create a hard multiplier since there are a lot of things that go into graded card pricing (POP report, subgrades on a BGS 9.5, skill of prospect, position). This is an attempt to provide you with something that can get relatively close to what a graded card multiplier should be! Use it as you would like, but do not use it to figure out what every single raw card would be worth if graded.
This does not work for top five prospects. You may say, "but they're the most traded; it should work for them!" True. They are the most traded. That means you can go to eBay, and there are plenty of completed auctions to give you a value for your BGS 9.5s and PSA 10s, so you should not have to use a multiplier. I have provided an example below of what the multiplier does to top five prospects.
So, there are no completed sales for your BGS 10 or BGS 10 Black Label of a top-five prospect? Well, you're in luck! These BGS 10 and BGS 10 BL multipliers are a rough outline of what yours could be worth. However, BGS 10s are volatile, and it all depends on what a person is willing to pay at a certain time. So, take the BGS 10 multipliers for what it's worth, which could turn out to be not much.
For the Black Label multiplier, I wanted to get a decent group of prospect sales that would create a general multiplier. I used Brendan McKay, Heliot Ramos, Nick Senzel, and Ronald Acuña. The multipliers for each were 8.46, 7.36, 7.39, 4.96, which led to an averaged multiplier of 7.04. If I did not include Acuña, it would be 7.74. Use whichever number you like.
Currently, this is just for base. But like I said, in the future, color will get its own treatment.
Enjoy it! This is a fun tool you can use to play around with different prospects and see how far or how close away it is from your investment pieces. I'd love to hear some feedback on the +/- of a couple different players you have investment interest in to see the accuracy!
The Multiplier (Base x Multiplier)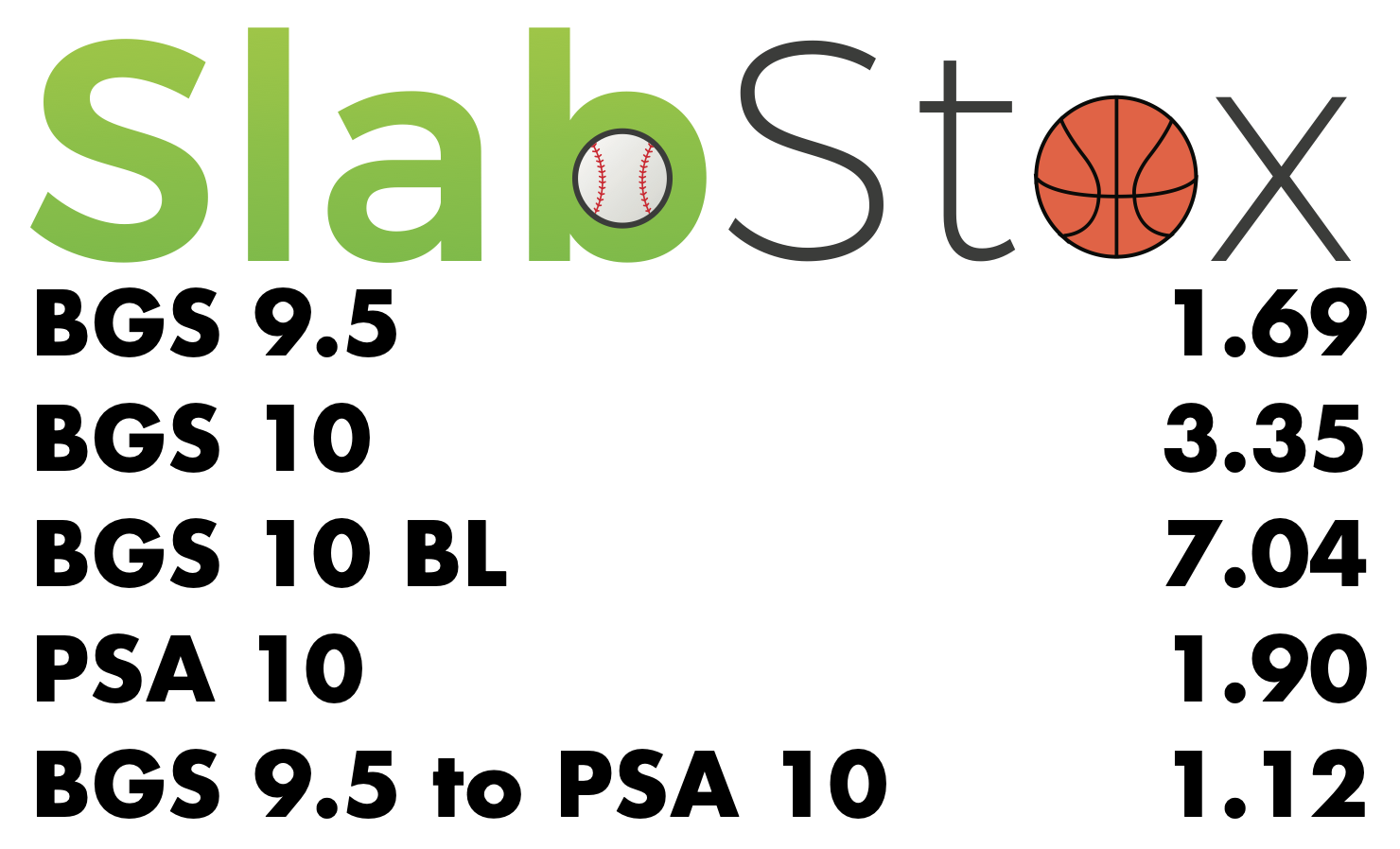 To use this multiplier, you take the present value of a Base Bowman Chrome auto and multiply it by the number corresponding with the grade of your desired card. For the BGS 9.5 to PSA 10, take the value of a BGS 9.5 and multiply it by 1.12 for a PSA 10.
Now for some examples.
Listed is each prospect's multiplier prices (based off of recently sold base autos), their actual value of the graded cards, and then the difference between the multiplier and the actual value.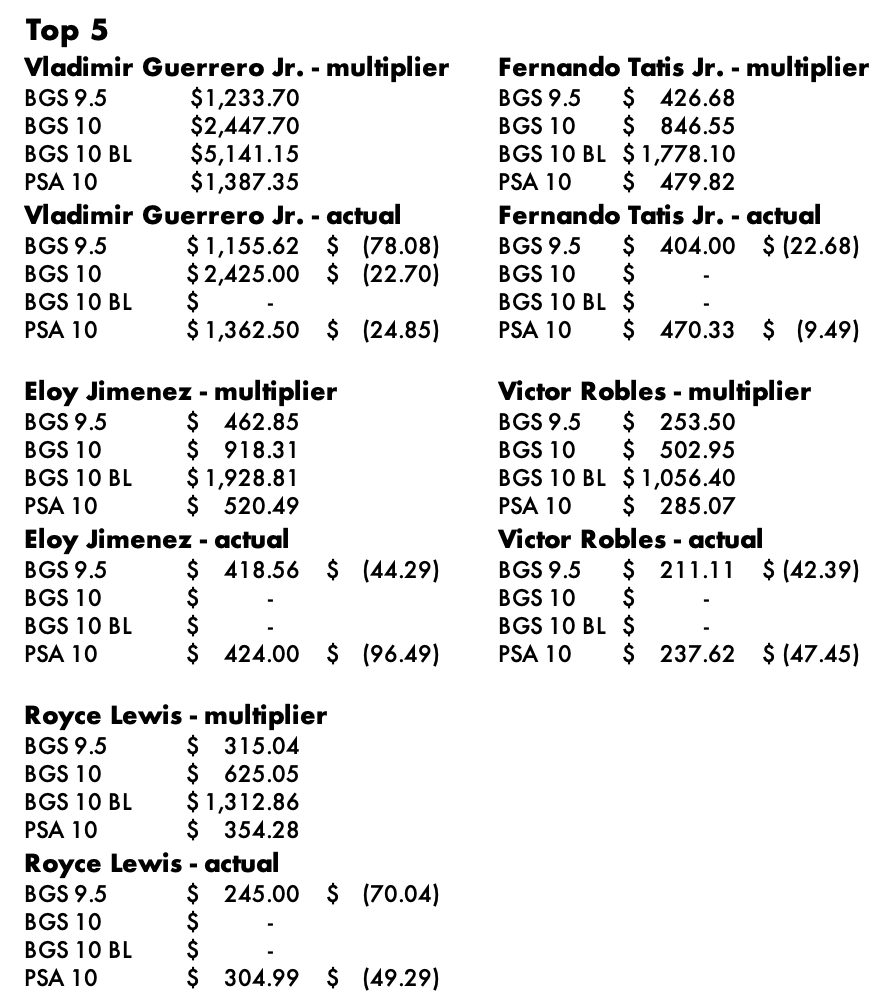 For the top five, there is a big difference. The closest one is the Fernando Tatis PSA 10 within around $10. The good news is there are plenty of eBay sales for you to judge your cards off of, so there is no need to use the multiplier on those guys.
To give a glimpse into the actual multiplier of top five prospects, here are their current numbers.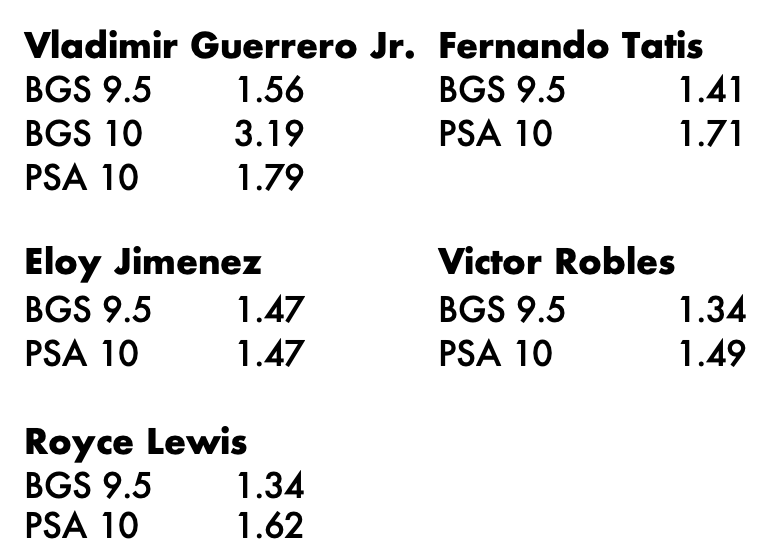 Next up are four top 100 prospects to show how the 25 to 100 range compares. In my opinion, these are closer to the type of prospects a multiplier would need to be applied to anyways.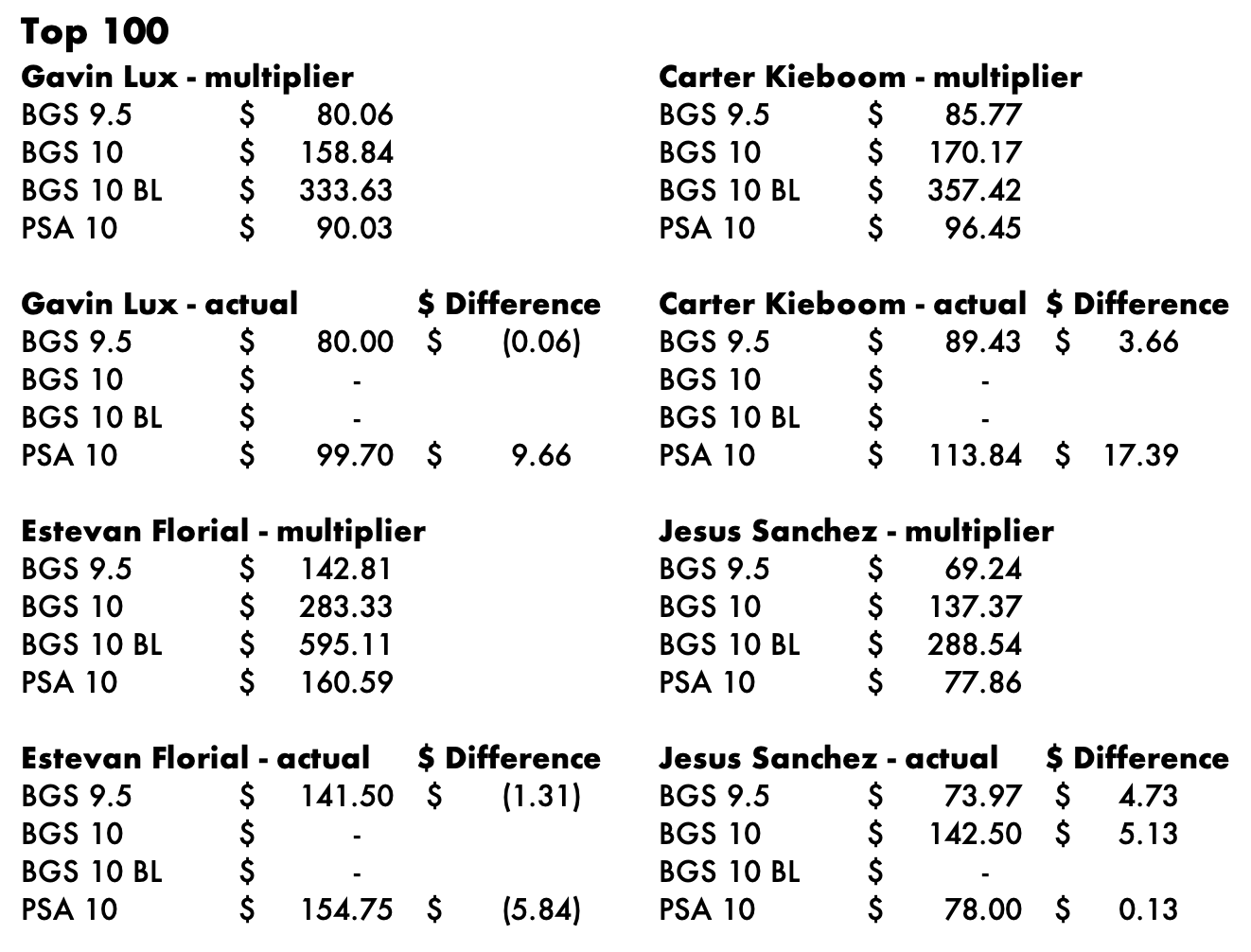 Out of these four, the Gavin Lux PSA 10 and Carter Kieboom PSA 10 are the biggest discrepancies. I did some population report research, and there are 60 Lux PSA 10 base autos and 72 Kieboom PSA 10 base autos. Compare that to the 180 Jesus Sanchez PSA 10s, and we can see where the price difference is coming from.
If all of the actual BGS 9.5 to PSA 10 multipliers of the prospects above were averaged, it would be 1.17, which is close to the SlabStox multiplier of 1.12.
My hope is this answers some of your questions based on the price difference not only between ungraded and graded, but PSA and BGS as well. Clearly, the BGS 10 potential is worth it for cards that appear to be Pristine. However, if there are cards you think are either BGS 9.5s or PSA 10s, PSA will yield the higher value.
Previously on SlabStox: Stop, Drop, and Sell: 4 MUST Sell Prospects
Next on SlabStox: BGS 9 and PSA 9 Multiplier
Sign up for The Daily Slab email to get the most up-to-date sports card insights straight to your inbox.