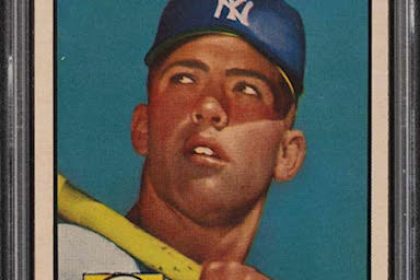 A conversation between @SlabStoxAaron and the man who just blew up sports card record books
On January 14th, the modern day holy grail for sports cards was auctioned off by PWCC Marketplace. One of the most coveted baseball cards, the 1952 Topps Mickey Mantle rookie card PSA 9, was purchased by actor and entrepreneur Rob Gough for a record $5.2 million.
This card sent waves through the entire card industry and is drawing more eyes to this exploding market. The card last sold in 2018 for $2.8 million to an unidentified buyer, and now has been sold for an 85% return on investment. This most recent transaction will likely shape the sports card market for the foreseeable future.
SlabStox's CEO and Founder Aaron Nowak sat down with Rob to talk about how the sale went down, what it means for the card industry, and where we go from here. Rob explains how massive transactions like this will continue to grow the sports card market, and how to continue to build the hobby through a younger generation. (This interview has been edited for length and clarity.)
AARON NOWAK: First off, how are you feeling after that purchase? What was your initial first reaction after getting that card in your hand?
ROB GOUGH: It feels great man. That's the card for me. So to own it and to have it is just incredible. I'm pumped.
AN: When did you first start looking into sports cards as an investment? Have you collected them in the past? How did that process play out?
RG: I collected as a kid and really loved it as a young guy. Then I got out of it as I kept growing, and then finally got back into it in August 2020. I just started and got into it pretty heavy and pretty fast. I started pumping in and buying a lot, and this particular Mickey Mantle card obviously as a kid was the card that was the face of the hobby back then, and it still is today. So I got back and was like, "Oh my god I got to have that card". I first bought a PSA 5 of that card, and tried to chase the game of what's going to go big, but then I was like, I'm just gonna buy the stuff that I love and I think is so iconic and cool.
AN: What was your first initial purchase, or what was the first market you got into? Was it looking into vintage to start, or more in the modern?
RG: I'm more of a vintage guy, but my portfolio is very diverse just like a stock portfolio. I do have the modern for the penny stock, but it's very small. I do have vintage, and I've also diversified into baseball, basketball, football, and a couple other things, as well.
I dove in really fast. I have a text group that I talk to a bunch of guys that collect and I have gotten to know really well over time. I obviously talk to every expert as I'm buying cards and trying to find cards. Sometimes a 30-minute conversation turns into 3 hours, which is insane for my schedule.
When you dive in it just becomes so fun and addicting. It is such a great hobby. I just really dove in, and dove in hard.
AN: Was there something else for the big million dollar price tag that you were considering, or was the Mantle the only card? Did you try to weigh options when looking at it?
RG: Yeah of course. You want to make sure you're investing that kind of money into the right card or the right portfolio. I looked at maybe a hybrid of new versus vintage, that way maybe you can get the upside and then the vintage play is more safe. I definitely looked at a lot of options.
At the end of the day, this card has little downside in my eyes. It's like a piece of art and it is just so iconic that I don't see it ever going down. Maybe it's not going to go 10X like a Zion would, and the returns maybe would be better if I went that route, but for me this was the best route. I think this card is highly undervalued because if you look at other iconic cards, they have all 10X or more than 10X. Just look at LeBron James Topps Chrome…same with Jordan, Gretzky, and Jackie Robinson.
All of these guys have had a 10X multiplier in a short period of time, and this card being the most iconic and essentially the face of the hobby for however long, it didn't have that 10X. I saw a massive opportunity from a value standpoint, plus for me it's art. It just made so much sense in my eyes, and to be able to even source the card and have the opportunity to buy it, there's no way I could turn that down.
AN: In terms of the deal and how it went down, how did you go about this? Did you contact PWCC with a list of cards you're looking to get, or did you do a lot of the leg work yourself?
RG: I'm pretty aggressive so I've got several people hunting for the rarest things and for undervalued assets. After pushing and pushing, finally something came to surface. I was working with Jesse at PWCC for a while and just trying to shake something loose and do a big deal, buy something incredible, and find this card.
The problem with that Mickey Mantle card is that they are all in strong hands. I tried to buy a lot. I have a PSA 4, 5, 8 and I had a 6 that I sold to a good friend, Steve Aoki. I was trying to buy a lot of these because I like to complete every PSA grade, but these things are not like a Zion where it's flipped and people are just trying to make a quick buck. These [1952 Mickey Mantle cards] are in strong hands, and that to me shows that it's a strong card, and it is more than a card. It's art and different.
We just kept pushing, and Jesse said, "Hey, I've got the best PSA 9 in existence in our vault. I don't think it's gonna be for sale, but we can give it a shot." I just said you miss everything unless you go for it.
AN: Are you looking for something in the basketball market that may be equivalent to the Mantle, not in value or not in the most recognizable card of all-time, but something in the basketball card market that you would value in the same way?
RG: I think there's different plays in basketball. It's definitely been pumped recently and the prices have gone skyrocket. I've got a couple PSA 10 Jordan rookies. Obviously those numbers have gone nuts and I think they'll continue to go nuts if you look at these athletes to see that they're signed to Jordan and love Jordan. There's only 317 of these cards, so how many athletes would love to have the mint 10 Jordan Rookie.
Just because you have these athletes making so much money and they love Jordan, they've got to have that card. Personally I like more rare things. If you look at guys breaking these 1986 Fleer boxes, the pop report is only going to continue to rise.
I bought a 1984 Star 101[Jordan] card in a PSA grade because that could be his real rookie in addition to the Fleer, and PSA only graded 9 of them. That for me was the rare play, small population report target. The population report won't rise.
AN: How do you think "Big Money" will continue to alter the card market? And do you foresee this to continue into 2021 and beyond?
RG: Yeah, I think it is being recognized as a new asset class. It's always been that and has outpaced the S&P 500, which is incredible. I think more and more people are realizing that art could be counterfeit, and now that there's technology behind cards with grading systems and more technology coming in, I think it'll continue to rise for the long haul.
There's people who are speculating if it is a bubble or if it is not a bubble, or is it going to go away after the vaccine comes out. I've analyzed the data tremendously and I've looked at 2016 where there was a pop in the values and then it dropped a little bit, but this is completely different than from what I've seen in the past. I definitely see this as a long-term asset class that will continue to rise as more and more people come in. Therefore, with more demand and the same supply, the prices will continue to go up. It's just basic economics.
AN: How do you see companies out there tailoring to people with low budgets? We really need that big money and big companies to drive the market forward, but we gotta remember all the people that just started out with no money like myself.
RG: You gotta keep the young guys and the people without money just like you, or just like me when I got in. I didn't come from a wealthy family, so you gotta keep those guys in. That's where I think you gotta make sure packs don't become too expensive, and make sure packs are available to those young kids and don't just sell out online so fast that no one can get them.
You have to keep the opportunity for young guys to stay in, or people without tons of money to be able to stay in the game.
AN: Where do you think your spot in the market is, and how do you want to help further the market going forward?
RG: Initially I was very quiet. I bought Babe Ruth rookies, and different things that have been written about, but I was very silent. This one, it kinda just went crazy! The cats out of the bag.
I definitely love the industry and I want to see it thrive. I think there's a lot of things that I can add to it. I'm definitely working on ways to be more heavily involved and would love to do that. If you can do what you love, then it's not really work, and I definitely love this hobby and where it's going.
Check out the full video interview.