Are sports cards making a run as we turn the calendar to March? Let's see if the crack of spring training bats, the promise of an exciting March Madness, the push to the NBA Playoffs and the return to the high-flying Formula 1 grid ignites the sports card market. From our perspective, card shows have been hot and we've been traveling to as many as we can on the weekends. Why? They're the place for deals.
Take 1: New Rules = Excitement for Baseball and Collecting
Take 2: Going Crazy for Bowman Chrome University
Take 3: Card & Market Trends: SX100 Sports Card Index
Take 4: F1 Returns to Grid and Topps Chrome '22 Accelerates
Take 5: Who's Hot / Who's Not
Looking ahead: Shows, product releases
Join CardTalk Pod as @LouGeneux and @SlabStoxAaron debate takeaways from this Card Market Report to help you in your card-collecting journey. Stay tuned to social media for updates.
If you want to receive this SlabStox Card Market Report every month to your inbox, subscribe to SlabStox's FREE Daily Slab newsletter.
DISCLOSURES: 
All market data in this report is from Card Ladder. Card Ladder is an independent, third-party partner of SlabStox, providing card collectors and investors insights to make informed, data-driven decisions. Every investment and trading move involves risk. Do your research before making any decision. 
SlabStox does not own any of the specific cards represented in the SX100 Index. SlabStox owns cards of Marcus Rashford, Juan Soto, Garrett Mitchell, Pierre Gasly. 
5 Takes from the February Sports Card Market
TAKE 1: New Rules = Excitement for Baseball and Collecting
While most people monitor the shift to spring with warmer, longer days, baseball card collectors look to spring training as the telltale sign that change is in the air. This year, the return of baseball is more exciting than ever with new MLB rules to speed the game up. And the baseball card market has been buzzing in the early going.
Let's start with the rule book. The MLB had a pace-of-play problem leading to less excitement for regular season games. They decided to combat both with multiple rule changes. The big changes are:
Banning the shift
Adding a 15 to 20 second pitch clock
Limiting mound disengagements per at bat
Limiting batter disengagements per at bat
Enlarging bases from 15 inches to 18 inches
In early spring training these new rules have worked. According to a tweet from @CodifyBaseball, there were 37 games in 2022 with 87 plate appearances. The average run time of those games was 3:41. The second day of spring training had an 87-plate appearance affair between the Mets and the Cardinals. That game ran just a sliver under 3 hours at 2:59. Faster games with more hits, more stolen bases and more runs is exactly what the MLB wanted. The fans and card collectors will likely embrace the exciting changes too.
On the spring-training diamond, a trio of big-name prospects are starting off hot: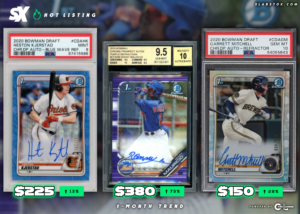 Heston Kjerstad: Kjerstad was the former No. 2 overall pick in 2020 by the Orioles. He missed the rest of the 2020 season due to COVID and the 2021 season to injury. When he finally came back healthy in the middle of 2022 as a 23-year-old, there was hope he would get off to a fast start. In 22 games in A-ball last year, he hit .463/.551/.650. He then struggled in A+ ball before breaking out again in the Arizona Fall League. Coming into his first spring training, expectations were high and Kjerstad has delivered—he has 4 hits and 2 HR in 4 AB.
Ronny Mauricio: Mauricio was once the 11th ranked international prospect by MLB Pipeline back in 2017. He made the top-100 prospect list (98th Baseball America) in 2019 and his Bowman card debuted the same year. His card was a chase along with Wander Franco, Julio Rodriguez and Marco Luciano. While his career hasn't gone as planned, it appears to have turned a corner. In the Dominican Winter League, Mauricio hit .287/.335/.468 with 5 HR in 46 games. In early spring training, he has been even hotter with 2 HR in only 5 AB.
Garrett Mitchell: Mitchell is an all-around excellent athlete who slipped down draft boards due to hit tool concerns when hitting for power. The Brewers pounced on him with the 21st pick. While the same pre-draft concerns are still there, early spring training has revealed signs of improvement. In 6 AB, Mitchell has 3 hits with 2 HR.
The overall baseball card market. Card Ladder's Baseball Index indicates a drop over the last 6 months, 3 months and 1 month, following the trend of the overall card market. However for those buying the right players and right cards, there have been some significant upticks:
Juan Soto: After the Padres off-season spending, in which they handed out $738 million in free agent deals and contract extensions to Xander Boegarts, Manny Machado and Yu Darvish, all eyes are now on Juan Soto. He only has one more year before free agency and is expected to sign the most expensive contract in baseball history. That explains why the Padres are going for broke with this core of athletes, and a lot of expectations have now fallen upon their second youngest star. Soto should be up to the task as he will lead the most talented line-up of his career. Those expectations have caused a slight uptick in his market. Soto's 2016 Bowman Chrome 1st Auto PSA 10 increased 6.5% since the start of 2023.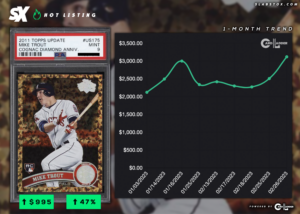 Mike Trout: The greatest baseball player of this generation is back on the diamond healthy to start the year. "Healthy" is the key to his card market success, as he hasn't played over 130 games since 2019. He still had 40 HR in just 119 games in 2022, and his recent card purchasers are hopeful he can build on that in 2023. His 2011 Topps Cognac Diamond Anniversary RC PSA 9 increased 47% since the start of the year.
Jasson Dominguez: On the big-name prospect side, Dominguez tops the list of international stars from the 2019 signing period. It took longer than expected to find his footing in professional ball. "The Martian," as his friends call him, looked anything but out-of-this-world in his first year of stateside baseball. But year two was a different story. As a 19-year-old, Dominguez went from Single-A all the way to AA and played well at every stop outside of a small five-game sample in AA. He carried that hot stretch into spring training this year, as he hit a homerun in his first major league game. There are a decent number of cards of his that have increased in value since the start of the year. That includes this 2020 Bowman Chrome 1st Mega Box PSA 10 (+20%).
On the flip side, some stars are going the other way for very different reasons.
Aaron Judge: It's hard to keep prices up after a historic year like Judge had in 2022. Some collectors are finding that out the hard way. Despite signing a monster contract and being named the first Yankee captain since Derek Jeter, Judge's Card Ladder Player Index decreased 1.5% since the start of the year. While that's not major, it is disappointing considering how much heavy lifting he did to keep baseball in the national eye last season. If he doesn't come close to matching last season's production, his card market will likely drop more before it gets better.
Gavin Lux: The Dodgers let superstar shortstops Corey Seager and Trea Turner walk in back-to-back free agencies. This opened up the position for Gavin Lux to take the reins. Unfortunately, injuries happen. Lux went down with an ACL tear the first week of spring training. This injury will sideline him for the entire 2023 season and will definitely affect his card market. His 2016 Bowman Chrome 1st Auto PSA 10 already dropped 34% since the start of the year. With him out for the season, it's unlikely to rebound for quite some time.
TAKE 2: Going Crazy for Bowman Chrome University
When sports cards have been around for over 100 years, it's not easy to find new innovations. But one set that just released has the collecting community excited – for the first time ever card collectors can now buy or sell LICENSED college players cards. That product is 2022 Bowman Chrome University Football, and here's what you need to know.
1. This is the second year of the product
While this is the first time you can buy/sell licensed cards of current college players, it's not the first Bowman University set released. Last year, Topps released 2021 Bowman U Football, but it was a mix of paper and chrome cards and the biggie was it wasn't licensed. This year the set is made up of  just chrome cards (big win) and it IS LICENSED (even bigger win).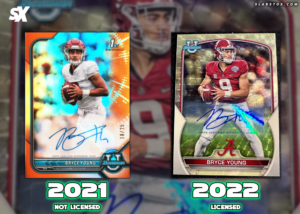 2. The big chase: Caleb Williams
Bryce Young and CJ Stroud are just a couple months away from being drafted potentially No. 1 overall, but the most sought after player is Caleb Williams who is still at USC. Williams was the 2022 Heisman Trophy winner and was one win short from taking USC to the College Football Playoff. If you need confirmation that Williams is the biggest chase, look no further than these three bounties placed on the Superfractor Auto 1/1s of these three players. Prominent high-end card collector Shyne150 put a bounty of $25,000 on Caleb Williams, $15,000 on Bryce Young (which was already pulled) and $10,000 on CJ Stroud.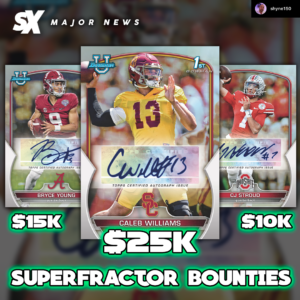 3. The price per box is affordable
While the days of $50 hobby boxes are long gone due to the market growing and inflation, you can buy these hobby boxes for around $130. Every card is chrome, it's loaded with prospects (both in NCAA and soon to be NFL) and you get two autographs per box.
4. Bowman Chrome University is building a new collection community
While traditionally card collectors prefer NFL cards over NCAA cards, this is different. This is not like Panini releasing three to four Draft Picks products after these players are drafted and playing in the NFL. This is building a whole new market and community for buying and selling cards of collegiate athletes while they're still in school.
NIL (name, image and likeness) is giving college superstars much greater visibility and exposure to fans than in the past. And there are TONS of college football fans, many who do not have a major NFL team in their state (Alabama, Nebraska, etc). If the goal is to grow the hobby, this product (and its basketball counterpart) will accomplish that.
It's likely card collectors will value licensed collegiate sports cards into the future, much like Bowman Chrome baseball prospects (even if it's not to that level).
5. Bowman Chrome University cards are selling well out of the gate
While cards that sell right after a product releases generally sell for more than they will a month or two later, there's been some major sales of this set so far. Especially considering these boxes are $130. Here are three of the top sales so far: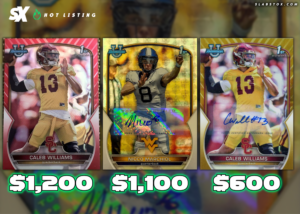 While this set may not be for everyone, it opens up new possibilities that weren't there before. That sounds like innovation to us.
TAKE 3: Card & Market Trend: SX100 Sports Card Index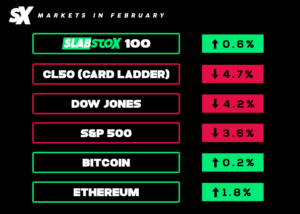 In last month's SlabStox Market Report, we debuted the SX100 (SlabStox 100) – a community driven sports card index that aims to represent the everyday card collector. The goal is to not only represent the everyday card collector, but also give them a say in what's included. We will be sending out our first SX100 survey mid-April (to give us a full quarter of sales data to analyze) via our free Daily Slab newsletter. Subscribe here to get daily hobby news and to take part in the first SX100 update.
February SX100 overall takeaways: 
FLAT. A combination of baseball UP and football DOWN has the SX100 at a standstill
13 cards did not have a sale in February
46 cards decreased in value in February
28 cards increased in value in February
Here are the biggest individual changes in the SX100 in February:
THREE UP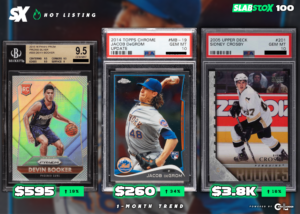 Devin Booker 2015 Prizm Silver RC BGS 9.5
Big games in February and the addition of KD is giving hope for a Suns title run.
Jacob deGrom 2014 Topps Update RC PSA 10
Spring training and the baseball season quickly approaching has key cards rising in value. This one was our "Who's Down?" last month. That's how quickly a seasonal shift can affect the market.
Sidney Crosby 2005 Upper Deck Young Guns RC PSA 10
On pace to score his most points since 2018/19, Crosby is still getting the job done at age 35. The Penguins have a one-point lead on the last playoff spot in the Eastern Conference, so Crosby will have to keep it up for his team to make the playoffs.
THREE DOWN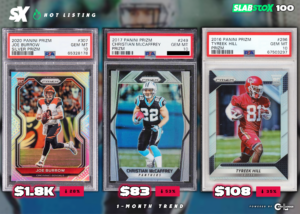 Joe Burrow 2020 Prizm Silver RC PSA 10
Playoffs end, football cards drop. That is one of the most predictable card market shifts and once again it's playing out in real time. Burrow had a great season, but without securing a ring his cards have pulled back.
Christian McCaffrey 2017 Prizm Silver RC PSA 10
Same story, but McCaffrey's cards rose fast with his new role on the 49ers. That set his cards up for a drop once production came to a halt in the offseason.
Tyreek Hill 2016 Prizm Silver RC PSA 10
Let's hope for Tyreek's sake that Tua stays healthy next season. If so, Tyreek is easily a top WR in the game. Without Tua, HIll's production is significantly lower.
To view all 100 cards in the SlabStox100, check out last month's market report.
TAKE 4: F1 Returns to Grid and Topps Chrome '22 Accelerates
Formula 1 racing kicks off its 2023 campaign this weekend with the Bahrain Grand Prix, and interest in F1 card collecting since the release of 2022 Topps Chrome F1 has been green flag GO. Topps released its third-year of the F1 set in early January (1/4/23), and they blew away the 2021 design, creating more demand and excitement from card collectors.
The 2023 F1 field is more wide open, creating excitement and buzz going into the season on the news of team shake ups—drivers (Alpine and Aston Martin) and principals (Ferrari, McLaren, Alfa Romeo, Williams) competing under new banners. Drivers to watch include:
Max Verstappen (Red Bull), in the hunt for his third consecutive World Driver Championship.
Lewis Hamilton (Mercedes), seeking a record 8th World Driver Championship.
Drivers with new rides after big team moves, including Fernando Alonso (Alpine to Aston Martin) and Pierre Gasly (AlphaTauri to Alpine).
Rookies Oscar Piastri (McLaren), Nyck De Vries (AlphaTauri) and Logan Sargeant (Williams) who is the first US driver to take the grid in nearly eight years.
While the inaugural 2020 Topps Chrome F1 and F1 Sapphire card sets are still the grail of modern F1 card collecting, the 2022 set has been generating lots of interest in raw and graded card sales. Some of the top early sales include: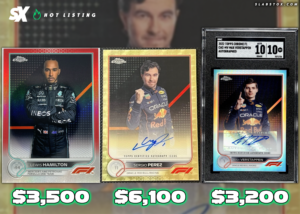 In comparison, current top sales for all Topps Chrome F1 cards in February were: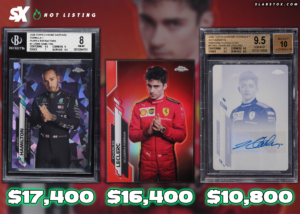 TAKE 5: Who's Hot (X2) / Who's Not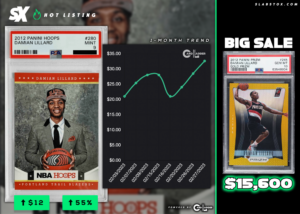 Damian Lillard made history by recording his 4th and 5th career 60-point games in February, and he now holds sole possession of 3rd all-time, passing Michael Jordan and James Harden for most 60+ games. Most impressive during this run was a career-high 71-point performance (2/26/23), tying Donovan Mitchell for the NBA season high and 8th all-time. On top of that, Lillard shot the lights out at the 2023 NBA All-Star 3-Point Contest to win. Is his market moving up? Lillard's 2012 Hoops Base RC PSA 9 increased 55% in February. Interesting side note: Mac McClung's Slam-Dunk victory at the All-Star game exploded his market, as well. Watch our Instagram Reels to see how McClung's cards reacted.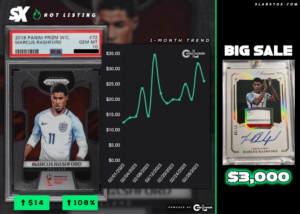 Marcus Rashford has been the most in form player in the world since the World Cup in November. He's scored 10 goals since the end of that event, and he's scored 18 since 11/6/22 (Chelsea only scored six in that same timeframe). On top of that, Rashford helped Manchester United win their first trophy since May 2017, as this past weekend Manchester United beat Newcastle United in the Carabao Cup Final at Wembley Stadium. An unbelievable card of his, the 2018 National Treasures Match-Worn Patch Auto /10 with part of the Three Lions logo, sold for $3,000 on 2/22/23.
The Nets no longer have Kyrie Irving, James Harden or Kevin Durant to fall back on. This means now more than ever the team needs the old Ben Simmons to return. Simmons is currently averaging 6.9 points, 6.3 rebounds and 6.1 assists with a career-low 13.5 PER. Those are not the numbers you want from a player making $33 million per year. The Nets are not the only ones who need Simmons to play better. Every single one of his card collectors are hoping that happens too. Simmons' 2016 Prizm Base RC PSA 9 decreased 63% since the start of February. You read that right. Those numbers are tough to look at.
Looking Ahead
Sports Card Shows Worth Checking Out
March 4-5
(March 4) Magnolia Sport Card Show, Tupelo, MS
(March 4) Shipshewana Cardfest, Shipshewana, IN
(March 4) Collectibles on College, Tempe, AZ
(March 5) East Cobb Sports Collectible Show, Marietta, GA
(March 5) Plainview Holiday Inn Local Card Show, Plainview, NY
March 9-12
(March 9-12) Dallas Card Show, Allen, TX
(March 11) Colts Neck Coin and Card Expo, Colts Neck, NJ
(March 11) The Union Marketplace Card Show at Wild Barrel, San Marcos, CA
(March 12) Emidios Sports and Non Sports Card Show, Cuyahoga Falls, OH
(March 12) Downtown Cards & Collectibles Show, Riverside, CA
March 18-19
(March 18-19) Northeast Sports Card Expo, Quincy, MA
(March 19) East Cobb Sports Collectible Show, Dunwoody, GA
March 24-26
(March 24-26) Collectibles on College–Arizona State Card Show, Phoenix, AZ
(March 24-26) The Union Marketplace at Del Mar, Del Mar, CA
(March 25-26) Shreveport Card Show, Shreveport, LA
(March 25) Lexington KY Sports Cards & Collectibles Show, Lexington, KY
(March 26) Shoff Promotions Sports Card Show, Annandale, VA
March 30-April 2
(March 30-April 2) The Mint Collective, Las Vegas, NV
March Important Product Releases
The release dates below are subject to change by the manufacturer. Dates provided by Cardboard Connection.
March  1:
2022 Topps Allen & Ginter Chrome Baseball
2022 Topps Dynasty Formula 1 Racing
March 8:
2022 Panini Immaculate Collection Football
2020-21 SP Signature Edition Legends Hockey
March 15:
2022 Topps Star Wars Masterwork (TBA)
2023 Bowman University Chrome Basketball
March 17:
2021-22 Panini Flawless Basketball
March 22:
2022-23 Panini Contenders Basketball
March 24:
2022-23 Panini Prizm Premier League Soccer
March 29:
2022 Topps Chrome McDonald's All-American Basketball
2021-22 Panini Eminence Basketball
2022 Topps Stadium Club Chrome Baseball
2022-23 Upper Deck Series 2 Hockey
2023 Topps Transcendent Baseball
March 31:
2022 Panini National Treasures Racing NASCAR