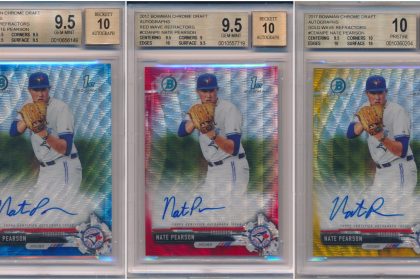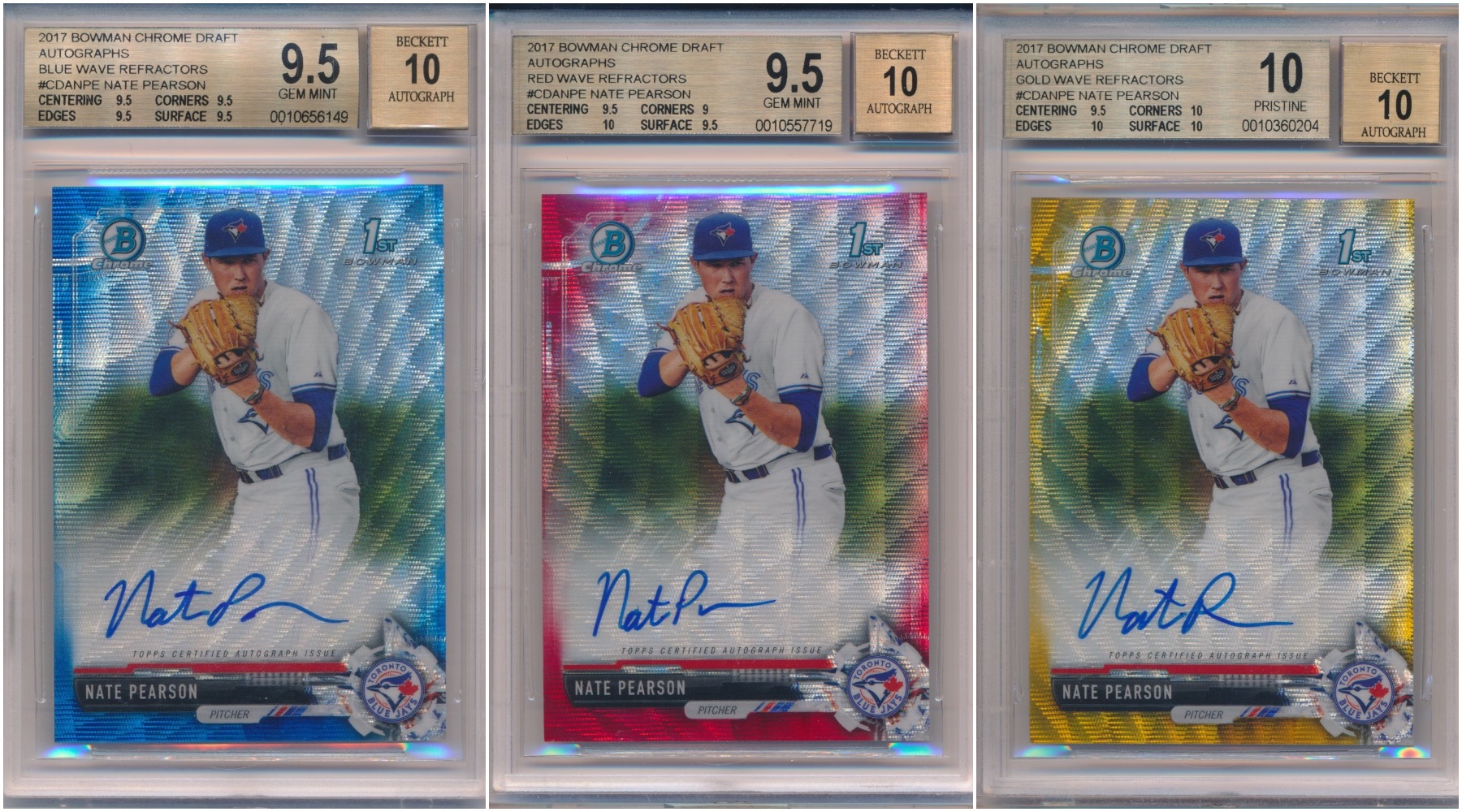 I've got a series of questions for you. Do you a like big time fastball? Yeah SlabStoxNate, we love a big time fastball! Do you like a wipe out slider? Who doesn't? Do you like huge strikeout potential? Please tell me more! Do you like big time walk potential? Um…why would we like that? Do you like injury concerns? Where are you going with this? Do you like an above average probability your pitching prospect becomes a reliever? You've ruined my excitement, you L7 Weenie.
Of course, I am talking about Blue Jays pitching prospect, Nate Pearson. I don't want you to worry, though. Even though all these statements are true and not all of them are positive, I am still extremely high on Pearson. Let's take a closer look at the Blue Jays big righty.
Full Disclosure: Aaron and I split a Nate Pearson card together: a 9.5/10 Red Wave auto. This article has been written because I really like the player and I am in no way trying to influence the price of our card. When I write these prospect profiles, I choose players I don't currently own, but I thought Pearson was too interesting to not write about.
Overview
Here is a list of prospects on Fangraphs that have a 80 future fastball and a 65 future slider: Nate Pearson. If we drop it to a 70 fastball and 65 slider the list grows slightly bigger: Pearson and Forrest Whitley. That's great company to be in for Pearson. Pearson doesn't have the change of pace pitches Whitley has, thus he's not the same level of prospect, but he's got an excellent foundation to build off of. The nice thing about Pearson is, he's not just your big time fastball/slider prospect, as Fangraphs also give him 55 future value on his change up and curve. The issue with Pearson is that he has poor command. Fangraphs and MLB Pipeline give his command a 45, which is below average. Pitching prospects with big time stuff and poor command usually end up pitching in the majors but not in the rotation. The nice thing for Pearson investors is if he does end up in the pen, he has the stuff to be the next Edwin Diaz.
Normally in these prospect profiles, I go over various stats to approve or disapprove investment strategies on each prospect. Unfortunately for us, because of two injuries last year (oblique strain and broken ulna), we don't have a big enough sample size to make any observations about his talent. He's pitched 40 innings in his career. He had 20 innings against Rookie and A-ball talent two years ago. You should expect him to dominate those levels as a college draftee. He also had 20 innings in the AZL this year. You can't really use that as he was coming off a season where he pitched a total of 1.2 innings and was rusty in the AZL. This is an extensive way of saying Pearson is a huge unknown, and we can't base anything of his career stats so far. We sure can dream on his tools though.
Prospect Outlook
There's not doubt in my mind Pearson will make the MLB. There's also no doubt in my mind he will rack up a ton of strikeouts when he gets there. Whether he ends up in the rotation or in the pen is dependent upon him sharping his command and refining his change of pace pitches. If he can do both those things, you're looking at one of the top pitching prospects in baseball. If he can't, your looking at the top relief prospect in baseball. No matter the outcome, Pearson appears to have a valuable career ahead of him.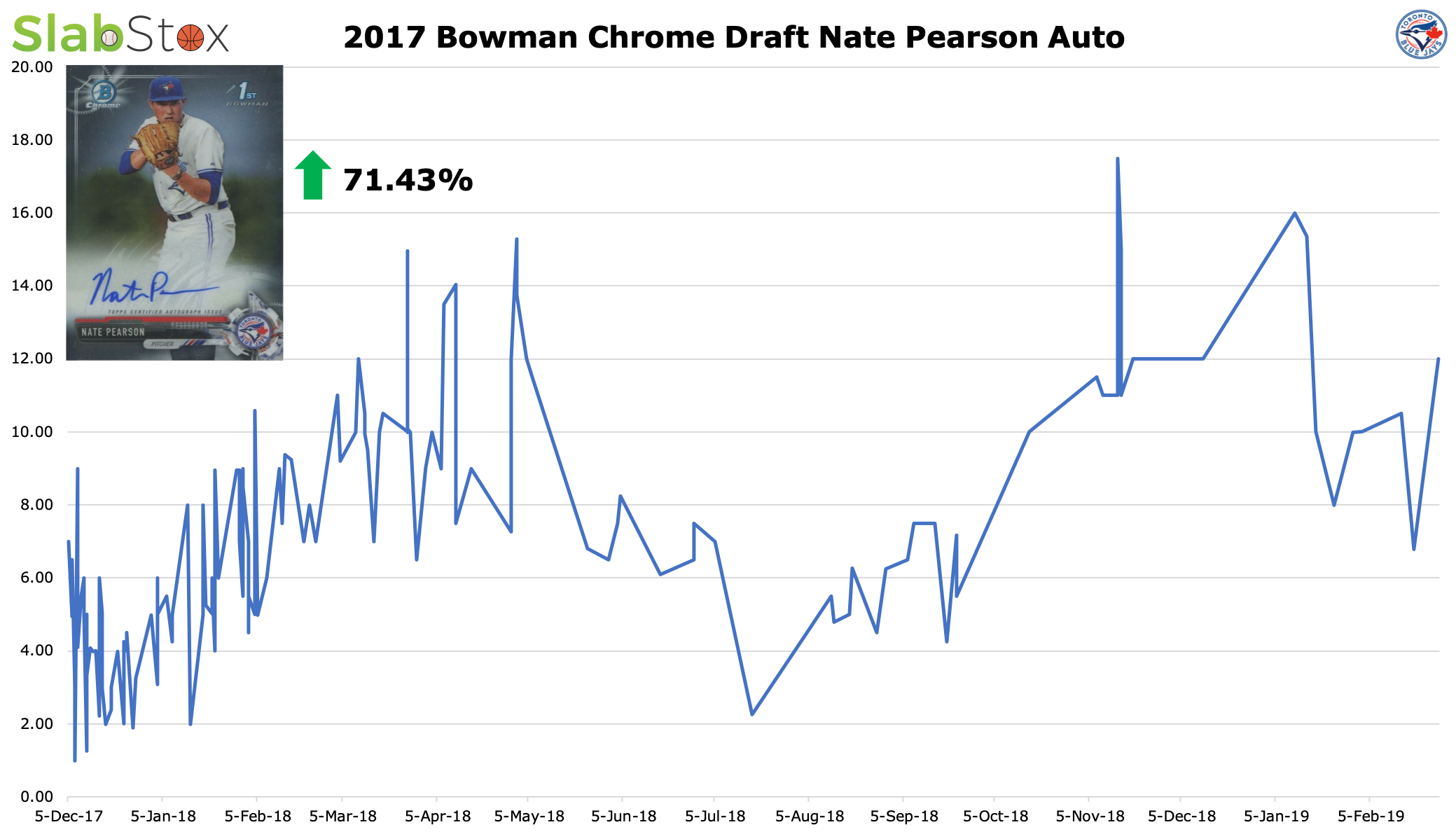 Investment Outlook
Pearson base autos are going in the 10 to $12 range. You know who else has autos in the 10 to $12 dollar range? If you guessed Josh Hader and Edwin Diaz, you are correct. He has the stuff to be every bit as dominant as Hader and Diaz. The downside here is extremely low, and the upside is sky high. If he can gain some more command and add that to his pitch repertoire, he's one of the best (if not the best) pitching prospects in the game.
I believe if he can hit that point, you'd be looking at tripling or quadrupling your money. If he can't but becomes one of the best relievers in the game, you'll likely break even. If he completely fails, you'll be out $8 a card. Pearson is close to as low risk/high reward as you can get.
Sign up for The Daily Slab email to get the most up-to-date sports card insights straight to your inbox.