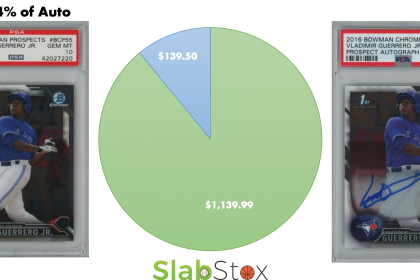 Over the last few days, I have been hearing a ton of buzz surrounding Vladimir Guerrero, Jr. Does this come as a surprise to me? No, not at all. He is the undisputed top prospect in the game and almost hit .400 last season in the minors.
As I was browsing eBay for some Bowman Chrome autographs, a 1st Bowman Chrome PSA 10 Non-Auto popped up through my search (classic keyword spamming). When I saw it eclipsed over $100 on bids with time remaining, I couldn't believe my eyes. Not because I think Vlad isn't a generational hitter for his age. Not because he isn't in the MLB yet, and his prices are crazy expensive. But because a Bowman Chrome Non-Auto BASE PSA 10 was going for over $100. Today alone, a few buy-it-nows hit $150.
I remember reading somewhere, "Do you ever think 1st Bowman Chrome Refractors will become like the Prizm Basketball Silvers?" At the time, I wanted to say yes. Reason why—it's an affordable option as opposed to dropping $750+ on a refractor auto of a star player. I had no evidence at the time. But Vladimir Guerrero Jr. will be the evidence to convince people non-autos are a viable investment chip (as long as it spreads to other players).
---
*Note: All of the sales in the 1-year trend graphs below are auction-only sales.
Before jumping into Vlad, let's take a look at Ronald Acuña. His trend looks like a heart-rate monitor more than anything I've seen, but that can be attributed to injury and an absolute tear towards the end of the year.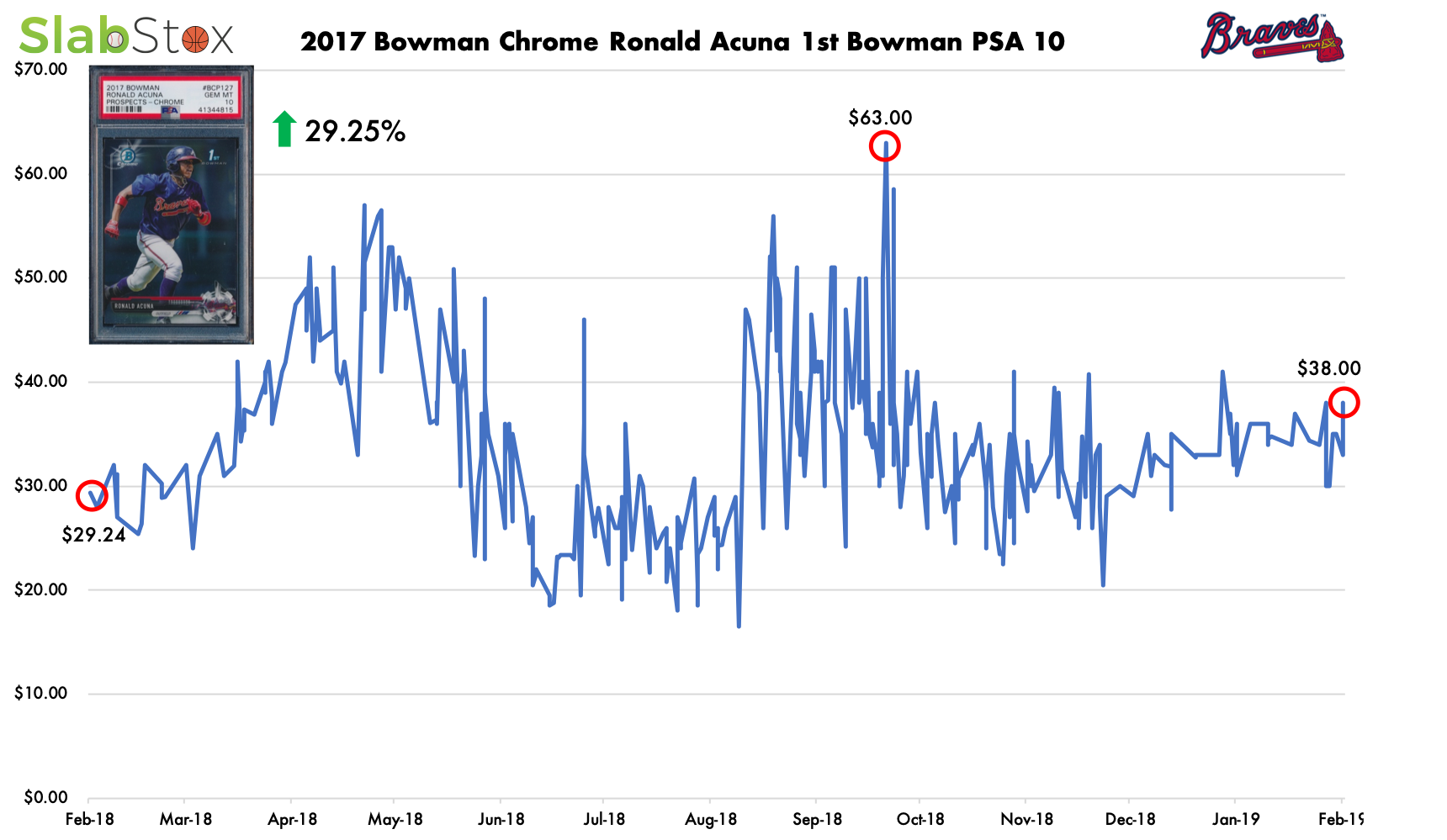 While his year-over-year change is only +29.25%, he topped out at $63 towards the end of the season. They have settled way lower (investment opportunity?), but they at least had some good movement during the season. If I were to argue that 1st Bowman PSA 10s can be compared to Prizm PSA 10s based off of Acuña, I wouldn't get very far. For being one of the best young players in the league, a $38 PSA 10 is nothing to write home about.
After looking at the big picture, narrowing it down can reveal even more about the value of non-autos. The most recent 1st Bowman PSA 10 base non-auto sold for $38, while the PSA 10 auto version did $899.95 (buy-it-now sale). The base PSA 10 sells at a measly 4.22% of the auto. For someone that won Rookie of the Year and had one of the best leadoff stretches of all-time, I would hope his 1st Bowman Chrome non-auto PSA 10s would be touching $75.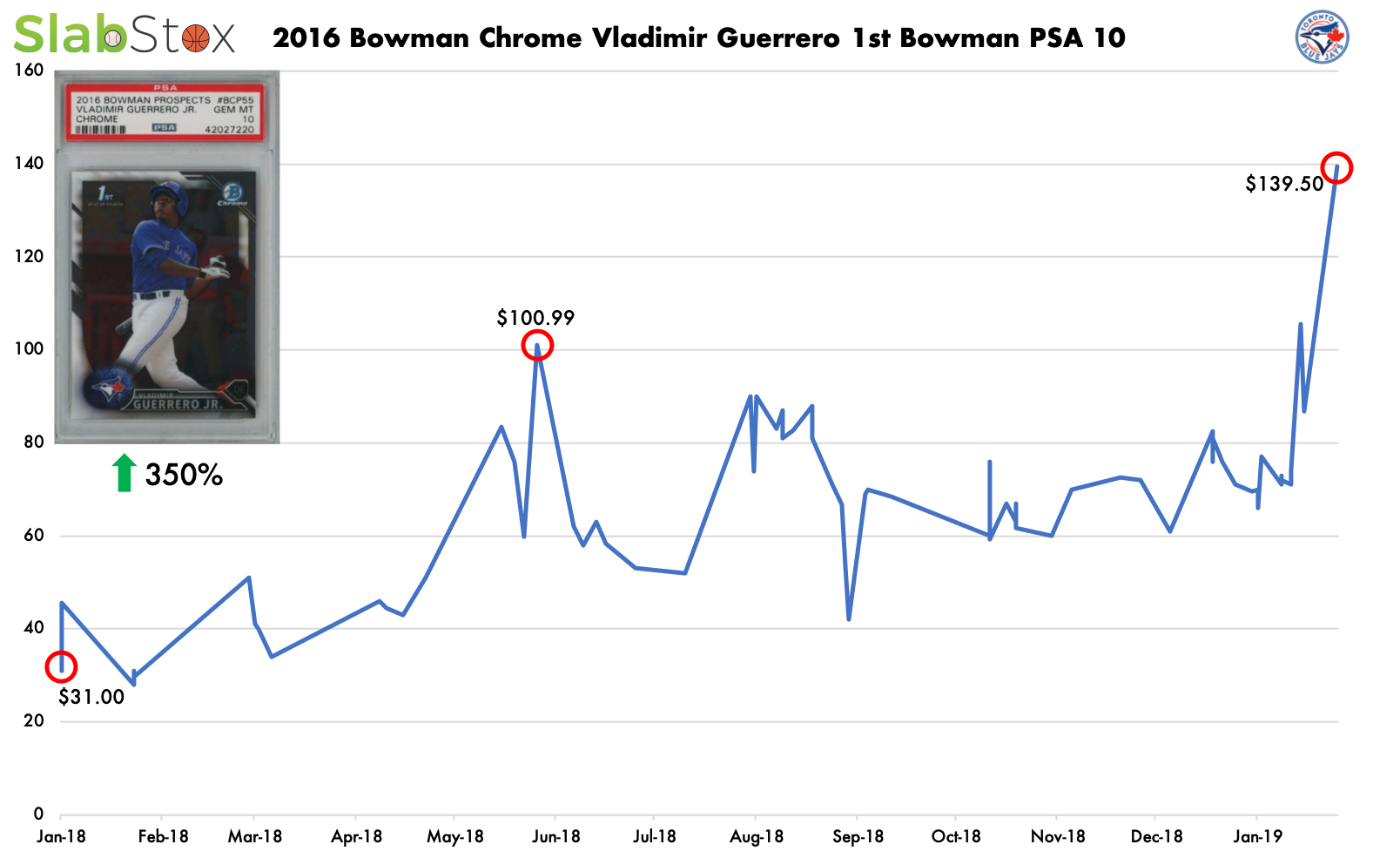 By looking at Acuña, we do not learn a whole lot about the potential for non-autos. Zeroing in on Vladimir Guerrero Jr. reveals a whole new world for pre-MLB players, one of which we have never seen before. Last January PSA 10s were selling between $30-$45. Not until Vlad's monster March did we see one touch $100.
After his injury, prices decreased fast holding around $60. However, with the preseason hype and the consensus top-prospect crown, his cards have been skyrocketing. While that may seem like a good enough explanation for this quick rise in price (+73% in the last two weeks), there has to be more behind it.
Similarly to how people started to get priced out of National Treasures Basketball Rookie Patch Autos, I think we are starting to see that with 1st Bowman Chrome Autographs. Unless you are a Bowman Chrome baller, it is hard to fathom dropping $1,000+ on a Vlad auto. For those that cannot, they are reverting to another 1st Bowman: the Bowman Chrome base. With autos being out of reach for most, a focus on non-autos is likely leading to this price increase.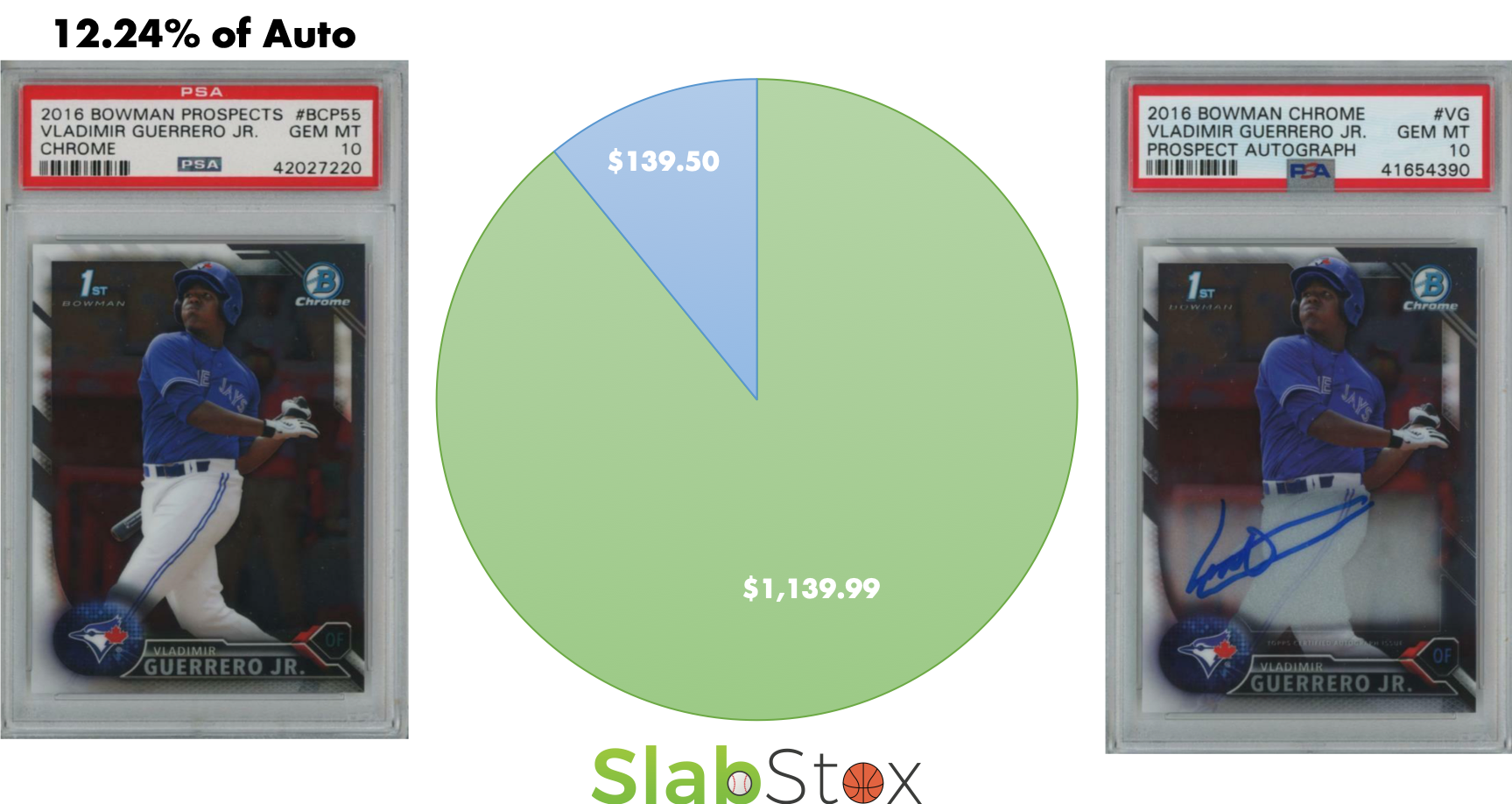 This is the big difference between Acuña and Vlad. Vlad's PSA 10 non-auto is selling at 12.24% of his auto version. Yes! Over 12% for a base non-auto (for another comparison, Alex Bregman does between 5% to 7%).
Now, one player does not defines a market. It took a while for the Prizm Silver effect to ripple across all calibers of players. This is not an overnight thing, but it is a trend in the right direction for baseball card investors. But until we see players like Ronald Acuña PSA 10 non-autos start going over $75, we have nothing to hang our hats on.
Will you jump in on 1st Bowman Chrome Base Non-Auto PSA 10s hoping for a ripple effect?
Stay up-to-date on all things sports card trading with SlabStox. Sign up for The Daily Slab today!