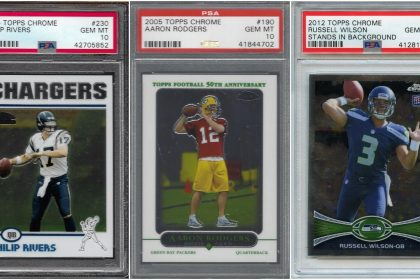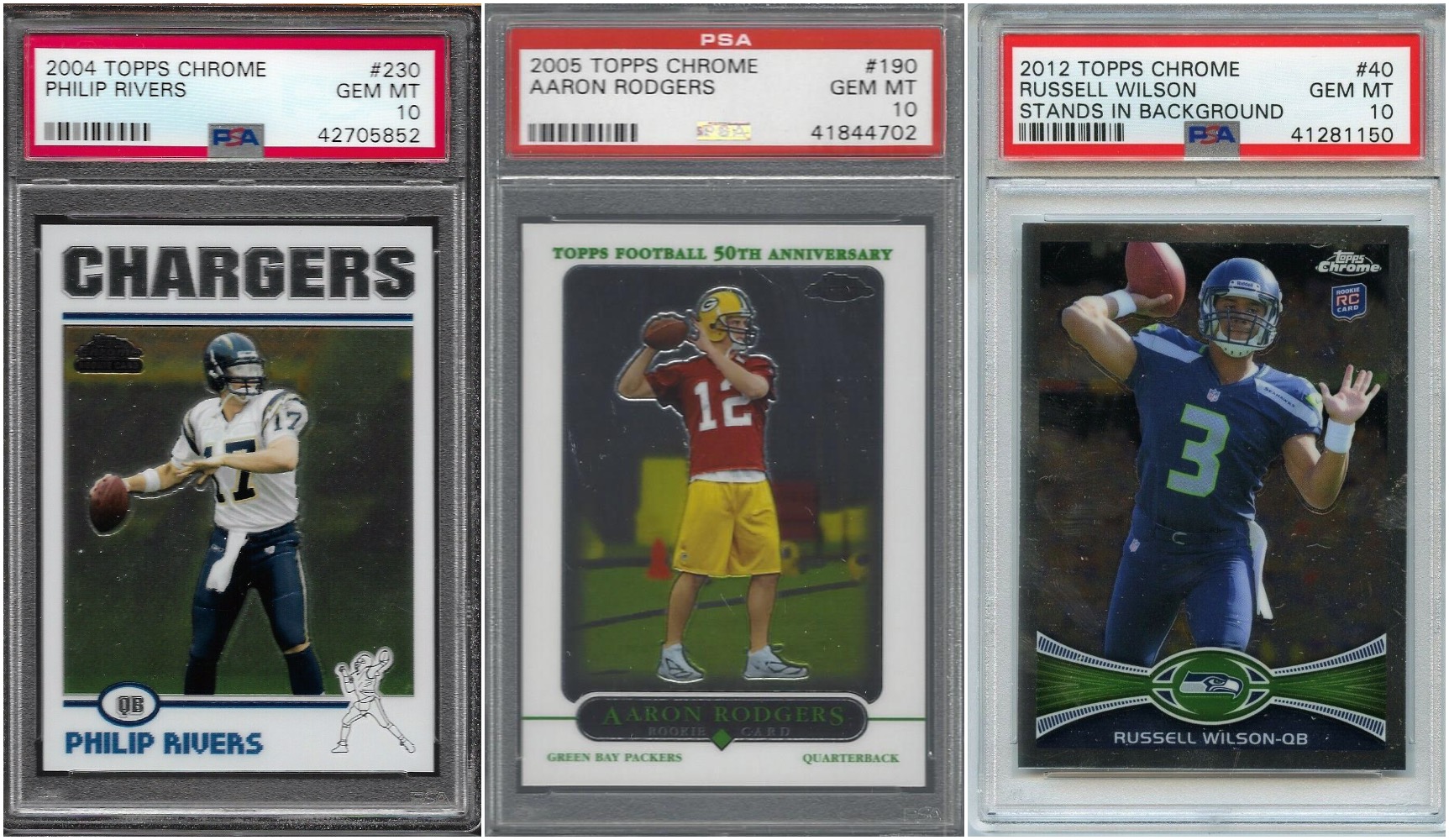 As everyone has become well aware recently, autos and fancy patches are not the only cards worth a pretty penny. Topps Chrome rookies of the NFL's best quarterbacks are becoming the card to get. With Panini Prizm driving the NFL's base rookie market the past few years, it shows the want for base rookie cards is still alive. When collectors start thinking of the today's QB's as a "Generational Talent" it will generate interest and an increase in demand. Keep in mind, these cards are investments, not quick flips. It will take time and patience to cash out.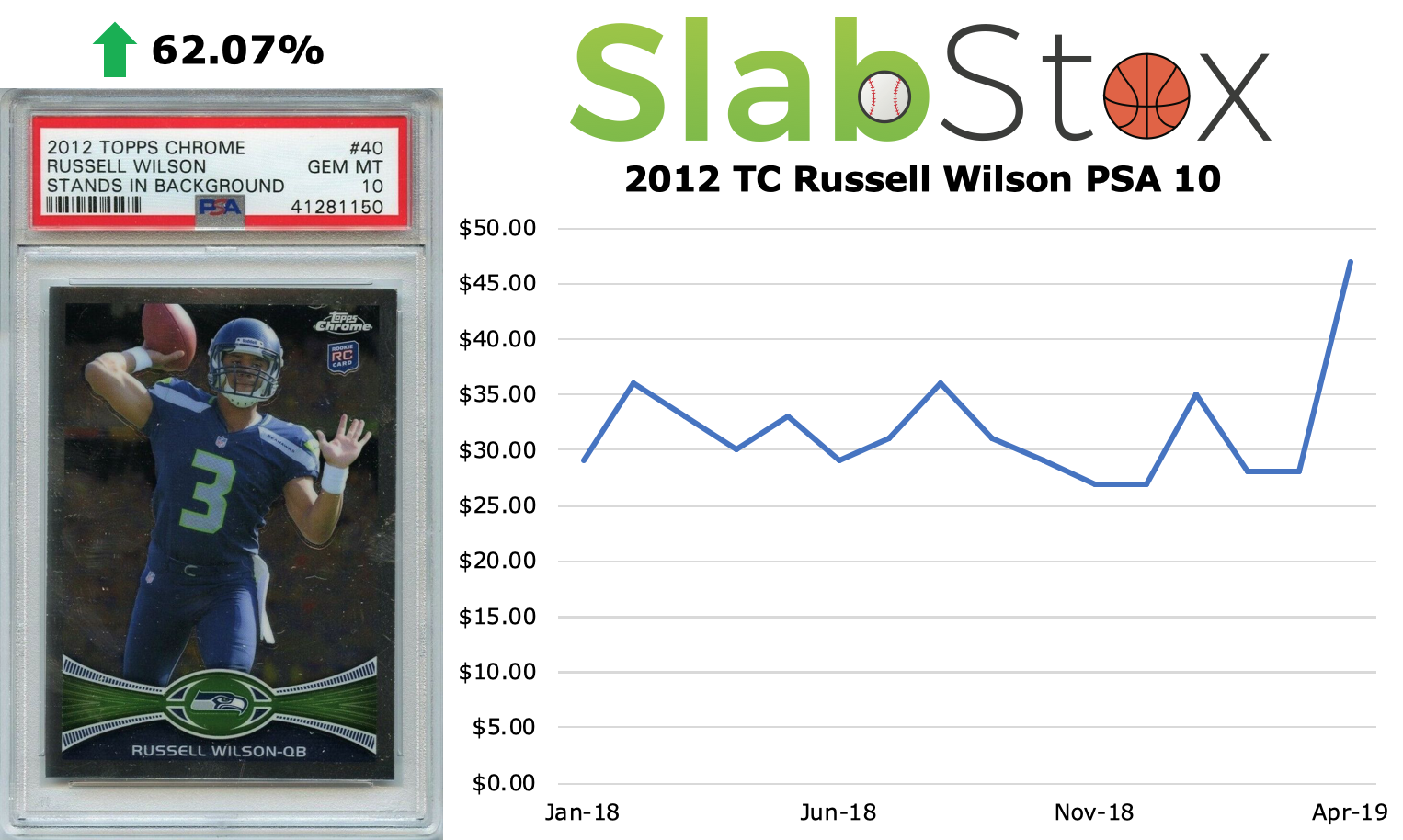 Recently, Russell Wilson signed a 4-year contract extension worth $140 million, the largest contract in NFL history. Wilson's QBR has been as consistent as they come, hovering right around 100 for his entire career. Wilson has proven himself to be one of the best dual threat quarterbacks in the league and has been able to stay healthy while doing so. Seattle looks to be adding weapons to Wilson's arsenal with D.K. Metcalf and several young running backs. As you will see later, these rookie have the ability to skyrocket after consistent success.If all goes right this year, the Wilson Topps Chrome PSA 10 has the ability to rise this upcoming season as he makes a run for his 6thplayoff appearance.
Wilson's PSA 10 hasn't fallen below $25 since the beginning of 2018, and is trending upwards as of late In the month of April, there have been six sales of PSA 10s averaging $47 a piece. This is up significantly from the same time last year. Look for it to continue to climb as the season begins to start.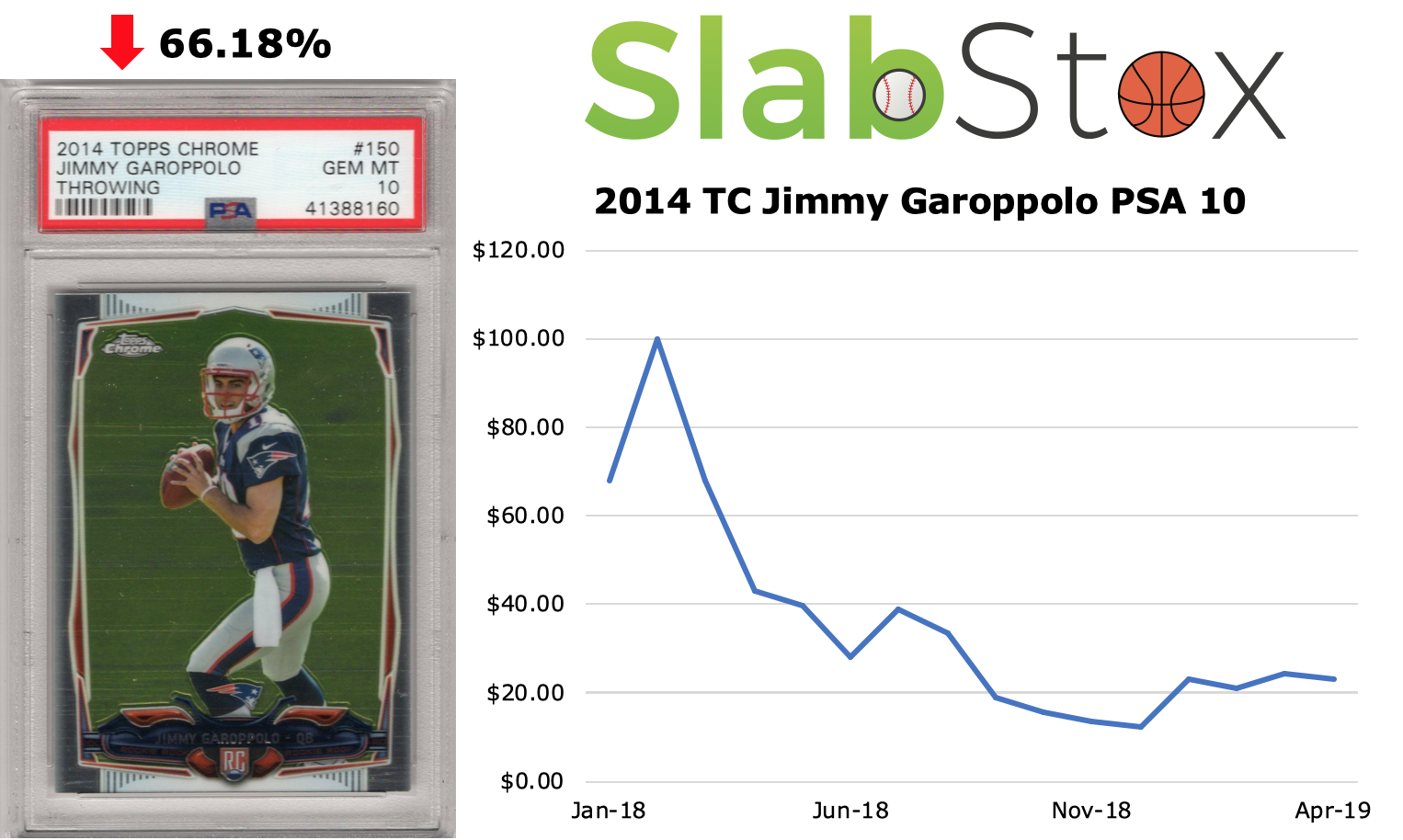 Jimmy G is an interesting player to analyza. His first full season was cut short due to an ACL tear in week three. In the game Jimmy was injured, he tossed the ball for 250 yards and 2 touchdowns. In the end the 49ers lost the game, and their record fell to 1-2, but Jimmy G looked promising. Jimmy posted a 90 QBR for the three games he started in which he threw for 718 yards and 5 touchdowns. During the 2018, season Jimmy was traded to the 49ers and went on a 5-0 run throwing for nearly 1600 and 7 touchdowns. As the season is nearing, there's a possibility investors will be hopeful for a bounce back year, leading to a slight increase in PSA 10 prices.
As you can see from the graph, when Jimmy was traded to the 49ers his prices started to trend upwards as his play continued to increase, leading to a peak of $100 on six sales in February. As the season ended and people began to focus on other sports, his PSA 10 dropped down to roughly $30 in June. As the season neared and people began to pay attention to football again, his rookie shot back up to $40 the following month until his injury. After his injury, his prices dropped to nearly $10, and people seemed to forget about him. In the last four months Jimmy's prices have continued to rise reaching almost $25.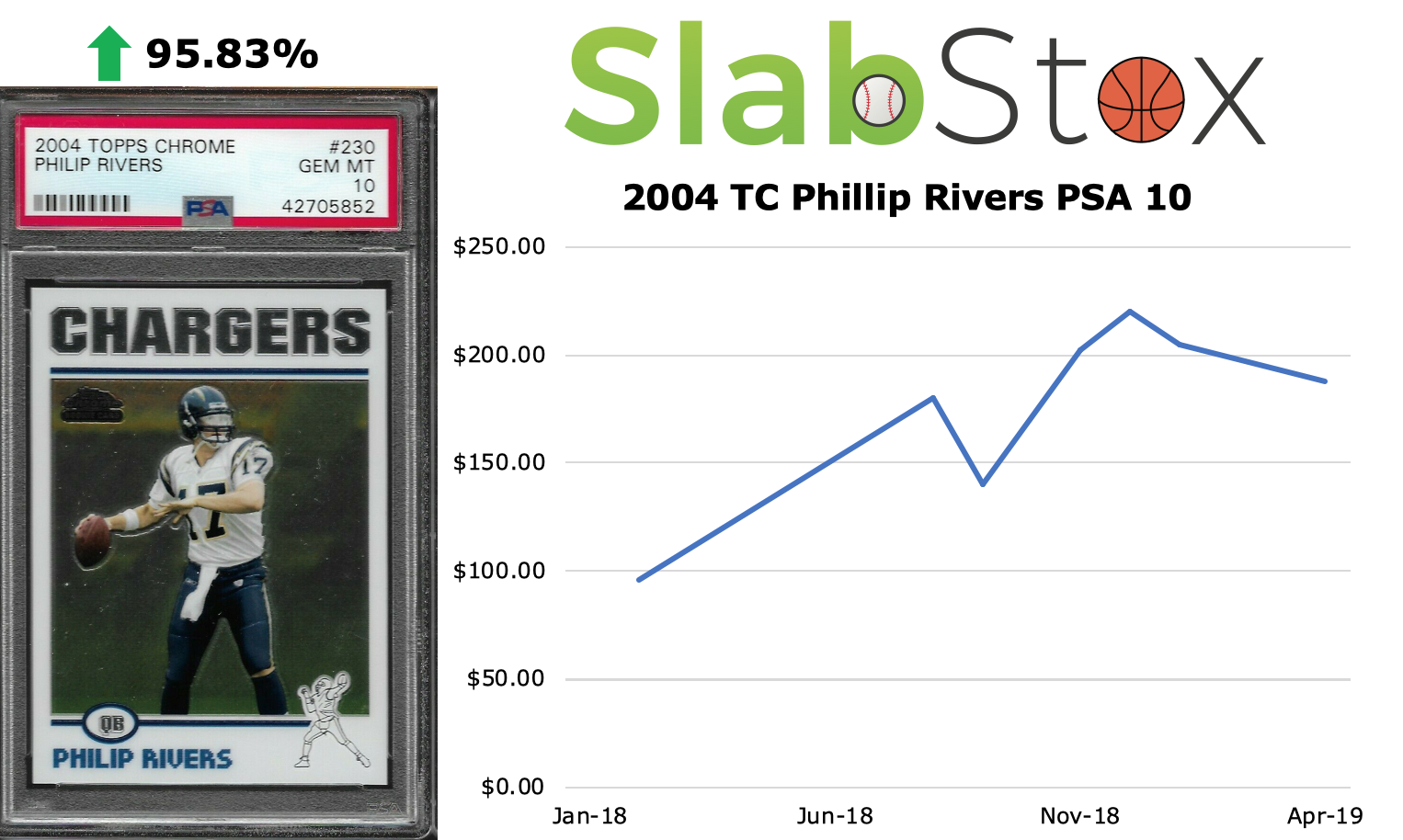 Phillip Rivers is as consistent of a quarterback as they come. He has Hall of Fame numbers, while playing on historically weak Chargers team. Rivers has a careers QBR of 95.6 and is still looking to improve his numbers rather than regressing. Rivers has passed for over 4000 yards and around 30 TD's in the last 6 seasons. He has proven himself to be one of the best QB's of the 21stcentury. Building off of last season's success, the Chargers are looking to make a playoff push this upcoming season, as they have one of the strongest teams in the AFC west behind the Chiefs.
There has been quite a significant increase in Rivers' rookie sales over the past year. In February, the PSA was averaging $96, a fraction of what the card is going for now. In the month of April, the PSA 10 Base Topps Chrome rookie is averaging $188 on three sales. This is up 195% from February of 2018. As the collectors start to gravitate towards Chrome rookies, this card has a possibility to set record highs like last season.
Matt Ryan is another example of a consistent quarterback that could see a rise in the value of his rookie card. Ryan posted a QBR of 108.1 last season and threw for nearly 5000 yards and 35 touchdowns. Ryan blossomed with a drastically improved Falcon's offense from the 2017 season. Austin Hooper took strides in becoming one of the league's top tight ends. Along with Austin Hooper, the Falcons added Calvin Ridley to their receiving core. Julio, Calvin, and Hooper will look to produce potential record setting numbers with Ryan next year along with a healthy Devonta Freeman.
The trend of Matt Ryan's PSA 10 rookie is steadily increasing. With peaks and valleys coming seemingly at random, his overall average value has increased consistently throughout the year.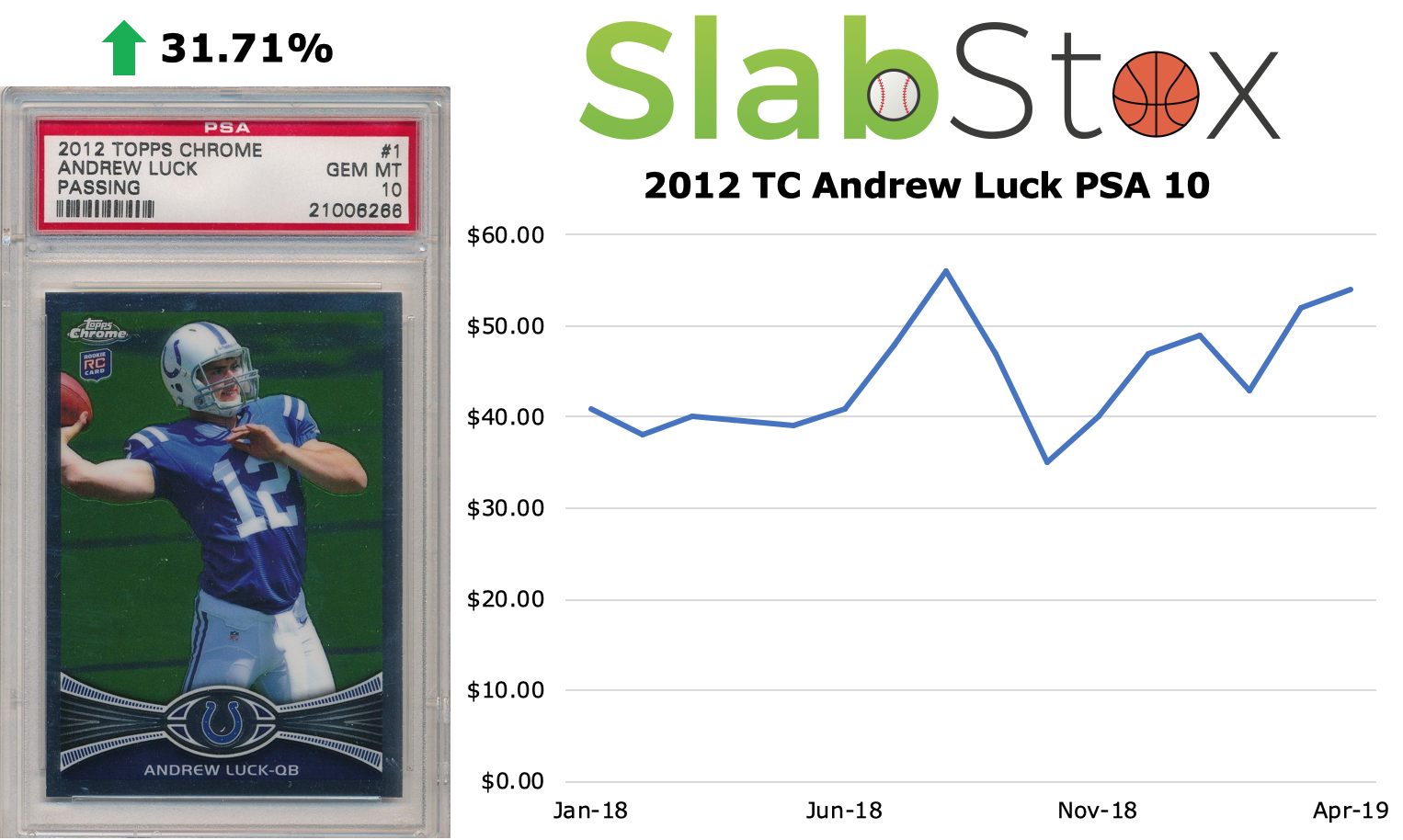 Andrew Luck is somewhat of a "Hollywood" story, meaning his story seems as if it could only be made up. There were times when people thought he played his last NFL snap two years ago because of a serious shoulder injury. Luck proved everyone wrong and put on a comeback player of the year performance, unlike any we have seen in a long time. Luck now has a star tight end in Eric Ebron, along with T.Y. Hilton, Marlon Mack, and the best O-line in the NFL. With this star studded offense and a very young and talented defense, the Colts could make a playoff push next season. Andrew Luck will likely improve his numbers from an already great comeback campaign in the 2019 NFL season.
Luck's PSA 10 prices have been very consistent for the past year, except for a sharp peak before the season started. Recently, his Chrome prices have looked to be on the rise again going from $43 in February to $54 in April, and they don't seem to be slowing down. With the NFL season coming around the corner, now is the time to pick up a PSA 10 of Andrew Luck's Topps Chrome rookie. If he continues to play like he is capable of, there could be a significant increase in his PSA 10 Chrome rookies. As you will see with the next player, holding onto a card for four or more years can be worth it.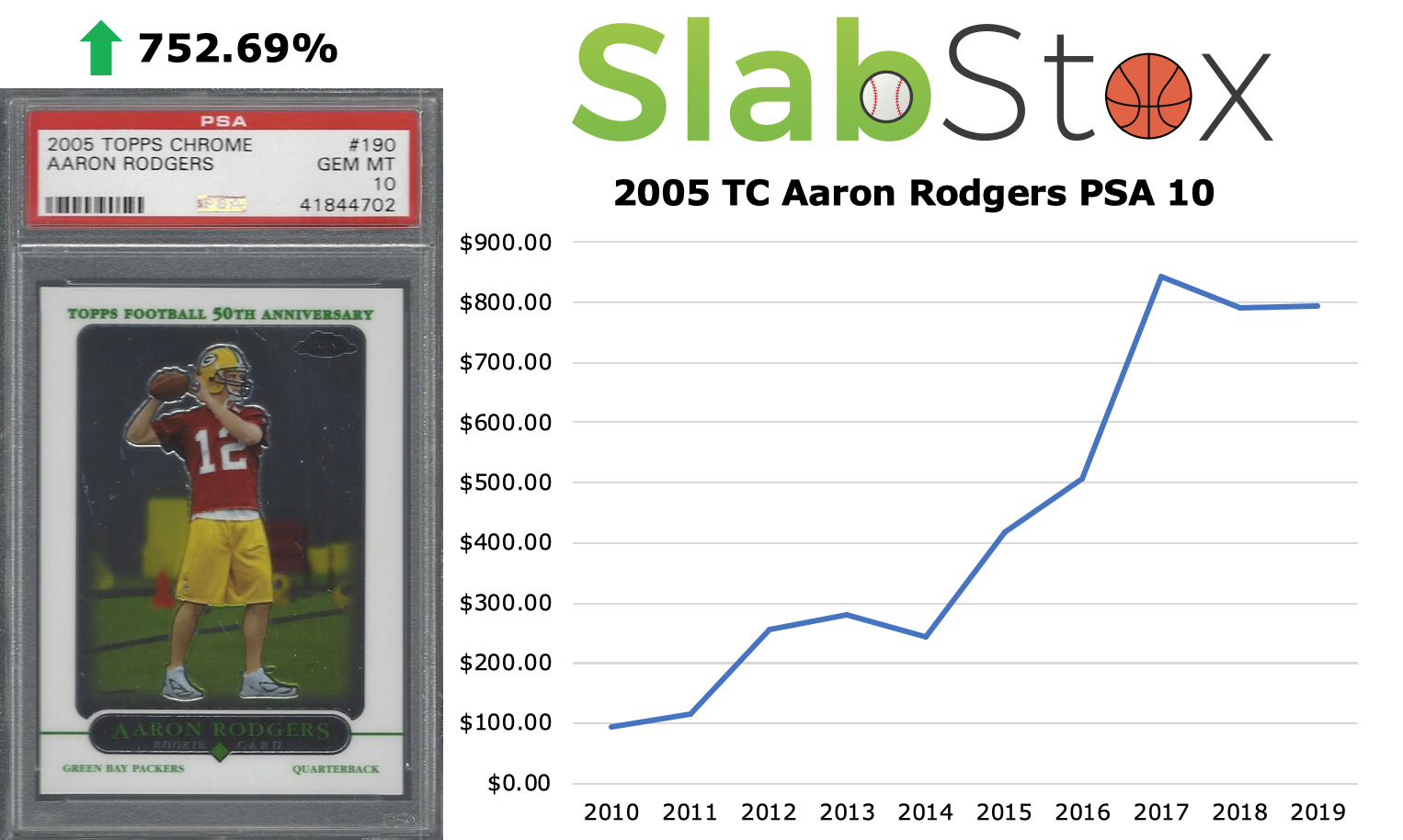 For the last card I decided to take a look at a long-term investment. Aaron Rodgers has been fighting for the face of the NFL with Tom Brady for the past 8 years, but has to add Super Bowls fast to keep the fight going. Rodgers has built a strong resume to be considered the greatest quarterback of all time. Rodgers' numbers may be kicked up a notch under the new Packers Head Coach, Matt LaFluer. He has one of best wide receivers in the NFL in Davante Adams. Along with Adams, the Packers have several young receivers including Geronimo Allison and Marquez Valdes-Scantling.
Aaron Rodgers has performed at a high level since he stepped on an NFL field. In 2011, one of his best seasons to date, the PSA 10 Chrome rookie was selling for $115. Now, 8 years later, it is selling for $793. That is a 589.57% ROI. Aaron Rodgers' PSA 10 prices may continue to climb, as he becomes a lock for the Hall of Fame and adds more awards to his legacy.
Wrap-up
NFL quarterbacks are the best players to invest in long-term, as you can see with Aaron Rodgers (not to mention the Bowman Chrome Tom Brady). It is very unlikely that the other quarterbacks will reach Rodgers' potential ROI; however, many Topps Chrome rookies are bargains for the level these players are performing at. These cards are the future "iconic" cards of our generation of collectors. They are a must-have for any NFL fan.
Sign up for The Daily Slab email to get the most up-to-date sports card insights straight to your inbox.