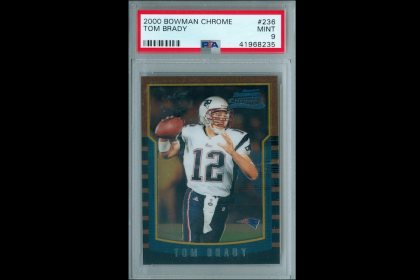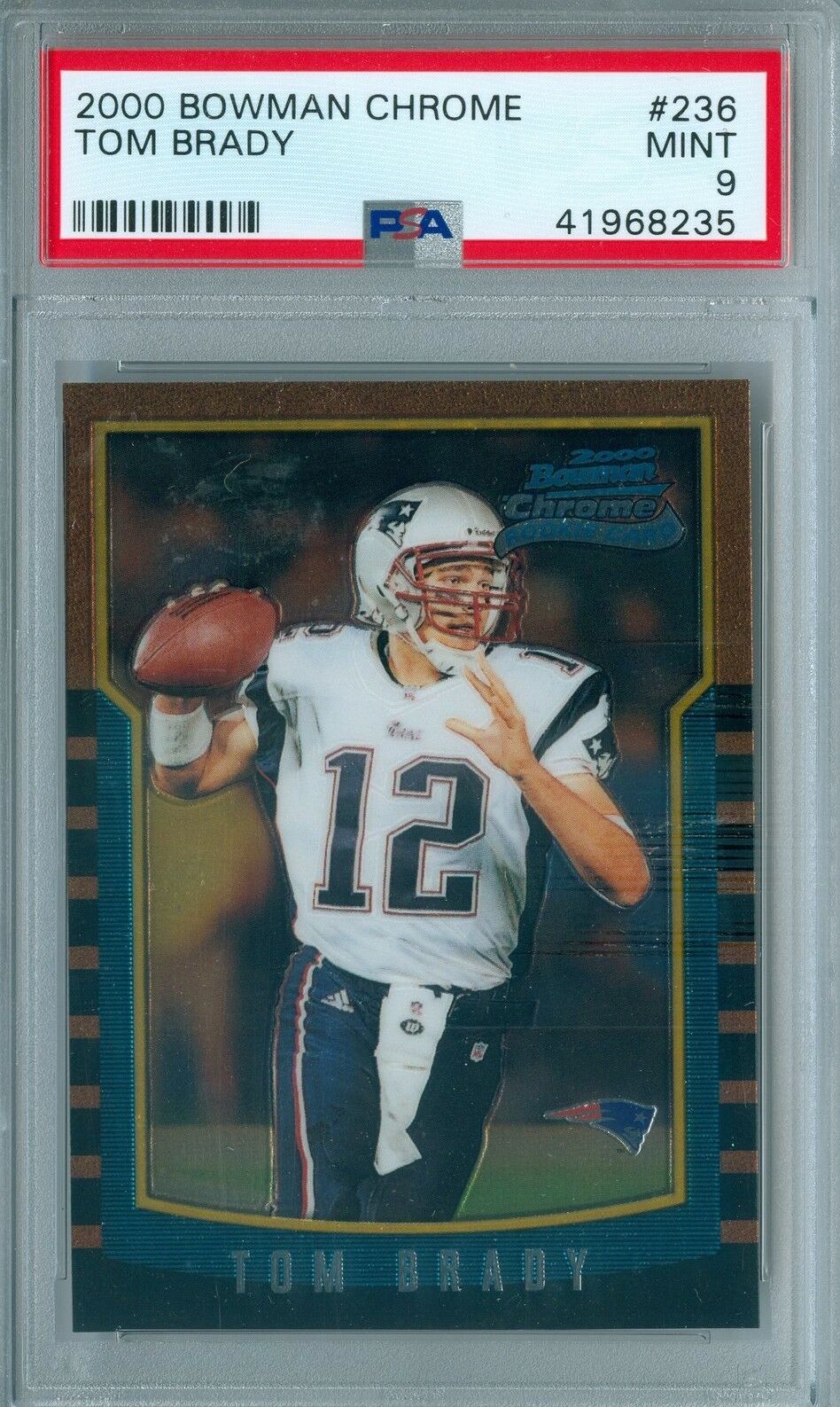 Over the last 18 years, Tom Brady has dominated the NFL. After last season, there is no debate about who the greatest quarterback of all-time is, and that's coming from a Niners fan.
After six Super Bowl victories, multiple MVP's, fourteen Pro Bowls, and a ton of other accolades, Brady doesn't have anything else to prove. As recently as February 25th, Brady's Contenders Championship Ticket Auto /100 BGS 9/10 sold for over $400,000; that's more than he made each of his first two seasons. One of his more popular and affordable rookies is the 2000 Bowman Chrome Rookie. When looking at the PSA pop report, the majority of graded copies are a PSA 9. There is total of 2,389 graded copies; 1,134 are graded a Mint 9, which will make up the sales data in the graphs.
I was hoping to find trends during Brady's career where prices fluctuated up and down. Since there is only eBay data back to 2004, that's where I started pulling my data.
By 2004, Brady had already become the youngest quarterback to win a Super Bowl and would soon take the Patriots to back-to-back championships. Below are the first five years of data, from 2004-2009. I couldn't imagine going back in time to purchase a few at any of these prices.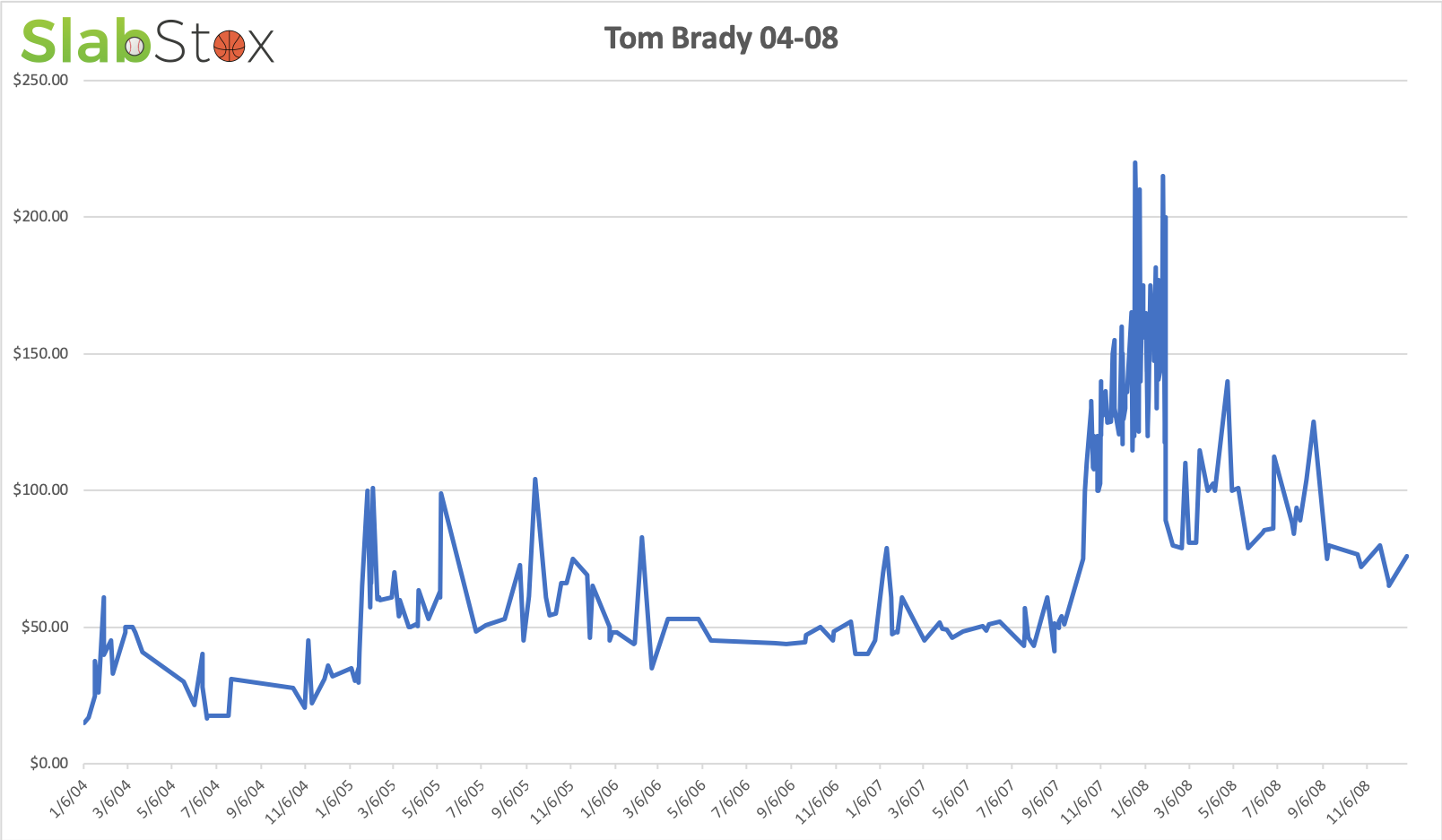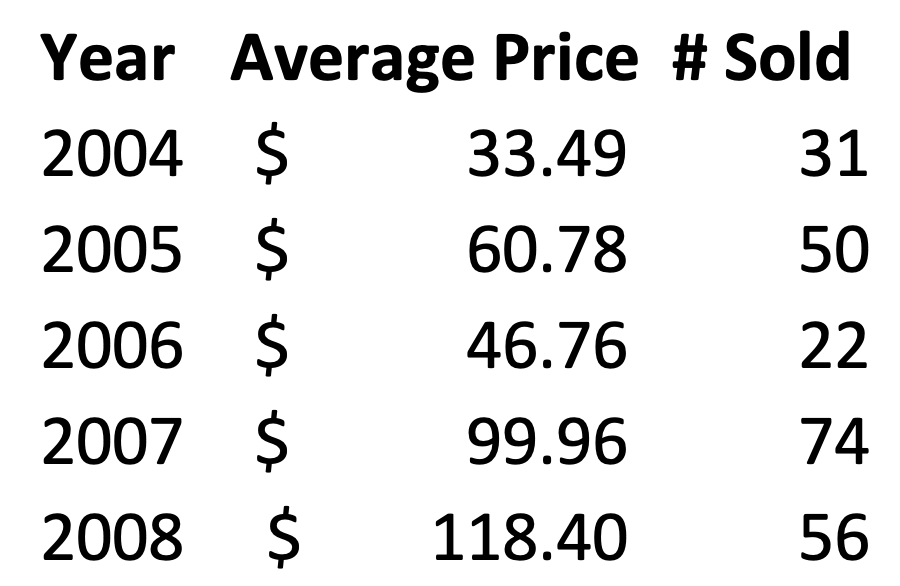 After the 2005 Super Bowl win, Brady's prices jumped nearly 100% going from $33.49 to $60.78, although $60.78 seems low with multiple $100 sales occurring. At the time, that was unheard of for a Brady Bowman Chrome rookie. His prices plateaued until the huge 2007, when Brady and the Patriots almost completed the perfect season. This caused a huge uptick in average price and number of PSA 9s sold. 2007 to 2008 had the largest two year total of cards sold up until the 2014 to 2015 years.
At the tail end of 2008, there was a severe drop in prices after Brady's knee injury that knocked him out for the entire season. This should be a lesson for buyers looking for cheap prices; wait for an injury! Unless it's a career threatening injury, this is usually a good time to strike.
From 2009 to 2013, the average price of a Brady PSA 9 never averaged above $107.77. The combined number of cards sold during those years was even lower than the previous five. This is a clear sign buyers were still skeptical, especially after a long Super Bowl victory drought.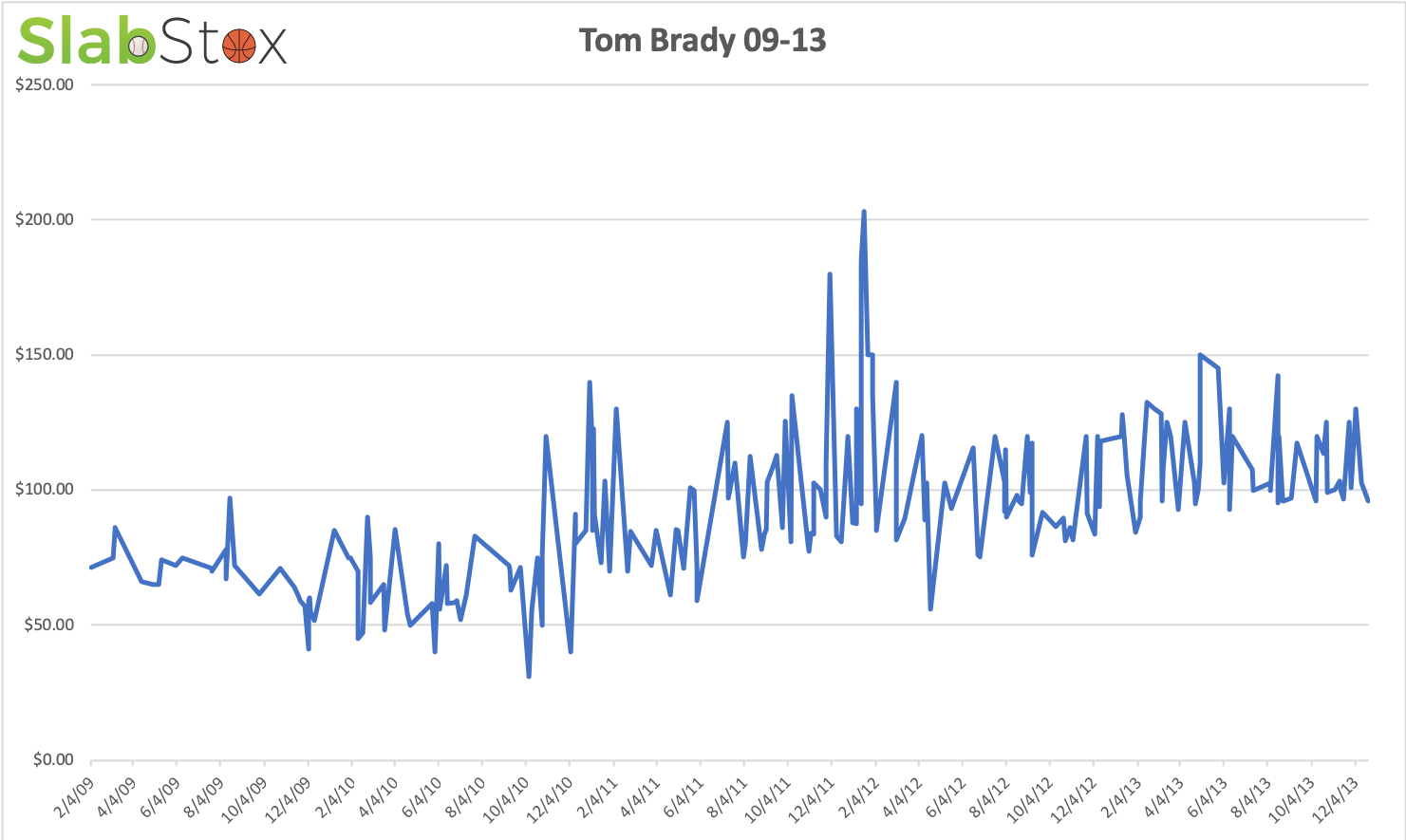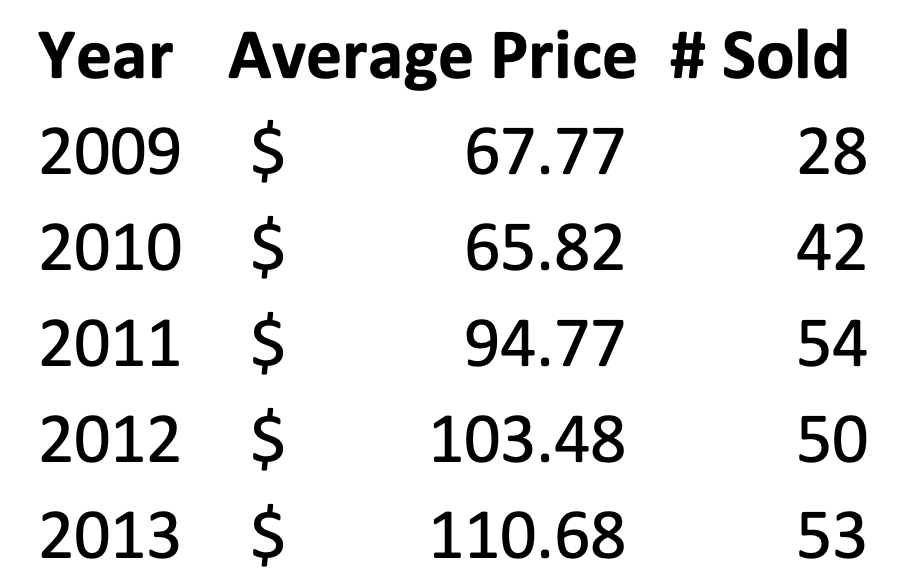 What if? A total what if. I decide to skip college in 2009 and invest in Brady for five years.
Scenario: You decide to tell your parents you have found a secret to making money, and it will be much more effective than the next five years you spend in school. You take a school loan for let's say, $4,500 a semester; $45,000 for five years. I doubt anyone could purchase every card of certain kind for five straight years, but hypothetically speaking, you manage to win 200 of the 222 completed sales during these five years. Now the fun part. You spent $18,358 on the average of $91.79 per card. You have a nice leftover amount of $26,642 for your next investment.
Later, let's check out how much money you would have made.
Over the last five plus years, the Brady market exploded. Even if you had waited to see if Brady could perform in his late 30's, there was still tons of room for growth. After the 2015 Super Bowl victory, you would think prices would take another huge jump. Luckily, smart investors were able to get most of their cards around an average price of $140.48 the 6 months following his Super Bowl Victory.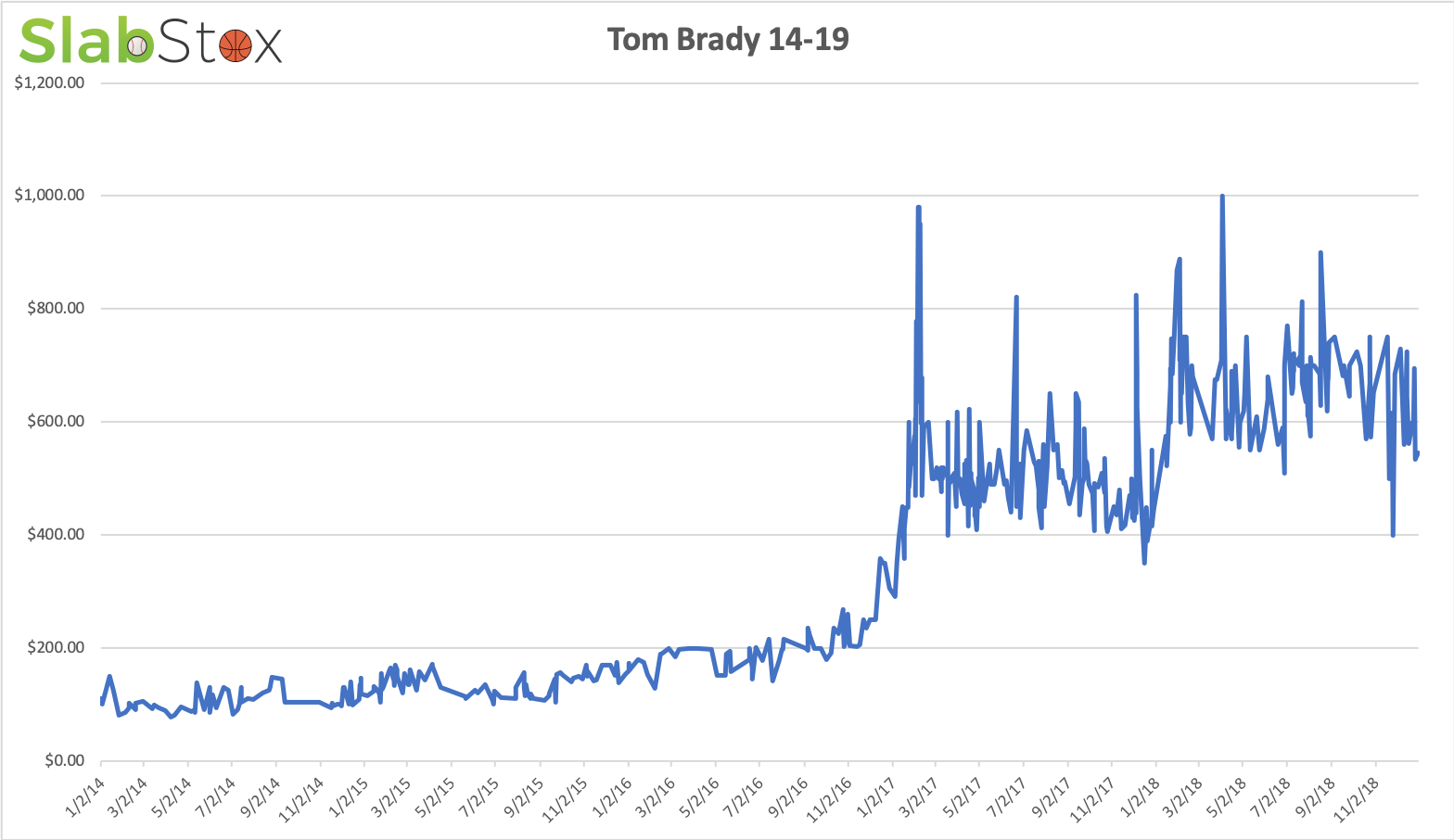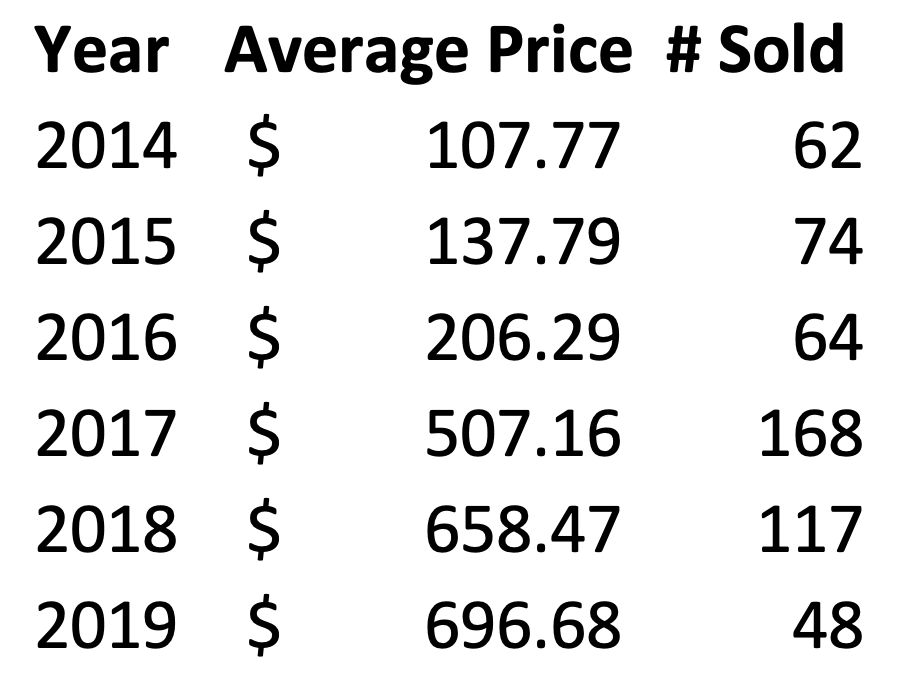 So you have been patient, waited till Brady won his 5th ring (I do understand this would saturate the market, but this is make belief). You spend 2018 and 2019 selling off your Brady collection at the average price of 2018 to 2019, which is $677.57. 200 sales over two years with the average price would give you the grand total of $135,514! That's all from your initial investment of $18,358. With your leftover school money, who do you invest in now? It's fun to think back on what could have been with sports cards.
Even if you had bought a few Brady rookies when they had a solid jump during 2015 and 2016, your return on investment would still be huge (300.34%). Over the last five years, the 2000 Bowman Chrome PSA 9 has outperformed the majority of the S&P 500 by a huge margin.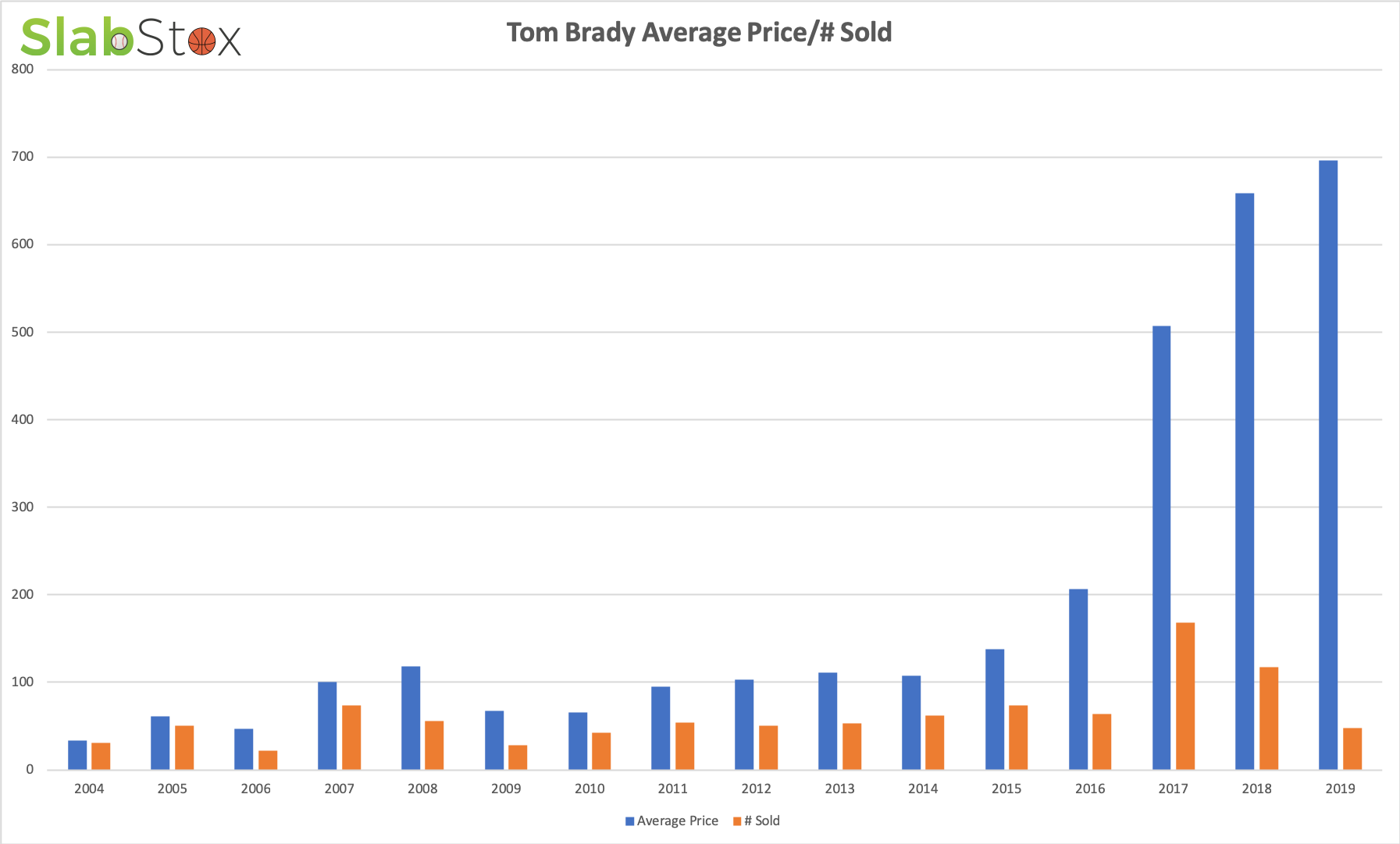 Incredible Facts from Brady research:
Completed sales of Tom Brady 2000 Bowman Chrome PSA 9 – 983 (1134 total graded PSA 9 in Pop report)
Average Price from 2004 to 2019 – $267.78
Sum of all noted sales of PSA 9 on ebay – $ 262,961.42……..Still less than ONE Tom Brady 2000 Contenders Championship Ticket Auto BGS 9/10
While it took over a decade to get there, Brady has cemented himself (and his Bowman Chrome RC) as the most iconic quarterback in NFL history.
Sign up for The Daily Slab email to get the most up-to-date sports card insights straight to your inbox.