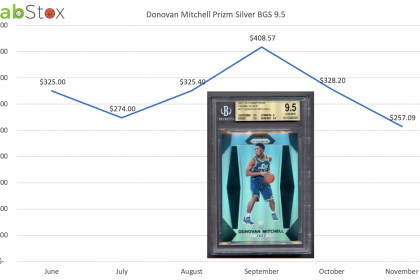 With the NBA offseason quickly coming upon us, it got me thinking: is the offseason strategy really as straight forward as it seems? The traditional thinking is to buy in the offseason when prices are supposedly down, and sell in the beginning of the season when prices supposedly come back up. But is this true? Do prices, in fact, drop during the summer months, or is it a common misconception that could cost you money?
I chose four relatively high end cards to compare their prices from the end of the 2017-18 playoffs in early June to the prices throughout the Summer, and then to their prices in October, the month that is split in half by the beginning of the 2018-19 NBA season. Some cards did not have sales in certain months, so those months were excluded.
To start, we have everyone's favorite underrated superstar, Anthony Davis. Throughout August and September, his graded Gem Mint 2012-13 Panini Prizm Silver was sitting comfortably at just a smidge under the $1,000 mark. But come November, they had soared to almost $1,500. Yes, the sales came more than a month into the season, but his 28.5/12.5/4.5 stat line was very similar to what he put up in the final month of the previous season, where he averaged 28.5/11.5/2.5. The ROI from September to November is just above 45%, and all it took was AD doing exactly what he had done the last season.
Next we have the Greek Freak, Giannis Antetokounmpo, with once again looking at his BGS 9.5 2012-13 Panini Prizm Silver. This time, our data starts in July at $971.88, and climbs up to $1,142.33 before the season. It's even hitting over $1,500 by the time November roles around. That's a 57.83% ROI from July to November, and just like AD, Giannis only saw slight improvements in his stats from the final month of the 2017-18 season to the beginning of the 2018-19 season.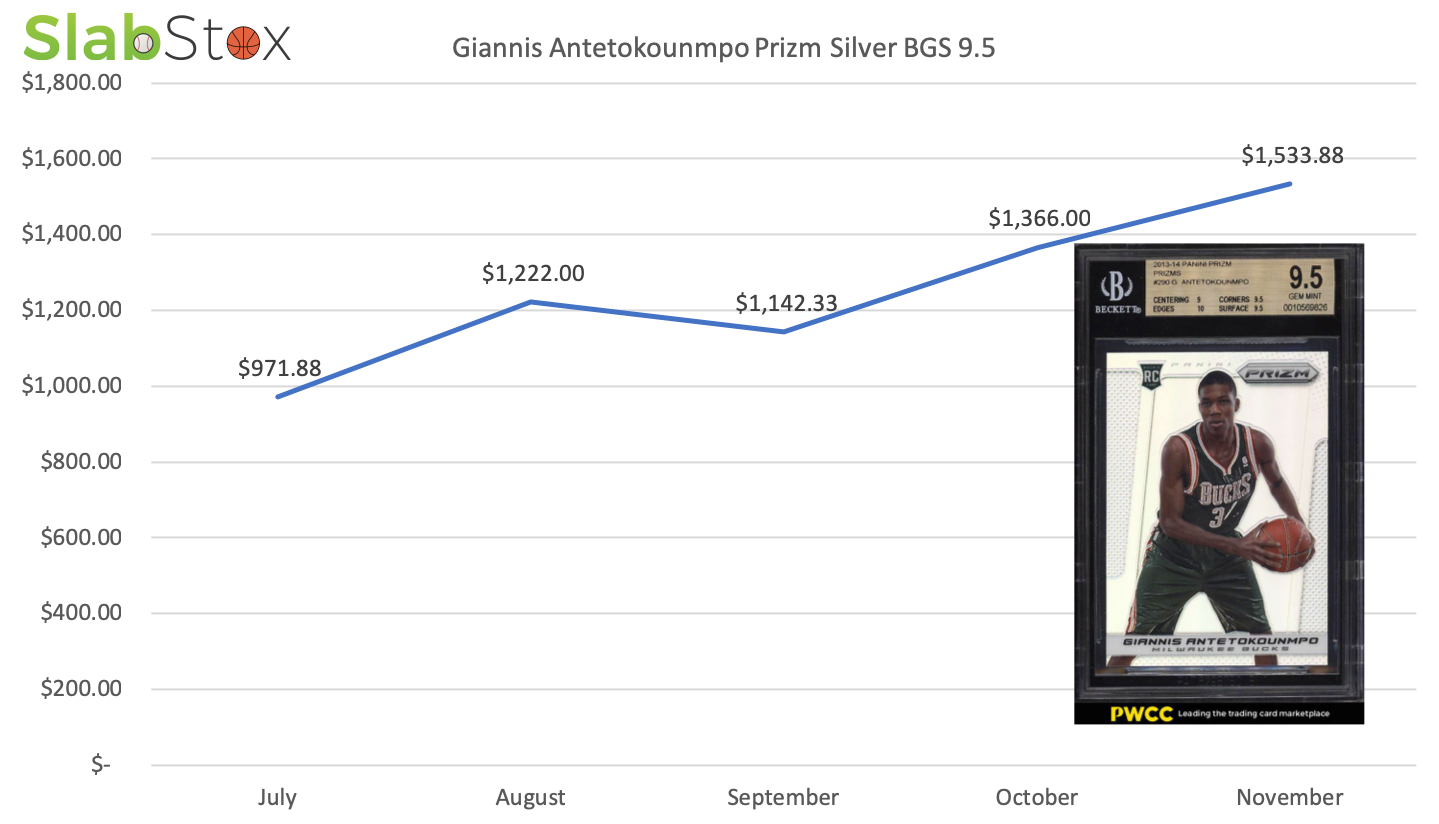 Next, I decided to test what it was like for a rookie going into his sophomore campaign, so I picked Donovan Mitchell's BGS 9.5 Prizm Silver. This one got interesting. Through June and July, it sat at about $300 even, went up to $325 In August, and shot up to almost $410 in November. For some reason, there was a huge uptick in total sales and prices starting on August 24, 2018 and ending on September 24, 2018, where 7 out of 9 sales were at or above $400, one of which hit $500. I tried to figure out what caused the spike, and I couldn't find anything. He didn't play any games, make any special appearances, or do anything that justifies that uptick, so I chalked it up to hype around an absolute stud. But from September 25th on to the end of November, not a single card reached $350. If you bought at the low, and sold at the high, your ROI was 49.11%.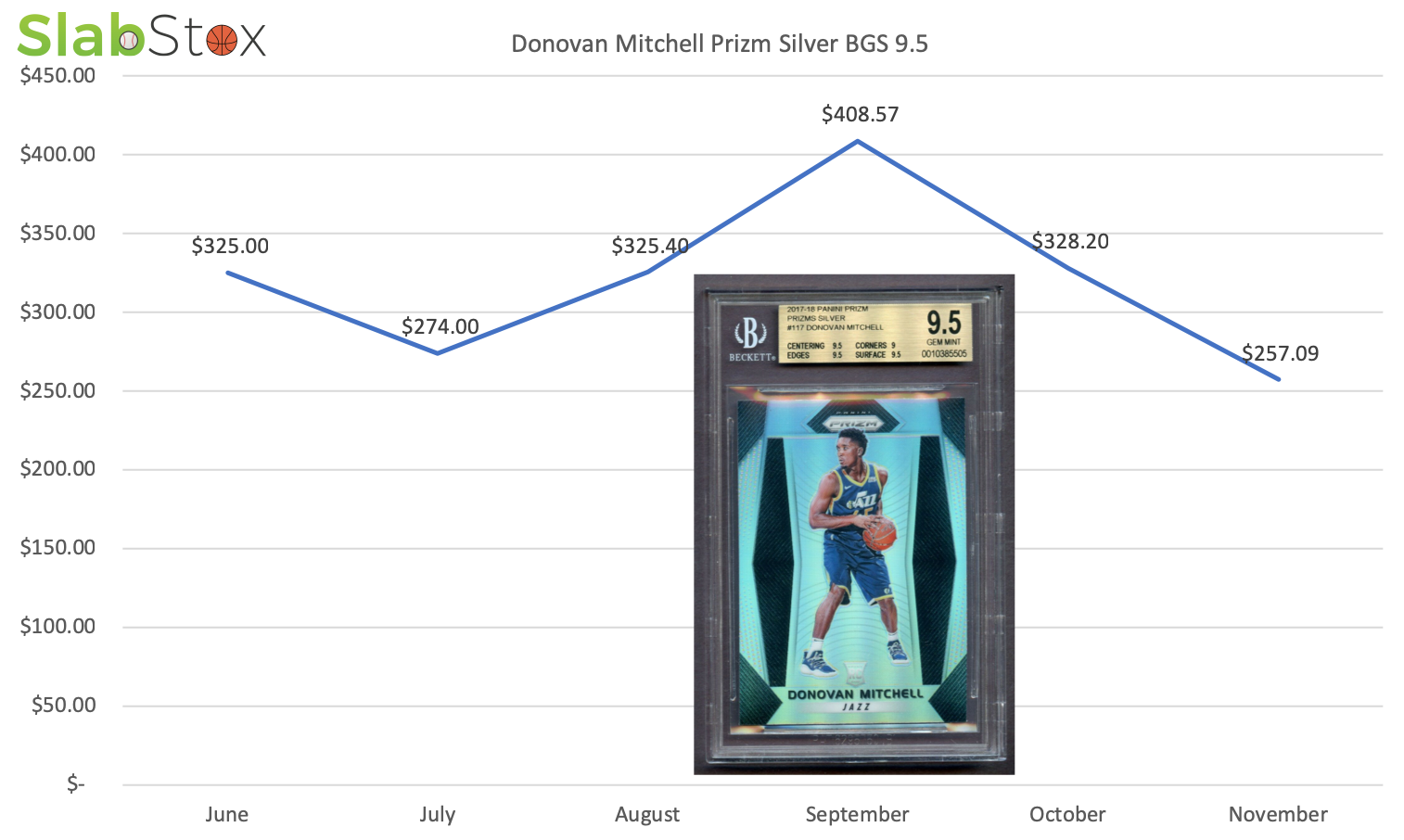 Finally, we have our cheapest card and least regarded player, Josh Jackson. Looking at his PSA 10 Prizm Silvers, they took a huge hit come the start of the season. His stats regressed from his rookie season to his second season, and overall it was a mess. From July to November, the ROI was an abysmal -47.44%. Not much else to say.
Overall, I think the data is clear. Offseason buys are good if they are of players you know will produce. Giannis and AD are bonafide superstars, and D-Mitch produced like an all-star his rookie season, so you could expect him to keep up stats up. But guys like Josh Jackson, who isn't bad by any means, may not be the best candidates for offseason buys because a shaky start can destroy their prices.
This coming offseason, wait for the prices to drop from the insanity that is the NBA Playoffs, and if you can afford it, buy a rookie of your favorite star. Profit is the likely outcome.
Sign up for The Daily Slab email to get the most up-to-date sports card insights straight to your inbox.