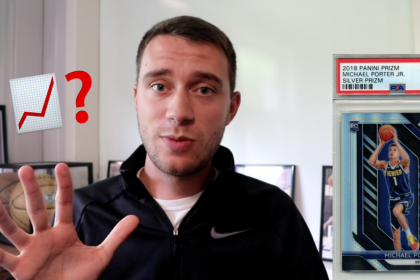 What up, what up, what up, welcome back to Sam Dunks, the weekly NBA show over at SlabStox. I'm your host Sam. Please, follow us on Instagram @slabstox, subscribe on YouTube, and subscribe to our newsletter at the top of this page. 
We are finishing up our coverage of the 2018 NBA draft this week, picking up with pick 14, and covering a number of different players. There are a lot of guys I generally like in this draft that I'm not covering, simply because I don't have the time and I don't think pushing this series to four weeks makes much sense. So I'll do my best to cover the most interesting remaining guys, but please understand there are other players that I like as actual NBA players that I just don't have time to cover. 
First up for today, I mentioned him last week, with the 14th pick to the Denver Nuggets, Michael Porter Jr. Someone asked last week how many times I said SGA's name in the video, and said that my man crush was surreal. It was 10 times, I went back and counted, and you know what, there are just some guys that I naturally gravitate towards and some guys I gravitate away from. I think that just comes with fandom, and I admit sometimes it is hard for me to be totally objective with certain players. JJJ is one of those guys, Shai is obviously another, and Michael Porter Jr is one of those guys too that I just really like as a fan. So just understand that I do really like what he brings to the court, and if you want to take everything I say with a grain of salt because of it, I understand and that's perfectly fine. These are all just my opinions!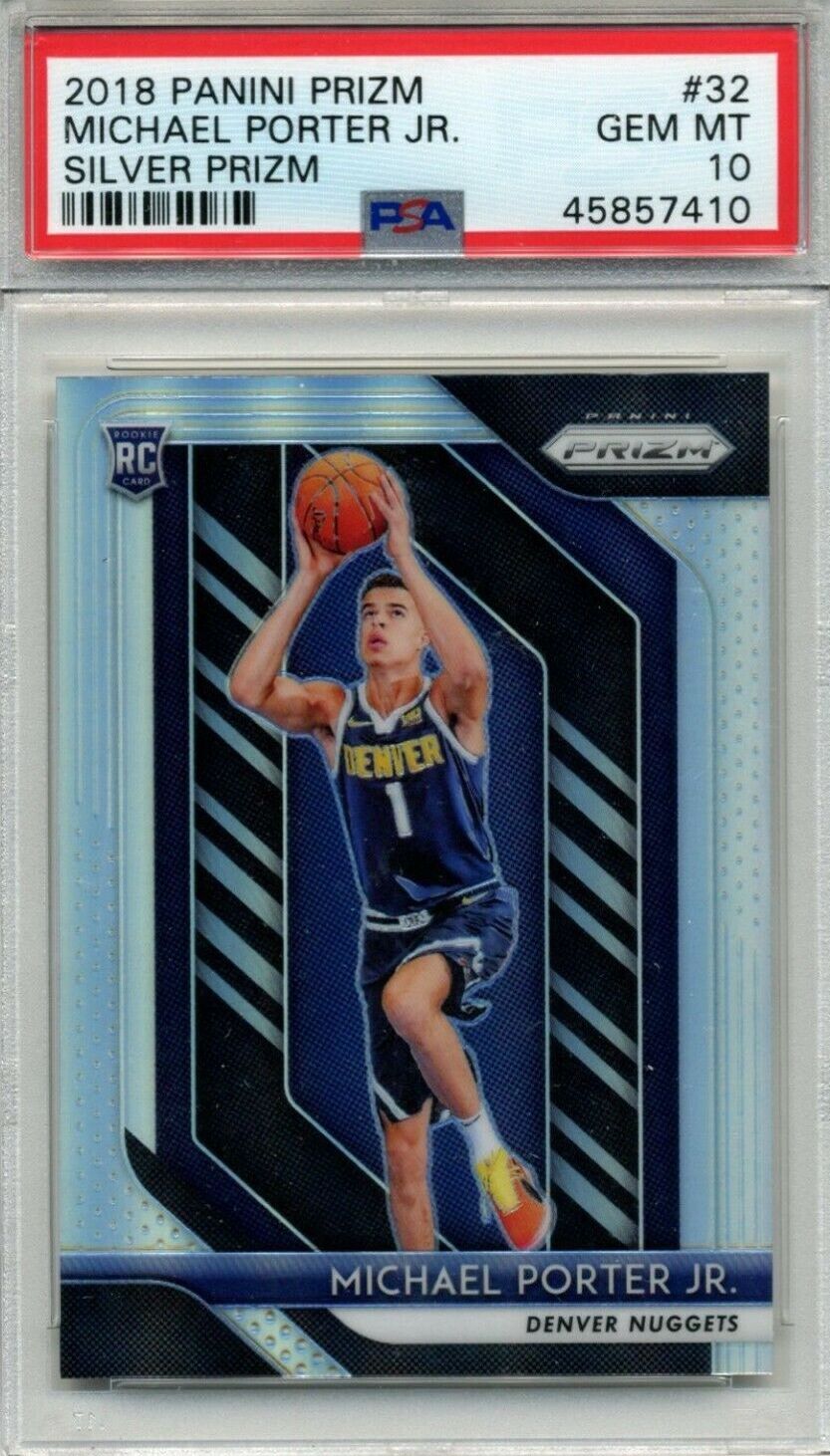 There are more question marks with Porter than the other two guys I mentioned. If you weren't paying attention a few years back, this IS important information to know. Michael Porter Jr. was pretty much universally a top 2 recruit in his college recruiting class, up there with Bagley and Ayton and Bamba and JJJ, Collin Sexton and all those guys. And all the early projections were that he was going to go very high in the top of the NBA draft the following year, a lot of early projections had him as the top overall pick. But he played through a lot of nagging back pain in high school, had to see chiropractors pretty regularly and missed time. Then he went to Mizzou and according to him, one of the therapists he saw while there actually made the injury worse, all the sudden he couldn't jump very well. And then he only played three games in college, one was a two minute long appearance against iowa state in the season opener, and then he played in the last two games of the season after recovering from surgery to his back to treat a couple of herniated disks. 
So a lot of question marks about his health that caused him to fall to the Nuggets at 14, but the Nuggets have a very deep roster and they could afford to roll the dice on a kid that might not play for a whole year or more, but for whom the payoff could be huge. And so they selected him, then he had his second spinal surgery, he recovered from that, then he sprained a knee, and he also battled some ankle injuries throughout the season. So investing in Michael Porter Jr. is not a guarantee. You know, injuries are unpredictable, but some guys really are just pre-disposed to injury, and i think MPJ fits into that category. I think the Nuggets training staff seems to have done a good job with him, and hopefully can keep him mostly healthy, because if he can stay healthy, he looks like he's going to be a really special player. 
Only played in 48 games, just one start, only averaged 14 minutes per game. So PER 36 minutes, we have to do some extrapolation there so take these with a grain of salt, per 36 minutes he averaged 19 points, 11 rebounds, 2 assists, a steal and a block, and he shot 42 percent from three point range by shooting over 40% on both his pullups and catch and shoot opportunities. So really really good all around from deep, also shot 64% from the restricted area last season, which is quite good as well. Really not too many weaknesses for Porter when it comes to shooting the basketball. 
There are a lot of things he doesn't do very well, not much of a distributor, doesn't get to the line very much, he can block shots but he really doesn't play much defense at all—he's a negative on that end of the court, like in the bottom 100 defenders or so in the league. So I rag on a lot of guys for that type of stuff, so this is going to SUPER hypocritical, but while they're definitely still negatives for him that it would be great if he could improve, but also, it really doesn't matter as much when you're playing on the Denver Nuggets. He doesn't need to distribute the ball because he's playing next to the best passing big man in basketball in Jokic. Also his defense isn't so detrimental to the team since the Nuggets are a very good defensive team. I brought up the defense as a big concern for Trae Young and Collin Sexton and some others because they're not in very good situations where those things really show up in the win collumn and the negatives show up quite a bit more. But guys like Doncic and MPJ, they're just on better teams and they're afforded a lot of protection in those weaker areas. You know, so much of NBA development all depends on being drafted into the right situation. There have been tons of guys that just get drafted to the wrong team and don't have much of a career to show probably because of that. 
So MPJ is on a good Nuggets team that really has a lot of good depth, it has the top-end star in Nikola Jokic, it's got other good young players like Jamal Murray. They just don't have that offensive scorer that will carry the brunt of the scoring night after night, but I think that missing piece could be Porter Jr. So if he can actually start playing 30 minutes next year, and if his usage bumps up from 22% to 25 or 26% like I think it probably will, I think he's probably a 25 point per game scorer. And for him in his current situation, that's all he really needs to do to get all the attention necessary to keep driving up his prices. 
Now, Mike Malone is his coach, and he really likes playing tough nosed defensive players, and that's why he wasn't spoon feeding minutes to Porter this past season. It's not a guarantee that he just starts getting those minutes this coming season for the same reasons. Also, Jokic is also not a very good defender, and so a frontline of him and Jokic is probably one of the worse defensive frontcourts in basketball which is a concern. It would also be one of the best offensive front courts, and will probably still lead to a lot of 50 win seasons. 
So question marks abound for Michael Porter Jr., there's no guarantee that he has a long NBA career due to the injury concerns, but if he can get on the court and stay moderately healthy, the ceiling is really pretty high and there's a lot to like about his team situation moving forward. His PSA 10 Prizm Silver RC's are auctioning off in the $200 range, some lower some higher, generally though right around $200 for the past month. There's more risk involved in him than we'd like, but if you understand those risks and have some disposable income that you can put at risk yourself, I think this is a buy. But this next season is really going to be a big one for him, and this next offseason is going to be telling as well since Paul Millsap is a free agent, and his departure could mean a lot more minutes for Porter, whereas re-signign Millsap cuts into Porter's minutes significantly. So lots of risks to be aware of all over the place, but in general I like Michael Porter Jr. a lot and have him down as a buy. I think the potential is too great for him to not see those minutes and that usage moving forward.
Alright, moving on. I can't cover every player today since I am trying to cover the rest of the draft. So a guy like Troy Brown Jr., who I think shows that he could be a solid enough role player moving forward, also hasn't been given a ton of opportunity so far, and the advanced metrics aren't very sold on him as a player, also plays on a pretty messy Wizards team that even Wizards fans love to hate, so I think the card upside is pretty limited and not worth spending any more time on. Zhaire Smith, already talked about him in passing last week, and there just isn't much to talk about since he's hardly played. 
So that brings us to one of my favorite players, for my Milwaukee Bucks, pick number 17, the Michael Jordan of Deleware, Donte DiVincenzo, the BIG RAGU! You probably remember him from that Villanova run to the championship in 2018, in the tournament he was one of the really hot names, shot 50% from deep during that run and poured in 31 points in the national championship game against Michigan. There was a lot of concern among Bucks fans that he was overdrafted off of the hype from that tournament run and that his ceiling was actually pretty limited, but he's really been pretty impressive particularly this year and has quickly become a fan favorite. His one big negative right now is that he's not been a good shooter from deep, just 34% from three this past season on about 4 attempts per game. He was quite a bit better on catch and shoot threes, the pullup attempts dragged his overall percentage down a bit.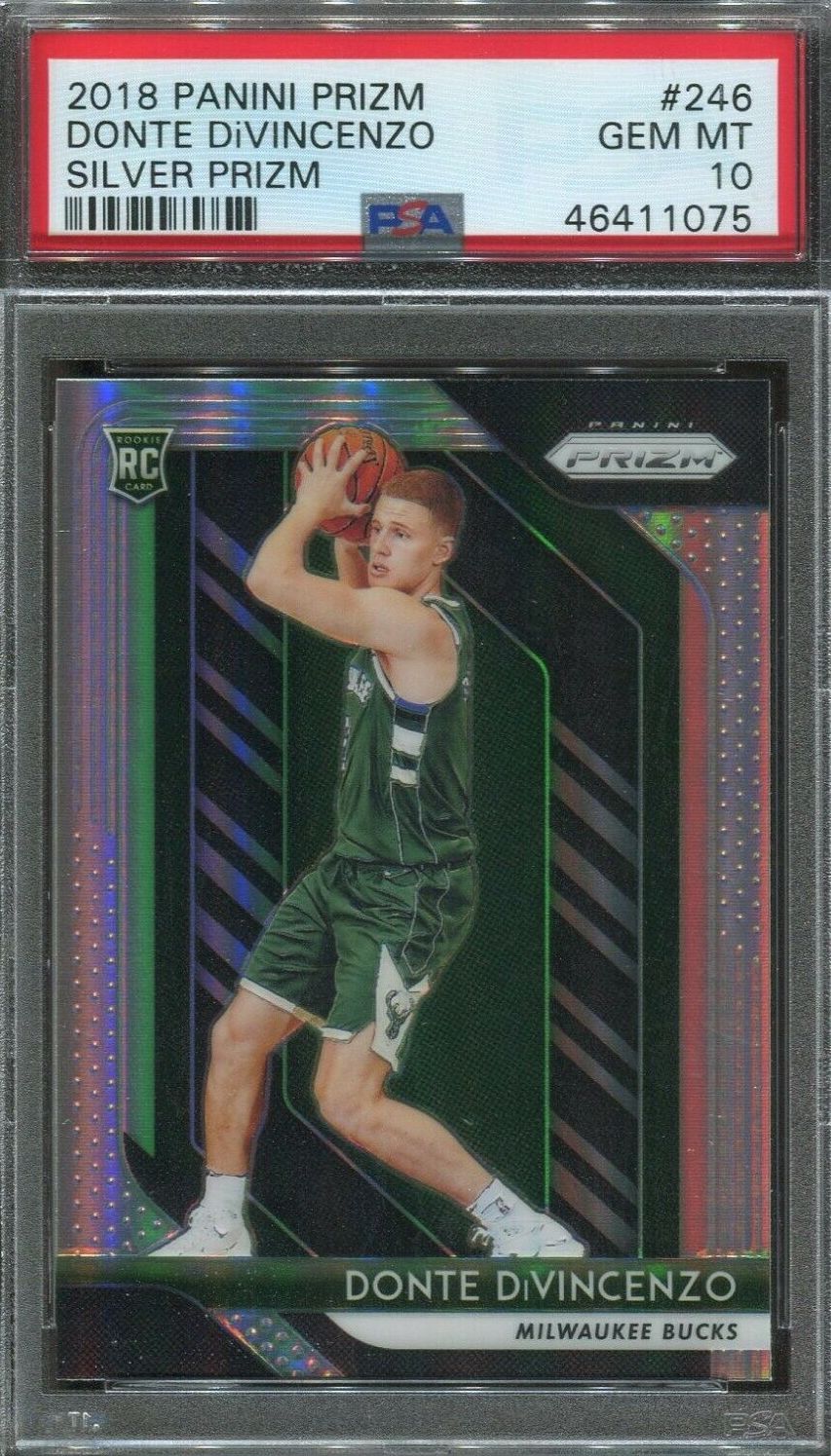 Nothing about the basic stats stand out all that much, 9 points, 5 rebounds, 2 assists, a steal and a half, but that was only in 23 minutes a game. Per 36 minutes those numbers are 15 points, 8 rebounds, 4 assists, and two steals. I do think that starting next season Divincenzo is going to be the starting Shooting Guard for the Milwaukee Bucks, I would think around 29 – 30 minutes is what we'll be seeing from him per game. 
That will be good for the Bucks as he's been a big net positive all season. Very good defensively, also good offensively although he certainly has room for improvement there. He was second in the NBA in Net Rating, right behind Giannis Antetokounmpo, a lot of that has to do with playing next to Giannis, but they do play exceptionally well together. Also, almost every single lineup that DiVincenzo was in was a positive in his minutes on the court, the bucks were much better both offensively and defensively when he was on the court, carrying an impressive 112 points per 100 possessions offensively and an absolutely stifling 98 points per 100 possessions defensively when the Big Ragu was playing. 
Even though DiVincenzo will likely never be shouldering the offensive load, he does so many things around the court and he's become a very important piece to a very good Bucks team. When you watch the Bucks play, and I've watched almost all the games, Donte is just one of those guys that you can't help but notice, because he's in on every single play, and he's got the type of eye-popping athleticism that really just stands out from the crowd. He's also a steals maven, leading to a lot of fun transition stuff. So obviously I like him a lot, although I am a big Bucks fan, so please take that into account. If he can keep improving his shot from 3 point range, he's really going to be a fun player for a long time, and a good one too, and I think he will be starting as soon as next season. A lot of his value will be dependent on continuing to play alongside Giannis for the next several years, so hopefully that continues. 
Hard to say what his current prices are, not a whole ton of auctions to go off of, only a population of 125 PSA 10 Prizm Silvers out in circulation which would explain some of that. But one auction sold on PWCC for $127, a lot of three went on eBay for $430, and a smorgasbord of cards went for $270 a couple weeks ago, so Idk what the current market rate is, but in general I like him and have him as a buy. You'll probably have to buy raw silvers and get them graded with ClayCards if you want the best bang for your buck, since clearly most of the DiVincenzo silvers in circulation are ungraded. 
Next pick, going 18th to the San Antonio Spurs, Lonnie Walker. Pretty hard to project this guy at the moment. Only played 120 minutes his rookie season and only played 14 minutes a night this past season. A lot of that is because he is playing for Greg Popovich who isn't necessarily interested in playing young players just due to their potential. There is a ton of optimism around him in Spurs Nation, and that's entirely based upon his athleticism, which is excellent.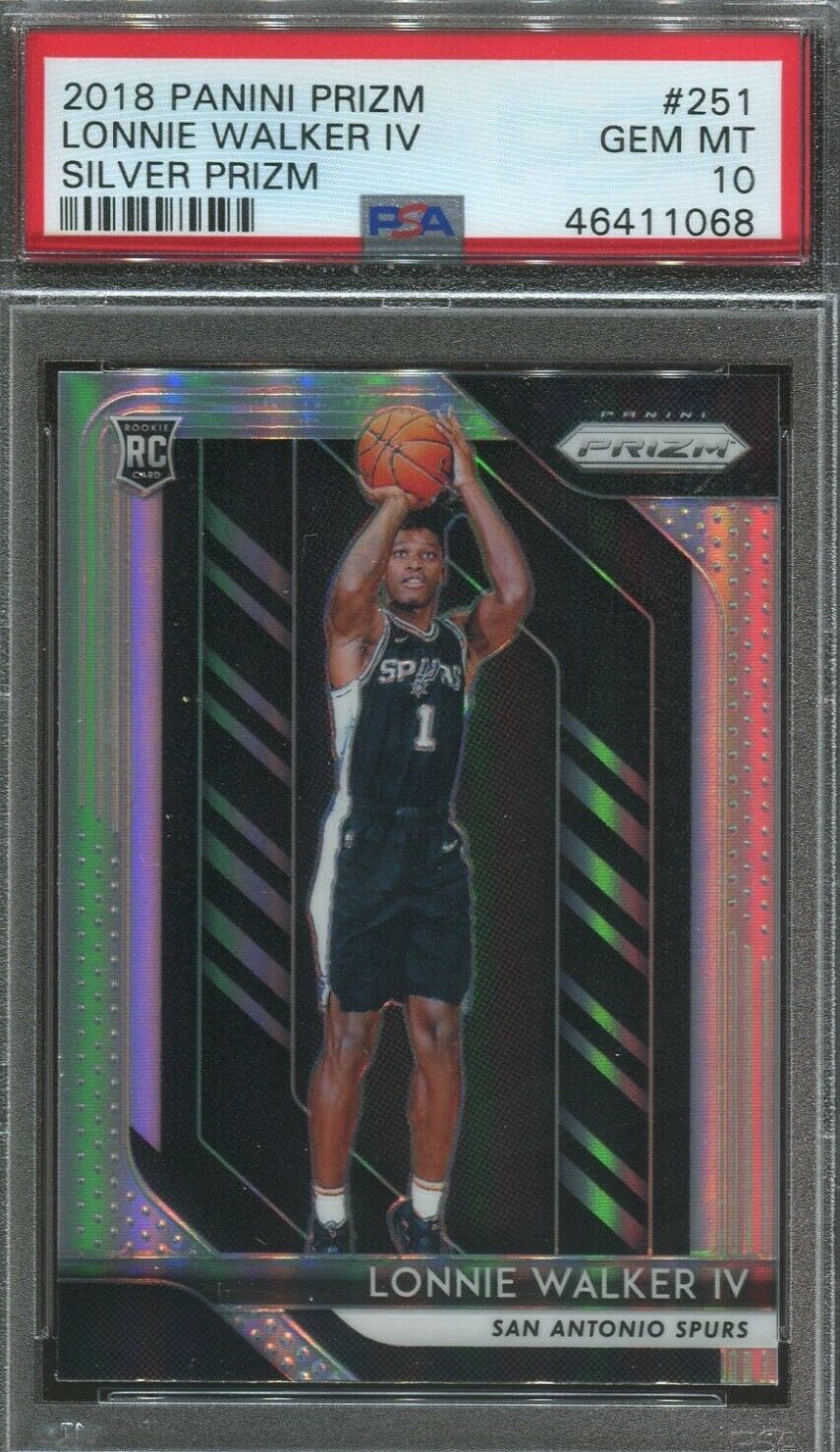 He is very inconsistent so far, clearly doesn't really know what to do once he gets the ball in his hands, which can improve with time and we'll just have to wait and see what happens. DeMar Derozan does have a player option for this coming season, which he reportedly will opt out of if he can't reach an agreement on an extension with the Spurs. I don't think the Spurs should be interested at all in extending Derozan, so if he really walks, that should open up quite a few minutes for Walker somewhere on the wing, splitting time between the 2 and the 3. 
On court production he shot 40% from three but not very efficient from anywhere else. Per 36 minutes he scored 14 points, 4 rebounds, 2 assists, a steal and a half, which all looks fine, but of course that is just expanded out from the 14 minute per game production he actually produced. Didn't finish very well at the rim, also just generally looked kind of lost. 
I wouldn't rule him out, he certainly has potential due to the athleticism alone, but honestly, from what we've seen so far, he just doesn't seem to have a very high basketball IQ, because he can get tunnel vision pretty bad defensively and doesn't help a ton on defense, also on offense just doesn't seem to know what to do with the ball in his hands a lot of times and can often just kind of disappear on offense, doesn't seem to know where to go. So, he could learn those things, he could be really good, he could also be really bad, just a wide range of possibilities with him, and a lot of risk involved. Also, if he never figures those things out, we shouldn't be expecting Popovich to be handing out too many minutes to him. 
His PSA 10 Prizm Silver RCs have been auctioning off around $100, usually somewhere in the upper $90s. I don't think of him as a buy since, I think there's probably a better chance than not that he doesn't turn out into much of anything,you know with these high athleticism projects, more often than not they just don't pan out. So I'm just not super comfortable recommending you to potentially throw away $100 on his cards. I would not be surprised if after DeRozan leaves that all of the sudden the hype really starts building around Lonnie Walker and drives his prices up. In fact, I pretty much expect that to happen. But I'm not a huge long-term believer, he's just got to show us something first before I can recommend him to you. Probably just pass at this point, maybe sell if you've got him. 
Next up, I really gotta start going quicker here so some of these guys are going to be pretty rapid-fire, Kevin Huerter of the Atlanta Hawks. I like Huerter, I think he's going to be a solid role player in the league for a while. Shooting overall was pretty rough this past year, only shot 41% from the field, but good from long range, shot 38% on 6 3 point attempts per game this past season. The Hawks were quite a bit better offensively when Huerter was on the court, which is good. Defensively he's a work in progress like the rest of the young Hawks players. Overall this past year he went for 12 points, 4 rebounds, 4 assists and a steal, which is all fairly nice. I wouldn't be surprised if he became a 15 point 5 rebound 5 assist type of player, which would be valuable for this Atlanta Hawks team. I like him as an NBA player and I like him as a fantasy player if you're into that sort of thing.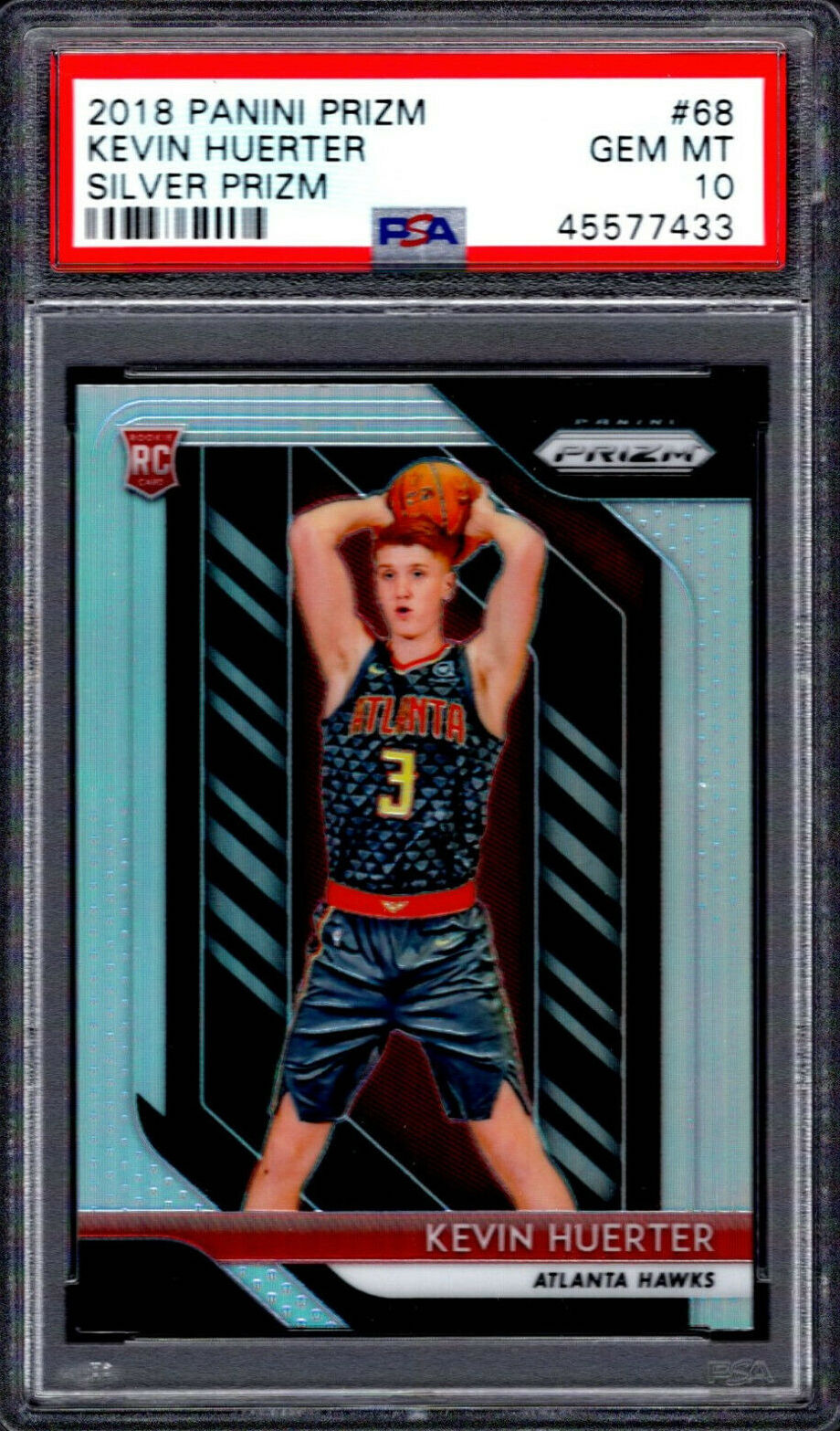 My main concern with Huerter is I think there are just too many other young guys on the Hawks roster that people are much more excited about. Trae and John Collins and Reddish and De'Andre Hunter are all a lot more popular names on the card market than Kevin Huerter and you see that in Huerter's prices. His PSA 10 Prizm Silver RCs are only auctioning around $45 bucks lately, and I don't know that he'll ever become much more than a solid rotation piece to really drive up those prices. There's just a lot of young prospects around the roster, all of whom garner more excitement from the majority of people, so I think Huerter is just kind of overlooked and I kind of expect that to continue. I like him as a player, but just don't think the potential return is great enough as an investment, even at the low prices. I guess he's a hold or a sell, whatever you want to do, but I don't think he's much of an exciting buy. Again, I like him, but I don't think he'll ever garner a ton of attention. 
We have to do some jumping now, jumping on down to pick number 24, Anfernee Simons to the Portland Trailblazers. Really was disappointing this season, especially because the hype train on him last offseason was really driving up his prices. Last October and November his PSA 10 Prizm Silver RC's were auctioning consistently around $110 to 120 bucks, nowadays he's regularly in the $70 dollar range. That drop is due to his poor performance, only played 21 minutes per game with 9 points, 2 rebounds, a steal and a half, and only shot 34% from three on three and a half attempts per game. He is still super young, turns 21 next week, didn't even attend college, instead he played a postgraduate year down the road from me in Bradenton, Florida for IMG Academy. So still a lot of development to be had for the young fella.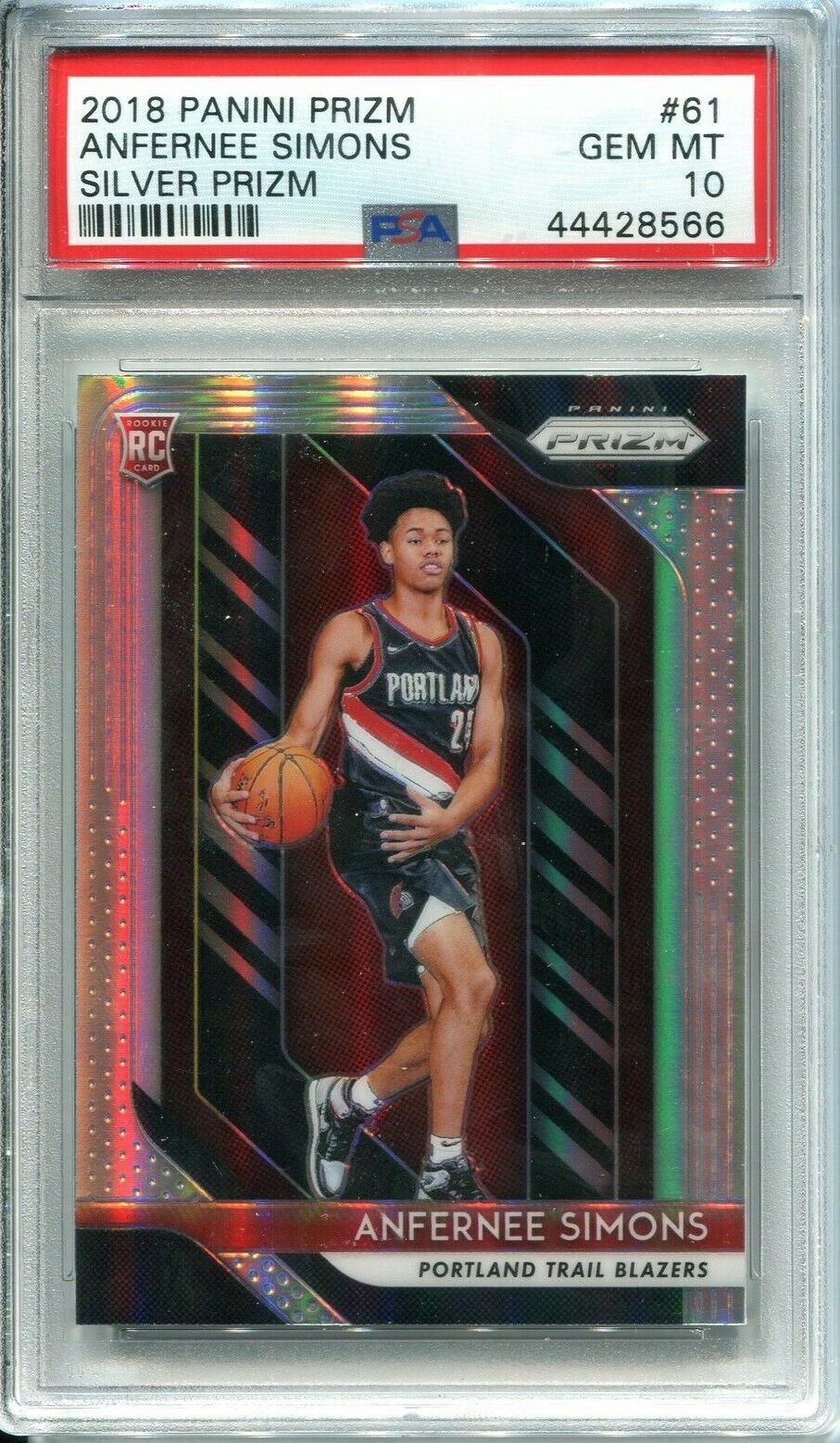 He is limited though by the roster construction in Portland, the two most important players on the roster are obviously Dame and CJ McCollum. Simons is very undersized for his position, only 6'3", pretty bad defensively, so playing him and McCollum next to eachother is not a very good option, in the most used lineup featuring Lillard, McCollum, AND Simons, they posted a Net Rating of minus 17. So a lot of Simons' future value seems like it's going to be dependent on McCollum getting traded, and I just don't know if that's going to happen. He's owed $100 million over the next three seasons, there's going to be quite a big squeeze on the cap in the next few years, and I'm not sure how many teams would be able to squeeze McCollum onto the payroll, especially since he is probably getting paid a bit above his weightclass. If Simons is going to be stuck behind him, I just don't see a very easy path forward for him.
That said, he does have a ton of potential. He's got super athleticism, and supposedly should be able to shoot well eventually, and he's so young still. He was mostly bad last year but had flashes throughout the season that really were impressive and gave you a glimpse of what he could be. The Trail Blazers seem to love his potential, so they're certainly going to give him every shot to make it. But at this point, all we have to dream on is the potential. Another guy with a wide range of outcomes, but certainly could become a special player, also could just hit a wall. I don't think I'm buying at the $70 he's at right now, probably just a hold and hope for the best. I do think he's in a good place to learn with Dame and CJ ahead of him, so again, it could work out. 
Next up, at pick number 27, Robert Williams the Time Lord! Hey, I'm skipping Mo Wagner and Landry Shamet, not because I don't like them, I do like both as players, I just think their upside on the card market is limited enough that it's not worth spending the time right now as my time is a bit limited today. Back to Robby Williams, I think the Celtics want him to become their starting center eventually. This past season he scored 4 points, 5 rebounds 1.2 blocks in only 14 minutes per night. Per 36 minutes that's 11 points, 12 rebounds and 3 blocks, which if he could do that, that would be nice.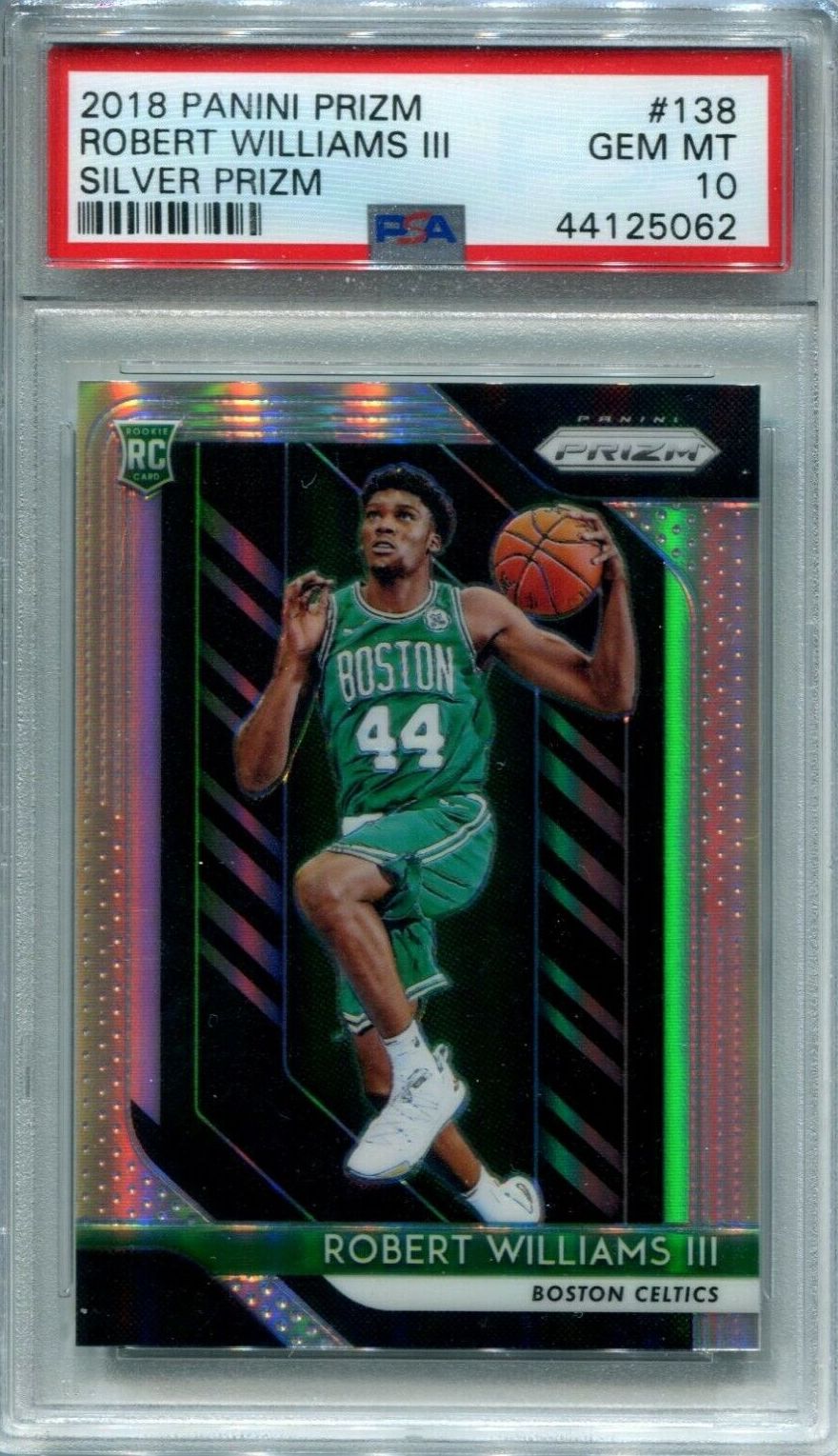 Now, he's had a hard time staying on the court, injuries have hurt his development quite a bit. Only played in 23 games this past year, 32 the year before, so hasn't had a whole ton of time to develop yet. If he keeps getting injured, obviously that will continue. He has a pretty nice ceiling, but with him it's all about potential, and of course potential is a double edged sword. I don't know that he'll ever hit his ceiling. 
If the Celtics build towards him being their starting center in the next 2 to 3 years, I think there's some upside here because he plays for the Celtics, and Celtics fans really like to hype up their own players and that is a large fanbase. His PSA 10 Prizm Silver's are currently going for $25, and that seems like a decent enough pure lottery ticket to me. If that starts to climb towards $50, I probably wouldn't still be buying because it is a just a flip of the coin really. But I think of what he could possibly bring to a Celtics team that is very popular and should continue to be good, it's worth the $25 chance to me just to see what happens.  
Two more blokes that I'd like to talk about, the first is Devonte' Graham of the Charlotte Hornets. We all know what happened with him this past season. He started off the season super hot, first two games of the year he hit 12 threes combined, just absolutely tore it up on several occasions in the first couple weeks of the season. At the time his raw prizm silver rc's jumped up about 600% I think from a couple bucks to about $30 by the beginning of December. His PSA 10 Prizm Silver RCs had been hovering around $100 for the month of April and half of may, they jumped up this past week to around $130 on three different auctions, not exactly sure what happened there, just reporting that it happened.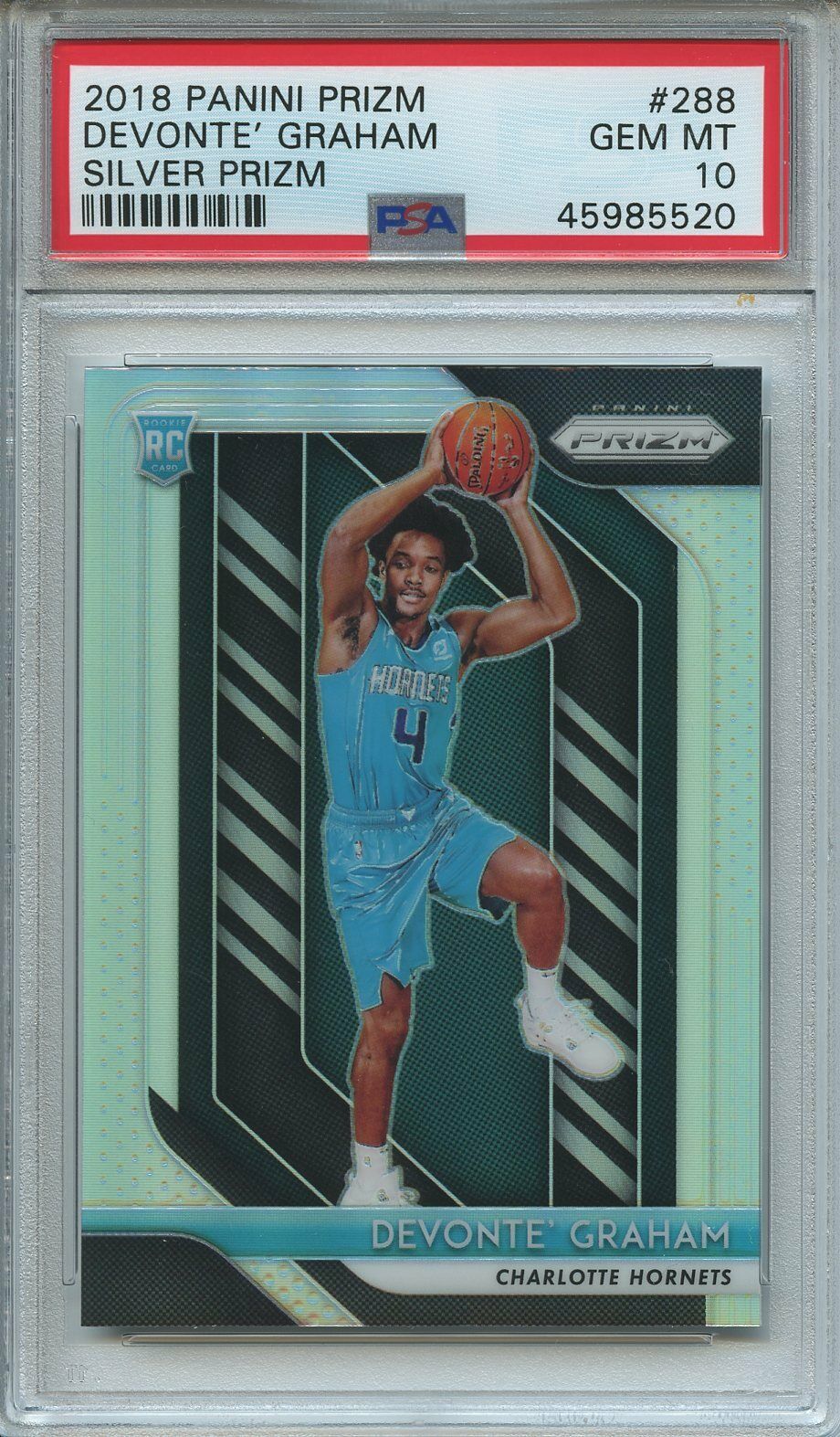 I think what happened this year was the hype built early, and in general his reputation after October might have outstripped his production a bit, but I still like what he did and what he will be moving forward. He was just launching threes this year at over 9 attempts per game, and hit 37% of them, which is really good. Scored 18 points per game along with 7.5 assists, all really pretty good for the first year starter. The shooting overall is really really bad, just 38% from the field, which is atrocious. He's got to pick that up, but even still, with the just all time bad shooting from the field, he was really good overall. By net rating he was a plus 7.1, which is really good, especially when you consider that the most used Hornets lineup also featured Miles Bridges and his -8.2 net rating, terry Rozier and his minus 7.8 net rating, and cody zeller with his minus 2.9. For Devonte Graham to play as much as he did with total net negatives and to come out as such a big positive, that is impressive. 
Moving forward, he has got to start shooting better from the rest of the field. There's a lot to like about him, the three point shooting, the passing, the free throw shooting, that's all good, but unless he can get more efficient, I don't know that he's ever going to be a starting guard on a good team. A good starting guard on a bad team or a 6th man on a good team. If he jumps up in efficiency this coming season, then I think the ceiling is increased.
At the $100 to $130 dollar range that he's currently going for, I'm kind of having a difficult time deciding what to recommend. He has the type of deep range highlights that really bring a lot of attention, plus he's clearly the best player on his team which helps his value. So I'm not going to take a position on him, and just let you decide what you want to do. Another year and we'll have a lot clearer picture on what he is, but another year might be too late to be buying, so I'll just let you decide. 
Last guy to talk about is Mitchell Robinson, of the New York Knicks. I really like Mitchell Robinson, and he's just been a victim of absolutely negligent to this point. First he had Fizdale just jerking around the lineup with absolutely no plan whatsoever for a season and a half, this year Fizdale just decided basically just wasn't going to play Robinson. Fizdale mercifully got canned, Mike Miller replaced him and he also didn't really know how to handle the team at all, much less mitchy robinson. The big problem for him besides the coaching was that the Knicks went out and signed about 17 guys last offseason whose best position is probably center, and there was a lot of pressure to play those guys to try to make the front office look smart, and it just didn't work out. But still, the damage was done for Robinson, and he averaged only 23 minutes per game on the season. Now, one of the big reasons why he's historically not gotten much playing time so far has been due to the fouls. His rookie season he averaged 5.7 fouls per 36 minutes, which basically just means he was on pace to foul out almost every single game. That was down to 4.9 fouls per 36 minutes, and over the last ten games when he was finally averaging 26 minutes a night, that was down to 3.5 fouls per 36. Now even if he does accumulate 5 fouls per game, that's not enough to keep him off the floor, especially because he was easily one of the best players for the knicks this season.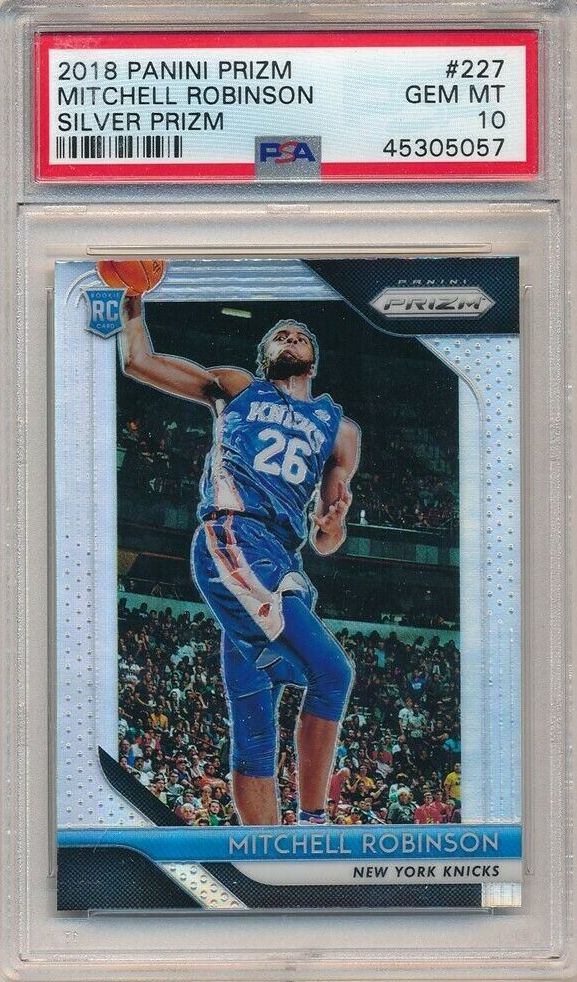 He led the team in Net Rating by a wide margin, PIPM by a wide margin which is a catch all impact measurement, he also led in win shares and VORP by a significant margin. There's no reason for this guy to not be playing. He's very good defensively and he does enough offensively to be getting 26 to 30 minutes a night. 
Hopefully the Knicks roster clears up a bit, and hopefully they get a coach in there that recognizes that the best young prospect on the team is probably Mitchell Robinson. His PSA 10 Prizm Silver RC's have been auctioning off around $100 recently, in that range, as high as $112 and as low as $88 in recent weeks. I think he's a buy, first because I like him as a player, and I think he's merely been misused and still has a tremendous ceiling. Second, because he's in New York, and the New York media machine, once it latches onto him as a franchise player, we're really going to see his cards start climbing. If the Knicks hire Tom Thibedoux, which is the current rumor, and he comes in and starts talking up Mitch Rob, I wouldn't be surprised at all to see these cards climb quite a bit in a hurry. So I'm putting a buy on him, I think there's pretty clearly a lot of upside here. 
There were a lot more guys that I liked that I didn't cover, Josh Okogie, Aaron Holiday, Landry Shamet, Mo Wagner, Rodions Kurucs to name a few. I apologize if I missed anyone, I just couldn't get to them all. Alright, that is all the time I have for today, thank you so much for tuning in.