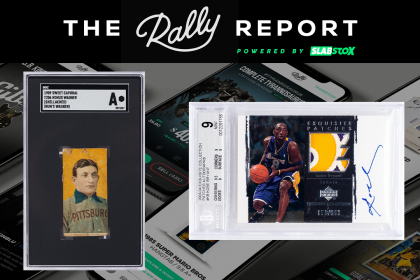 This message is sponsored by Rally. RSE Archive, LLC may be referred to individually as a Rally Entity. Rally is not a broker-dealer and securities are offered to investors via registered broker-dealers and members of FINRA & SIPC. Any private security investments contain a high degree of risk and we urge you to review full details and disclaimer at rallyrd.com/disclaimer.
Welcome to the first ever Rally Report, powered by SlabStox and sponsored by Rally. We are thrilled to announce we have partnered with Rally to bring you all market updates on the fractional sports card, collectible, and memorabilia space. Rally is a platform that allows users to buy and sell "shares" of hundreds of collectible assets. You can check them out by downloading their app or using their desktop platform.
Rally was the first to turn tangible assets into fractionalized public securities offerings, establish a liquid secondary market for those securities, and to do so with SEC qualification. To bring these fractionalized offerings to the market, Rally has to acquire assets and then turn them into a "company" via regulatory qualification which they then split into equity shares. These shares open during an "Initial Offering" where investors can invest in shares, and then investors can buy or sell shares during trading windows every 90 days following this "Initial Offering".
More on Trading Windows – they are scheduled Monday through Friday, from 9:30AM ET to 4:00PM ET. Trading Windows are where shareholders are able to put their shares up for sale and buyers are able to place a bid to buy them. At the end of each trading window an asset will get repriced based on that day's trading activity. A common mistake to avoid is investors will not have funds available during these open Trading Windows. If you wish to partake in a given trading window, be sure to initiate a deposit of funds into the Rally app at least 24 hours before the trading window goes live.
While Rally positions itself to hold assets for the long term, opportunities do arise to liquidate the asset through a "buyout". Rally fields offers for every asset on the platform after their initial offering. If a qualified offer is received, Rally will send a survey to shareholders of the asset and the asset could be sold off the platform – with investors receiving a cash payout for their shares.
Be sure to check out Rally's FAQ page to better understand all of these details. To better help you understand investing on Rally, we will cover one buyout offer from 2021, some previous trading window results, and then a look ahead to this week's trading windows.
Buyouts
The first asset we're looking at today is the Pelé 1958 Editora Aquarela PSA 7 rookie card. For this first Rally blog post, we wanted to detail an asset that was bought out. This specific card is an extremely tough grade as it is from a perforated sheet and a lot of them were glued into albums in Brazil. This card was put up for an initial offering on December 16th, 2020 with an IO Market Cap of $26,500 and a $5 share price.The interesting thing about the Pelé is there was never a trading window for this asset. There was a qualified buyout offer received of $54,590 which was put up to a vote for the shareholders. After shareholders voted to accept, the exit was executed on February 17, 2021. When looking at the payout to the shareholders, the $54,590 sale equated to a 134% gain in value, and a 106% net payout to shareholders. When it came to the investor sentiment, the Pelé had a 65.29% approval which led to the exit.
To this day, the biggest Rally buyout that occurred was the Super Mario Bros. NES WATA 9.8, A+ that set an all-time video game record at $2M, which led to a shareholder return of 973.6% if you bought at the Initial Offering.
Previous Trading Windows
Our next assets to analyze will be based around Previous Trading Windows, looking at the market dynamics and how assets have changed over time on Rally. Of course, past performance is never indicative of future performance, but we're going to provide two examples for you to look into.
Roberto Clemente 1955 Topps RC SGC 8
The Roberto Clemente 1955 Topps RC SGC 8 was initially offered in May of 2020 at $38.00 per share, a market cap of $38,000, and 1,000 shares. Since the initial offering, its had 5 trading windows. The first trading window was on September 22nd 2020, ending at a $39 variation, a marginal increase of 2.6%. The next two trading windows on December 22nd 2020 and March 4th 2021 both experienced no price increase, with share prices holding firm at $39.00 a share. The 4th trading window saw a significant amount of action, as the price settled in at $49.50 a share which is good for a 27% increase from the previous window. Now the most recent trading window ended last week on September 16th, which is over a year after the Initial Offering. This led to the largest increase yet, as the new valuation was set at $77,000, or $77 per share. From the original IPO, that's a 103% increase.
LeBron James 2003 SP Authentic RC Auto /500 BGS 10/10
This card went up for its initial offering in February of 2021, and 10,000 shares were offered at $23 per share for a market cap of $230,000. Undoubtedly, this is one of LeBron's most sought after on-card rookie autographs, but at the first trading window on June 29th, it dropped to $15 a share for a 34.78% decrease. This is indicative of the moving market on Rally. Sometimes, assets trade higher than the Initial Offering price, sometimes they trade lower. That shouldn't be a surprise to anyone, because we live and breathe that daily in the sports card market. Every day brings something new, so always be on the lookout for the next trading window to see how an asset performs.
Upcoming Trading Windows
Now that we looked at previous trading windows to give you an idea on how the markets change, we're going to talk about two trading windows that are coming up this week on the Rally App. If you'd like to participate in any of Rally's trading windows, you'll need to deposit money into your account at least 24 hours beforehand.
Honus Wagner 1909 Sweet Caporal T206 SGC Authentic
The first asset we're discussing is the Honus Wagner 1909 Sweet Caporal T206 Card graded an SGC Authentic. It goes live for trading on Friday, September 24 at 9:30AM ET. The T206 Wagner is the most famous trading card in history as well as the most expensive card ever sold. In August 2021 an SGC 3 Honus sold for over $6.6 million. T206 baseball cards were originally made by the American Tobacco Company to be put into cigarette packs to help sales. Honus decided this was not for him, whether out of disdain for cigarettes or because he wanted more money from the ATC, he pulled the plug on the production of his card. Because of this, it is estimated there are around 60 known Honus Wagner T206s in existence. Rally's Honus has an interesting story, as it was once donated to the School Sisters of Notre Dame which is why it is nicknamed the "Nuns Wagner". This Honus Wagner had an initial offering date of December 11th, 2019, with 10,000 shares sold at $52 each. The Initial Offering market cap was $520,000. Since the initial offering, there have been five trading windows with every trading window increasing in price per share from the previous. The first Trading window was on May 19th 2020 and rose to $55 dollars a share. The second trading window was on August 11th, 2020 and share prices rose to $70 dollars a share. The third trading window happened on November 10th 2020 and share prices rose to $75 a share. The fourth Trading window occurred on April 8th 2021 and had a significant increase to $95 dollars a share, a 27% increase. The most recent Trading window happened on June 28, 2021 and ended at $100.05 a share, a 92% increase from the initial offering and put the market cap at $1,000,500 which made it the first offering on the Rally Platform to cross the $1M threshold.
Kobe Bryant 2003 Upper Deck Exquisite Patch Autograph /100 BGS 9
The 2003 Upper Deck Exquisite Patch Autograph /100 BGS 9 goes live for trading on Wednesday, September 22 at 9:30AM ET. This card comes out of one of the most important basketball sets ever produced, the inception of the Exquisite Collection basketball in 2003. At the time of release, this product was $500 per box (1 pack), which was more than the entire case of the regular Upper Deck release. Each five-card Exquisite pack came in an engraved wooden box and featured one Autograph patch, one Autograph Rookie patch, and three additional cards. This card was initially offered on Rally on October 6, 2020 at $4 per share with an Initial Offering Cap of $23,000 – a total of 5,750 shares. So far, there's been 3 different trading windows. The first trading window was on January 21, 2021 and it led to a 60% gain going from $4 to $10. The next trading window happened on March 25, and it rose to $12.50. The third trading window held constant, as on May 28 the final price per share was $12.50, for a total market cap of $71,875. Comparing this to the LeBron James 2003 Exquisite Rookie Patch Auto /100 on Rally, LeBron's market cap is currently at $46,000 with 2,000 shares offered, so $23 per share. The last time this LeBron was traded was on July 13. One more interesting point is that these two cards were some of the first modern cards of all-time offered by Rally, as they went live near the end of 2020. Since then, Rally has built out an extremely impressive offering of modern basketball grails.
Conclusion
That wraps up our first ever Rally Report powered by SlabStox and sponsored by Rally. On top of the trading windows we covered for next week, there are a few more trading windows to watch out for. Today, a Michael Jordan Game-Worn Uniform from 1991 is trading, on Tuesday, a 1963 Marvel Amazing Spider-Man #1 graded an CGC 6.5 is trading, which is in the top 13.5% of all CGC graded copies. On Wednesday, a 1986 NES Mike Tyson's Punch-Out!! WATA 9.4 A+ is going up for trading — just one copy of the game has been graded higher. Don't forget, make sure to download the Rally app and make a deposit 24 hours in advance to a given trading window. Thanks for sticking with us, and we will see you all next week in the Rally Report.