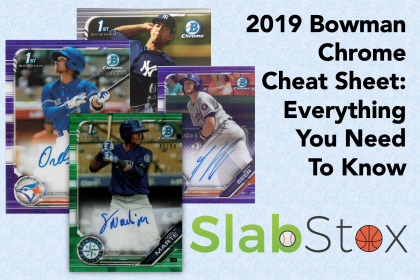 I try not to be too negative towards a sports card product. Most products have their merits and their detractors, and you usually know that going in. One product line that is usually great is Bowman which includes the shiny prospect autographs we have come to love. Whether it's Bowman Baseball, Bowman Chrome or Bowman Draft, it's normally full speed ahead to rip it. That changes with the release of 2019 Bowman Chrome.
Chrome has one of the weakest checklists I've seen. Some of that has to do with the staggering amount of solid players in Bowman Baseball, but the other part has to do with not searching out the right players or not being able to secure autographs from those players. The biggest misses for me (and most of us) is no autos for Luis Patino, Vidal Brujan, and Tim Tebow. Grabbing those guys would have made this product much more interesting. Alas, there's no reason to cry over something we can't change, so let's take a closer look at some of the guys on the checklist. It might not be a strong list, but there are still some nuggets to chase after in here.
The Big Names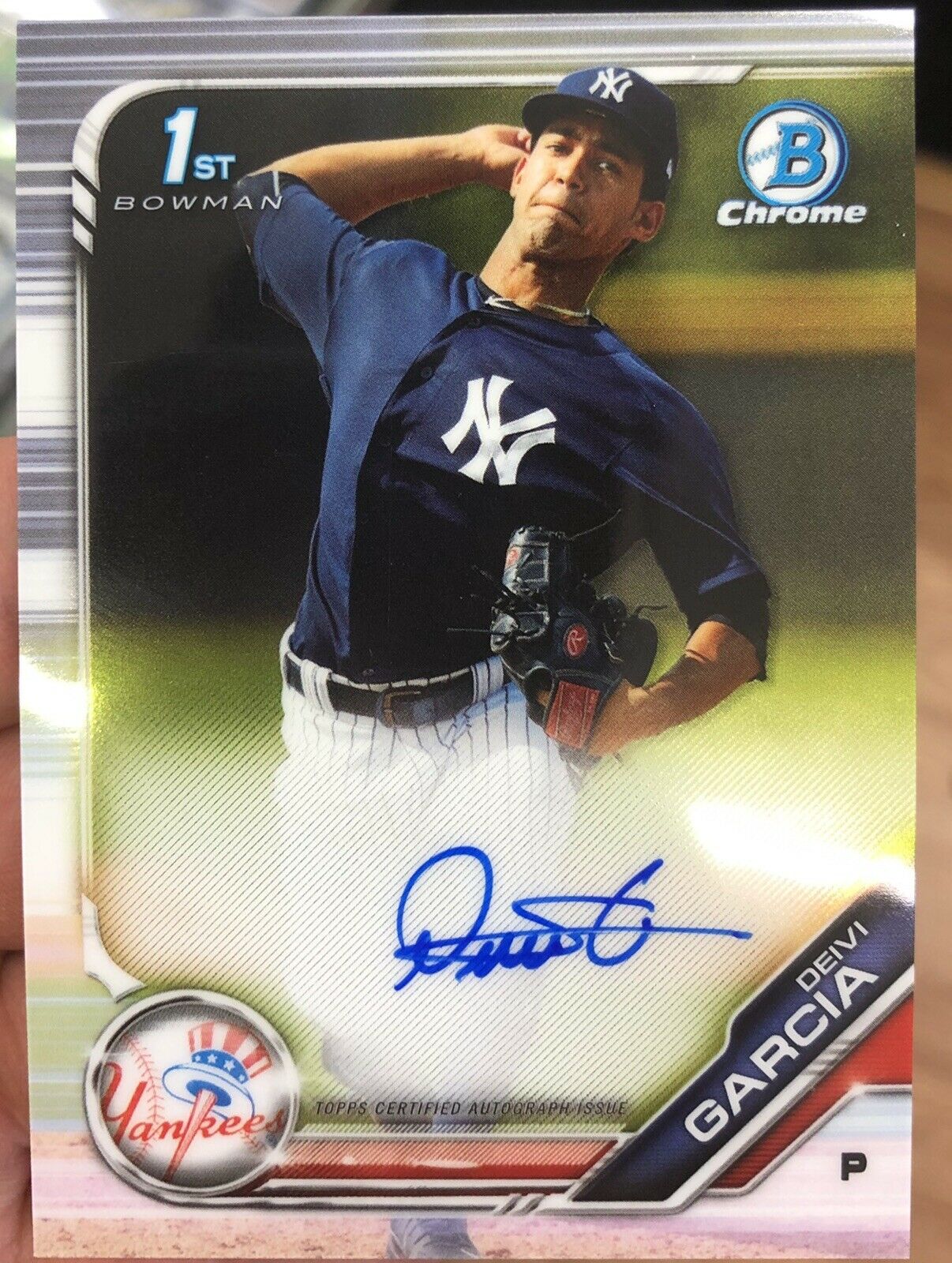 Deivi Garcia – Pitcher
20-Years-Old
Yankees
Top Prospect Rank: Fangraphs 62, MLB 63
Garcia threw really well in A+ ball (3.06 ERA, 33Ks), threw slightly worse in AA (3.86 ERA, 87Ks) and then threw poorly in AAA (5.40 ERA, 40Ks). Despite throwing poorly in AAA, the fact he was there as a 20-year-old is extremely encouraging, as are his season stats (111 Innings, 165 KS, 4.69 ERA). As the Yankees top prospect (and top prospect in the checklist), expect a ton of interest in him despite him being a pitcher.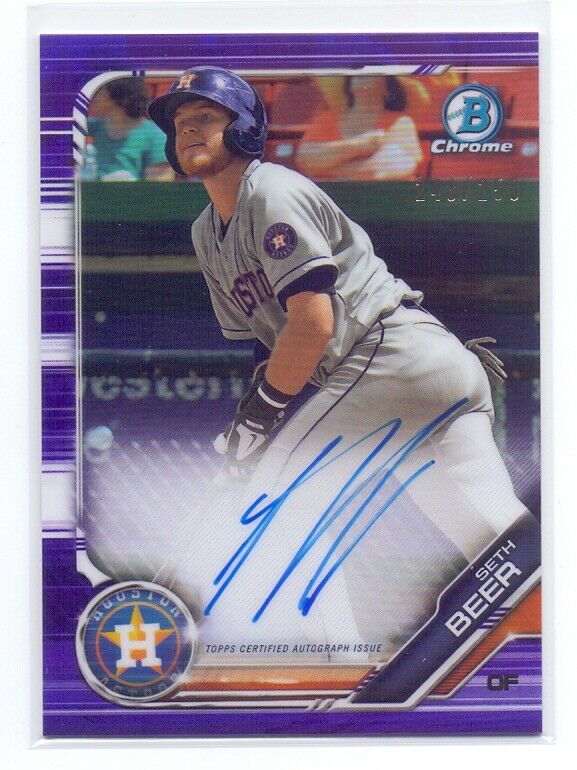 Seth Beer – 1B
23-Years-Old (It's His Birthday Today)
Diamondbacks
Top Prospects Rank: Fangraphs NR, MLB 97
Beer is the owner of one of the best last names in baseball and one of the best bats in the minors. Well, that was true until he moved to the Diamondbacks in the Zack Greinke deal. He hit .299/.407/.543 in AA Corpus Christi in the Astros organization\. For Jackson, the Diamondbacks AA team, he hit .205/.297/.318. A bad second half of the year, plus a move from the Astros to the D-Backs, should hamper his prices.
The Next Tier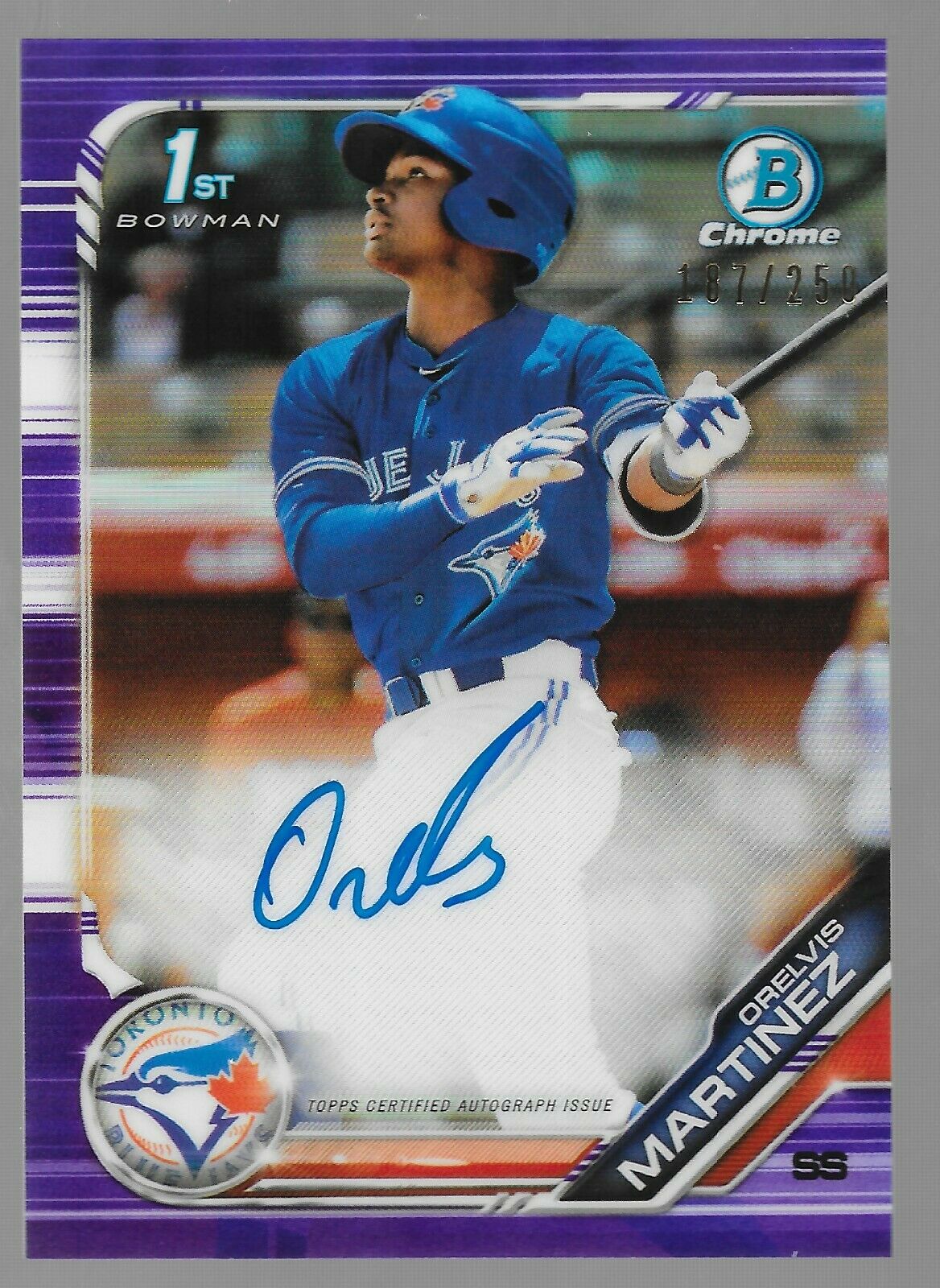 Orelvis Martinez- SS and 3B
17-Years-Old
Blue Jays
Top Prospect Rank: NR
Martinez possesses good power and little else to write home about tool-wise. What he does have is a chance to play SS with above-average power which doesn't grow on trees. He put up good numbers in Rookie ball (.275/.352/.549) and is only 17. The next step for him is to play in A-ball as an 18-year-old. An interesting prospect who will probably be a hot name out of the gate due to age, position, and power.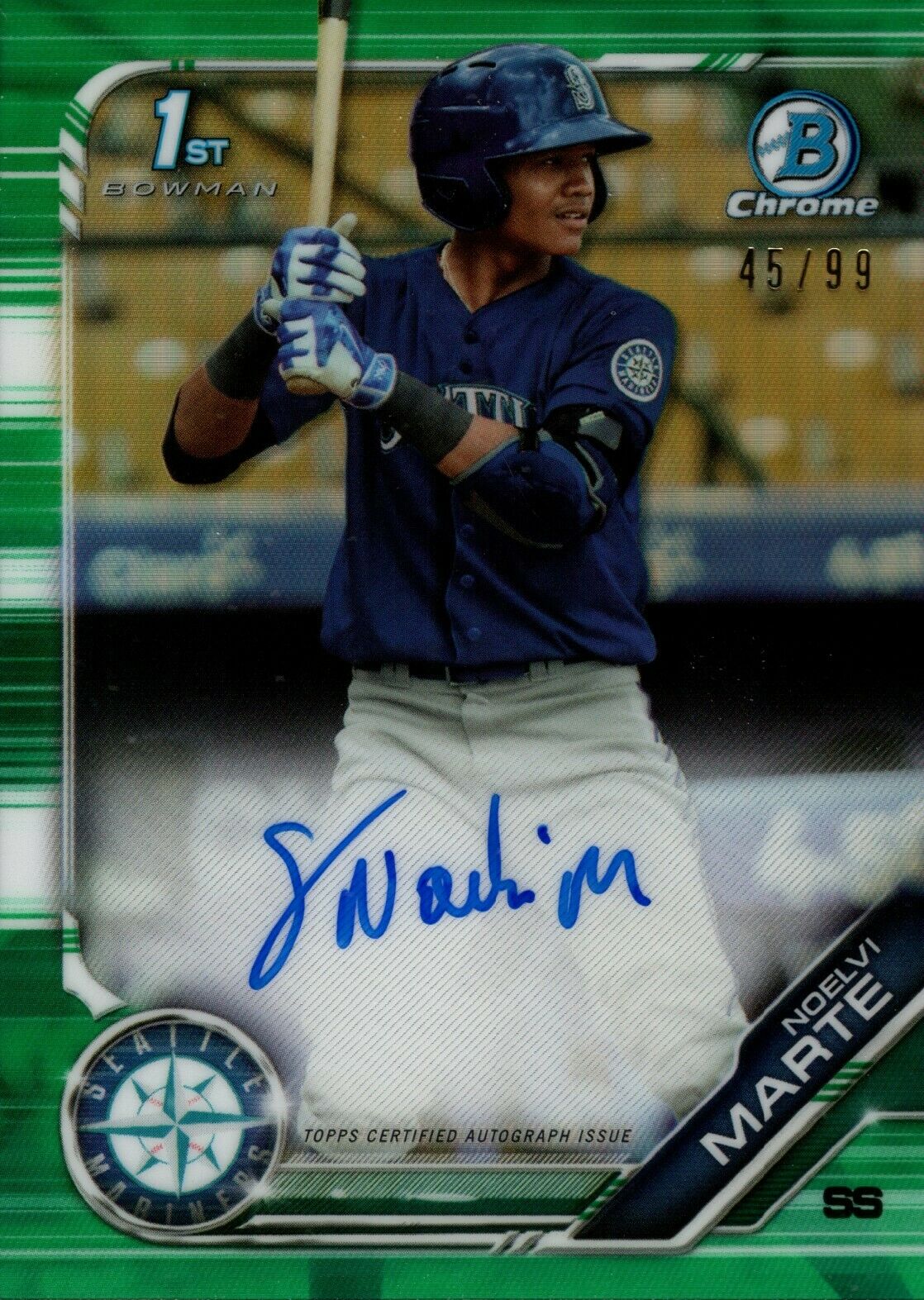 Noelvi Marte – SS
17-Years-Old
Mariners
Top Prospects Rank: NR
One of my favorite prospects on this checklist. I must admit, it's not because of how he has played, but because I pulled a billion of his Bowman Chrome nonauto base out of Bowman Baseball (which are long gone). He is interesting though. He's a legit SS prospect with big power and an average defense. He performed well in the DSL with a .309/.371/.511 line along with 9 homers, 17 SB, and a 9.7% BB rate. He will probably be one of the most sought-after names on this list.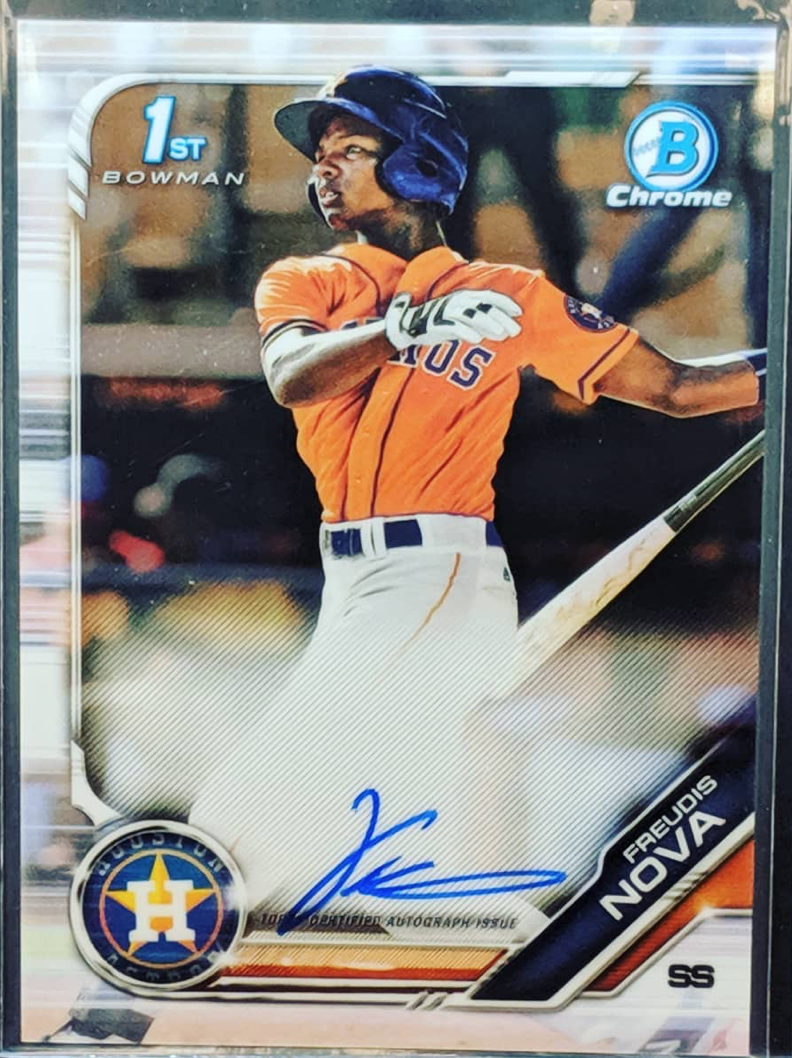 Freudis Nova – SS
19-Years-Old
Astros
Top Prospect Rank: NR
Nova was given big projections by Fangraphs with a future grade of 60 on his hit and power tools. He didn't exactly back those predictions up with a .259/.301/.369 line as a 19-year-old in A-ball. Another plus with Nova is that he plays shortstop as well, and if he finds the power, it'll work out well on the Astros. I'm pretty sure Aaron bought every Bowman Chrome non-auto of him earlier in the year, so credit Aaron if he works out and discredit him if it doesn't!
Wild Cards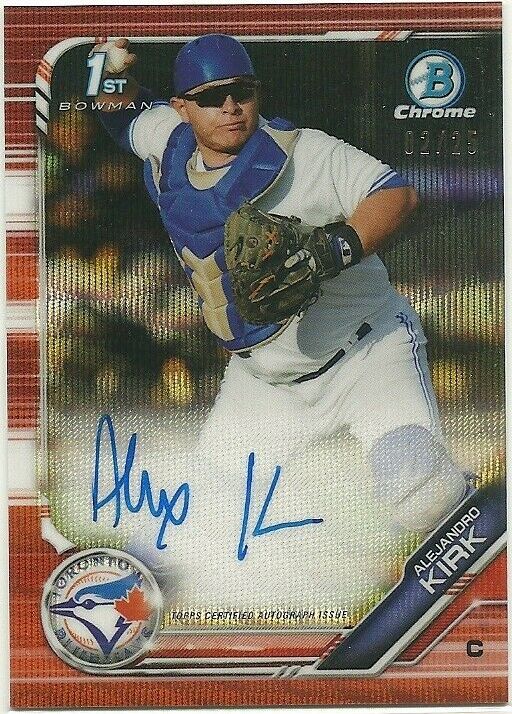 Alejandro Kirk – C
20-Years-Old
Blue Jays
Top Prospect Rank: NR
Kirk is very intriguing. He is a 5'9″ catcher with a 220 LB frame, and yet he's improved enough where he looks like he'll stick at catcher. That's big because his bat at the position is extremely interesting. He hit .288/.395/.446 in A+ ball. While he doesn't have the most power, his eye at the plate is extremely impressive. He walked almost 14% of the time and only struck out 11% of the time. Kirk's a name to keep track of if he keeps hitting like this.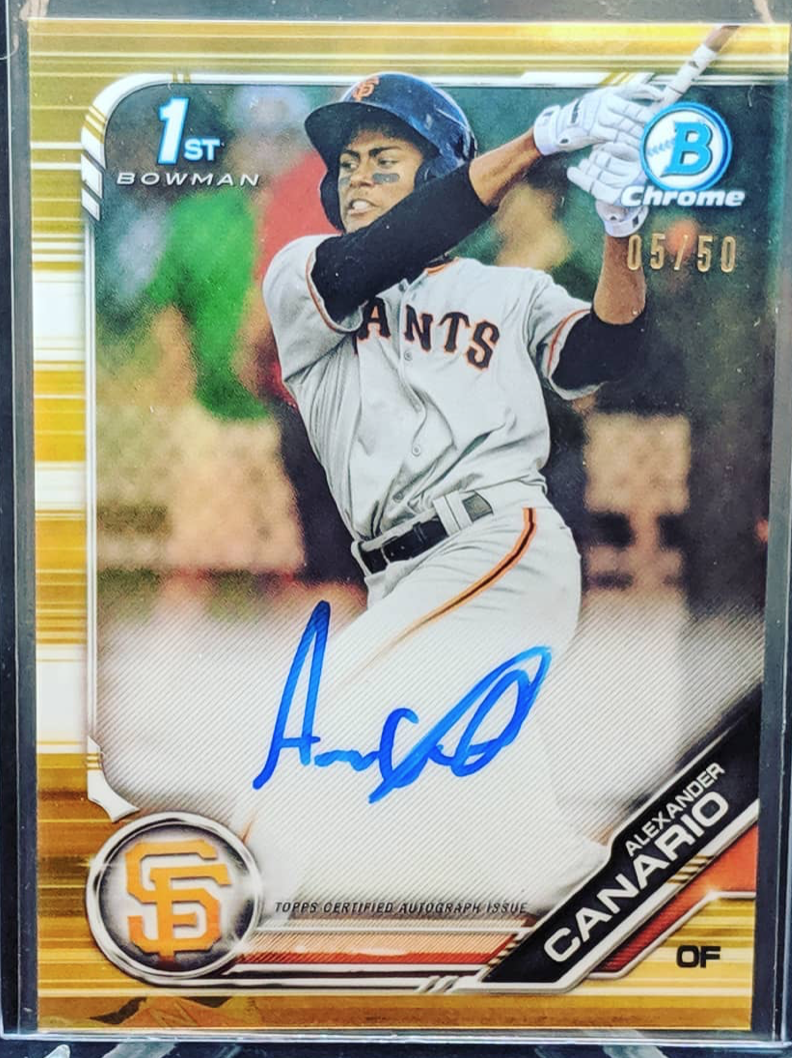 Alexander Canario – OF
19-Years-Old
Giants
Top Prospect Rank: NR
Canario had a great year in A-ball. He hit .301/.365/.539 and walked 8.2% of the time. His biggest detractor is that he struck out 32% of the time in A-ball, which is a giant red flag. He has big market appeal along with great counting stats. Canario should be a name that gets some recognition next summer as long as the strikeouts don't do him in. As we know, that can certainly happen to players who struggle with swinging and missing.
Brailyn Marquez – Pitcher
20-Years-old
Cubs
Top Prospect Rank: NR
Marquez is the Cubs' top pitching prospect which is a good thing for collectors. He also had a great year as a 20-year-old in A and A+ ball. Armed with a plus fastball and average command, he destroyed the lower minors to the tune of a 3.13 ERA in 103 innings with 128 strikeouts. Because of Chicago's market size, his prices out of the gate may surprise you, even as a pitcher (which we know most of you stay away from).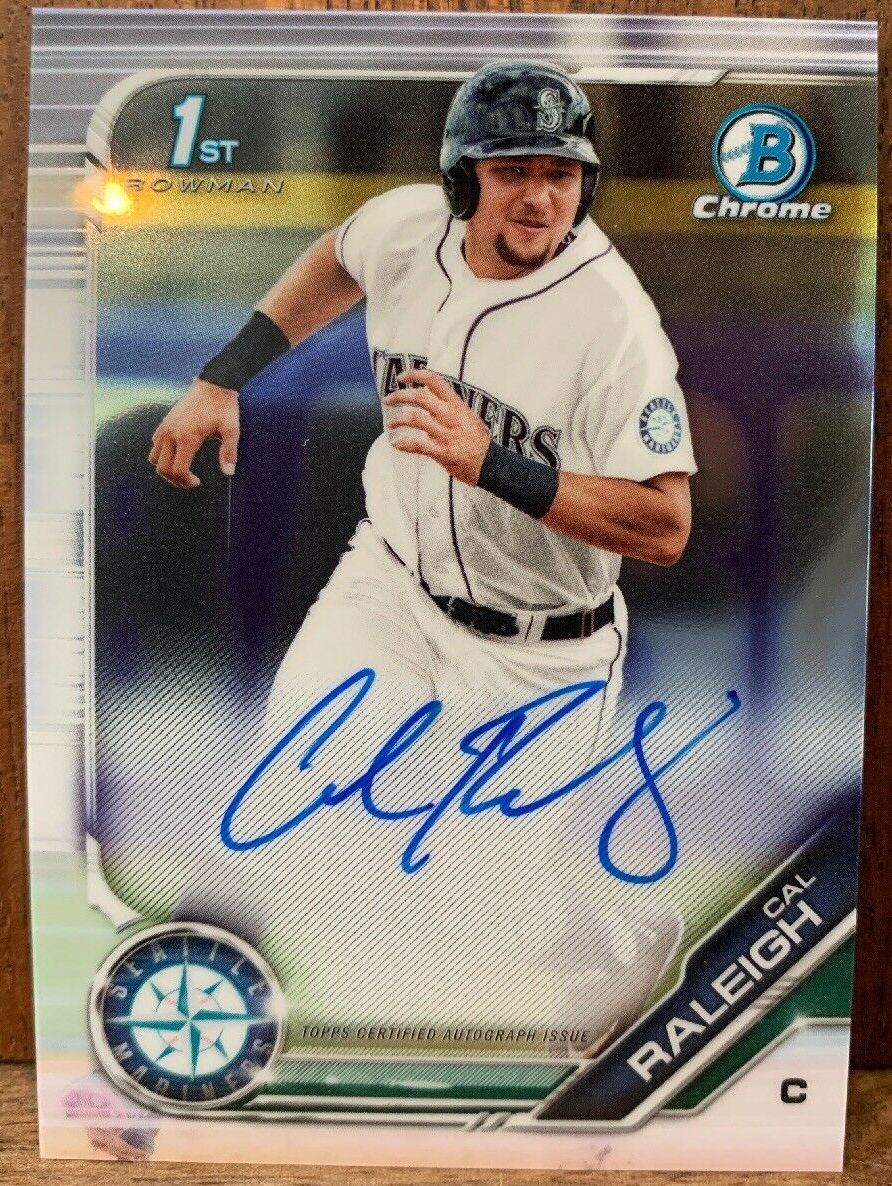 Cal Raleigh – C
22-Years-Old
Mariners
Top Prospect Rank: NR
Raleigh had a big year in A+ ball, hitting .261/.336/.535 with a 9.5% walk rate and an under 20% K rate. He moved up to AA and did much worse. Overall, he had a great offensive year out of the catcher position with a .251/.323/.497 line with 29 homers. He should be able to stick at catcher in the future which makes him much more interesting. I don't expect him to be in high demand considering he's a catcher that is 22, so you may be able to get a steal.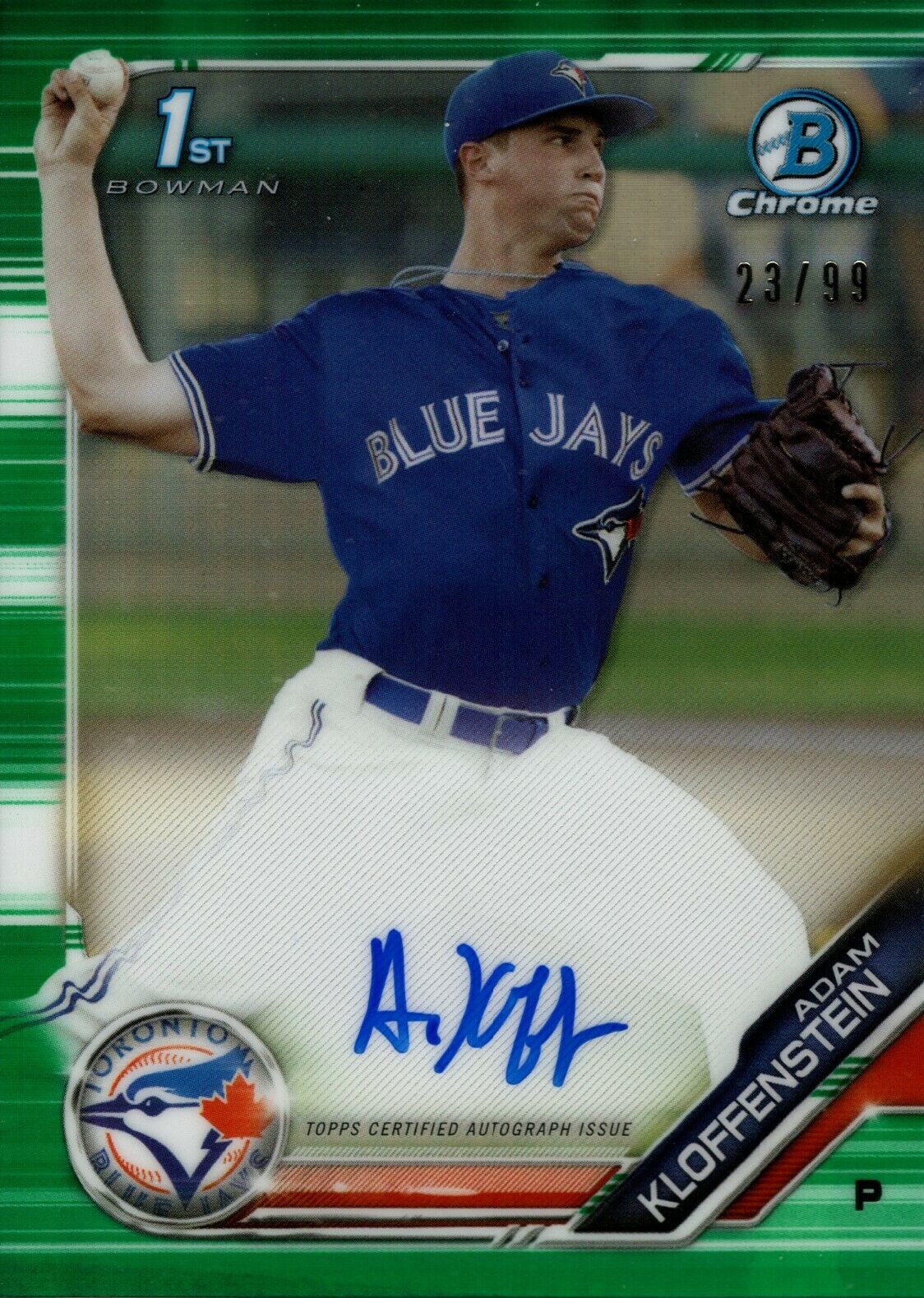 Adam Kloffenstein – P
19-Years-Old
Blue Jays
Top Prospect Rank: NR
Kloffenstein isn't normally a guy I'd write about, but with a weak checklist, three above average or average pitches, and average command means I'm writing about him. There's not much to gain from Kloffenstein's numbers. He had a good ERA (2.24) and K/9 (8.95) but only threw 64 innings in A-ball. He's a big wild card but one that could potentially pop next year for minimal investment.
Consider Kloffenstein extra reading material when you're looking to waste time during your day.
Interesting for Non-Baseball Reasons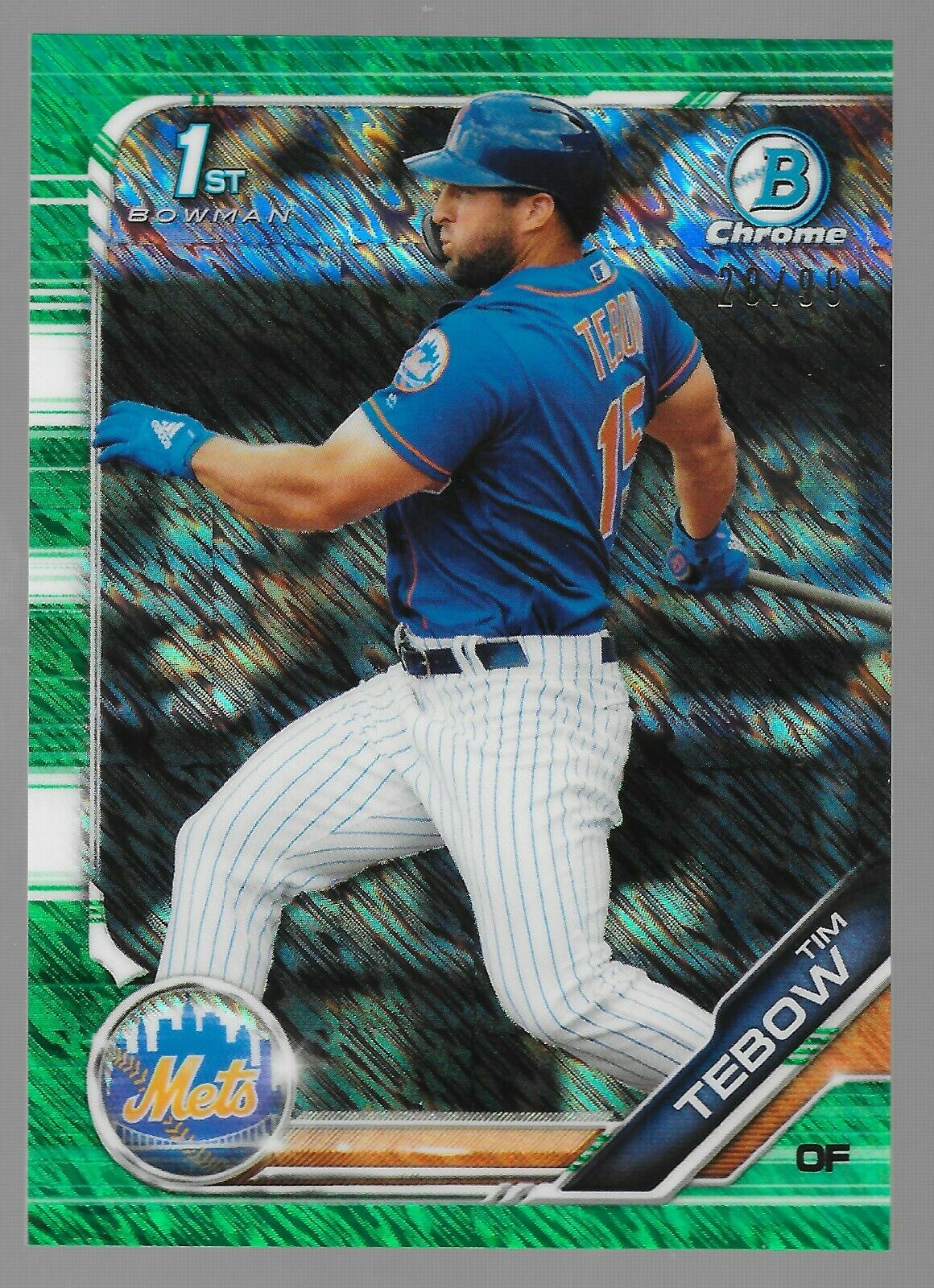 Tim Tebow – OF
32-Years-Old
Mets
Top Prospect Rank: To Good to be Ranked
Heisman winner, NFL playoff game winner and all-around good guy. Despite not having an auto in this product (and also not having great statistics), his cards will for sure be on fire.
Sean Hjelle – P
22-Years-Old
Giants
Top Prospect Rank: Too Tall to be Ranked
The dude is 6'11" and threw well in A+ and poorly in AA. Again, he's 6'11".
WRAP-UP
Overall, the checklist is weak and the prospects are uninspiring. With a healthy amount of rookie autos, I imagine there will still be interest in this product. Just remember, there are four rookie autos you probably want to pull, and on the other end of the spectrum, there's 50 some prospects and 10 or so rookies that you don't want to pull. The odds are not in your favor, especially when the base rookie autos of the great players (Tatis, Alonso, and Vlad) are produced in lower quantities. If I were you, I'd spend my money on team breaks or individual cards, but I'd stay away from buying full boxes. Like always, if you're chasing singles, we recommend waiting a couple weeks to buy until release hype dies down.
Overall, Bowman always does a good job, so they're due a dud every once in a while. With that being said, this product is pretty poor, so I hope Bowman Draft is amazing!
Happy collecting everyone!
Sign up for The Daily Slab email to get the most up-to-date sports card insights straight to your inbox.
*Thank you to Indy Card Exchange for some of the card pictures!