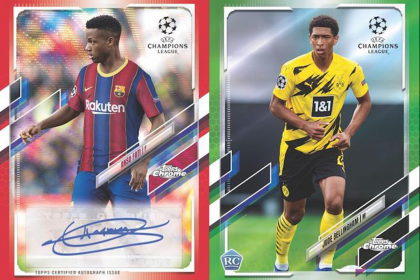 Sports card sets like this don't come around often, here's what you need to know.   
With the emergence of the soccer card market dating back to earlier this summer, Aaron and Zach (@PremierSoccerInvesting) give their takes on 2019 (already released) & 2020 (soon to come) Topps Chrome Champions League sets on this week's SlabStox FC episode.  
2019 Topps Chrome UCL
After being delayed nearly 10 months, the highly anticipated 2019 Topps Chrome UEFA Champions League Soccer set dropped in December. Unfortunately, this set's anticipation and excitement did not translate into visually appealing cards for soccer collectors. 
The two main drivers of this set are Erling Haaland and Ansu Fati, but unfortunately, the cards seem to lack eye appeal. The refractor effect barely goes through the entire card and can only be seen in the top left corner. Other than Haaland and Fati, the upcoming release of 2020-2021 Topps Chrome will feature a much deeper prospect class AND include rookie card logos. This marks the first Topps Chrome Soccer set to feature the heavily desired "RC" logo in the collecting world. More about this set will be discussed later in the article.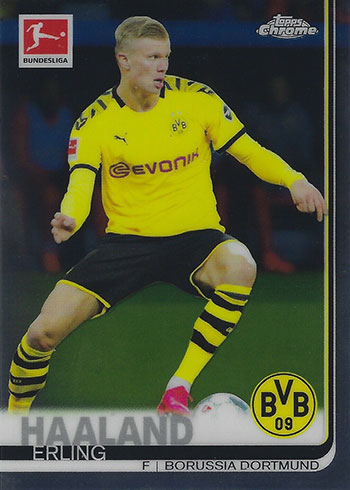 When looking at Haaland in specific, his base card from this set may face problems in the long run due to his Topps Chrome Bundesliga card, which was released in July of this past summer. This card seems to look much nicer than his Topps Chrome Champions League card, and early indication is showing it was produced in lower quantity. These factors seem to point to Haaland's cards from 2019 Topps Chrome Champions League facing a tough time maintaining prices in the long term.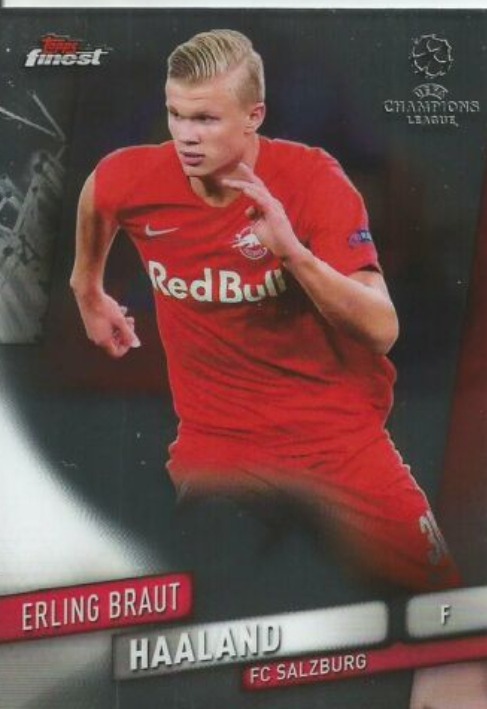 The Topps Finest set from this year also seems to be gaining more traction from investors compared to the new 2019 Topps Chrome set. This set features Haaland in his Salzburg uniform, which is what collectors were
hoping for in the newly released Topps Chrome set. All of a sudden, this highly anticipated set possibly drops down to the third biggest one of the year. 
2020-2021 Topps Chrome Champions League
Although the 2019 Topps Chrome UEFA Champions League Soccer set may have been a letdown compared to the hype it was receiving (mostly due to inflated secondary market box prices), collectors should not get discouraged. The 2020-2021 set, releasing on February 3, 2021, is looking like a huge product with tons of upside.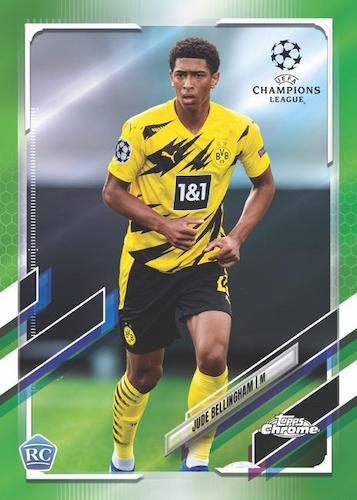 The set is showing some huge potential as it will feature the first-ever RC logo on Topps Chrome Soccer products (in the last four years), and potentially contain a very deep prospect class compared to the 2019 set, which was mainly driven by two players.  
Some huge rookies to keep an eye out for in this set include 17-year-old Jamal Musiala, Liverpool's Curtis Jones, 18-year-old Eduardo Camavinga, and the youngest Bundesliga player ever, Youssoufa Moukoko. In addition to these intriguing international prospects, there are also some intriguing American players to keep an eye on in this upcoming set. Some highlights include Giovanni Reyan, Sergino Dest, and Konrad de la Fuente. 
If this product comes out with all of these names and more, it has the potential to put the newly released 2019 Topps Chrome in the afterburners and a thing of the past. This set could potentially be the biggest prospect set ever. These players are already starting and making plays on Champions League clubs as teenagers, which leaves them tons of room to grow and mature as their careers progress.  
If Topps pulls through and adds these already known prospects in the set, it makes it even more likely there are other prospects who will slip through the cracks and become stars. This is interesting for the soccer card market, due to the underdevelopment and the ability for investors to find diamonds in the rough, compared to the basketball and football markets which are much more difficult and developed. 
One important note is prospecting can be a huge gamble, but if you pick a player that hits early on in their career, there is no better feeling. This 2020-2021 Topps Chrome Champions League set allows for tons of big picks to be made and should have soccer collectors very excited. 
As we near the February 3 release date of this product, the demand for this set will most likely far outweigh the supply, especially since the start of the Champions League will be right after this release and feature tons of the players in this set. 
The prices of wax for 2020-2021 Topps Chrome could see huge increases if it does contain the large supply of rookies mentioned above. The potential to even expand into retail formats in the future could significantly increase the demand of this product if Topps ventures in the same direction Panini has with their Prizm and Optic products.   
Bottom line: This set could be HUGE. 
Topps Chrome Sapphire
A final thing to keep an eye on is the Topps Chrome Sapphire release modeled after the 2019 set. This set will officially be the first set from Topps Chrome Champions League Soccer to contain an RC logo and should set the stage for the 2020 Topps Chrome product that seems to be loaded with potential prospects. 
The Sapphire edition of every Topps Chrome product is known to be one of the most exclusive and visually captivating sets on the market. Down below is a quick look at what Erling Haaland's base card will look like with the addition of the RC logo. This full card parallel and inclusion of the rookie card logo will do wonders for both the singles and sealed products from Sapphire. 
Final Thoughts
An important market indicator currently is investors and collectors involved in soccer cards are gravitating towards buying based on current performance. Whether it is the Premier League, La Liga, Bundesliga, or Champions League, the soccer card market is getting that much-needed boost from on-the-pitch headlines. This is great for the overall strength of the market and a sign of a bright future for this rapidly growing section of the card market.
If you don't know much about soccer or the soccer card market, don't be discouraged. Simply watching the games and keeping an eye on young players and stars on social media will provide a great starting point for you to enter. It is never too late in the card market to get involved, and the soccer sector, in particular, seems to have upside with products like 2020-2021 Topps Chrome on the horizon.
Sign up for The Daily Slab email to get the most up-to-date sports card insights straight to your inbox.