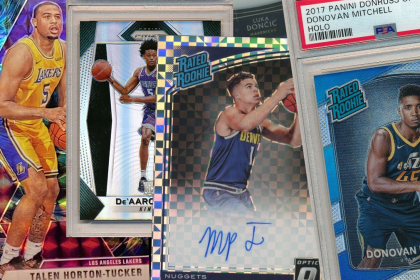 Basketball is coming, here's how to navigate the market.
The NBA season is right around the corner as preseason matchups have started to get underway. The hype and excitement around the basketball card market is reaching new highs and paralleling the rollercoaster summer with the NBA bubble. 
It is important to keep this excitement in check when investing in the card market. Here are some key tips to consider when looking to either buy or sell basketball cards leading up to and after the 2020-2021 NBA season tips off. 
Don't: Overreact to the Newest Trend
While we all may know the cyclical nature of the card market, we do sometimes fall prey to the same common mistakes. One of the biggest mistakes to try and prevent committing as excitement builds for the upcoming NBA season is not overreacting to the new trends. 
It is important to look at the trends and understand why they happen, but investing in a player due to a large spike is not the safest way to navigate the market. Deciding whether the growth can be sustained or the dip is worth buying into are the questions that need to be considered. 
We see this trend with big performances in meaningless games, and the market can sometimes jump to conclusions about players. Prices that simply aren't warranted result, and we are left with an anomaly in the market. So without further ado, this season's Early Pre-Season Hype Train Award goes to: Talen Horton-Tucker.
The second year guard for the Los Angeles Lakers out of Iowa State is a perfect example of these new trends. Not only is he putting up good numbers in pre-season games against the Clippers, but he is also getting boosted from "The King" himself. This can make an investor's eyes light up, but don't be fooled by the extremely high prices that have resulted. It is important to look at both the Pro's and Con's of Horton-Tucker when evaluating if he is a buy, hold, or sell. 
There are plenty of things to be excited about for Talen and his prospective future, but buying these spikes in the short term is a very risky move. This happens every year, with the most recent player being Bol Bol in the NBA bubble scrimmages, and prices almost always fall back down to reality, as investors take a more realistic approach to analyzing these pre-season standouts.
Understanding how many minutes and the actual role pre-season sensations will have in meaningful games paints a much duller picture for these short-term card spikes. Not buying into the hype will save you valuable dollars to invest in key players, like a Luka Doncic, down the road.   
The key takeaway: Remember this chart the next time you think about chasing a trend due to a fear of missing out, because you will probably get burned in the short-term. 
(For a more detailed analysis on Talen, check out the full video provided through the link below)
Do: Study and Research Before Buying
Now time for the natural companion to our first point of not overreacting. While it may sound cliche at this point, do your research and study the players you are interested in buying. Sam Dunks puts a ton of time into research for all of his videos, so those are always a great way to get baseline information yourself. 
There is a ton of information; however, that Sam can't touch on in his 15-20 minute videos each week, and this can be found through other information sources. Doing your due diligence before making purchase decisions will make you a better investor and save headaches down the road. 

It is also important to point out that research can be done through many facets. Some have very strong card knowledge and a true feel for the marketplace, while others have a good sense of the sport and what is happening on the court, and they can translate that knowledge to cards.
For those of you like Sam that have a sport first focus for research, here are a few of his tips:
Watch Basketball (Nationally televised games on TNT and ESPN)

The simplest advice one can give, but goes a long way to understanding the game and how it is played. 

Listen to podcasts focused on the NBA

Greatest of All Talk ($4.99/month), Locked On Podcast Network, Old Man & the Three, The Lowe Post, Chad Ford's NBA Big Board, Locked On Fantasy Basketball

Read NBA articles written on The Athletic or The Ringer. 

Usually a better source to find the hype before the likes of Twitter.

Dive into the stats as much as possible 

EX: nba.com/stats provides a huge wealth of information to recognize trends and decide whether they can be sustained. 
Through this research, you should be looking for guys that will be getting a decent amount of minutes and are more likely to surprise people with future performance. This will allow you to find the next player to "blow up" in value. Some players Sam has his eyes on leading into the upcoming NBA season are: Darius Garland, Kevin Porter Jr., Nic Claxton, Chris Boucher, Malik Monk, Lauri Markkanen, Cameron Johnson, and Miye Oni. 
Some of these names may be shots in the dark, but finding one diamond in the rough is enough to make a good living, especially in this NBA card market. 
Hopefully this advice was helpful to you when looking at who you will be targeting this upcoming NBA season. While this isn't the only advice that matters when making decisions, it does seem to stand the test of time in the card market.
Sign up for The Daily Slab email to get the most up-to-date sports card insights straight to your inbox.