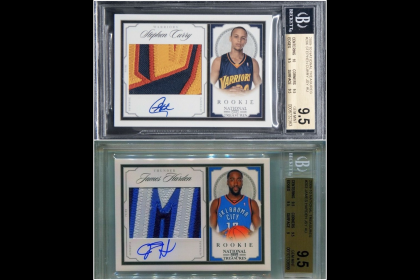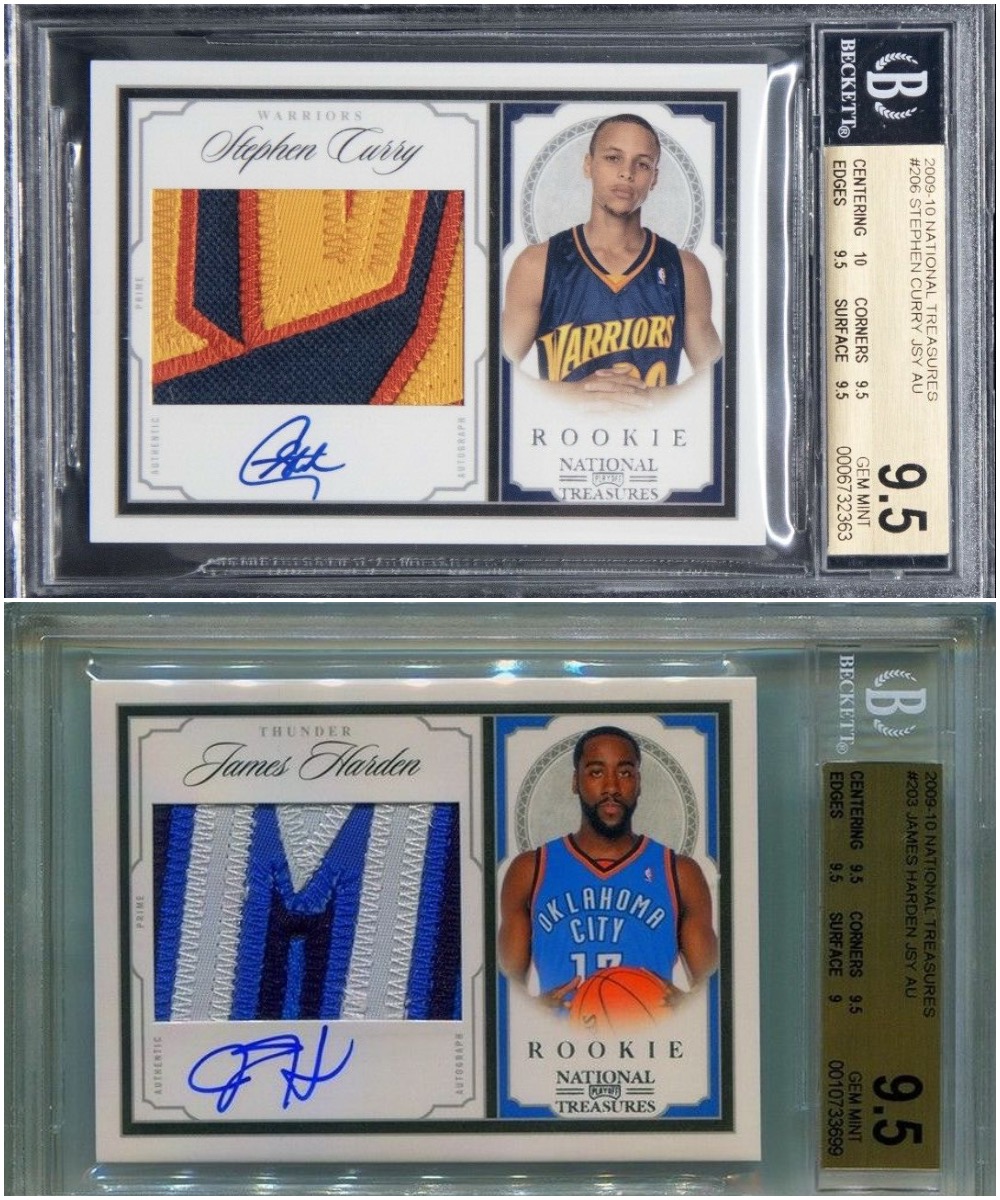 Last week, I went headfirst into the realm of National Treasures (NT) Basketball, and more specifically, the Rookie Patch Auto /99 (RPA). From it I analyzed the viability as a short term investment, which didn't turn out so well. I got some angry comments about how NT RPAs are meant to only be a long term investment piece; so, here we are with Part 2.
2009-10 was the launch of National Treasures, then owned by Playoff Corp. who was eventually bought out by the Panini group, and rebranded as Panini America Inc. But the point is, 2009-10 was NT's first and best release. I call it the best because it's checklist features two of the best basketball players in the world with guys who I have compared before: Stephen Curry and James Harden. Both were MVP caliber players (which proved true) and top 10 picks in the 2009 NBA Draft.
Picked 3rd overall by Oklahoma City, Harden fit in perfectly coming off of the bench to put up 9.9 PPG, 3.2 RPG, and 1.8 APG in his rookie season. He showed a lot of improvement in the next two seasons, putting up 12/3/2 and 17/4/4 and even winning the KIA 6th Man of the Year award in the latter season. At 22-years-old, the future looked bright for young James, just not in OKC. He was traded to Houston and was finally given the opportunity to start in his fourth year. I think we all know what happens next.
As for Curry, he was selected to join the Golden State Warriors out in Oakland, California with the 7th overall pick. Unlike Harden, Steph joined the Warriors starting lineup almost immediately, averaging 18 PPG, 4 RPG, and 6 APG over his first two years before an injury derailed his 3rd season. After that season, Curry has yet to shoot below 40% from beyond the arc (while taking seven plus attempts per game) and average under 20 PPG.
I put together two charts analyzing prices of Harden and Curry NT RPAs that are graded BGS 9.5 Gem Mint. Almost all 198 copies of both cards are graded (if the population report was a true representation). In fact, the BGS population report says that 103 Curry's have been graded, despite the print run only being to 99.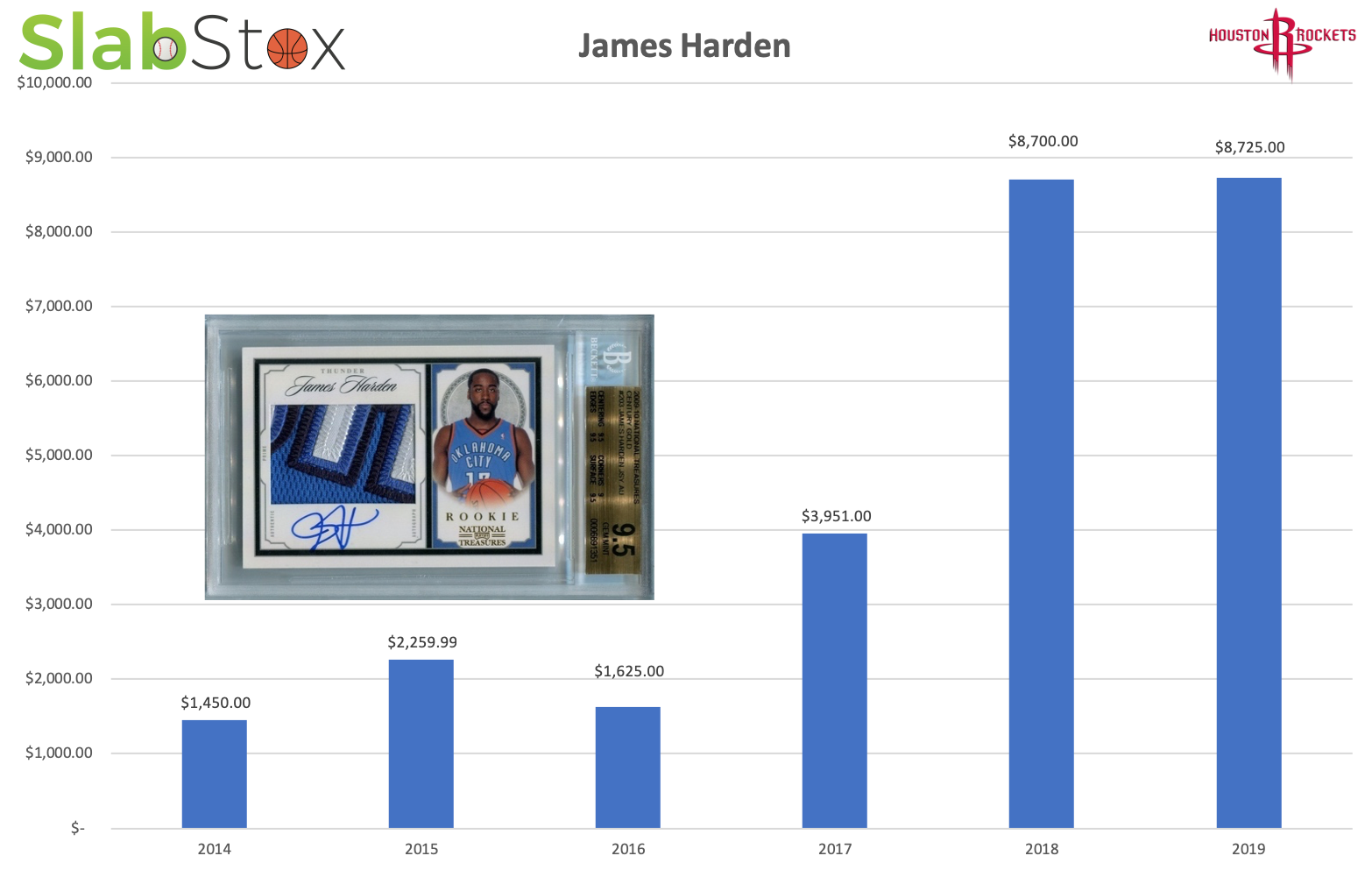 Looking at this chart, it is clear that anyone that held Harden made out very well. Actually, I'd consider a 502% profit incredible. But, what did it take to get to this point?
It took a trade, a record breaking contract, and a whole slew of accolades. After his breakout 2012-13 season, his first NT RPA sold on the aftermarket during his second straight season averaging over 25 points for $1,450. Since then, the aforementioned massive contract and MVP award boosted it to nearly $9,000.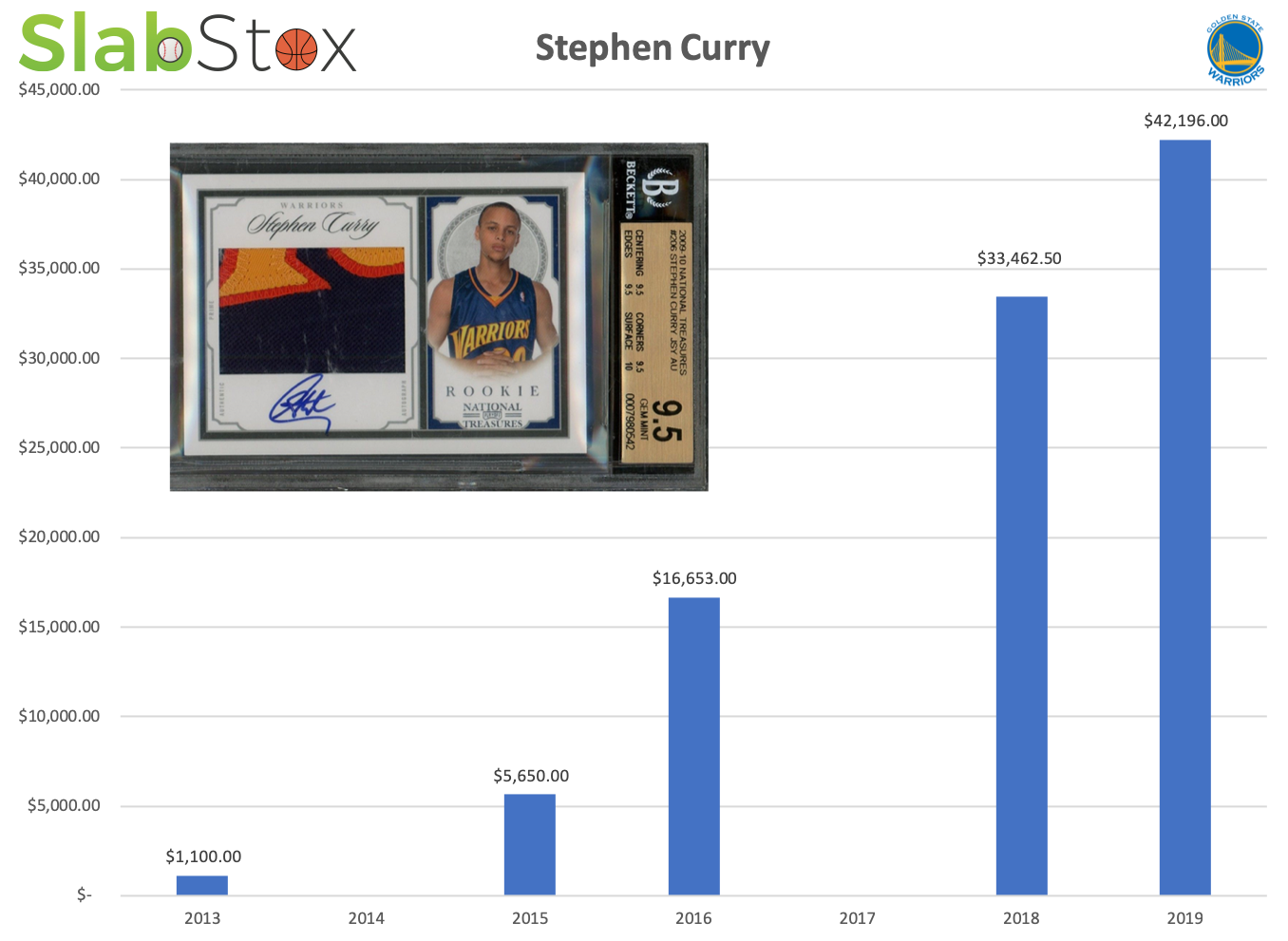 If you think Harden investors did well, then you will be shocked at what Chef Curry investors made out with. From the first sale to the last sale, investors saw an unheard of 3736% profit. The 2019 value displayed is an average of sales. What is even crazier is the most recent buy-it-now sale went for $55,000.
I mean, how does that happen? Well, I'll tell you. First you win an MVP, then an NBA Finals, then an unanimous MVP, then your team signs Kevin Durant and win two more Finals, then to top it all off, you sign a five-year deal worth $201 Million. Oh, and you become the second most recognizable basketball player on the face of the earth.
Both cards saw out-of-this-world price increases, but they came with massive amounts of production and hardware. In the long run, if you pick the right player, you can make an absolute killing. NT RPAs are THE top long-term investment choice.
Next time you have $2,000 to invest, pass on shares of Amazon for an NT RPA of your favorite rookie.
Sign up for The Daily Slab email to get the most up-to-date sports card insights straight to your inbox.