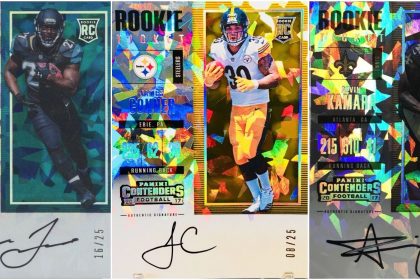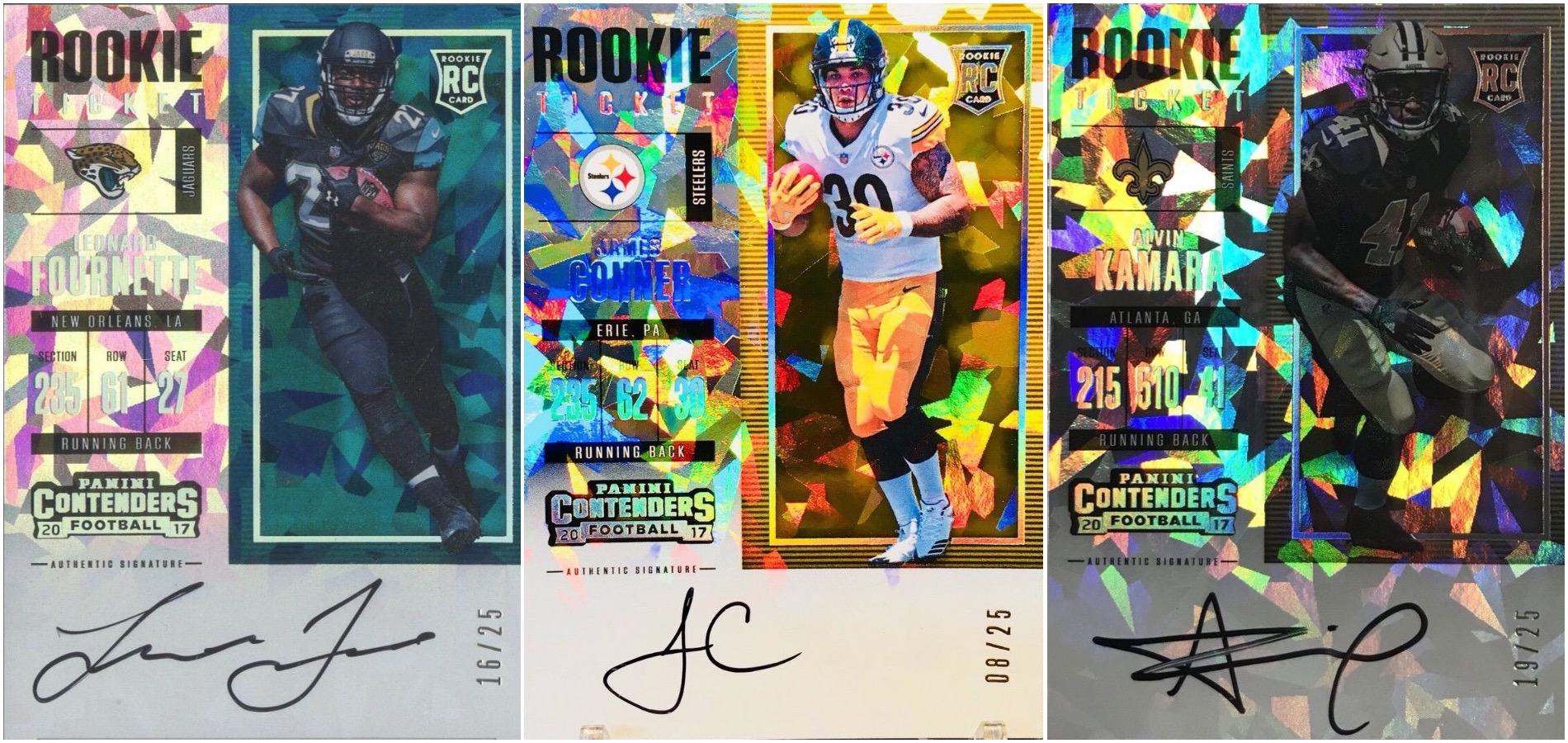 Ever since 2012 Panini Contenders released, the rookie Cracked Ice autographs have become one of the hottest commodities for collectors and investors. The Cracked Ice arrived along side a strong class of rookies (Luck, Wilson, among others), which immediately made the demand for these autos soar leading to high prices.
Six years later, the Cracked Ice is still one of the hottest items on the market. The print run for most Cracked Ice autos are around 23 to 25, which makes this set extremely rare and tough to find after each release.
In 2017, there was an extremely talented group of running backs selected in the draft, starting with the first running back taken, Leonard Fournette, to the undrafted Matt Breida. In between these two, there were multiple big-name running backs who made impacts during their first two years in the league.
I conducted research to try and figure out when is the optimal time to purchase running backs as investments. 2018, once again, had a strong running back class that showed a lot of promise towards the end of the season.
The charts provided show you the class of 2017 running back Cracked Ice prices broken down by the "first two months" of Panini Contenders release, a "summer" category (any time after the draft and before the start of the season), and during their "second season."
*Note: Because these cards are sought after and often are "worth what someone is willing to pay," there are a couple of sales that exceed a normal purchase amount.
---
Leonard Fournette
Since his college days, Fournette has had a few injury concerns and quite the up and down start to his career. He finished with over a thousand yards in his rookie year and helped lead the Jags to the AFC championship game. After the promising rookie year, he missed a lot of time in year two and didn't even crack 500 yards. After the initial price boom, there was a quick drop off in prices over the summer, leading to even more loss during his sophomore season.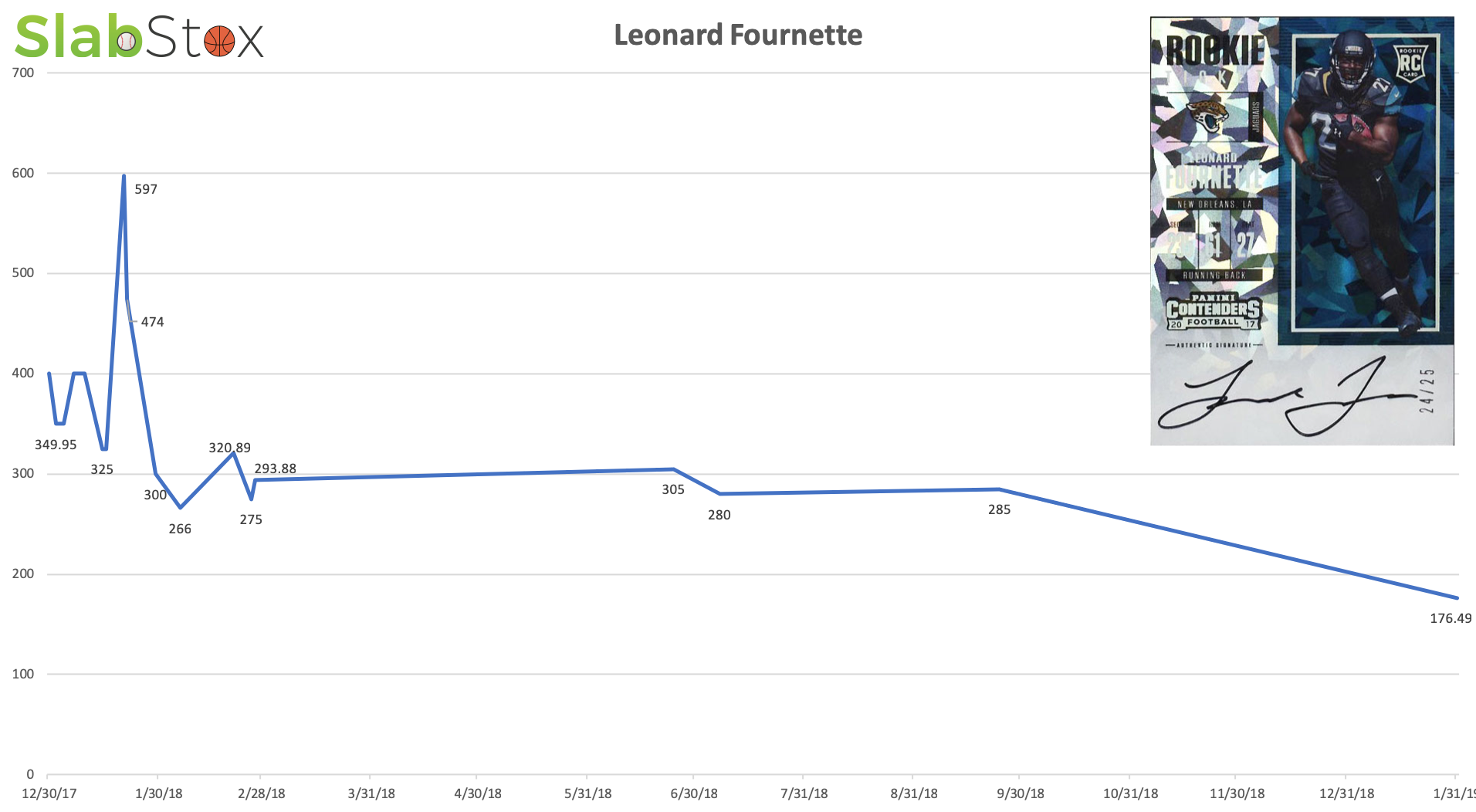 # of Sales: 19
Average: $340.7
First two months: $361.78
Summer: $292.5
Second season: $230.75
---
Christian McCaffrey
During Christian McCaffrey's first two seasons, he didn't miss a single game and started every game in his second season. In his first season, he broke 1,000 all-purpose yards. He followed that up with an even better second season, rushing for almost 1,100 yards with over 850 receiving yards.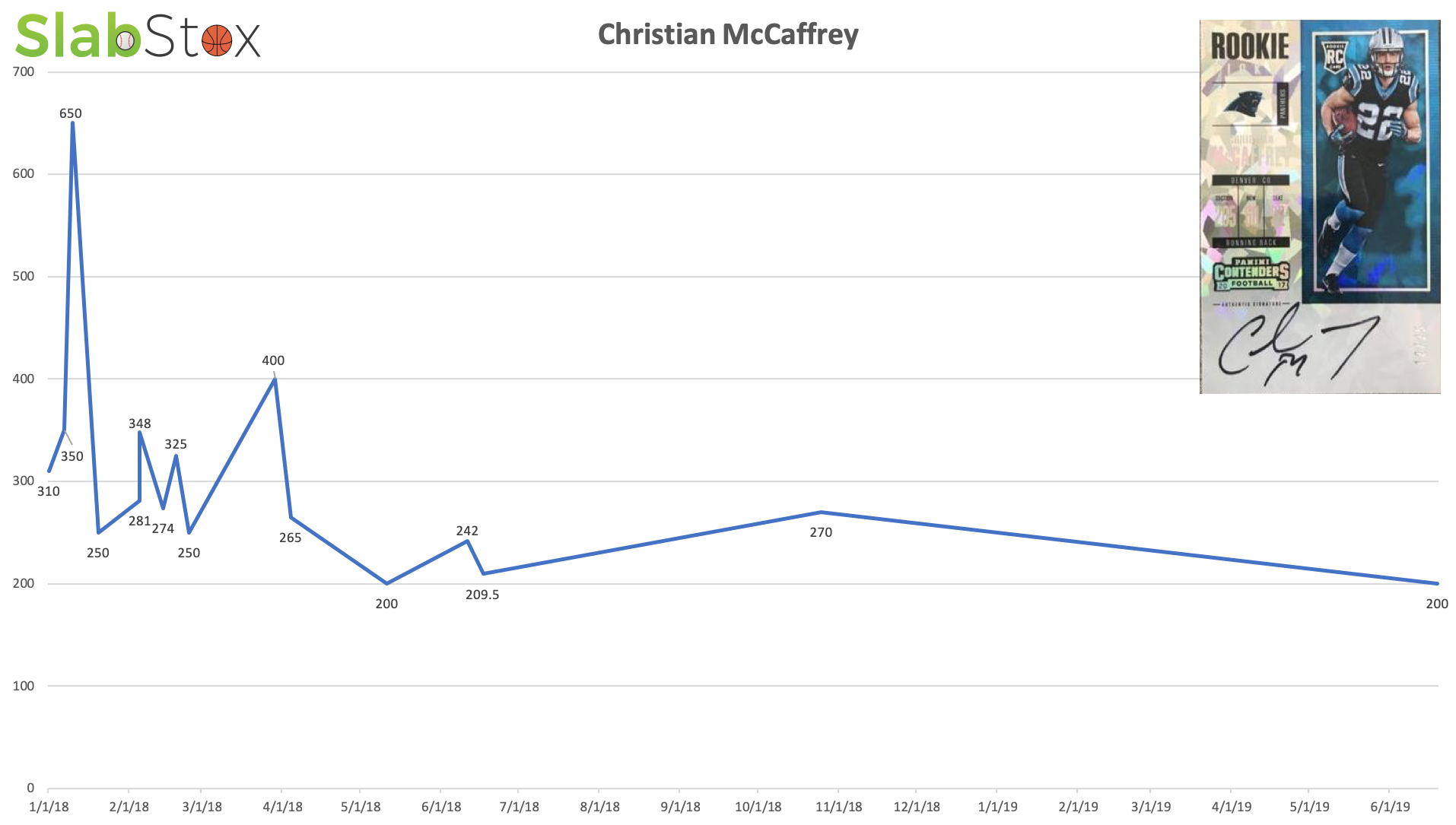 # of Sales: 16
Average Price: $301.53
First two months: $337.55
Summer: $212.87
Second season: $270
With McCaffrey, I think there is still a buying opportunity. Although you may not get the huge discount like in the past, his last sale was still well under the first two months of the Contenders release. While it's tough to say what will happen with running backs, McCaffrey has multiple skills making him a dynamic weapon. I think he is a smart buy.
---
Alvin Kamara
Kamara had a huge rookie season making him the most expensive auto during the first two months after the Contenders' release. Even after his strong rookie season, there was a significant drop in his average Cracked Ice auto price, dropping nearly $180 ($499.17 to $323.93).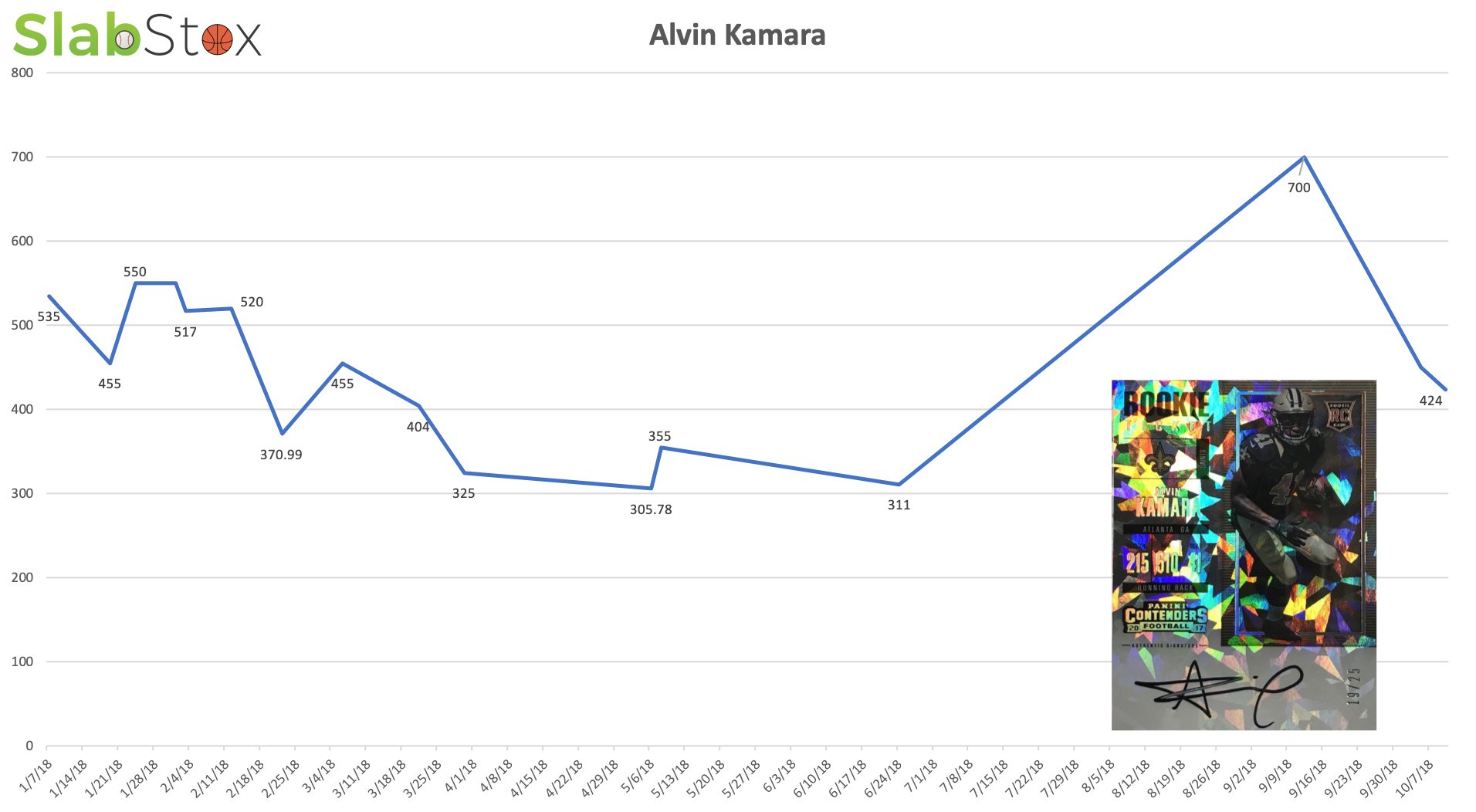 # of Sales: 16
Average: $455.73
First two months: $499.17
Summer: $323.93
Second season: $524.66
---
Kareem Hunt
Hunt is an outlier and a cautionary tale. After a strong rookie season, his sales were soaring. His Cracked Ice autos were nearly the second highest out of all the rookie running backs. Since it was redemption, it made it tougher to find sales. After his off-the-field problems and being released, the only Cracked Ice auto sold for $76. Once he signed with the Browns, one of his Cracked Ice sold for three times more than the sale after his release from the Chiefs. If he turns in a good 2019, people may start to forget about his past incident.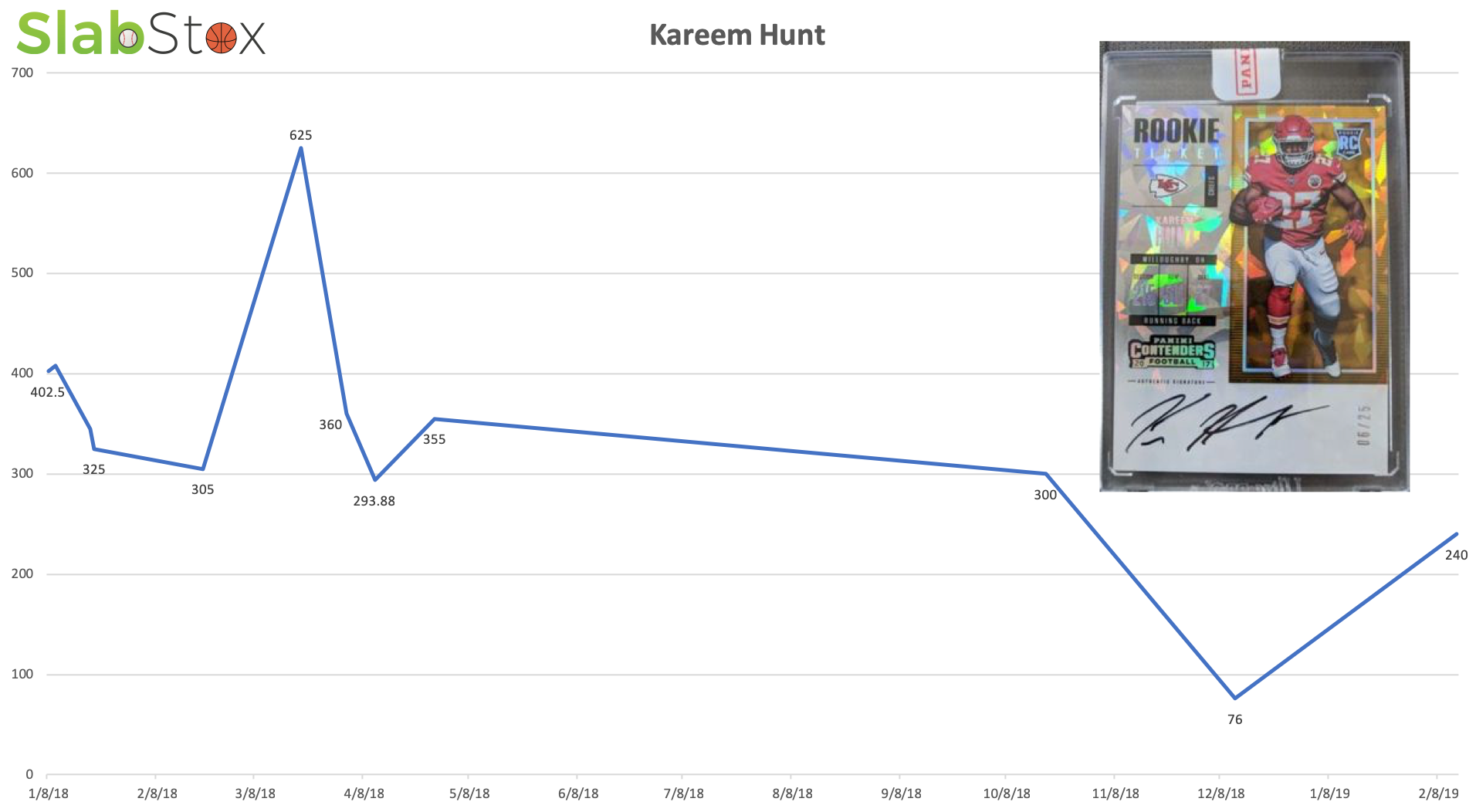 # of Sales: 12
Average: $336.28
First two months: $357
Summer: N/A
Second season: $205.33
---
James Conner & Matt Breida
Connor and Breida can be grouped together since they both had similar rookie and sophomore seasons. They both barely played their rookie seasons, as they were backups. Thanks to an injury and a contract dispute, they got plenty of playing time to start their sophomore season.
Each running back was able to stuff the stat sheet. Breida averaged 5.3 yards a carry, and James Conner racked up twelve touchdowns. Thanks to strong seasons, their prices saw a significant bump.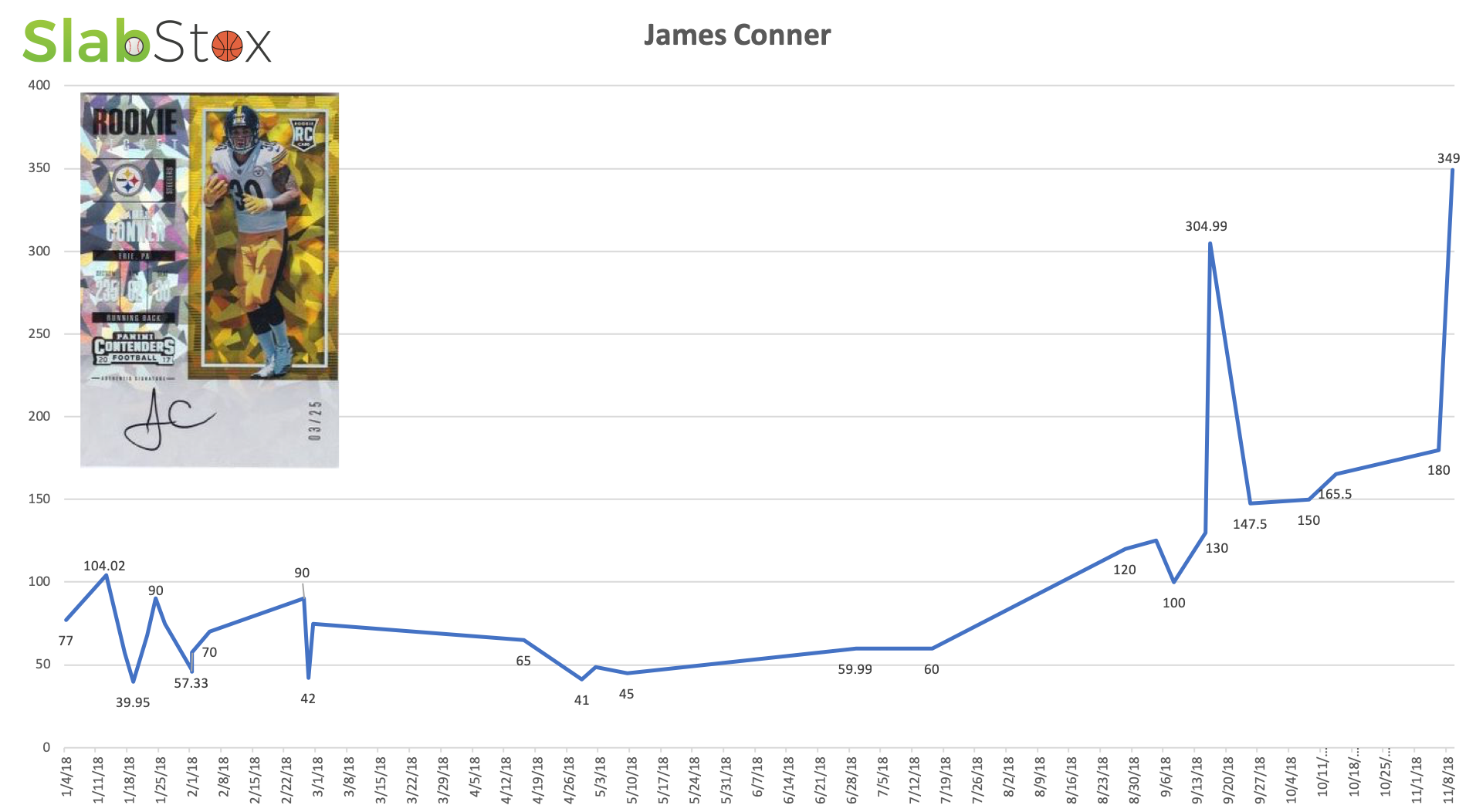 James Conner
# of Sales: 30
Average: $100.98
First two months: $67
Summer: $50.9
Second season: $183.55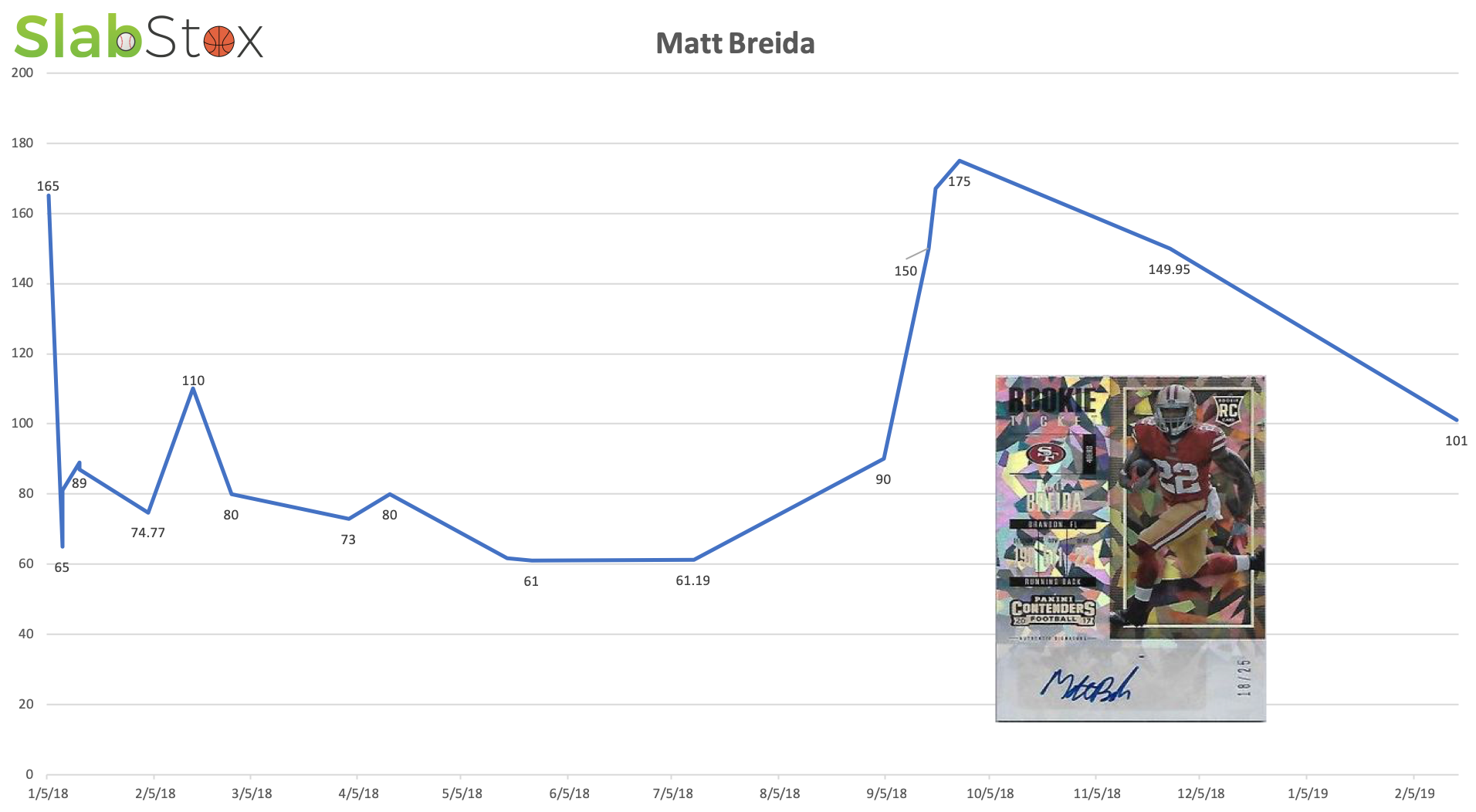 Matt Breida
# of Sales: 19
Average: $101.14
First two months: $93.97
Summer: $61.32
Second season: $146.39
---
Full RB Breakdown
The only running back that had a drop from their summer price to their sophomore season was Fournette, due to his absence from the field and low production. If Kareem Hunt had any summer sales, there would be a drop because of his off-the-field problems.
The good news for offseason investors is five of the six running backs saw an increase from the summer to their sophomore season. It's encouraging to see growth after an initial dip. This is especially noteworthy since running backs don't usually last more than six to eight years in the league.
If you're looking to pick up a Cracked Ice in the future, your best bet is to be patient and wait till after the draft (of the following class) and into summer. If you can wait until an auction pops up around this time, most buyers aren't focused on football with basketball hitting the playoffs and baseball in full swing.
For the upcoming summer, be sure to check out the class of 2018 running backs. Will you be tracking their progress going into the 2019 season?
Sign up for The Daily Slab email to get the most up-to-date sports card insights straight to your inbox.