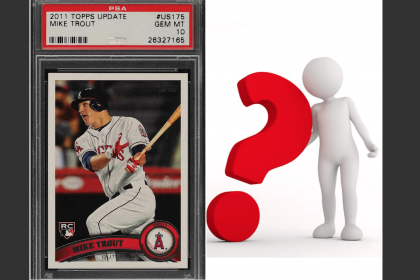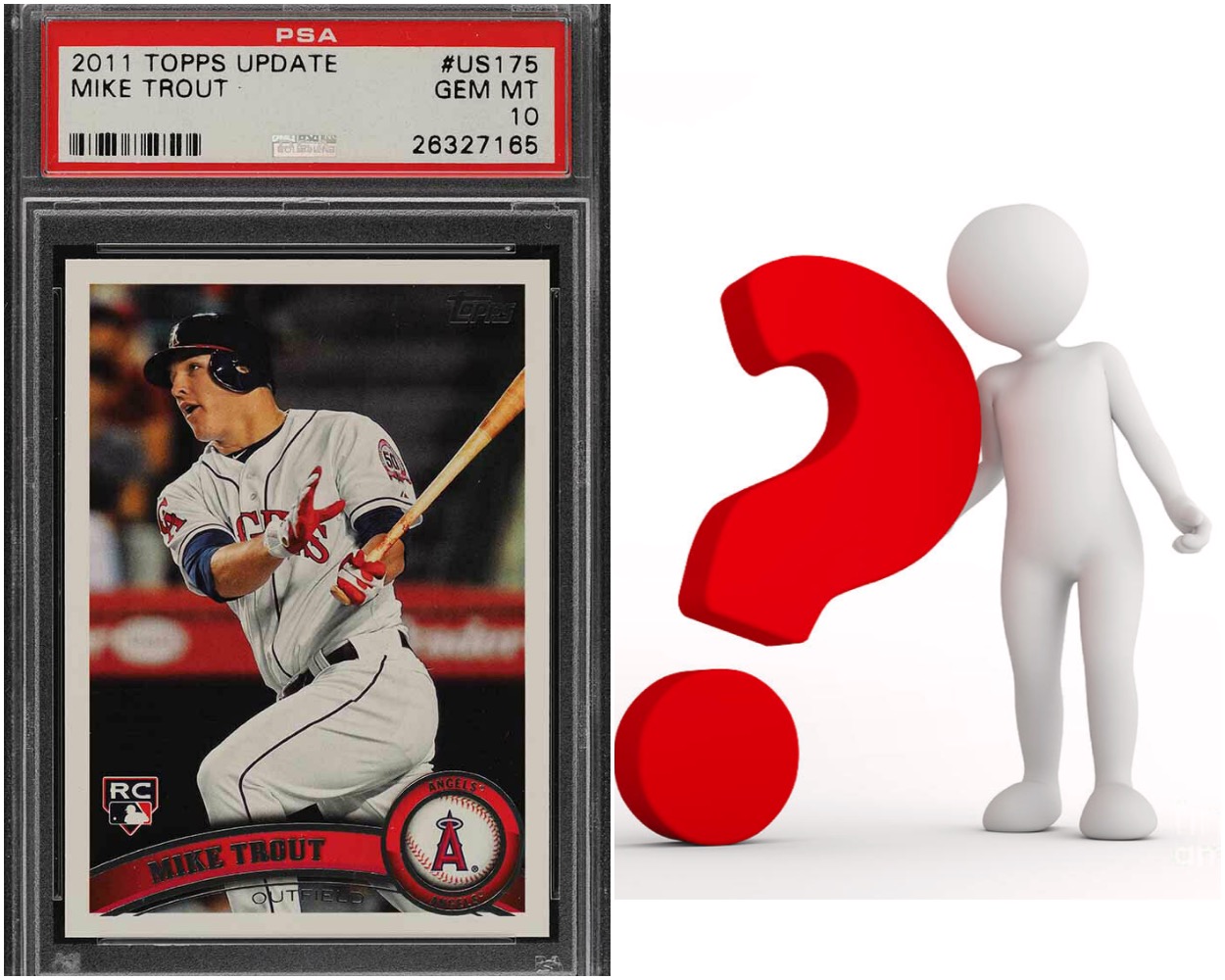 Mike Trout is proving once again why he will go down as the greatest baseball player of all time. Through 11 games he's running a 27.7 BB%, 8.5 K%, and a 290 wRC+ (weighted runs created adjusted for park factors) with 5 home runs. The league after wRC+ is 100. He is currently hitting 190% better than the average MLB player. Fingers crossed he stays healthy this year and we can see what a 27-year-old Mike Trout can produce.
With that comes huge price tags. The last 2009 Bowman Chrome Base BGS 9.5/10 sold for $7,450. The last 2011 Topps Update Rookie PSA 10 sold for $930. And the last 2011 Topps Finest Rooke Auto /499 BGS 9.5/10 sold for $2,750. These aren't even scratching the price levels that his rare prospect and rookie cards are going for.
A lot of collectors/investors want to get their hands on a Trout 2009 to 2011 card, but they're starting to get so expensive it is hard for the average person to buy one. Even though the "iconic" cards are out of reach (Trout Update, Trout 1st BC), there is still one PSA 10 prospect card that can be had on the cheap ($200 or lower).
That is the 2010 Bowman Platinum Mike Trout Prospects PSA 10. One of my Instagram followers put me onto this trend, but I failed to locate the username after scrolling through my DMs for a while. If you are reading this, please reach out to me!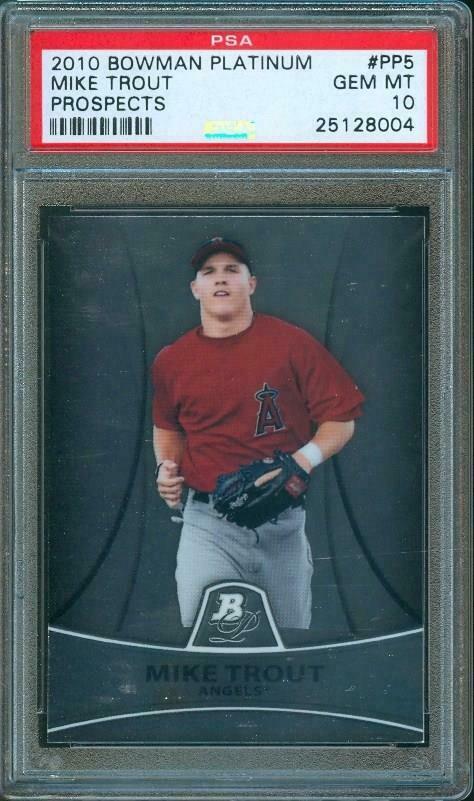 While it is not a rookie, the 2010 BP Trout is sandwiched between the years of his two most iconic cards. This creates for an imitation rookie/prospect card, which is also why it is so cheap. However, it deserves to rank right behind all of his other PSA 10 rookies (which are running $400-$1000). As those other PSA 10 rookies start to move into the $600-$1400 range, the Bowman Platinum PSA 10 should follow right behind it.
Here is the current 1-year and two month trend of the 2010 Bowman Platinum Trout PSA 10.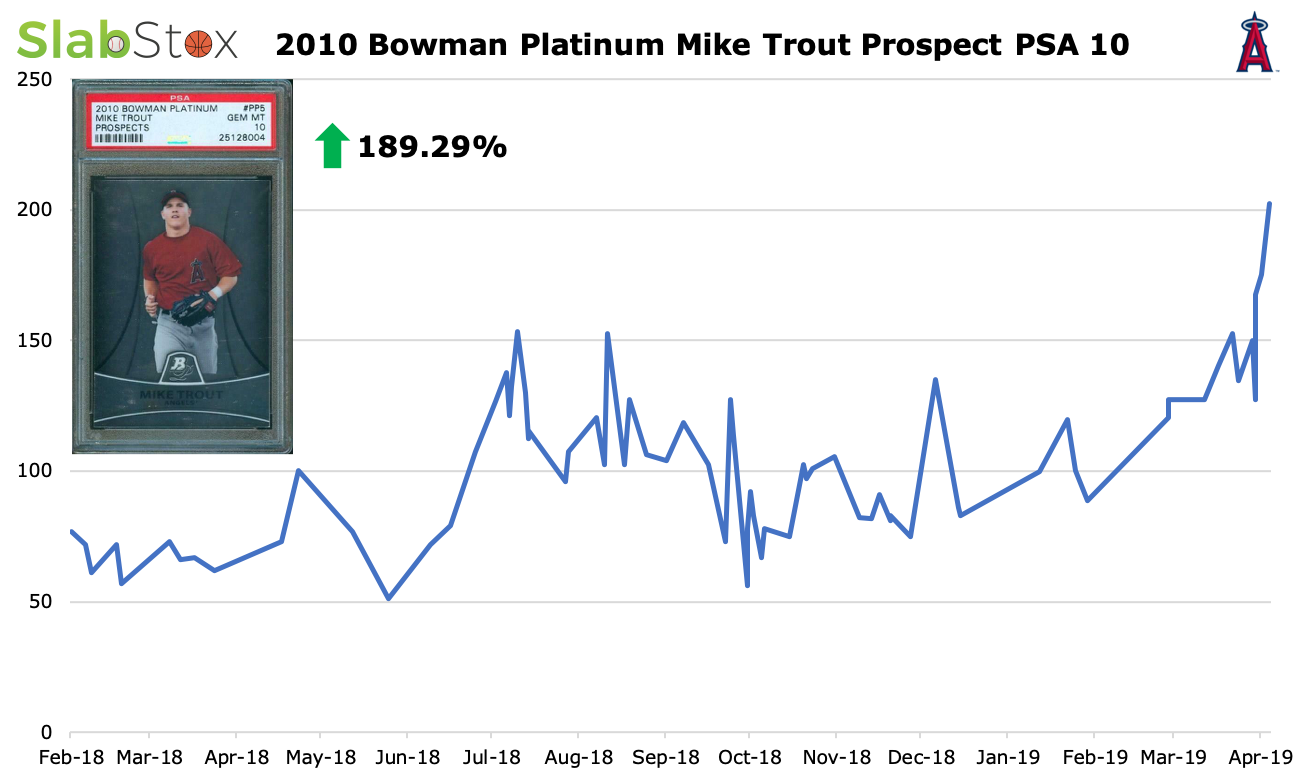 These have really picked up steam since February with the most recent sale barely topping $200, but I don't think they're done yet. My reasoning behind that isn't only because of the low price tag (which draws in a lot of collectors without deep pockets), but the scarcity of PSA 10 copies.
Normally when there is a card that doesn't have much comparative value (to their other cards), not a ton of that card gets graded. However, there are 1,695 graded 2010 BP Trout cards by PSA. Of those 1,695, only 394 got PSA 10s (23.24%). To compare it to the Trout Update PSA pop report, there are 5,744 graded in total and 4,038 PSA 10s (70.30%).
I definitely understand the Trout Update is iconic and always will be, but the 2010 BP PSA 10 is both rare and a tough grade leading to a premium on PSA 10 copies.
Of course, if you have the money to spend, go ahead and get the rookie card that will be treasured for years to come (Topps Update). But if you're looking to add a pre-MLB Trout for not a ton of money, go ahead and get yourself a Mike Trout 2010 Bowman Platinum.
Currently, there are a couple of buy-it-nows on eBay, like Trout BP PSA 10s, to choose from. There are also purple and gold variations of this card if you'd like to grab an even rarer parallel.
Now go watch some Mike Trout at-bats and witness the greatness!
Sign up for The Daily Slab email to get the most up-to-date sports card insights straight to your inbox.