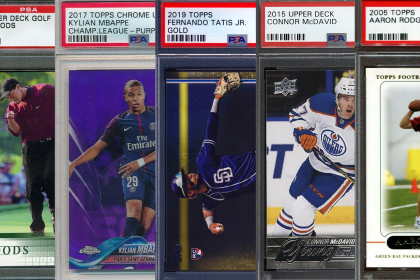 Money is being made in every sport right now. Don't be afraid to diversify your card holdings!
As we begin 2021, the NFL season is coming to a close, and the NBA season is just starting to heat up. There is a lot of excitement and anticipation for what should be one of the more intriguing seasons in NBA history.
With this excitement brought a rise in the value of basketball cards, but this is not the only sport in the card market experiencing gains. Cards in all sports have started to see their best players bring the market up with them, and now is the time to start investing in them if you want to find areas to buy into at lower values.
This is an interesting and noteworthy trend, as it shows the trading card market is not one dimensional with just basketball being a smart investment. There is plenty of money to be made by investing in players from all different types of sports and categories. While basketball has experienced the greatest increase leading up to the season, it is important to anticipate large increases in other sports, rather than react to gains already made. That is the key to making successful investments.
In order to show this trend, let's look at the performance of 5 players cards in sports outside of the NBA.
Baseball: Fernando Tatis Jr.
Each winter day that passes by leads us one step closer to the start of the 2021 MLB season. While the details of what kind of season we will have are unclear, it does seem evident that baseball card investors are getting excited for Opening Day, whenever that may be in the Spring.
One player who is a huge beneficiary of this revitalized baseball card market is Fernando Tatis Jr. of the San Diego Padres. The 22 year-old phenomenon shortstop is coming off an amazing 60-game sophomore season where he batted .277 with 17 HR's and 45 RBI's.
It seemed as if every night Tatis was providing highlight reel plays either in the form of a web gem at shortstop, or a monstrous home run to deep center field. This made investors extremely excited about his long term potential as a cornerstone player for the Padres organization.
After a pretty quiet MLB offseason, the Padres made a couple huge splashes, all within about a 24 hour time span. Headlining this series of news was their trade with the Tampa Bay Rays for former Cy-Young award winner Blake Snell.
These moves by the Padres not only revitalized the MLB offseason rumor mill, but also Fernando Tatis Jr.'s card market. As shown below, Tatis Jr.'s 2019 Topps Series 2 Gold RC /2019 PSA 10 increased 133% since the start of October, with a huge jump in value after the Padres recent transactions.
With the start of Spring Training (February 27) getting closer each day, investors and collectors are beginning to forecast the baseball card market. Young studs, like Fernando Tatis Jr., will begin to gain value the closer we get to the season which shows basketball is not the only place to make money. Buying into the anticipation and hype for the 2021 MLB is a good place to look to in order to secure good profits.
Football: Aaron Rodgers
Going from the diamond to the gridiron, if you played your cards right, there were still solid returns to be had with football cards. The NFL season is coming to a close as the Wild Card round of the playoffs is underway, but this does not mean some players' cards can't see significant price changes as the season comes to a close and a Super Bowl champion is crowned on February 7.
Take Green Bay Packers All-Pro Quarterback Aaron Rodgers for example. After receiving almost no help from his front office in the offseason on offense, Rodgers put together one of his most impressive seasons ever. He led the Green Bay Packers to the #1 overall seed in the NFC with a 13-3 record, while throwing for 4,299 yards, 48 touchdowns, and only 5 interceptions.
Coming into the season, investors were worried about his long term value outlook after the Packers front office decided to draft Utah State quarterback Jordan Love with their first round selection. Many believed this was the beginning of the end of the Rodgers era in Green Bay, but it ended up being the total opposite.
As a result of his MVP level season, Rodgers' 2005 Topps Base RC PSA 10 increased 104% since the start of last December. This card is currently trading around nearly $1,000, and has the potential to rise even more if Rodgers is able to lead his team to another Super Bowl victory.
While some investors may be shifting their attention over from football to basketball/baseball, there is still some opportunity in the football card market. Investing in players who you believe can make a significant playoff run and potentially lead their team to a Super Bowl could lead to some reward. Keep an eye out for Rodgers and other key performers in the playoffs when looking to make some money in the football card market before the offseason begins.
Even if Rodgers leads the Packers to another Super Bowl victory, don't be surprised if his cards take a hit in price in the short term following this championship. After the NBA Bubble Championship victory, Anthony Davis and LeBron James cards dropped after they sealed the deal. After the event, all the anticipation and excitement left, so the money followed out the door.
On the contrary, this can lead to long-term growth in the future, so do not panic sell a legend's card like LeBron or Rodgers because of a short term dip in value. If anything, buy another card you like of them because as time passes, their legacy will only grow stronger, and their card values should follow suit.
Hockey: Connor McDavid
Taking off the cleats and throwing on the skates, the hockey card market is going through something we haven't seen in the past. A great player to highlight for the upward trend in this sport is former #1 overall pick in the 2015 NHL Draft by the Edmonton Oilers, Connor McDavid.
One of the most popular modern hockey cards ever is McDavid's 2015 Upper Deck Young Guns RC PSA 10. Since October, this card's value increased 74%. After hovering around the $1,250 mark the last three months, some investors are jumping in on this card at a $2,000 price point.
This crazy spike can be associated with many factors. The NHL announced the start of a modified regular season starting on January 13, 2020. This has many hockey investors excited for the sports return, and has led to hockey cards getting more attention.
McDavid is looking to win a scoring title this year and continue his successful career, but another factor leading investors to buy up his cards could be related to a record-setting sale. On December 11, the Wayne Gretzky 1979 O-Pee-Chee RC PSA 10 fetched 1.3 million dollars in an auction with Heritage Auctions. This brought a ton of attention to hockey cards from collectors outside of the hockey card market and led to them trying to predict who the next legendary skater could be. If McDavid continues his success and becomes one of the greatest to ever play, his cards could be next in line
Regardless, this has definitely piqued the interest of many investors and led to yet another section of the card market booming. Once the NHL season begins, prices of these young players will fluctuate based on performance, rather than anticipation and excitement. Be sure to invest in those who you think have the potential to put up incredible numbers in this upcoming season, and you could see great returns.
Soccer: Kylian Mbappé
Similar return on investment is starting up overseas in the soccer card market. This past summer the sports card market as a whole reached new heights, and the soccer card market rose with it. While prices remained stagnant over the winter with a lack of competition and news surrounding the sport, we are starting to see a rejuvenated market.
A good player to keep an eye on for this trend is PSG Forward Kylian Mbappé. His 2017 Topps Chrome UEFA Champions League PSA 10 experienced an explosion in value over the summer ($325 in June to $1,650 in August), his market eventually cooled off and left some investors wondering what would be next for not only this young star, but the entire soccer card market. Since mid-November, his value hasn't moved much, but since December 13, 2020 (where this card bottomed out), there has been a 27% increase.
While the exact reasons for this sudden jump in prices is not entirely clear, there are some possible explanations we can draw.
For starters, this price increase seems to be following the news of Mauricio Pochettino taking over as the new Manager of PSG. With this being Mbappé's team, some believe he could be a vital part of a new era for this football club. Pochettino has pushed Mbappé to improve some facets of his game in order to be a true difference maker. If this young star is able to take this next step and become a leader of PSG with Pochettino at the helm, even larger rises in his card market could result.
Another speculation for this 27% increase is the recently announced shoe collaboration between Mbappé and LeBron James. This is huge news for his market because now he is linked to one of, if not the biggest, American athlete. This collaboration will draw more eyes from American card investors and has many interested in Mbappé's future. If "The King" believes in this young soccer player, then most collectors will join in and believe as well.
Finally, the simple cyclical nature of the card market is most likely on full display here again. The offseason tends to bring pretty significant declines in cards from any sport, and soccer is no exception. With the Champion's League taking a break from 12/9 to 2/16, not much attention has been brought to them, but with the Champion's League starting back up this February, more investors are starting to look into this market again.
This 27% increase could be attributed to the normal "hype" buying behaviors leading into any sports season, so Mbappé's prices will most likely be determined by his play in the new season. If he comes out hot and leads a competitive PSG club deep into the tournament, his cards could gain some big time demand.
Golf: Tiger Woods
The average investor probably does not have many golf cards in their portfolio, but that does not mean significant gains are out of question. The biggest star in the game today is still Eldrick "Tiger" Woods. He took the sport by storm in the late 1990's and hasn't looked back since. Even being at the end of his illustrious career in 2021, he is still the driving force behind the sport as a whole. Golf is just better when Tiger is teeing it up, and that will always be the case.
Golf cards have not experienced much attention over the past couple decades, but they are starting to see a mini boom of their own. Not surprisingly, this surge is being led by none other than Tiger Woods.
One of Tiger's staple cards is his 2001 Upper Deck Golf PSA 10.
After hovering around $300 for most of 2020, this card experienced a HUGE influx in demand after the announcement from HBO in December about their upcoming documentary about Tigers Woods' life. This could draw some parallels to Michael Jordan's "The Last Dance" ESPN documentary this past summer that brought huge returns on household Jordan cards.
By the end of December, this card was selling in the $1,000 price range, but has since pulled back a good deal and is starting to come back to reality ($700 to $900). However, this does show the potential for more demand in the golf card market. Investors who were buying these up in October, and wisely sold around the peak in late December, netted around 300% returns. This is an incredible number, and one that could get other investors excited about the prospective future of other golf cards.
Golf cards have even made their way over to the Rally Rd. app. Recently, a 2001 SP Authentic Tiger Woods Autographed RC BGS 9.5 was IPO'd (Initial Public Offering of fractional shares for the card) on the app and sold out in MINUTES. The card was valued at $18,500 in its initial offering, and will be in for some intense trading windows in the future as Tiger looks to embark on yet another PGA Tour season and potentially contend for his sixth green jacket this Spring.
In Review
It is pretty evident the entire card market is booming right now. Some people are skeptical of the market and think it is sitting in a big bubble but with these gains in every sector of the market it is hard to argue this isn't here to stay. The hobby will only get more eyes on it, and that will bring more demand and money from new investors and collectors.
Thinking it is too late to get in on the sports card market is generally the wrong answer, as with each month that passes, thousands of new entrants into the market beat you to it. There are plenty of opportunities to be had in all sports, and if you miss out on one, be sure to not chase an investment that is out of reach. The key is using your investing strategies to prospect high potential players and get in early. Buying low and selling high used to only apply to the stock market, but times are changing and cards are getting more popular each and every day. There is plenty to be excited about, and the key is to start looking now because there are diamonds in the rough out there. The goal is to try and find them first!
*All sports card values per eBay