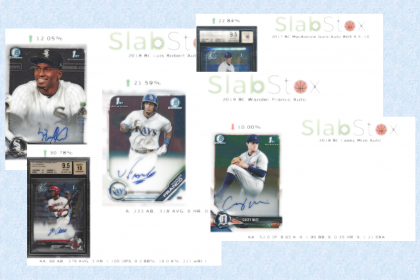 Going into the year, there were a ton of unknowns. Will Royce Lewis elevate his game to take over as the #1 prospect in baseball? Will Luis Robert hit a home run this year? Will Forrest Whitley and Jesus Luzardo cement themselves as the next young aces to dominate the MLB? When will Vlad and Tatis get called up to debut?
With all these question marks, there was one thing we knew for sure: there would be a ton of prospect graduations, and a new crop of top prospects filling in behind them. One week ago, MLB Pipeline released their popular mid-season re-rank, and there were tons of shake ups. Taylor Trammell dropping double digit spots, Nate Pearson rose up the board, the top 5 pre-season prospects all graduated off the list, and then there's Luis Robert, moving up from the mid-40s to #5. I remember a similar situation happening with Fernando Tatis Jr. last year, who moved up from the mid-50s to #2.
If you're wondering how the prices of the new top 5 prospects have changed, you came to the right place.
Provided below is a graph of the past month's price trend for each prospect. Due to eBay recently blocking people from knowing best offer sale prices, these are held to only auction sales (except for the last two Adell autos). The statistics provided are from the level they have had the majority of their at-bats at, instead of combining the two together.
5. Luis Robert (OF) – Chicago White Sox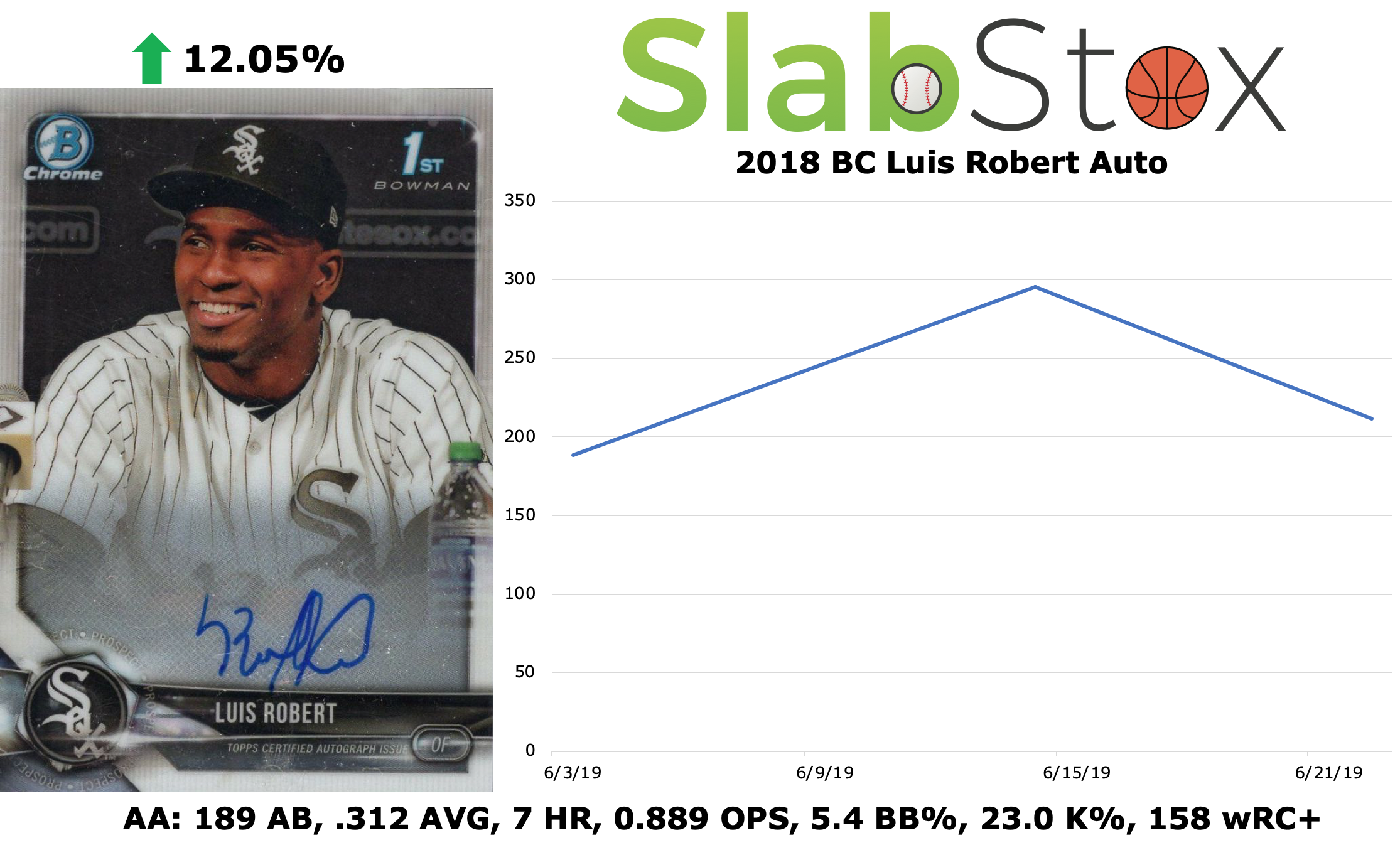 Robert went from hitting no home runs in 45 games last season to hitting 8 home runs in his first 19 games this season real quick. Clearly, the power projection from Fangraphs is legit (65 raw power). In those 19 games in High-A, Robert slashed .453/.512/.920 with a .553 BABIP (batting average on balls in play).
After getting promoted to AA, his BABIP has dropped to .385, further lowering his slash to .312/.360/.529 (in Double-A only). Since it wasn't realistic to hold up a .553 BABIP, the regression was expected in AA. However, there is real no regression; he's just not the best player in the history of the minor leagues. He's still putting up a 0.889 OPS which is great.
Personally, I was very surprised MLB Pipeline sent Robert into the top 5. While he's obviously improved in many ways from last year, that's a massive jump. Fangraphs has him at 25, which seems more realistic. It seems like Pipeline zoomed in too closely on his High-A stats and decided to catapult him towards the top. Either way, Robert is having a great season.
4. Jo Adell (OF) – Los Angeles Angels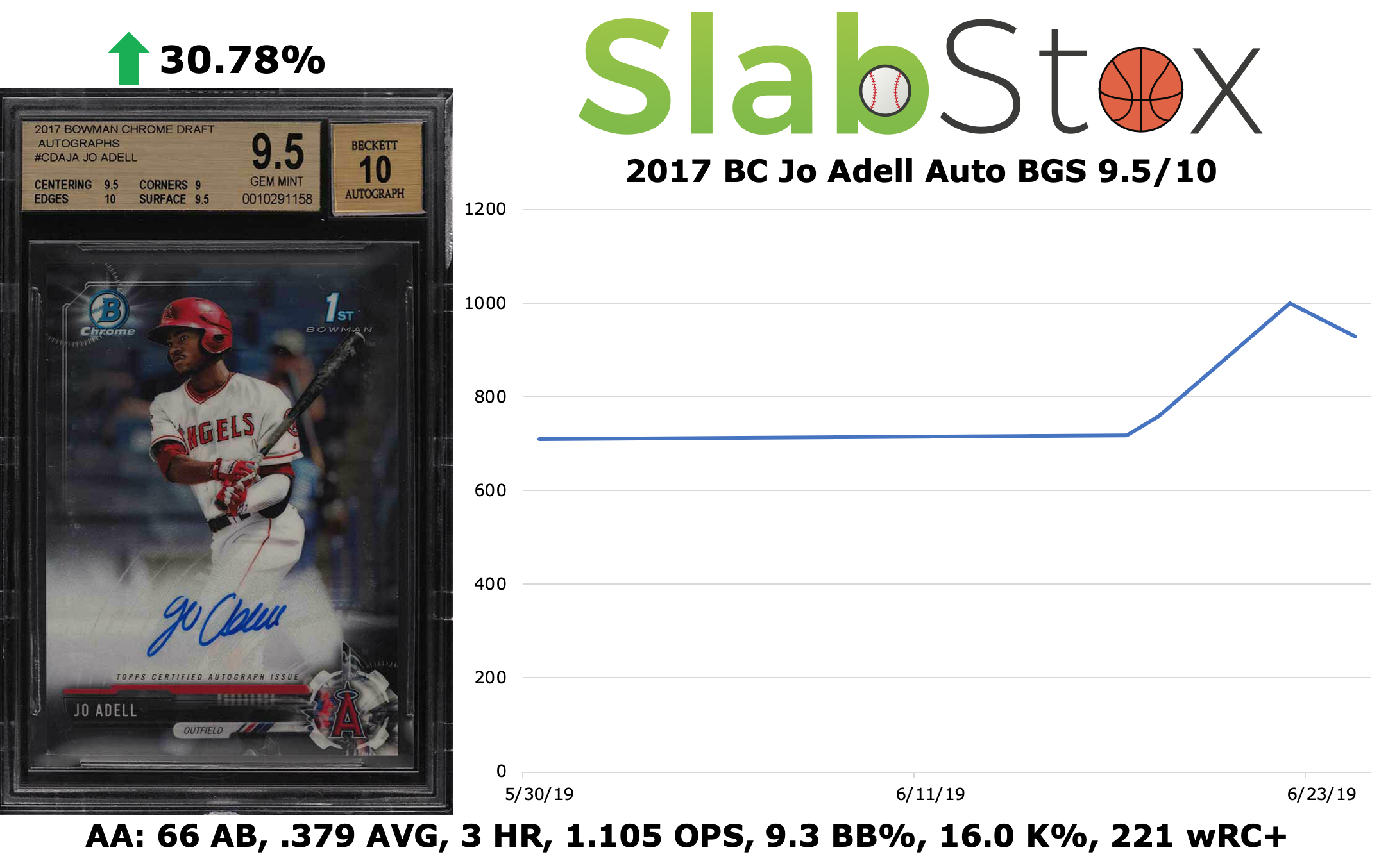 After being hurt for most of the season, Jo Adell has got off to a scorching hot start with an OPS over 1.105, BB% around 10%, and a K% under 20%. Not only that, but he only had to rehab for six games at High-A before getting moved back up to Double-A at 20 years old.
Of course, his prices are crazy with the most recent auto selling for $930 (Base 9.5/10). His Bowman Chrome autos are extremely short-printed. There is only base, gold wave /50, gold /50, orange /25, red wave /5, red /5, and superfractor 1/1 for parallels. The base is circulated in much smaller quantities, too. I remember reading about a Topps Q&A at the 2018 National, and they stated the other cards were damaged during the signing period or in transit back to Topps, so they held a ton back.
Adell rose from the top 15 into the top 5, and he looks to finish this season off in the same dominating fashion.
3. MacKenzie Gore (SP) – San Diego Padres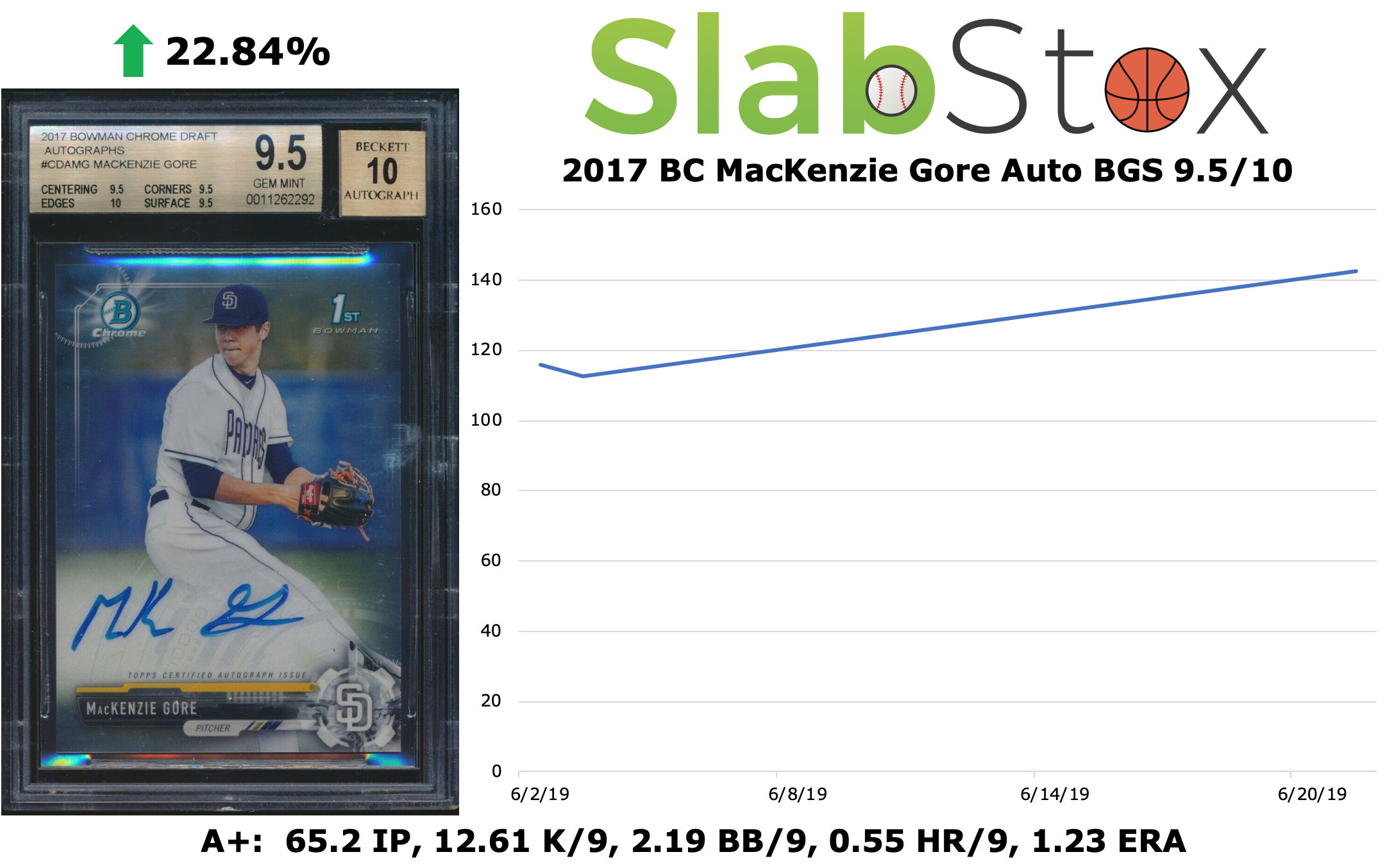 After a season plagued by blisters on his throwing hand, MacKenzie Gore has been absolutely unstoppable. I never thought we'd see him as a top 3 prospect, but, here he is. For good reason, too. He's thrown a good amount of innings and has struck out batters at an incredible 12.61 K/9. He also has a 1.23 ERA.
His non-graded base autos don't sell very often, so I had to go with the 9.5, which also don't sell very often. There hasn't been too much movement on them, but he was pretty pricey going into the season too. They have now eclipsed $140, which is impressive by any means for a pitcher.
2. Casey Mize (SP) – Detroit Tigers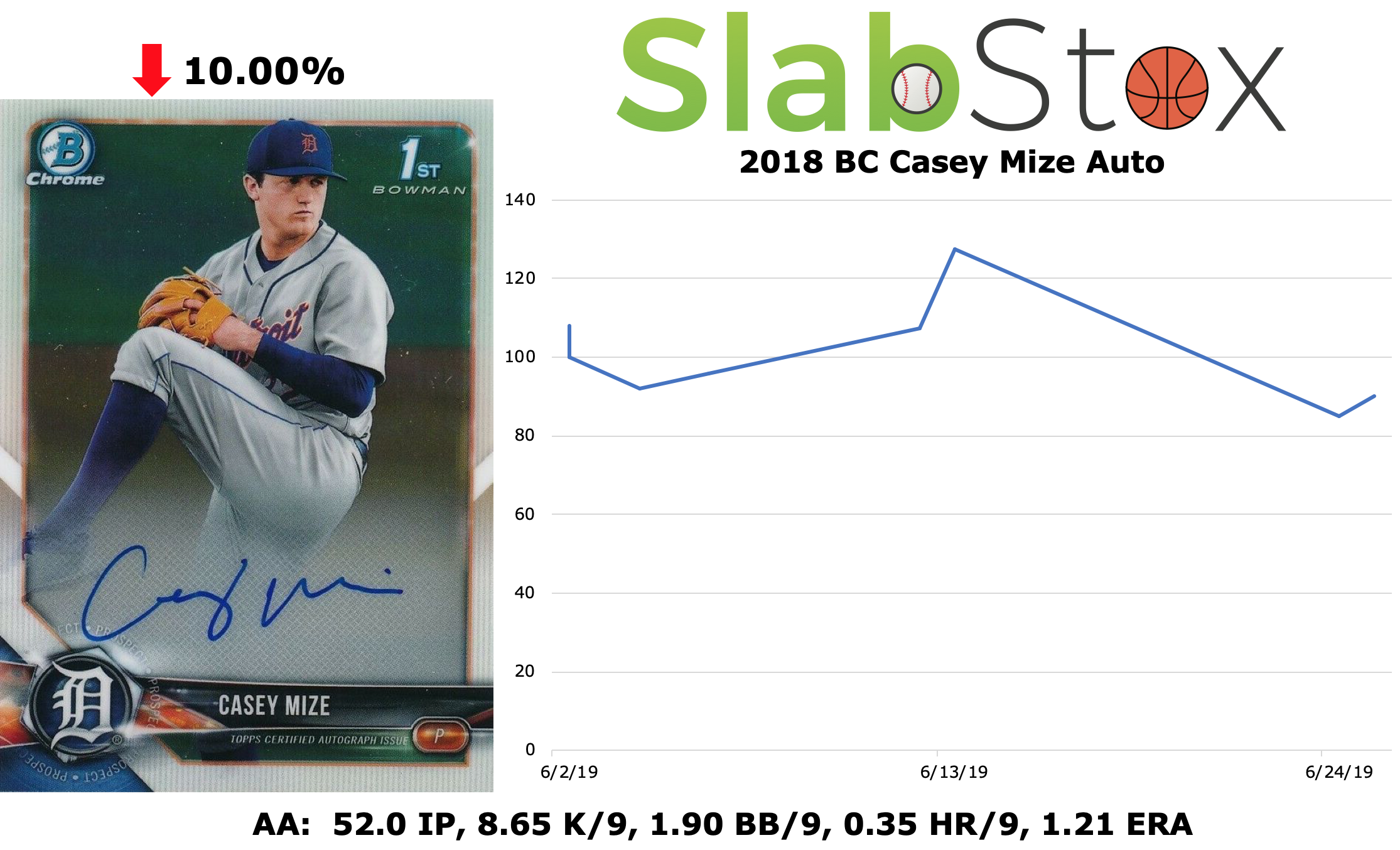 How many times do we see two pitchers in the top 3? Rarely ever, but it's 2019 and rules don't apply (or maybe there's a lack of hitter depth). To address that last point, I do think there is hitter depth. Fangraphs' top 5 is Wander Franco, Royce Lewis, Forrest Whitley, Bo Bichette, and Jo Adell. Then Mize and Gore are 9 and 10. But, we are reviewing Pipeline's rankings, so let's keep it there.
Mize has dominated every aspect of the game, even throwing a no hitter in an outing. Recently, he got pulled out of a game because of a velocity drop and some pain while throwing. It turned out to be a small shoulder injury, but they aren't going to rush him back.
Will Mize pitch another game in 2019? I don't know. What I do know is when he did pitch, it was good enough to put him at #2.
1. Wander Franco (SS) – Tampa Bay Rays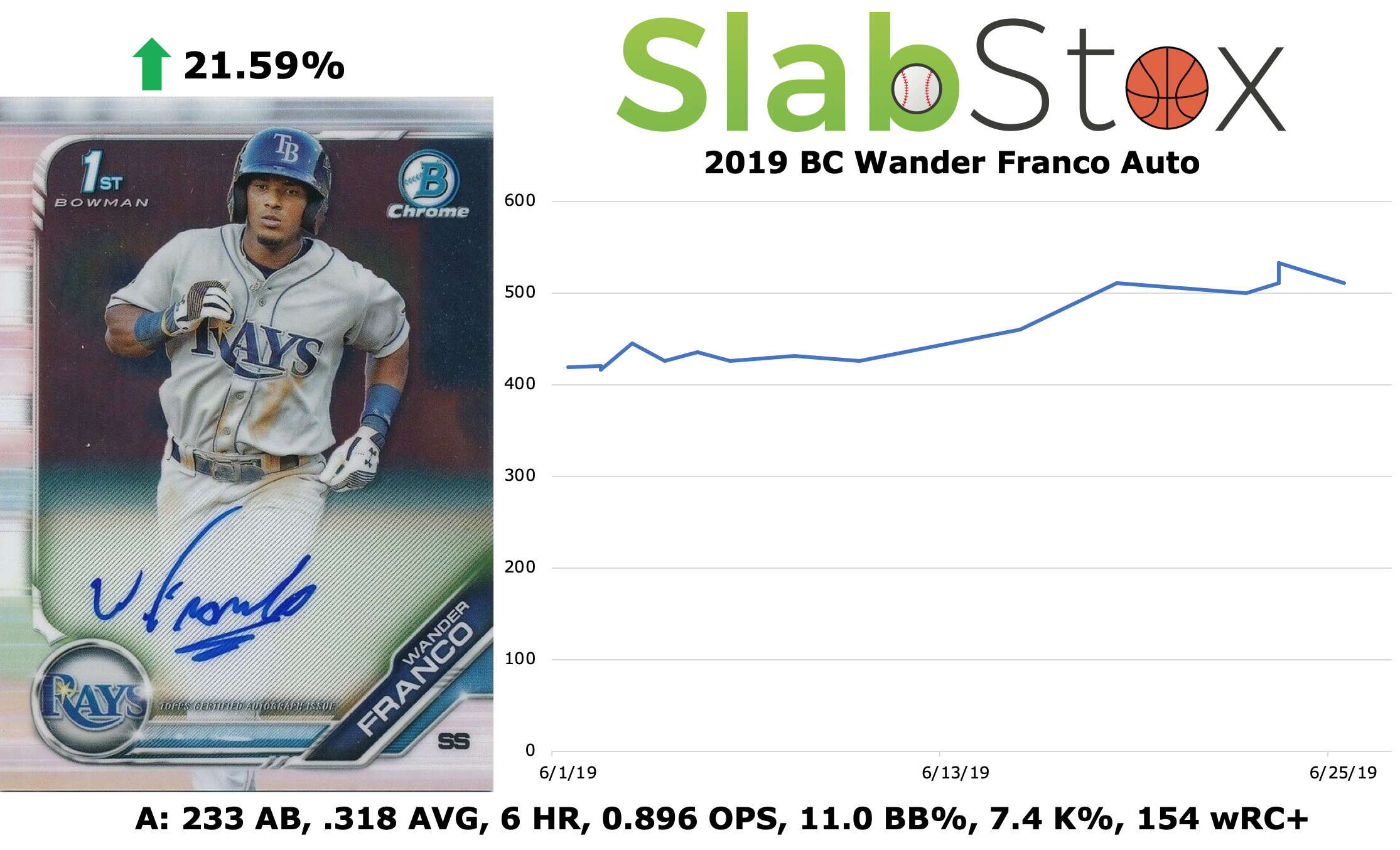 What else is there to say? At 18-years-old, Wander Franco has demolished A-ball, similarly to what Vladimir Guerrero Jr. did there. He rarely strikes out, he walks a ton, and his wRC+ in A-ball was 54 points above league average at the age of 18. He recently got promoted to High-A. Through two games there, he has five hits in seven at-bats, with one being a double. He's also walked once and stolen a base.
When his Bowman Chrome autos released in April, they came out of the gate around $500 and made their way closer to $400 after a couple of months. Now, with Franco getting lifted to the #1 prospect and destroying the Minor Leagues at 18-years-old, they are back over $500. If he follows a similar path through the MiLB like Vlad did, it'll be interesting to see if Franco base 9.5s can eclipse $1,100.
One thing I know will happen is this: the hype train is going to be full speed ahead. Unless the Rays do something out of their ordinary (they normally take their time with their prospects), Franco will be the number one prospect in baseball for two years. That will create massive amounts of hype, which definitely drives prices.
---
By the looks of it, this will be the top five moving into next season, as none of these players will graduate and *should* maintain their spots in the February re-rank.
While it may not seem as strong as the previous class' top 5 (Vlad, Tatis, Eloy, Robles, Senzel), there is some massive talent between these guys, and of course, Wander is a can't miss prospect. The question is, which one are you betting on becoming the next star?
Sign up for The Daily Slab email to get the most up-to-date sports card insights straight to your inbox.