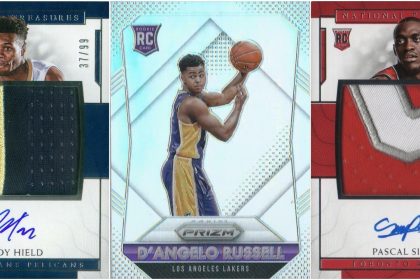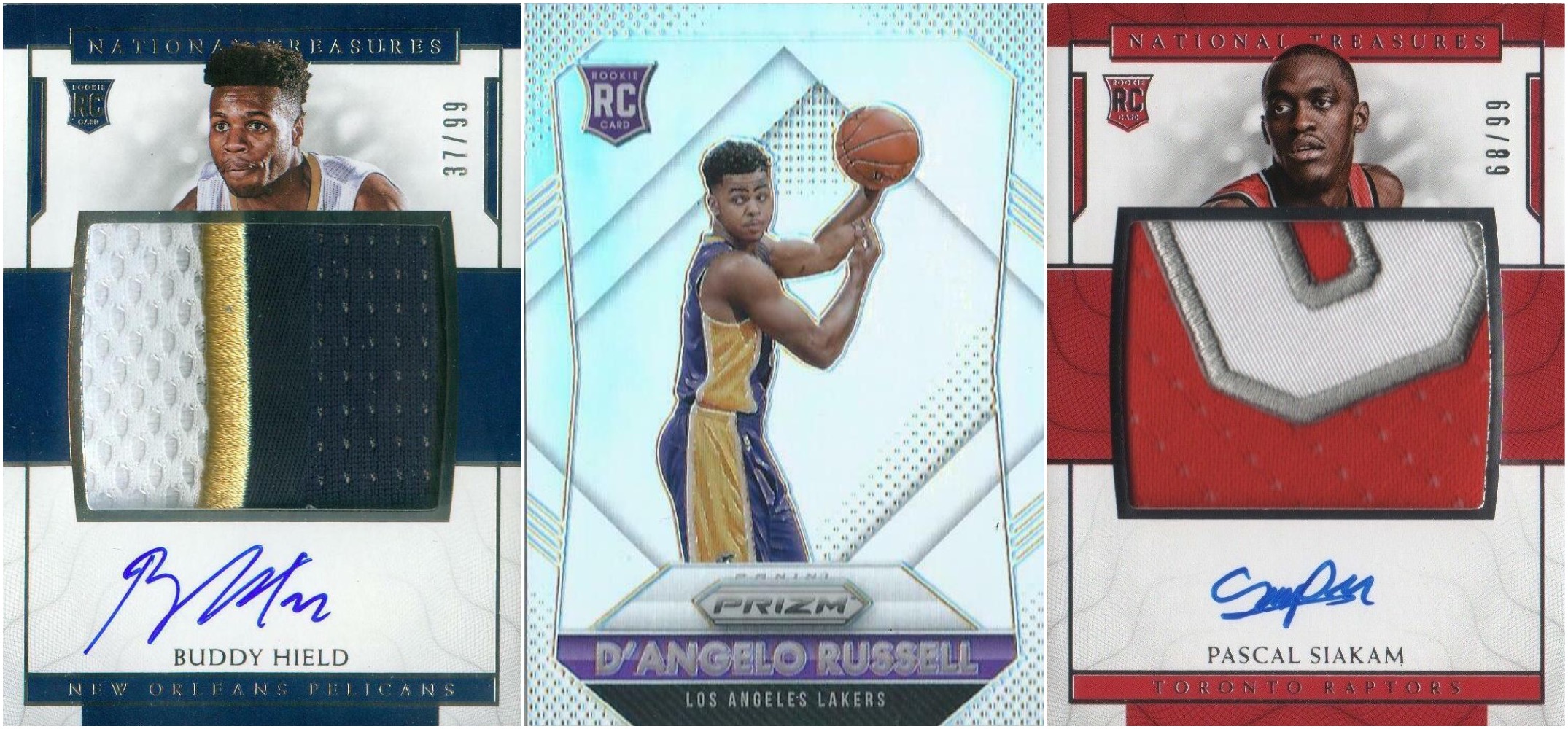 Two weeks ago, the basketball team at SlabStox published an article investigating the viability of National Treasures RPAs as a short-term investment, specifically detailing Jayson Tatum and Donovan Mitchell price changes. This spurred a thought-provoking conversation in the Instagram comments, raising an interesting question that could provide valuable insight on the basketball card market.
When investing in a player, there are a few routes to take. An investor can either stash a large quantity of lower-end Prizm Silvers and other parallels, or grab an NT RPA at a much higher price point. In this article, I will be comparing the increase in value of NT RPAs vs. Panini Prizm Silvers from a few players who have seen a recent uptick in prices, in order to find the best way to invest in the young stars of the NBA.
Because Panini Prizm experienced a large boom across the board a few years ago, I decided to narrow my search down to the more recent changes in prices of each product, so the variable of the "Prizm bubble" could be alleviated. I chose to look at the cards of three players that have substantially risen in value this season: Pascal Siakam, D'Angelo Russell, and Buddy Hield. Each player's rookie cards are from just a few years ago.
My goal was to figure out how much a potential investor would've made buying at offseason prices, so I looked at average offseason sales versus the most recent finished auction.
Pascal Siakam – Toronto Raptors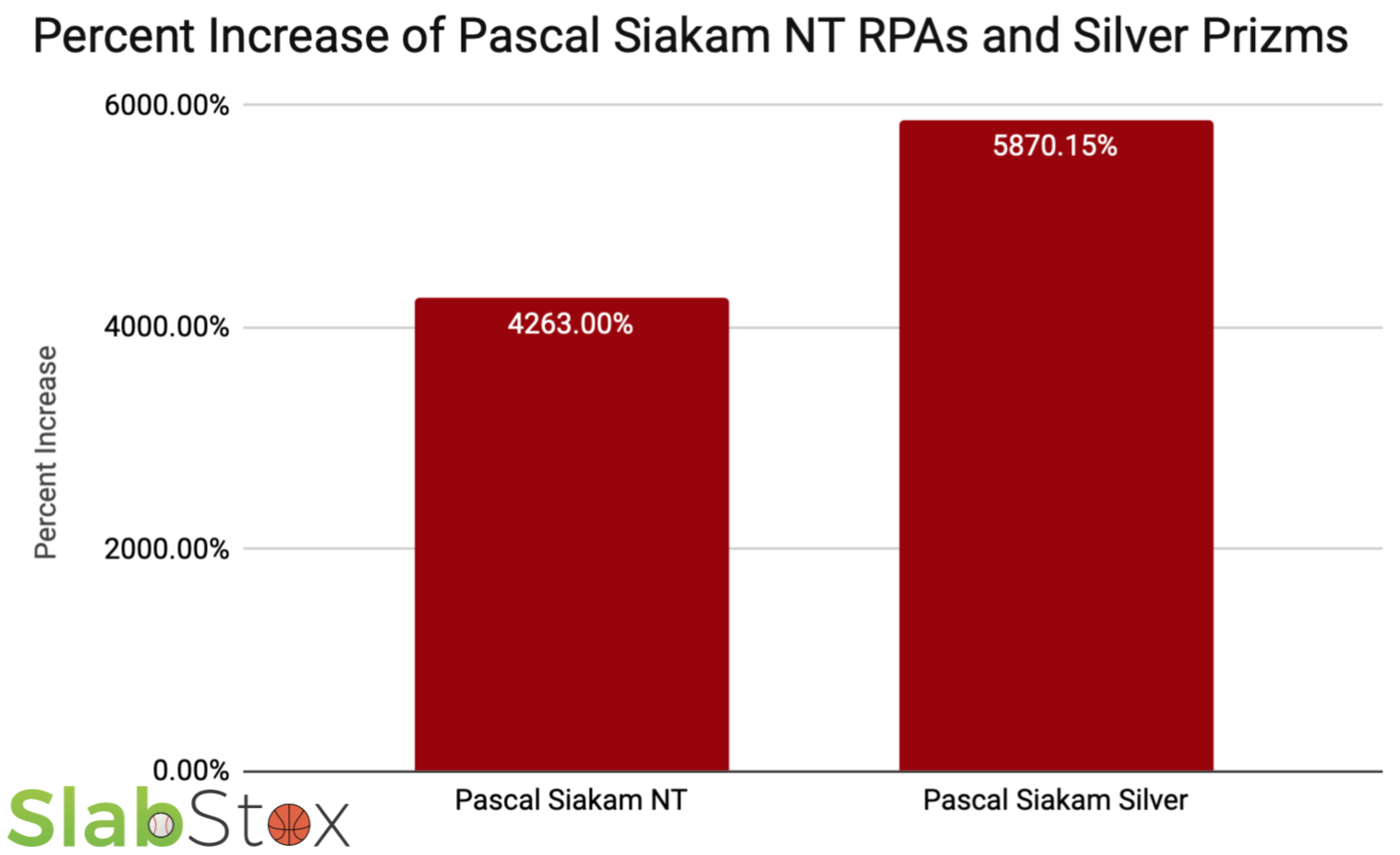 For Siakam, his NT RPAs sold for about $35.00 during the offseason, with the most recent auction sale concluding at $1,625, good for an increase of 4,629.59%. On the other hand, Siakam's silver prizms rose from an average offseason price of $1.34 up to $80.00, an increase of 5870.15%.
D'Angelo Russell – Brooklyn Nets
As for D'Angelo Russell, the young Nets star's NT RPAs brought an average of $613.00 in the offseason, rising 63.13% this year, with a recent sale of $1,000.00. This percent increase was significantly lower than the rise in his Prizm Silvers, which went from an average offseason price of $19.00 up to recent sales of $40.00 per (+110.75%).
Buddy Hield – Sacramento Kings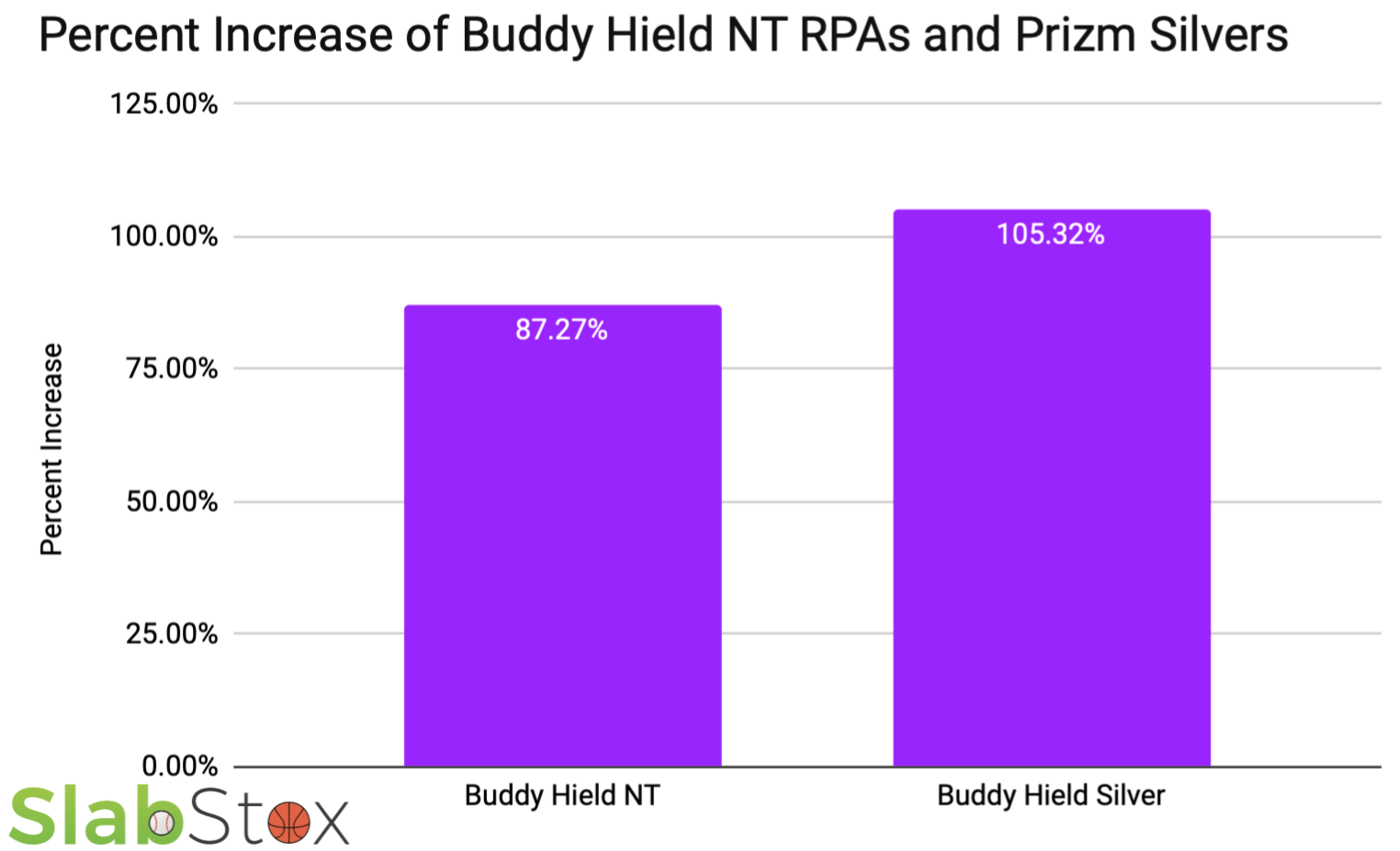 Buddy Hield's rookie cards experienced the same trend. His NT RPAs increased at a lower rate than his Prizm Silver, an 87.27% jump compared to an increase of over 105%.
While the National Treasures Rookie Patch Auto is often thought of as the most desirable card of up and coming NBA phenoms, my research points toward Panini Prizm Silvers as the better investment.
The caveat is it's certainly harder to purchase a large quantity of silvers in comparison to just one RPA when looking to dump some money into a potential investment. However, it might be more beneficial to target less-costly Prizm Silvers and other parallels if you can time it right.
I think this is largely attributed to a sizable demographic of collectors being priced out of NT RPAs, especially as they reach insane price levels. Of course, this was a relatively short investigation, and trends could certainly changed based on year, player, and condition.
Which product do you prefer when investing: NT or Prizm?
Sign up for The Daily Slab email to get the most up-to-date sports card insights straight to your inbox.