Last week here on SlabStox, I launched into the world of Panini Prizm with a deep dive into The Matador™, Luka Doncic. The top rookie's prices surely means the rookie widely regarded as second on the ROTY watchlist cards must be hitting considerable prices on the open market, right? Nope.
It seems that the community has turned their back on the highly talented, albeit less flashy, DeAndre Ayton. The 7'1" center for the Phoenix Suns seems to be overshadowed by a poor team record, despite the fact that he is averaging a double-double, something even the aforementioned deity Luka Doncic hasn't been able to achieve.
While investing in Luka requires big pockets, stashing multiple serial numbered Ayton parallels could cost you less than buying one unnumbered Luka Silver. This seems great, as it would make sense for Ayton's prices to close the large gap between Luka's prices and his. Even if Ayton Silvers doubled in value, they would still be selling for less than one-third of what Luka's are hitting routinely. That big jump isn't going to happen, although not because of what you would think.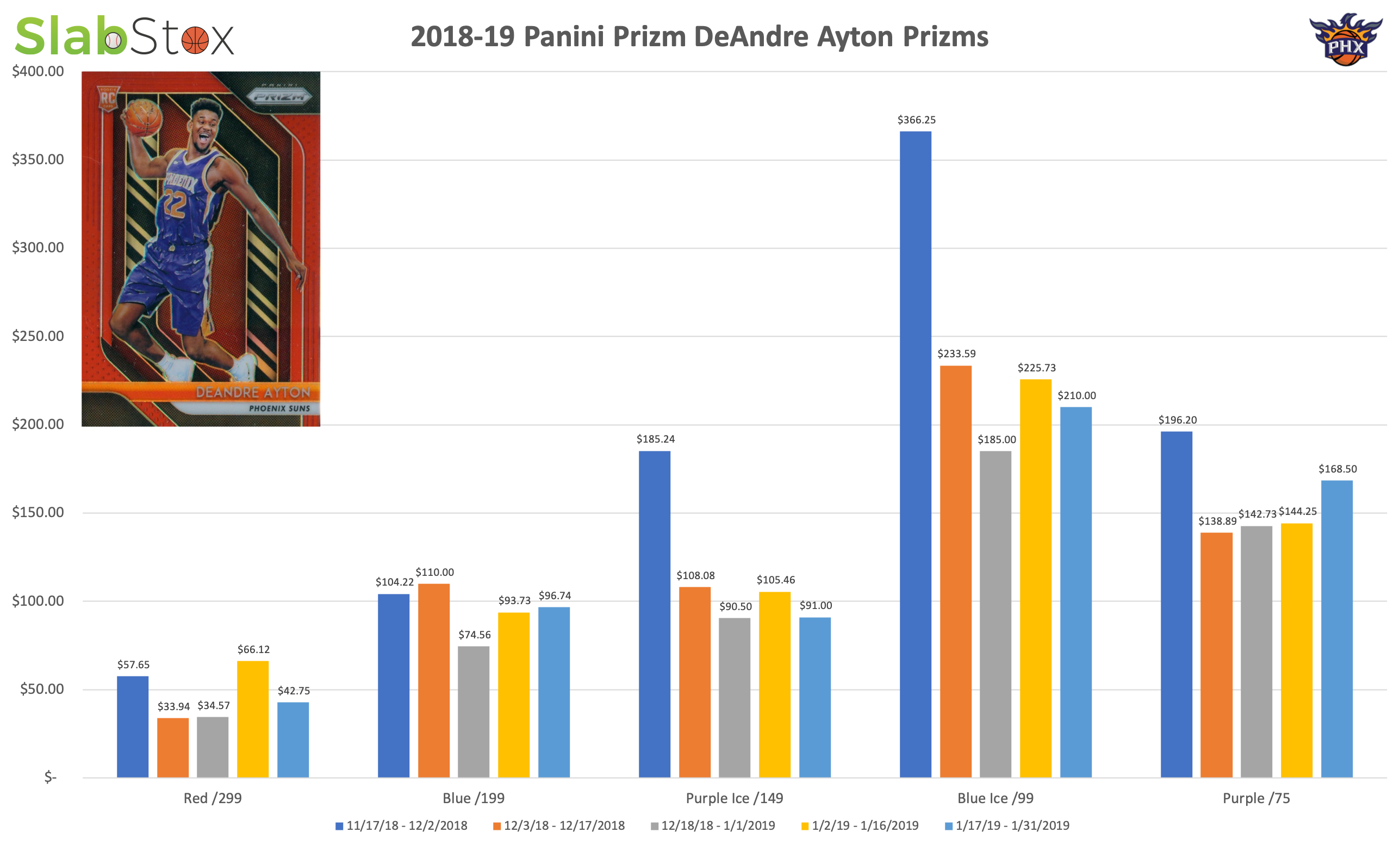 Just like last week, the first chart shows the sales of each selected serial numbered parallel in a fifteen day range, starting on release day and ending on the final day of January. Now, unlike last week, these Ayton sales do not have a clear trend.The Luka sales started up, dipped a little, and then continued on a mostly linear upward trend. The Ayton sales start high, but after that, it is anyone's guess what will happen.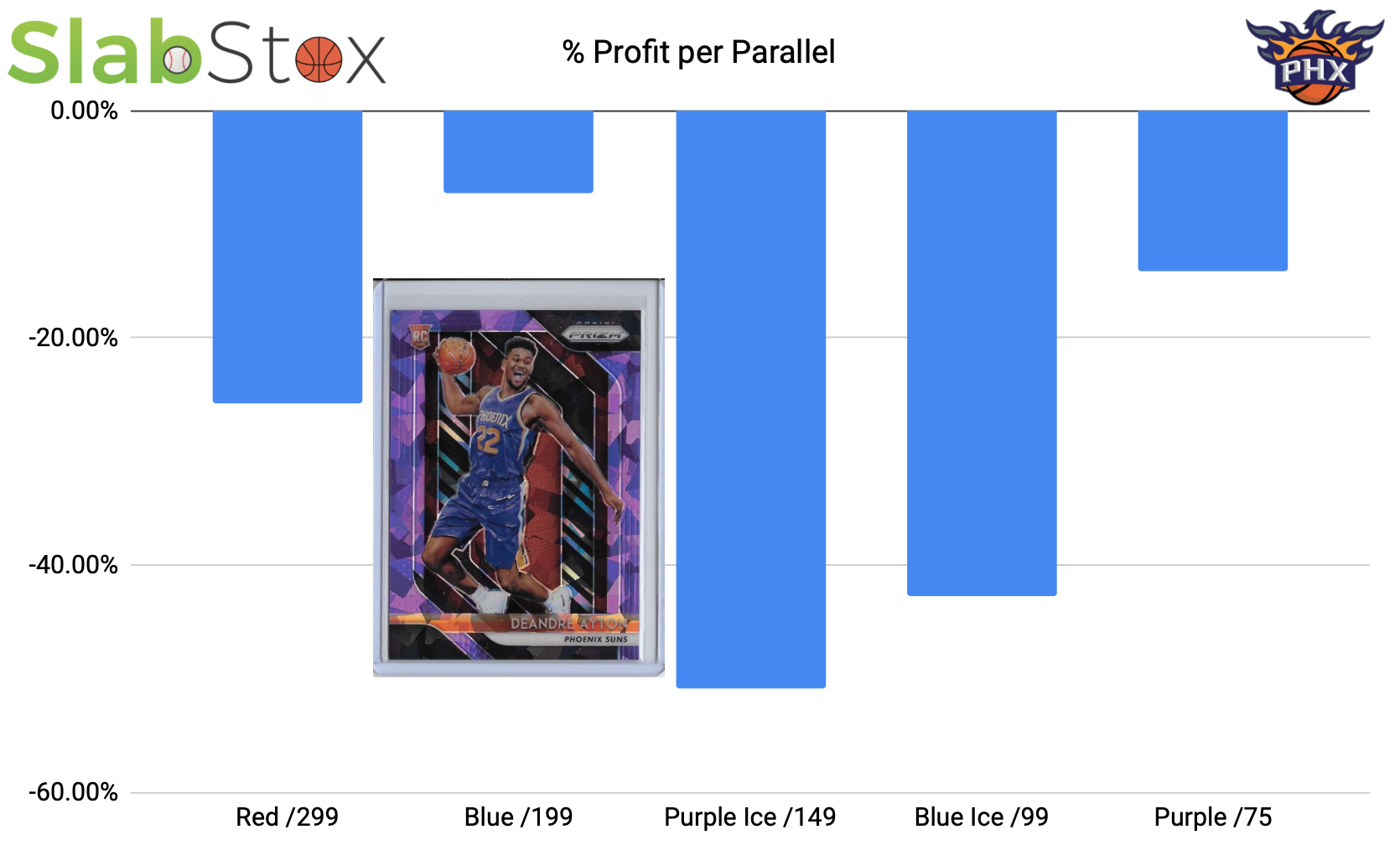 This chart starts to explain why I believe a jump in prices will never happen. Through the first two and a half months of aftermarket sales, not one of the selected parallels produced a positive profit. 60% of them produced a loss of 25% or more, with the Purple Ice /149 experiencing a loss of over 50%.
While every Luka Doncic parallel has been on the rise, Ayton parallels are in the basement, and it's not as if his play is declining. If anything, his level of play is improving as you would expect. But why doesn't that correlate to rising prices?
Could it be that Ayton is a big man in a guard centric league? That's not it. Since the inaugural Prizm release during the 2012-13 season, the top player in each set has been a big man three out of the six years prior to the 2018-19 release, with names like Anthony Davis, Joel Embiid, and Karl-Anthony Towns claiming the top spot.
Okay. So it's not his position, but could it be the fact that Phoenix is small market where cards are concerned? That's not it either. In a ranking of state's TV market sizes, Phoenix comes in 12th; whereas, places like Minnesota and Milwaukee, the homes of KAT and the Greek Freak rank behind Phoenix at 15th and 36th, respectively.
If it isn't either of those, then what could it POSSIBLY be?
The answer: Luka is creating so much buzz the hobby is forgetting about the other rookies. It doesn't seem to be possible, but we have seen this before. Recently, in fact. Ben Simmons destroyed the other 2016 rookies in both prices and media attention. His Prizm Silver PSA 10 goes for over $800 more than any other Silver from that year.
Even though he was competing against a weak class, it is comparable because of the sheer amount of buzz both have created. Both Luka and Ben are considered to be potential heirs to the throne soon to be vacated by King James, something their peers can only dream about.
If we look at last year, the same thing happened. The 2017 class was perceived as a strong group, with Donovan Mitchell and Jayson Tatum as front runners, but it also had some promising players like Lonzo Ball, Lauri Markkanen, Kyle Kuzma, and De'Aaron Fox on the outside.
But this time last year, both Mitchell and Tatum's raw Silvers were hitting upwards of $200, whereas everyone else mentioned was selling at less than half of that, with the only two routinely hitting $100 being Kuzma and Ball. The two top rookies from last year (sorry Ben) outpaced the others, yet they did not garner half of the media attention the almighty Luka is getting. Since February of last year, not ONE of the players mentioned have risen in value, except for Fox.
All of this leads me to believe one thing. Luka Doncic is the only viable investment in the 2018-19 rookie class right now. There, I said it. Someone had to. He will continue to outshine the rest of his class, and their prices will stay low unless one of two extremely unlikely things happen.
The first is one of the players in this class breaks out and becomes a bonafide superstar, but how often does that happen? The second, highly unlikely outcome, is the investing community fixes the market discrepancies. It's a CRAZY idea, I know. It's not like it is utilized in every other market to ever exist. Oh wait. It is. Whoops.
I would never buy Prizms of anyone but Luka from here on out. There have been guys who have made collectors some money at the start of the year, but past market trends suggest the only players whose values will rise are the star players.
If I had to choose one Ayton parallel to buy, it would be the Purple /75. The Blue Ice /99 is outpacing it, but the Purple matches the color of the Suns uniform, and that is something that certain collectors look for. It seems if any parallels will go up, it's that one.
But honestly, save up for Zion. THAT'S when the real money will be made.
Sign up for The Daily Slab email to get the most up-to-date sports card insights straight to your inbox.