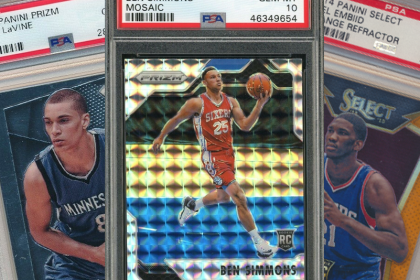 While the NBA is getting stifled by COVID-19, card values are still shifting.
COVID-19 is putting a lot of pressure on NBA teams and players. There's been an increase in games postponed, and some teams played with the bare minimum number of players due to the NBA's COVID-19 protocols. The outlook on some teams and players is looking very murky.
A potential one to two week pause of the NBA seasons has been suggested as a way to combat the increasing number of cases, but we simply don't know what the future holds.
There's been three weeks of play so far and use that as guidelines for potential investments in the basketball card market. Some players have not gotten off to the hot starts investors hoped for.
Zach LaVine
Chicago Bulls star Zach LaVine is on fire to start this season. The other night, in a 42-minute losing effort against the Los Angeles Clippers, he put up his best numbers of the season—45 points, 7 rebounds, and 7 assists. This was on an incredible 57% field goal percentage and a 63% shooting effort from three.
This game capped off a nice three-game stretch for the 25-year-old guard. In the game prior, he put in another great effort against the Los Angeles Lakers with 38 points, and in the game prior to that one against the Sacramento Kings he scored an impressive 32 points.
Even with this stellar play, his card market has not seen much action. His 2014 Prizm RC PSA 10 has only sold eight times over the past four weeks, but there is a 29% increase in value of this card since the start of the season in December. If he continues to keep scoring at this pace, it would not be surprising to see more sales of this card.
There were 12 players in the league who averaged over 25 points per game last year. Out of this group, LaVine seems to be the one that doesn't belong in this tier of players. He averaged 25.5 PPG last season and was among good company on the league leaders list. But outside of raw scoring, he didn't offer much more.
When looking at other statistics and advanced metrics of the other 11 players with over 25 PPG last season, LaVine seems to be the worst player on this list. This could be attributed to his team being bad, but there are many areas of his game not related to team performance where he struggles. LaVine scores in bunches and is rather efficient, but the other than that, there is little value.
Investors may not do all of this research, but teams certainly do, and as a result he has not been a legitimate trade target. LaVine tends to be seen as a piece for the Chicago Bulls to trade away, rather than a target of other teams. This belief around the league tends to have an impact on how investors see players, and drive the lack interest for his cards.
Bottom line: LaVine probably won't ever be targeted as a trade candidate by a legit contender, so he does not seem to be a good investment option in the long term. Your hard-earned money should be put elsewhere. While his short term prices may see a boost if he continues to score, there is a lot more to basketball than scoring, and the market reflects accordingly to players who can't do anything else.
Boston Celtics: Jaylen Brown & Jayson Tatum
One of the teams making waves during this young season is the Boston Celtics. Some of the more recent news has been COVID-19 related, with their star Jayson Tatum testing positive and being placed into quarantine. Outside of this, the Celtics have been one of the best teams so far, and that is mostly thanks to the dynamic duo of the aforementioned Tatum and Jaylen Brown.
When looking at both of their PSA 10 rookie cards over the past four weeks, their values are changing. Dating back to the beginning of the season, Jaylen Brown's 2016 Prizm Base RC PSA 10 sold 35 times on eBay and increased in value 72%. Jayson Tatum's 2017 Prizm Base RC PSA 10 sold 86 times but has interestingly been flat with an overall 3% decrease in value.

Jaylen Brown's increase in value is most likely due to the career year he is having. So far he is averaging career highs in points, steals, blocks, and assists, while also having his best shooting performance to date.
All told, these two players are potentially the best-two way wing tandem in the league right now, and leads us to believe they could be the best pair of 25 and under teammates. While the market is clearly higher on Jayson Tatum due to his value and sales volume, the stagnation of his value is surprising. The market could just be waiting for another big moment from the young star to push him into the next tier. This may take some MVP conversations or a big time playoff performance. Regardless, his values will not be suppressed for long due to the type of player he is, and the market he plays in.
For Jaylen Brown, it is not surprising to see a large increase in value. He is putting up strong numbers and is in the early conversations for Most Improved Player. Even though there won't be a conventional All-Star game this year, he could still be awarded All-Star status. This would raise him to the next tier.
Bottom line: Long term, both of these guys are a buy and hold. Unless Jaylen Brown gets traded for James Harden, both of their card markets have good value right now. Tatum's market might bring the best value due to the lack of demand he's had recently.
Philadelphia 76ers: Joel Embiid & Ben Simmons
The Sixers are currently sitting at 7-3 and are at the top of the Eastern Conference. They're riding the back of the incredible efforts from their franchise big man Joel Emiid.
In the past, a huge knock on Embiid was his up and down efforts throughout the season, but this year he looks locked and loaded and ready to take his team to the next level. He is averaging 24.6 points, 11.8 rebounds, and 3.3 assists per game. In addition, Embiid is shooting 46% from downtown and has an incredible true-shooting percentage of 65%. This is a small sample size to work with, but regardless, it has been a while since the league has seen this version of Joel Embiid.
With Embiid being in the early MVP discussion, his card market could see a good boost if the 76ers continue their success on the back of their star big man. Expect him to continue to put up big numbers, especially while his team has COVID-19 related issues and has to rely on him more.
The other star on the team has looked exactly like himself so far, which is good and bad. Ben Simmons is a very good player and continues to be among the best on defense, but he continues to struggle in key areas. He is very passive trying to find his shot, shys away from contact on his drives to the basket, and continues to be just an average contributor in points.
On a small sample size, Simmons numbers are pretty much what they have always been. He is averaging 13.4 points, 8.8 rebounds, and 7 assists, and 1.4 steals per game. He is also shooting just below average, with a 54% true shooting percentage. Many investors were expecting and hoping for Simmons to take that next leap in his game in his 5th season since being drafted. But that has not been the case. While it is good he has not regressed, it is also not great for his card market that he has yet to progress in the areas he needs to most.
When looking at their two Prizm Base RC PSA 10's, the sales history seems to reflect the play we have seen so far. Embiid's cards have been selling regularly since the start of the season with 32 total sales on eBay and an increase in value of 42%. A lot of people are clearly excited about what he has been doing. Ben Simmons hasn't been as popular with only 22 sales during the same time frame, and his card is down 12%.

Bottom line: Embiid is showing huge long-term promise as he continues to develop into one of the most intriguing players in the game, and as a result his card market should also continue to respond favorably. Simmons has been disappointing as he still hasn't established himself as a scorer in the NBA. The season is still young, so there's a lot left to be seen.
The "Starting" Five
Here is a check-in by Sam on 5 young players who have been in the league 1-3 years. These players are still starting their careers off and have been trending in the right or wrong direction. Remember, these projections are based on a small sample size for each player and could certainly change as the season progresses.
Hamidou Diallo: Trending Up
The third-year player for the Oklahoma City Thunder does not have a ton of competition for playing time and is capitalizing on the opportunity. With about 21 minutes per game, he has almost doubled his output from last year. He is averaging 12 points, 5 rebounds, and 2 assists per game. He is shooting poorly from three-point range but is still has a respectable 60% true shooting percentage. His non-graded Prizm Silver RC's are up 229% over the past four weeks. It sits around $50. He is a young, energetic, and raw player that could certainly improve and become an established player. While he may not be an absolute buy right now, he is definitely a player to watch.
Tyrese Maxey: Trending Up
Maxey had himself a great game in his first career NBA start due to the ongoing COVID-19 problems in the 76ers organization. In his first big minutes of the season, he scored 39 points while shooting 55% from the field. This went along with his 7 rebounds, 6 assists, and 2 steals. Overall, he looked good for a rookie in the nearly 44 minutes he was on the court. It was really encouraging play from this rookie guard, especially since he only turned the ball over twice in the game.
RJ Barrett: Trending Up/Down
The New York Knicks have been a surprise out of the gate this season, as they are hovering around the .500 mark in week three. Barrett has been benefiting from head coach Tom Thibodeau's strategy of playing your best players as much as possible as he is leading the league in minutes per game. He has been rather impressive defensively, and is looking very good as a passer by creating tons of opportunities for his teammates. His shooting is still very bad, unfortunately. He is sporting a 45% true shooting percentage, which is pretty terrible. In order to make some real waves in the sports card marketplace, Barrett needs to become a better scorer. He is still young at just 20 years-old, so there is some hope for his long term outlook.
Jarrett Culver: Trending Down
The early returns for Culver this season have been rough. After an extremely forgettable rookie season, his sophomore campaign worse. He only getting about 24 minutes per game, but his rebounds are up to about 6 per game. That is encouraging. Everything else is pretty much down from last season. His shooting is looking really bad; it seems his shot is simply broken. There hasn't been much to get excited about in terms of Culver's outlook and promise.
Patrick Williams: Trending Up
Willaims has looked awesome so far this season as a rookie with the Bulls, especially after the audible groans you could hear resonating from Chicago on draft night. In his young career so far, he has been forced to guard some of the best players in the league such as Giannis, LeBron, and Kawhi, and has looked pretty solid. He is clearly gifted athletically and seems to be absorbing a lot in the early going. Thankfully, Billy Donovan is the new coach for the Bulls and knows this year is all about learning for his young team. Williams is averaging 10.3 points, 3.5 rebounds, and 1 assist per game. This is very fine stuff for the rookie, and he has been receiving great praise from around the league. If this continues, expect him to be in high demand when the 2020 NBA sets start to drop.
For the full video by Sam Dunks, head to YouTube!