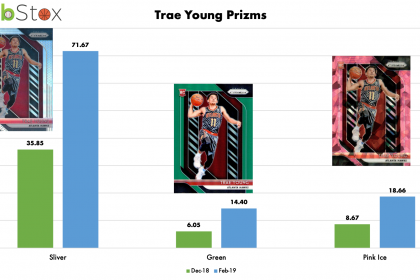 Yeah, yeah. We get it. Luka Doncic is the next great thing in basketball. He's electrifying and a generational talent. Not to rain on the Luka parade, but there is another rookie slowly on the rise that, if Luka takes a step back, will hold up that Rookie of The Year trophy if given the opportunity. That man is no other than Trae Young.
Trae Young is slowly becoming a household name and alongside John Collins will be the face of the Atlanta Hawks for a long time. Trae is posting polarizing stats as of recent. HIs last two games he hung up 36 points a piece, with 2 rebounds shy of a triple-double against the Timberwolves.
Along with his production, Young has also saw an influx in prices. In less than two months, some of Trae Young's Prizm parallels have more than doubled. Below is the price increase of his Silver, Green, and Pink Ice parallels.
Now, I understand two of these are retail exclusive, but it won't be long before Prizm Basketball is a barren wasteland in all retail and hobby stores, except for the people who bought it to hold for an investment. Because of this, collectors can expect most of the rookies parallels to see at least a small increase due to the low supply, high demand for Rookie Prizms.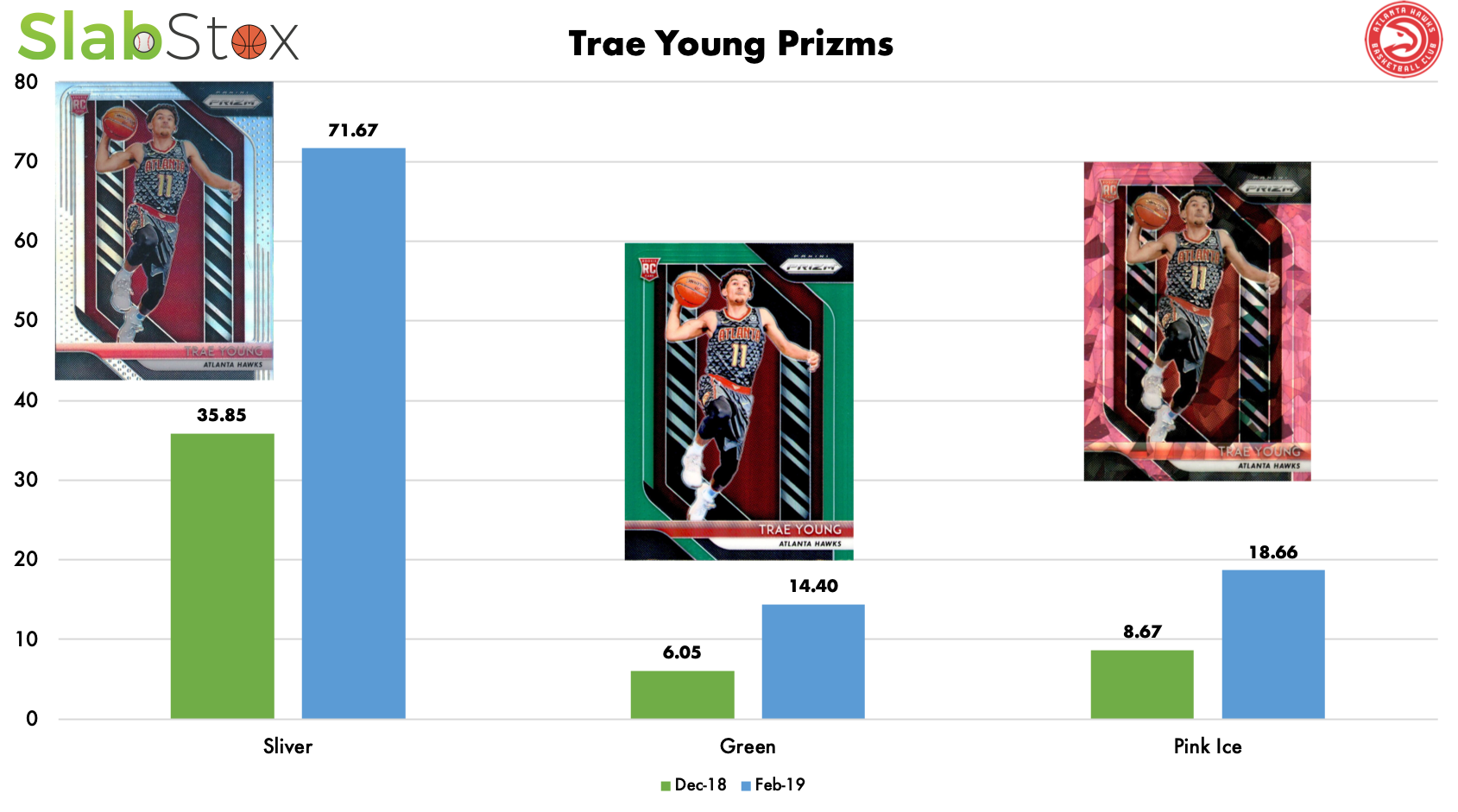 Silver (+99.91%)
Trae Young Silver Prizms were, to say the least, not in high demand at first. There are a lot of factors going into that. One being, the market was absolutely flooded with Prizm Silver rookies, and no one felt they were rare. Now, those Silvers availability is not as high, and people are starting to pay premiums for the cards they are chasing.
Another factor to this increase, of course, is Trae Young's production level. It seems as if he's just getting better. Who knows where he will be in the coming years as far as star-power is concerned.
Green (+138.02%)
If you refer to the first article I wrote about the longevity of Prizm parallels, you will see the Green parallel stands the test of time more so than the others. Greens, at the retail level, are not easy pulls. In fact, it is almost a 4:1 ratio Silvers to Greens including rookies and veterans. They aren't imposible pulls, but their scarcity takes a little bit of time to adjust to the other Prizms.
Not even two months later, the Greens have increased 138.02%. That is a larger increase than the Silver which is considered the most popular Prizm parallel. From my research alone, I can safely say as a long term investor of basketball, I would opt to invest in the Greem Prizm first.
Pink Ice (+115.22%)
The Pink Ice Prizm is the best looking parallel, in my opinion. It has been an awesome addition to the retail mega boxes, as they are some of the most beautiful cards out there. Since this is their first year in appearance, we have no prior knowledge of how time will affect the price of them. As of now, the way Trae is playing, anything is going up that has his name on it. These cards have more than doubled in a two month span and are increasing by the day.
Conclusion
All of these parallels have large longevity growth potential, especially with Trae Young balling out. As we have seen with football, Patrick Mahomes was a viable hold and a big payoff when he came into his own. I would offer the same advice to basketball investors. Even though his prices are on the rise, it is not too late to pick them up, especially considering the potential Trae Young has.
Sign up for The Daily Slab today! Get news, trends, and insights on the sports card industry straight to your inbox, courtesy of SlabStox.