Everyone likes a tooled-up player. Everyone wants their team to draft tooled-up players they can dream on.
Sometimes, your team drafts a player way over slot, and he decides to play football instead (looking at you, Kyler Murray). Sometimes your team drafts a tooled-up player, and he never develops.
Sometimes your team drafts a tooled-up player, and he takes years to figure things out. On occasion though, one will hit the ground running. The Cincinnati Reds experienced that when they made Taylor Trammell the 35th pick in the 2016 draft.
Trammell is a superb athlete. He's got average to plus contact, above average power at maturity, and plus-plus speed. He is an excellent defender in the outfield with the ability to play center or left field. The only knock on him is his below average arm. Because of this many people think he will be best suited to play in left.
As good as his tools are, his stats offer even more hope. Trammell was a star football player in high school. He didn't get to specialize in baseball like other top draft prospects, and yet, it hasn't hindered him. In A+ ball last year, he hit .277 AVG/.375 OBP/.406 SLG. He ran a 12.6% walk rate. The combination of his good eye, contact, speed, and the ability to get out of the box quicker as a lefty produces an OBP machine. A great defensive outfielder that hits for high averages and gets on base is very valuable.
The one knock I have on Trammell is that he didn't get to his power this year. In 110 games he had 19 doubles, 4 triples, and 8 dingers. Long term, I don't see this continuing to be an issue for two reasons. The first: He is 6′ 2″ 195 pounds, so he has room to add muscle to his frame. The second reason: He's a lefty, and he will be playing for the Reds. Great American Ballpark gave up 1.395 dingers per game (ESPN Park Factors). GABP also gave up 1.23 dingers per game to lefties hitting to right field, which is tied for 3rd in baseball with Miller Park (RotoGrinders). Trammell's swing is suited to take advantage of this, as he pulls 45% of his hits. You put him in the 3rd best home-run hitting ballpark for lefties and his power numbers will go up by default.
Overall, I love Trammells outlook. His numbers already look pretty good, and he only started focusing on baseball full-time two years ago. He is a contact and on-base percentage machine with great defense, game changing speed on the base paths, and one of the best home parks to make his power play up. As he gains more experience, I expect his ceiling to keep going up.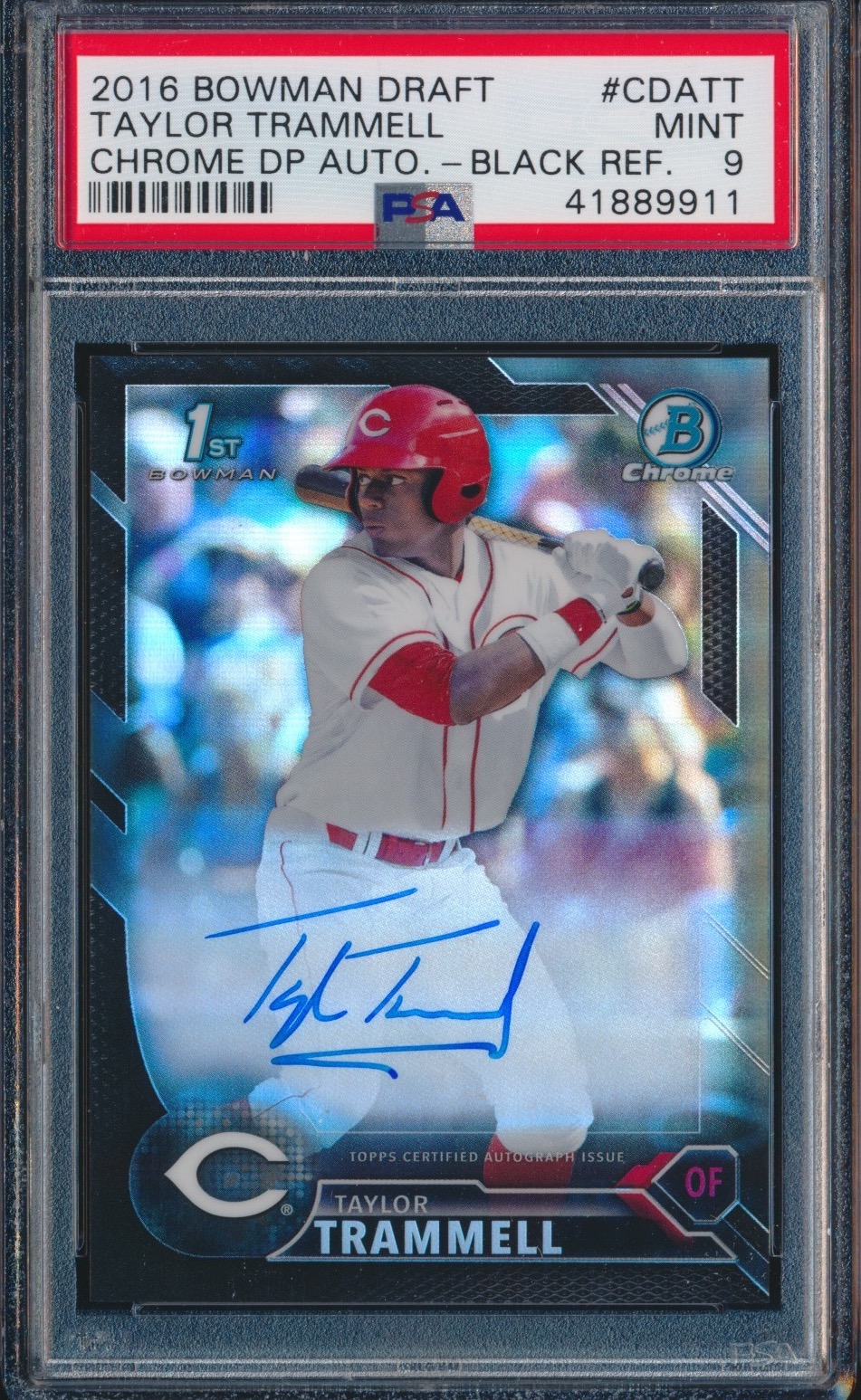 Investment Outlook
I think Trammell is a great investment opportunity. Last season, he just scratched the surface of his abilities. He ranked 16th on MLB Pipeline's Top 100. I can see Vlad, Eloy, Robles, Whitley, Tucker, and potentially Tatis graduating from the list this year. With another solid year, I believe Trammell will be a top-10 prospect by the end of the year, which should give him a sizable boost in value.
His last base auto went for $65. As a top-10 prospect, Alex Kirilloff base autos are going for around $100. I believe Trammell has similar upside in his card prices. Based on that, my buy limit would be $75, aiming to make money on a $100+ sale after fees.
Sign up for The Daily Slab today! Get news, trends, and insights on the sports card industry straight to your inbox, courtesy of SlabStox.
*All unattributed stats are from Fangraphs.