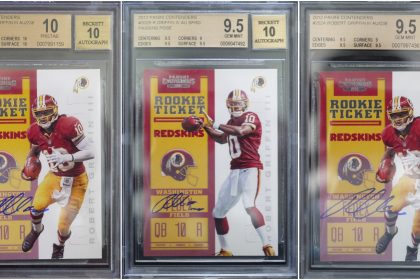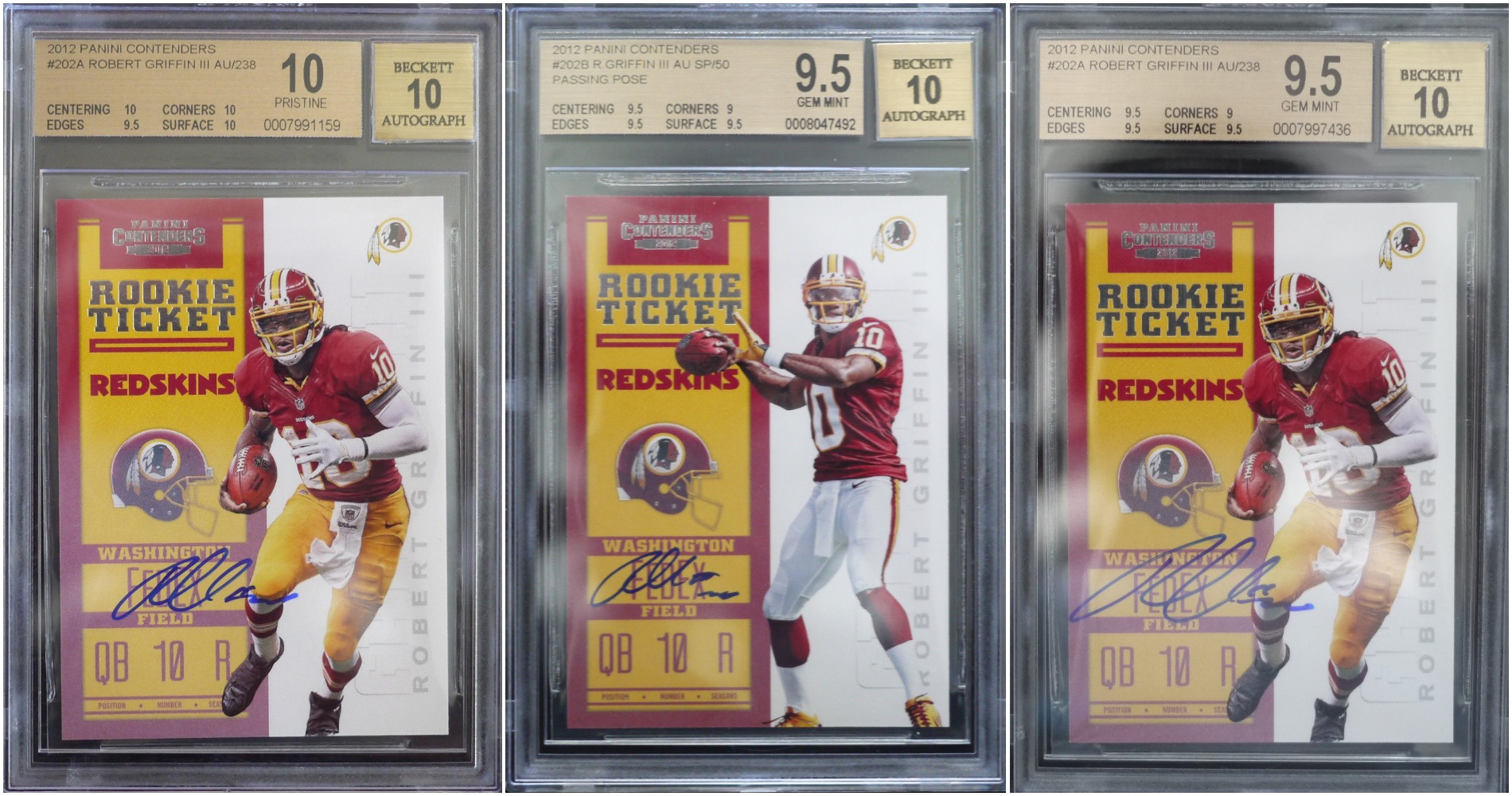 With approaching this year's Draft and all the hype surrounding players like Kyler Murray (Heisman Trophy winner) and Dwayne Haskins to name a few, it got me thinking about all the young, hyped up players that didn't go as planned.
In this new series, I will be featuring football and basketball players who didn't quite live up to the high market their cards demanded years ago. In today's feature of "Remember When?", we will be featuring former Heisman Trophy winner and current backup to Lamar Jackson: Robert Griffin III.
Take yourself back to 2012 when RG3 was more coveted than fellow quarterbacks from the same draft class: Andrew Luck, Russell Wilson, and Nick Foles. RG3 was everywhere his rookie season. Almost every product featured him on the cover, and every sports media outlet was buffing up the hype that surrounded the former Baylor product.
Robert was an electrifying player alongside Alfred Morris (another player who may appear on this list), and they lead the Redskins to one of their best seasons in a long time. However, the fall of RG3 was not pretty, and for investors in 2012-2013, it was especially not pretty. Robert Griffin III's Rookie of the Year showing came to an end in the 2012 Playoffs because of a torn ACL (and loss to the Seahawks).
After that day, Robert's career was never the same. After a few more dreadful seasons with the Redskins, RG3 found himself on the Browns with yet another depressing outcome, as he had no success at all. Now, Robert is holding the clipboard for yet another Heisman Trophy winner who's game draws a lot of comparisons to Robert's (no, I'm not saying Lamar's a bust). This mentoring role to Lamar may be the best spot RG3 has been in for a long time.
As far as market value and as a performer on the field, Robert Griffin III is one of the biggest draft busts of the modern era. From a mentoring standpoint, Robert has carved a nice niche into the Raven's organization, signing an extension to his contract to remain the backup to Lamar Jackson.
With that being said, let's reflect on the travisty some investors suffered if they were to hold these cards until today. Next to any high-end National Treasures Rookie Patch autos, his best card was the 2012 Contenders Cracked Ice Rookie Ticket Auto. It was one of the most sought after cards in the hobby more than seven years ago. And today…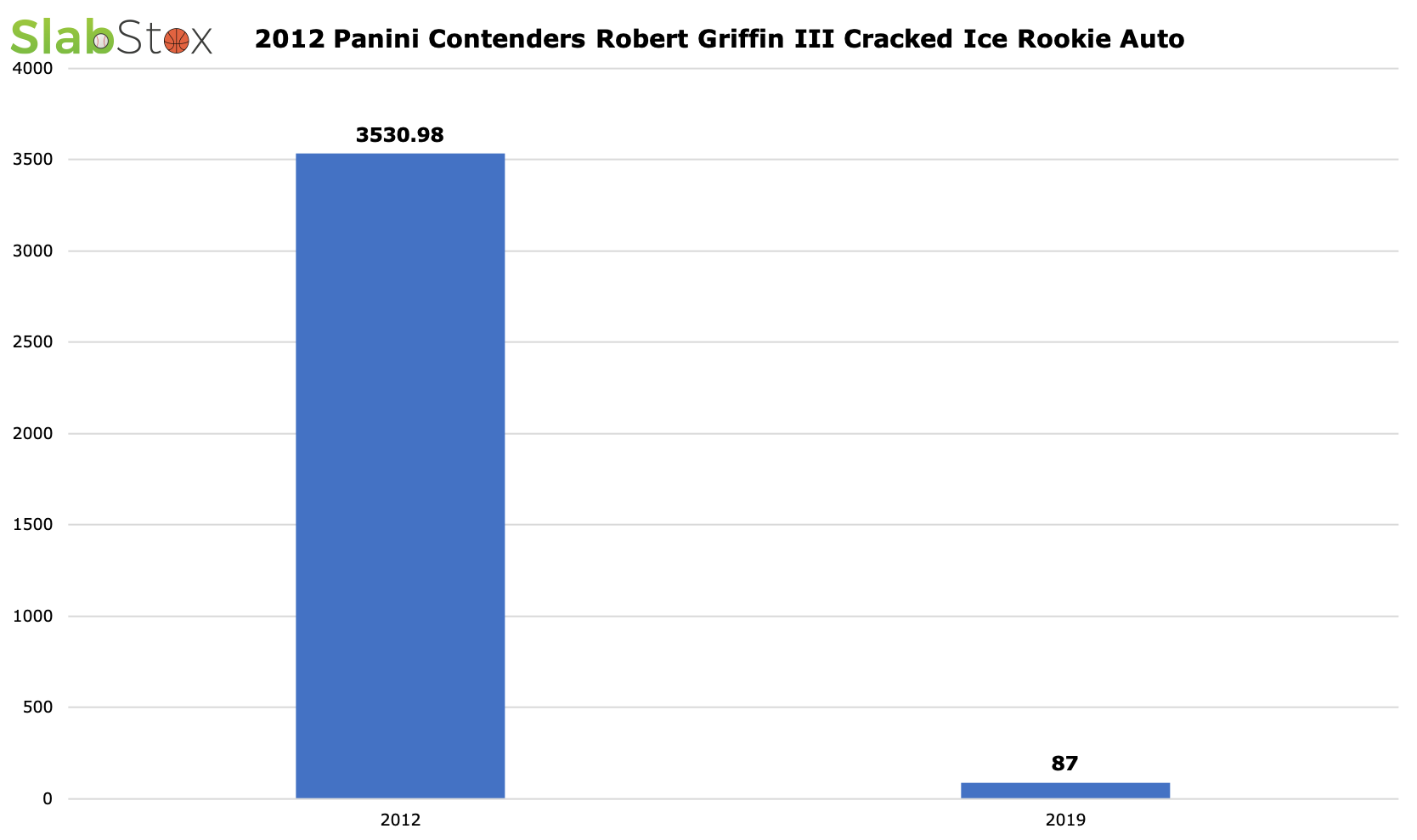 To say the least, the value of RG3 has went down a bit (lost 97.53% of its value). In 2012, you couldn't find an auto of RG3 for under $100, and now, you can find a high-end auto of him from a decent product for around $20. Make sure to consider these factors as you invest heavily into players. The boom factor may be big, but sometimes, the past can repeat itself.
In future editions, I will be comparing present players that could end up like the "Remember When" players.
Let us know another player you would like us to feature in "Remember When?" and we will feature them in the upcoming weeks!
Sign up for The Daily Slab email to get the most up-to-date sports card insights straight to your inbox.