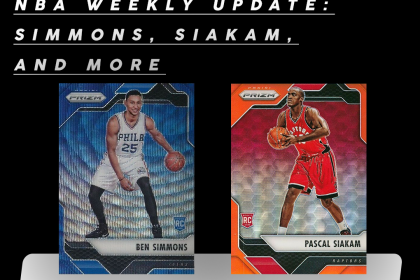 Five days of action in the shadows of Zion Mania. While the rest of the country waits for the big man's NBA debut, here is where I'm looking to invest in, or in some cases, divest.
Data Shame of Overrated Underachievers
Collin Sexton & Darius Garland, Cleveland Cavaliers
Recent Sales: Sexton ($25 Prizm Silver RC), Garland ($30 Prizm Silver RC)
Sam's Take: The data says it all—Garland, but don't go overboard.
I posted about Sexton a few days ago on Instagram, and I haven't changed my mind—I'm not in love with Collin Sexton as an NBA prospect or as a card investment. You can read my thoughts in that post, but I'll sum it up here. He's a scorer alright, and does absolutely nothing else for his team. The analytics say it all. The Cavs are six points per 100 possessions better with him on the bench! That's awful, especially for a guy who's leading the team in scoring. My take is long term, unless something changes, he's just going to be an off-the-bench chucker. Where's the value in that for an investor?
OK, so I'll address this point right upfront. If you've seen my other opinions, you may have noticed I have been much higher on Sexton's teammate Darius Garland, who, for the most part, has been just as bad as Sexton. A bit inconsistent you may think. Well, here are my reasons for my Garland optimism:
First, he's a rookie. Give him the benefit of the doubt since it's his first year. When it comes to Sexton, who is in his second season, the data shows there's no meaningful improvement in any area of his game, outside of scoring. I know that's what hardcore Cavs fans value, but from an investment POV, that's not what I look for.
Garland is averaging a putrid 12 points, 2 rebounds, and 3.5 assists. Yet, he's gotten better as the year has gone on. Through his first 24 games (kind of arbitrary, but that's where I cut it off) he averaged 10.9 points, 1.8 rebounds, and 2.8 assists. He was shooting 38% from the field. Over the next 19 games, Garland picked up his average to 14 points, 2.2 rebounds, and most importantly 4.7 assists. Plus, his shooting percent from the field has climbed to 42%. That is showing some promise.
It seems every year there's some rookie that quote-on-quote "hits the wall." I don't really believe in that rookie wall garbage. Actually, most NBA players tend to get better as their first year goes on. At least the good ones do. Garland also is getting better. He's looking to pass more often, he's scoring more often, and because of it, the team does better. Yes, Darius sports a negative on/off differential, meaning that the Cavs were better with him on the bench than on the court. But Sexton is the same. The Cavs are 6 points better with Sexton on the bench. On the season, the Cavs have been about 2.5 points better with Garland on the bench, not great. BUT in the past 19 games, the Caves are actually 2.7 per 100 better when Garland is playing. That's a shift of 5 whole points. So it's not just empty stats. He's actually getting better and making the team better.
People are disappointed when they compare Garland to Ja Morant. But he isn't Ja and he's getting better. I'd look for some good deals on this guy.
Investment Target: Prizm Blue Ice RC /99 – $250 OBO
Target Price: $150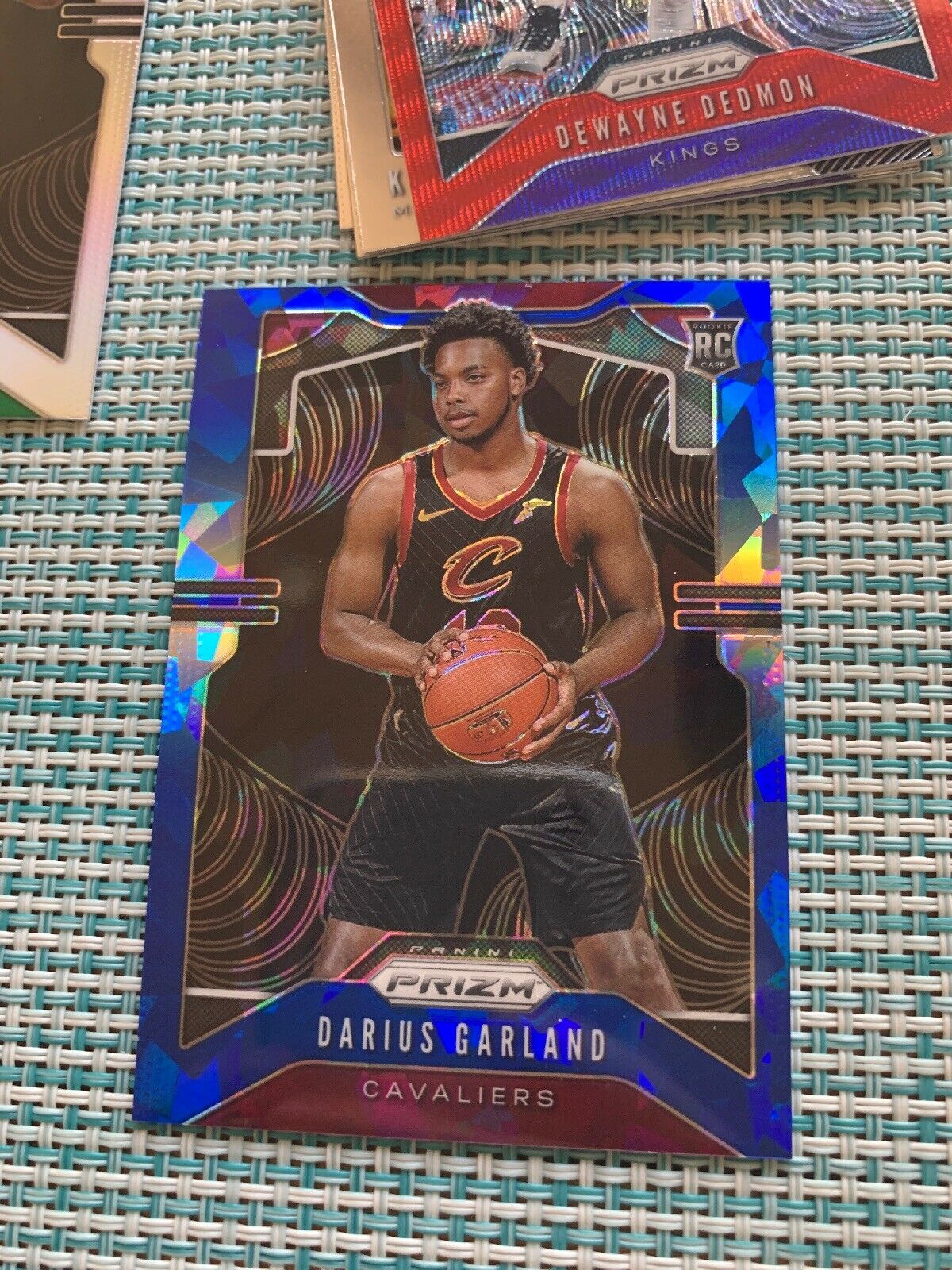 Top Talent Pre-Season Fire Sale?
Paskal Siakam, Toronto Raptors
Recent Sales: Prizm Silver RC PSA 10 – $400
Sam's Take: Try and buy him at the market rate. You should get a nice little return by the end of the season.
Before the season, his Prizm Silver RC PSA 10s were going for about $250. Season begins and BOOM! A 70% jump to $425. This is why Nathan and Aaron always say this: The best time to buy cards is in the offseason. Remember that. Cards will be on discount in the off-season simply because people aren't thinking about these guys.
By the end of November, Siakam is one of the clear favorites for Most Improved Player AGAIN and even receiving some buzz for MVP. In December with all that buzz, these cards regularly traded between $650 to $700. That's another 58% jump in a month. All told, his Prizm Silver RC PSA 10 jumped 170% from the end of October to the beginning of December. WOW!
Then what happens? A middle of December groin injury. He came back about 10 days ago but clearly was not full strength. Only playing 27 minutes per game and averaging 16 points, 4 rebounds, and 3 assists. Before the injury, he was averaging 36 minutes, 25 points, 8 rebounds, 4 assists, a steal, and a block. With the injury and the slow return, the damage is done. Over the past month, Siakam has been trading for just south of $400, around where he was at the VERY BEGINNING of the season. His PSA 10 graded Base Prizm RCs are trading for around $80 at the moment, a 38% drop from his pre-injury heights of late November/early December. I think the writing is clear. This is a BUY opportunity.
Unless his groin is worse than we think, at some point Siakan will regain form, and the Raptors will continue to make noise as a top-3 team in the East, with a deep playoff run. There's plenty of room for growth in Paskal Siakam's market.
Investment Target: Optic Holo RC – $50 BIN
Target Price: $50 BIN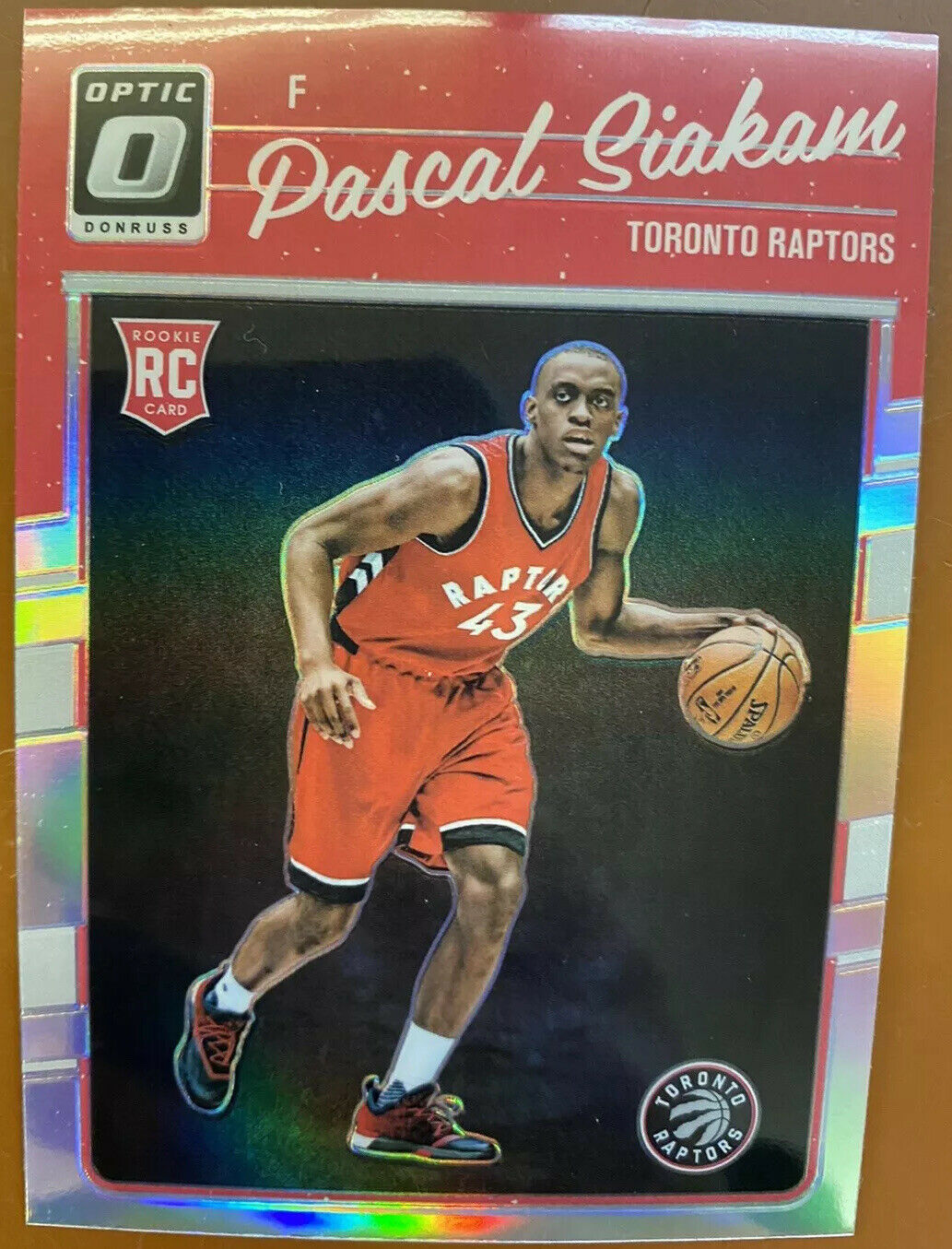 Breaking Up Is the Right Thing To Do?
Ben Simmons, Philadelphia 76ers
Recent Sales: Prizm Base RC PSA 10 – $125
Sam's Take: Right now, this guy is too risky for my blood.
On January 9, Joel Embiid had that nasty left-hand injury where his finger was looking all stomach-turning wonky. I said in my podcast at the time that this would be a good time for Simmons to shine until Embiid returns. And that he has. Simmons has been fantastic in that time, a top-10 NBA player, averaging 21 points, 9 rebounds, 8 assists, and 2 steals. The Sixers have won five of seven games, whereas pre-Embiid-injury they lost four straight and lost seven of 10. Simmons has been predictably feasting without Embiid taking up his space on the floor. During this stretch, Simmons Prizm Base RC PSA 10s are up 66%, sitting around $125.
Here's my read on the situation going forward:
The Sixers have drastically altered their team each of the past three seasons, they're not scared of making major changes. One may be coming.
Embiid and Simmons are probably the worst fit of any NBA duo threat. At the end of games, they're always playing in the same area. There just isn't enough physical space on the court for them to operate in this offense.
I think the Sixers are going to come to one conclusion: One of these guys has to go, especially if they don't make the finals this year, OR are bounced earlier.
That brings up the million-dollar questions: Who stays? Who goes?
I would guess Embiid would be on his way out because he's the one that missed two-and-a-half seasons to start his career, and he still gets injured fairly often. That's not how the greats start their career. Simmons, on the other hand, has been largely healthy. BUT, I also believe Embiid is the more popular player in Philly. He's the one that really embraced the city and it might be hard to pull off that deal, especially if other teams are baking in the injury concerns into offers.
This will be an interesting one to watch play out. If the 76ers come to the realization that they have to break these guys up and they build around Ben Simmons, then there is really nothing stopping him from being a top-10 player in the league. His card values will reflect that.
However, if Simmons is on the outs, well then anything could happen to his market depending on where he goes. And if they both stay, I think we'll see the problems keep mounting until they reach a boiling point. As an investor, I can't see an upside for Simmons in that situation. If he is with Embiid, he just won't be that Top-10 player.
It's too risky for my blood, but there is a path to some really nice Simmons gains in the future. By the way, Simmon Prizm Silver PSA 10s have been going around $750 the past week, which is actually down about 25% from where they had been, so you could get some good value there. If you have money to throw around, you might want to try it.
Kyrie Misfires, Overlooks Nets Future
Nic Claxton, Brooklyn Nets
Recent Sales: Prizm Silver RC – $15
Sam's Take: Kyrie isn't buying, but I am.
Claxton got some burn earlier in the season (played in the G-League for a few months), but was recalled when Deandre Jordan injured a finger, and Claxton has been impressing since. The Nets have given him 17 and 19 minutes the last two games, giving them a good look at what he brings. They like what they've seen.
I was able to watch his whole game a few nights ago against my Bucks. The kid is really impressive. Very athletic, high motor on both ends of the court. Against Milwaukee, the best team in the league, he put up 14 points, 6 rebounds, and 3 blocks. He followed that with a 15 point, 4 rebound, 2 assist, and one of two from 3-point land against Philly.
Now, let's be real. When DeAndre Jordan comes back, Claxton is going to lose all of his minutes, but this has been a really exciting glimpse of a guy that looks like he could be a key cog for the Nets in coming years.
And, someone better inform Kyrie Irving of that. The other day he had a ridiculous quote: "It's pretty glaring we need one more piece or two more pieces that will complement myself, KD, DJ, GT Spencer, Caris, and we'll see how that evolves." (That is Kevin Durant, Deandre Jordan, Garrett Temple, Spencer Dinwidee, and Caris Levert for those keeping track at home.) Funny, but no mention of Rodions Kurucs, who I really like, Joe Harris, Taurean Prince, or Jarrett Allen. In fact, it is just ridiculous to insinuate that 31-year-old Deandre Jordan is better than Jarrett Allen, but whatever. Most glaring to me—Nic Claxton wasn't even mentioned. That shouldn't be a huge surprise, but I think the future of this Nets team will shake out quite a bit differently than Kyrie's prediction. And it should include Nic.
Right now Nic Claxton cards are cheap, like $6 to $12 for his ungraded silvers by the looks of it. If you're looking for a long term hold, I think you could do a lot worse than Claxton.
Investment Target: Prizm Silver RC – $14 BIN
Target Price: $14 BIN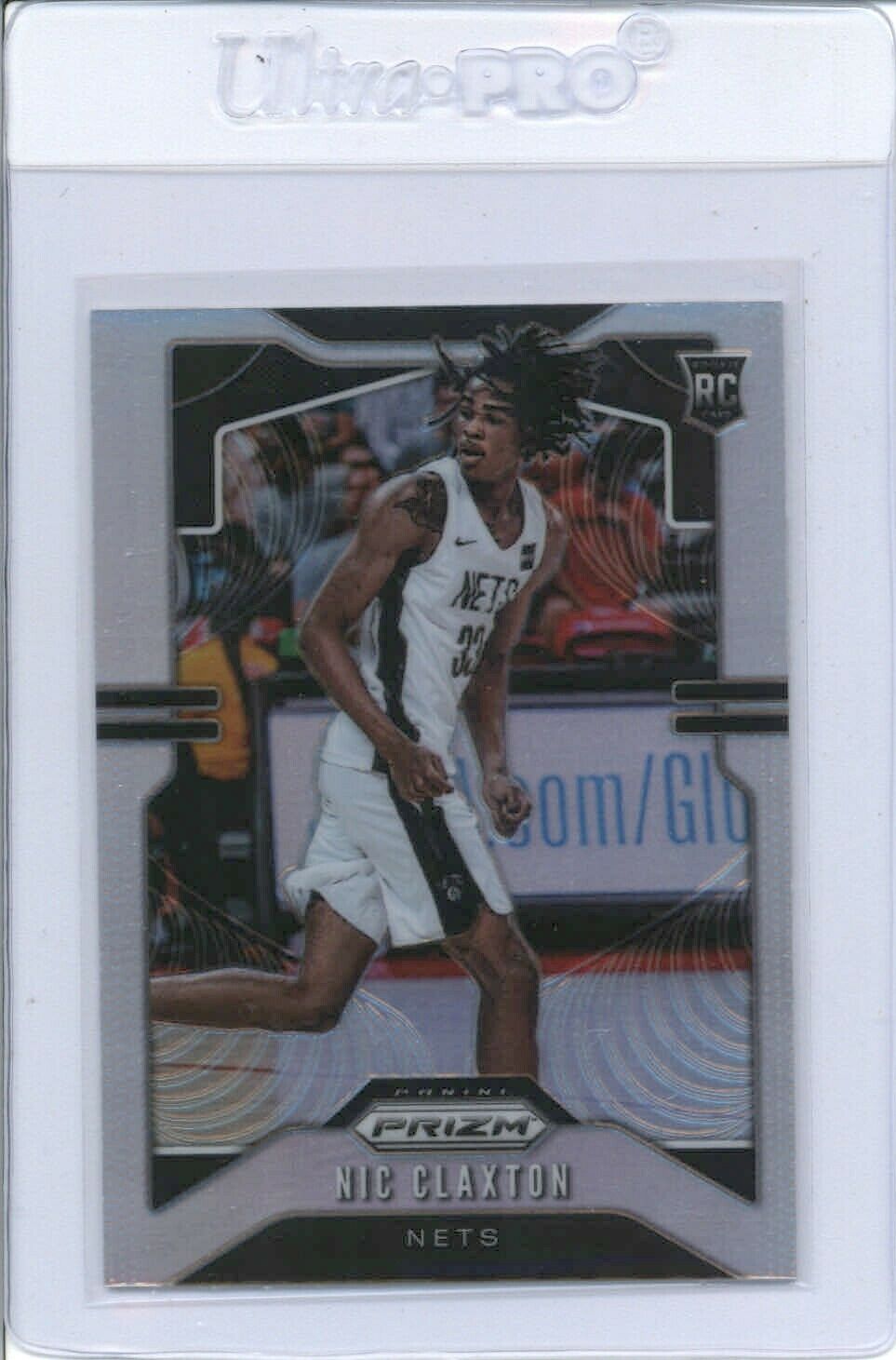 Here are a few final morsels to snack on:
Michael Porter Jr., Denver Nuggets
Another great game the other night: 30 minutes, 20 points, 14 rebounds. But, like we've said many times before, he won't get these minute totals when Millsap, Murray, and Harris return. His time on the floor will evaporate, meaning there should be more BUY opportunities in the near future. My advice: Try to get MPJ in your collection. Hope you can find a good deal.
Dillon Brooks, Memphis Grizzlies
I've received a few questions about Brooks recently. He's certainly been hot of late, and against the Pelicans, he had 31 points, 9 rebounds, and 4 assists in a loss. He's also been so hot and cold throughout his career. You never know what version of Brooks will show up. Over the past few weeks, he's shot well. But if you look down his game log, every other game us up then down. 42%, 16%, 60%, 28% 50%, 38% 56% 0%. That's the first 8 games of the year, and that's what he's done his whole career. Unless Brooks can show some consistency, there's not much to invest in here. That's a shame because he was not featured in Prizm his rookie year, only Optic. So there is a limited supply of Brooks, which is cool and could pop his value, if only he was consistently on. For me, I won't sweat it. There are probably four other Grizzlies I'd rather invest in anyway.
Stay up-to-date on all things sports card trading with SlabStox. Sign up for The Daily Slab today!