What a difference a month makes.
Fanatics Collectibles most recent acquisition announced May 22 puts the sports behemoth close to closing the sports card ecosystem loop.
Wemby and Clark autos hit the secondary market with initial sales starting at xxx and xxx, respectively.
Tthe Miami Heat take down three Eastern Conference giants enroute to NBA Finals against the Denver Nuggets.
If that doesn't convince you sports and sports cards are always unpredictable, think about this: Two NHL teams from U.S. cities with average June temps of 102°F (Vegas Golden Knights) and 86°F (Florida Panthers – Sunrise, Fla.) face off  for The Stanley Cup this weekend.
Here's what's in this months Card Market Report:
TAKE 1: 2023 Bowman Baseball Release Is HOT
TAKE 2: Football Draft Report / Rodgers Mania
TAKE 3: No. 1 Playoff Seed Is So Last Year
TAKE 4: SX100 Refresh—You Made the Calls
TAKE 5: Who's Hot, Who's Not
LOOKING AHEAD: Upcoming Shows & Product Releases
Join the CardTalk Pod as @LouisGeneux and @SlabStoxAaron debate takeaways from this Card Market Report to help you in your card-collecting journey. Stay tuned to social media for updates.
If you want to receive this SlabStox Card Market Report every month, subscribe to SlabStox's FREE Daily Slab newsletter.
DISCLOSURES: 
All market data in this report is from Card Ladder. Card Ladder is an independent, third-party partner of SlabStox, providing card collectors and investors insights to make informed, data-driven decisions. Every investment and trading move involves risk. Do your research before making any decision. 
SlabStox does not own any of the specific cards represented in the SX100 Index. SlabStox owns cards of Giannis Antetokounmpo and Erling Haaland, both mentioned in this report.
5 Takes from the April Sports Card Market
TAKE 1: 2023 Bowman Baseball Release Is HOT
The excitement of the opening weeks proved baseball is hot again, and nothing was hotter than the release of 2023 Bowman Baseball on April 26. Breaks were selling out fast on product release day. SlabStox had a first-hand look at the new product, as we broke a number of cases. Here are our takeaways:
Quality. This year's release is a drastic turn around from prior years, as past Bowman releases had its share of problems—poor centering to print lines, surface scratches to blatant miscuts. After opening five cases of 2023 Bowman Baseball, we can confidently say most of those problems are not an issue this year. Generally, Chrome cards were clean and scratch-free from what we observed. In most cases, centering was good. Compared to the last couple of years, the quality control on this product is deserving of the rave reviews.
New Parallels. Manufacturers love to add new parallels to releases, and 2023 Bowman Baseball is no different. They added a total of eight non-auto parallels and three auto parallels:

Non-Auto Parallels

Lunar
Pearl
Fuchsia Lunar Crater /199
Aqua Lunar Crater /125
Green Grass /99
Yellow Lunar Crater /75
Rose Gold /10
Rose Gold Lava /10

Auto Parallels

Blue Lunar Crater /150
Green Grass /99
Pearl /10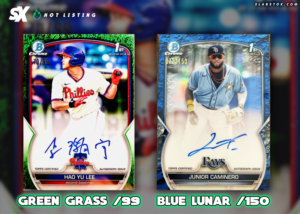 Overall, that is a lot of parallels added in one year. In our opinion, the crater parallels were a miss, not catching our eye in a good or bad way. On the other end of the spectrum, however, SlabStox Nate is crazy about the Green Grass parallel. He explains, "The way they made every blade of grass pop gave the card a depth feel that most other cards don't have. It reminds me of outfield grass where I spent quite a bit of time as a kid, which is a nice tie-in."
Collation. Our experience was only with Jumbo boxes. In those, we noticed a few things:

Color autos were numerous in Jumbo boxes. Of the 26 boxes we ripped on release day, only one had two base autos.
Low-numbered color was hard to hit. We hit one Red Lava /5 non-auto and didn't hit a single auto lower than /50 in our sample of 26 boxes.
Each player had about 3-4 Bowman Chrome 1st base cards in each case.
Prices. Some of the top players from this set have already had massive cards sell on the secondary market, and we're only one week from release. Here are some of the highest sales in April:

Druw Jones

The top prospect in the class was drafted 2nd overall last year.
His Yellow Auto /75 sold for $2,500 (4/27/23)

Cam Collier

Collier was one of the youngest players in the 2022 MLB draft and was the Reds 1st round pick.
His Gold Auto /50 sold for $2,325 (4/27/23)

Spencer Jones

Jones was the Yankees 1st round pick in 2022. He's tall with big power potential but also has unexpected top-of-the-line speed.
His Gold Auto /50 redemption sold for $3,500 (4/29/23)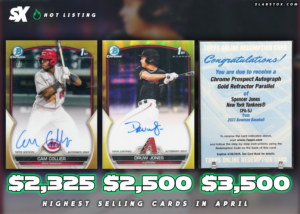 Alex Ramirez

Ramirez is one of the top prospects in baseball. He is a tall OF with projectable power. He previously had a non-auto 1st Bowman card in 2021. This Auto is his first Auto BUT doesn't receive the coveted 1st logo.
His Orange Auto /25 sold for $1,500 (4/26/23)

Jackson Holliday

Holliday was the 1st pick in the 2022 MLB Draft. This is his second Bowman Auto, however, but sales are still big.
His Gold Auto /50 sold for $2,500 (4/29/23)

Junior Caminero

Caminero is yet another young Rays prospect who looks ready to make a big leap. He is currently supporting a 1.181 OPS in his first year in A+ ball.
His Blue Auto /150 sold for $1,275 (4/29/23)

Josue De Paula

De Paula is a Dodgers international signee that has plus power projection and a good eye at the plate. Could be a fast riser on Top 100 prospect lists if everything clicks.
His Blue Auto /150 sold for $1,050 (4/27/23)

Matt Mervis

Mervis is a 25-year-old soon-to-be rookie who only plays 1B. In the card collecting world, that is "do not buy" territory. But Mervis plays for the Cubs who lack a decent 1B right now and have a very passionate fan base. This has elevated his prices past where you'd expect them.
His Red Auto /5 sold for $5,100 (4/30/23)
TAKE 2: Football Draft Report / Rodgers Mania
April is always the launch pad for football collecting season, and it didn't disappoint in 2023. Last month set the stage for an exciting card-collecting season ahead with:
An NFL draft packed with early QB picks
A four-time MVP traded from the smallest sports market to the largest
Two of the best young QBs in the game signed massive contract extensions
2023 NFL Draft
There were many interesting players taken in the 2023 NFL draft, but the identity of the draft will forever hinge on three QBs taken in the first four picks.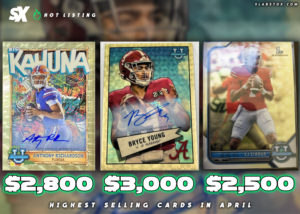 Pick #1 – Bryce Young (Panthers)
Pick #2 – CJ Stroud (Texans)
Pick #4 – Anthony Richardson (Colts)
With these three picks, the Panthers, Texans and Colts put their future on the line and next year's football card releases into the bright spotlight. While it's unlikely this class will be as sought after as the 2020 class (Burrow, Herbert, Hurts), it will be significantly better than 2022's class (Pickett, Ridder, Willis). The card market will be hungry for a quality class for quarterbacks after having a terrible one the year before, and that should make 2023 football products scorching hot. All that is released right now for them is Bowman University cards, but the buyers came out around the NFL Draft, as each QB had a Superfractor 1/1 sell.
Rodgers To The Jets
On April 24, the Packers and Jets agreed to an expected franchise-altering trade for both organizations. Here's how it broke down:
Packers traded:
Aaron Rodgers
The 15th pick (Jets drafted Will McDonald IV)
The 170th pick (traded to the Raiders)
Packers received:
The 13th pick (Packers drafted Luke Van Ness)
The 42nd pick (Packers drafted Luke Musgrave)
The 207th pick (Packers drafted Anders Carlson)
A conditional 2nd that becomes a 1st if Rodgers plays 65% or more of the snaps next year.
This trade will have ramifications for years to come for both organizations. Time will tell if it is good or bad. It also had an immediate effect on the card market for multiple QBs, not just Aaron Rodgers. QBs whose values were affected:
Aaron Rodgers: Since the trade, Rodgers' 2005 Topps Base RC PSA 10 is surprisingly down 12% through the end of April. This could be due to most of the "trade hype" coming off the back of the McAfee announcement in March.
Jordan Love: Similar to Rodgers, Love's Prizm Base RC PSA 10 is down from the time of the trade through the end of April. It's an even bigger decrease than Rodgers, slipping 26%.
Zach Wilson: To no surprise, his Prizm Base RC PSA 9 decreased 36% as he will see no playing time in 2023 unless injuries occur.
It appears that no QB's card market was a clear winner of this trade and all three seem like losers right now, but lots of buildup was in anticipation of the deal. We'll have to wait to see their on-the-field production. Rodgers likely will have to take the Jets to the Super Bowl and capture a second title for things to change drastically from here for the better.
Blockbuster Contract Extensions
Jalen Hurts: On April 17, the Eagles made Hurts the highest-paid player in the history of the NFL. They signed him to a 5-year, $255 million contract. That's $51 million per year. This deal also included $110 million guaranteed and $179 million guaranteed in the event of an injury. Not many big Hurts cards have sold since the signing, but some middle-tier cards have. His 2020 Prizm Neon Green RC PSA 10 sold for $650 on 4/28/23, a 53% increase since the previous sale on 4/14/23 (three days before the announcement).
Lamar Jackson: On April 27, just 10 days after the Eagles deal, the Ravens made Lamar Jackson the new highest-paid player in NFL history. They signed Jackson to a 5-year, $260 million contract with $185 million guaranteed. The $52 million per year he is making beat Hurts' record by a hefty $1 million a year. As for his cards, Jackson's 2018 Select Premier Silver RC PSA 10 increased 37% in April.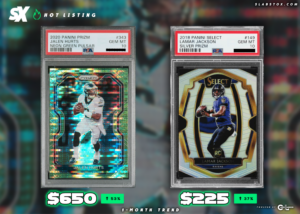 TAKE 3: No. 1 Playoff Seed Is So Last Year
The biggest takeaway from this year's NBA and NHL Playoffs is — it's a new season once the playoffs start.
NBA PLAYOFFS
Gone from the NBA Eastern Conference Playoffs is Giannis Antetokounmpo and the No. 1 seed Milwaukee Bucks, a team that entered the playoffs with the best record in the league. Surprisingly, it was the No. 8 seed Miami Heat and Jimmy Butler, a team that worked its way through the play-ins, that dismantled the Bucks in just five games.

Antetokounmpo's 2013 Panini Hoops Base RC PSA 10 decreased 28% in April thanks to the early exit.
Butler's 98 points in the last two games of the series made him the 7th player to ever score 95+ in a two-game playoff span. His market reacted quickly, as his 2012 Prizm Base RC PSA 10 increased 72% in April.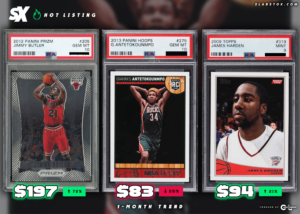 Philadelphia took care of business advancing to a tough-as-nails showdown with the Boston Celtics in Round 2. The stars will likely shine in this series. Players to watch: 76ers Joel Embiid and James Harden; and the Celtics Jayson Tatum and Jaylen Brown, and, as always, Marcus Smart on D.

Harden's 2009 Topps Base RC PSA 9 increased 21% in April, and his performance against the Celtics in Game 1 (on 5/1/23) is proving those purchasers right.

In the West, LeBron James, Anthony Davis and the Lakers, are another play-in team that has found late-season life. They bounced the No. 2 Memphis Grizzlies and its injured star Ja Morant in just five games.

Ja Morant's 2019 Prizm Silver RC PSA 10 dropped 23% in April, as the card fell under $600 for the first time… EVER.

The Sacramento Kings and its young, talented lineup were the surprise of the season,  but in the end De'Aaron Fox, Malik Monk and Domantas Sabonis couldn't advance in the playoffs. They took the Golden State Warriors to the brink, but Steph Curry's record 50-point Game 7 was too much to overcome.

Steph's 2009 Topps Base RC PSA 9 increased 15% in April.
NHL PLAYOFFS
The story in the NHL is even more shocking when looking at the Playoff matchups:
The Boston Bruins recorded the best regular-season record in NHL history but were eliminated in the first round with a Game 7 OT loss to the Florida Panthers.

Matthew Tkachuk's 11 points against the Bruins was vital, and it resulted in his 2016 UD Young Guns RC PSA 10 increasing 24% in April.
Despite 5 goals in the series, David Pastrnak's 2014 Young Guns RC PSA 10 decreased 22% in April with his team getting eliminated.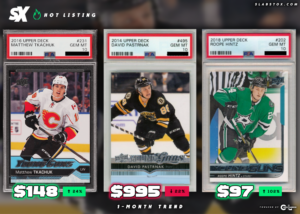 Seattle Kraken, in their first Western Conference playoff appearance ever, took down the defending Champions Colorado Avalanche in Game 7. They face the Dallas Stars in the second round. Speaking of the Stars, Roope Hintz was the leader in playoff points after the first round, as he accumulated 12 points against the Wild which sparked his 2018 UD Young Guns RC PSA 10 in April (+102%).
In an Eastern Conference rematch from last year, the Toronto Maple Leafs knocked out the Tampa Bay Lightning in six games. It's the first time the Leafs have advanced to the second round in 19 seasons (last in 2004), and they were 0-10 in series-clinching games since 2018. Finally, the Leafs broke through.
Edmonton's Connor McDavid, the most dominant force in the NHL, is advancing in the playoffs despite trailing teammate Leon Draisaitl in both goals and points. That can only mean one thing — expect to see McDavid go off in the upcoming rounds starting with the Vegas Golden Knights.
In a heated border battle, the New York Rangers and New Jersey Devils went down to the wire, with the Devils moving onto the next round after dominating Game 7 on home ice.
TAKE 4: SX100 Refresh—You Made the Calls
The time has finally come! This was your chance to help fine-tune the SX100 – a community-driven sports card index that aims to represent the everyday card collector.
The first quarter of 2023 ended March 31, and SlabStox sent out its first SX100 Update Survey through the Daily Slab Newsletter (subscribe here). This SX100 survey was conducted in two parts:
First, we asked the community to review the SX100. Voters selected players' cards they'd like to see dropped from the index and also nominate players for replacement.
After gathering input from card collectors, we sent out a final survey with your top nominees and the players and cards you recommended to be dropped. To add a player to the SX100 Index, it must receive a 67% "Yes" vote.
Here are the results and sports cards that will be added/removed from the SX100 in Q2 2023: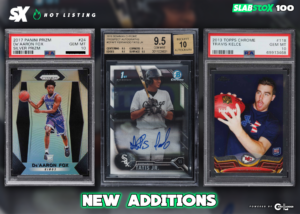 De'Aaron Fox 2017 Prizm Silver RC PSA 10 (Nominee, 76% Yes vote)
One of the top breakout players in 2023
Fernando Tatis Jr. 2016 Bowman Chrome 1st Auto BGS 9.5 (Nominee, 81% Yes vote)
Returned from steroid suspension in April
Travis Kelce 2013 Topps Chrome Base RC PSA 10  (Nominee, 81% Yes vote)
One of the best tight ends ever
The three cards being removed were up for vote against two other cards each from the same sport. These three cards ended up with the majority vote to be removed.
Pascal Siakam 2016 Prizm Silver RC PSA 10 (40% majority vote)
Brandon Ingram (30%) and LaMelo Ball (30%) both saved
Austin Riley 2015 Bowman Chrome 1st Auto BGS 9.5/10 (37% majority vote)
Jasson Dominguez (36%) and Freddie Freeman (27%) both saved
Nick Chubb 2018 Prizm Base RC PSA 10 (45% majority vote)
Kirk Cousins (35%) and Daniel Jones (20%) both saved
NOT ADDED
David Pastrnak 2014 Upper Deck Young Guns RC PSA 10 (Nominee, only 48% Yes vote to be added)
To view the full SX100, see the January Sports Card Market Report. Next month, we will track the refreshed SX100 that includes the cards you added.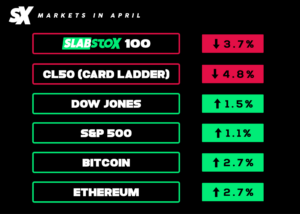 TAKE 5: Who's Hot, Who's Not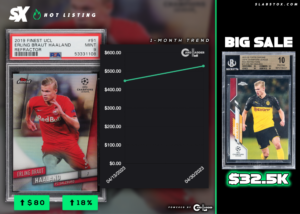 Erling Haaland just can't stop scoring. After scoring against Arsenal in a match that just about decided the 2022/23 Premier League Title (in City's favor), Haaland's 33 goals broke Mohammed Salah's 38-match season Premier League goal scoring record. He scored his 34th goal against Fulham, and one more goal will mean he'd break Andy Cole and Alan Shearer's 42-match season record. His 2019 Topps Finest Refractor RC PSA 9 increased 18% in April, in large part thanks to his record breaking season.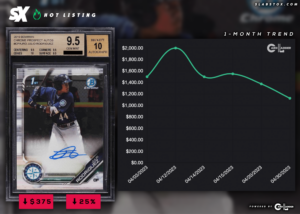 Julio Rodriguez and the Mariners entered the year with sky-high expectations, and they both disappointed in April. The Mariners, who broke their 21-year playoff drought last season, finished April under .500 with a 12-16 record. That disappointing start to the season was due to multiple issues, one of which was the slowish start from Rodriguez. The bat has been limping along to start the season. Overall Rodriguez is hitting .239/.301/.442 with a slightly lower BB%, a slightly higher K% and a lower ISO than last year. He's also been caught stealing 4 times already more than half the times he did all of last season. If the Mariners want to start winning, they need Rodriguez to be the leadoff hitter he was last year. Likewise, the card market needs that as well. In the last month, his 2019 Bowman Chrome 1st Base Auto BGS 9.5/10 decreased 25%. If he doesn't recapture his form soon, it could keep dropping from there.
Looking Ahead
Sports Card Shows Worth Checking Out
Add your sports card show to the list of upcoming "Card Shows" on Sports Card Portal here.
May 6-7
(May 6) Collectibles on College, Tempe, AZ
(May 7) East Cobb Sports Collectible Show, Dunwoody, GA
May 13-14
(May 13) Colts Neck Coin & Card Expo, Colts Neck, NJ
May 18-21
Dallas Card Show, Allen, TX
May 27-28
(May 27) Lexington KY Sports Cards & Collectibles Show, Lexington, KY
(May 28) East Cobb Sports Collectible Show (Atlanta), Marietta, GA
May Product Releases
The release dates below are subject to change by the manufacturer. Dates provided by Cardboard Connection.
May 3
2023 Panini Stars & Stripes USA Baseball
2022-23 Panini Select Premier League Soccer
2023 Rittenhouse Doctor Who Series 1 to 4
May 4
2022-23 Panini Prizm Basketball Premium Box Set
May 5
2022-23 Leaf MultiGraphics Basketball
May 10
2022-23 Donruss Optic Basketball
2023 Topps Sterling Baseball (TBA)
May 12
2022-23 Panini Select Serie A Soccer
May 17
2023 Bowman University Inception (TBA)
2022-23 Panini Crown Royale Basketball
2022-23 Panini Select FIFA Soccer
2023 Panini Revolution WWE Wrestling
2021 Topps Chrome Tennis (TBA)
May 24
2022-23 Panini Immaculate Collection Soccer
2022-23 Panini Recon Basketball
May 26
2023 Panini Chronicles Draft Picks Football
2021-22 Panini Flawless Basketball
May 31
2023 Panini Three and Two Baseball
2022-23 Topps NBL National Basketball League
Unscheduled May Releases
2022 Topps Renaissance MLS Major League Soccer
2022-23 Topps Finest OTE Overtime Elite Basketball
2022-23 Leaf Signature Series Basketball
2021-22 Leaf Pearl Multi-Sport
2023 Leaf Superlative Sports Multi-Sport