November put soccer into daily feeds with the World Cup kicking off in Qatar. The tournament has been quite the spectator event and shout out to the US Men's National Team for making the knockout rounds for the first time since 2014. This monthly market report will look at the World Cup's impact on the soccer card market. Spoiler Alert—Chirstian Pulisic's body-blow goal for the US against Iran brought the buzz back to his card market.
Taking a 30,000 foot view, a down card market makes this potentially a "buying" opportunity with deals at card shows (see show listings below) and in secondary marketplaces. Stay diligent and do your homework, then negotiate. The card market is a supply- and demand-driven marketplace, and right now, increased supply is there to find some serious deals for all budgets.
Here's a quick rundown of SlabStox's November Card Market Report:
Take 1: Has World Cup frenzy fueled soccer card prices?
Take 2: Power to collectors and local card shops
Take 3: International prospects in 2022 Bowman Chrome
Take 4: Glance at the Markets
Take 5: Who's Hot / Who's Not
Looking ahead: Shows, product releases and a Final Word
Join the CardTalk/SlabStox Pod as @SlabStoxAaron and Card Talk's @LouGeneux discuss, debate and dissect the monthly Card Market Report. Stay tuned to social media for updates.
If you want to receive this SlabStox Card Market Report every month to your inbox, subscribe to SlabStox's FREE Daily Slab newsletter.
DISCLOSURES:
All market data in this report is from Card Ladder. Card Ladder is an independent, third-party partner of SlabStox, providing card collectors and investors insights to make informed, data-driven decisions. Every investment and trading move involves risk. Do your research before making any decision.
The only cards owned by SlabStox of players in this report are Christian Pulisic, Jackson Chourio and Gunnar Henderson.
5 Takes from the November Sports Card Market
TAKE 1: World Cup sparks soccer card market
WOW! What a World Cup it's been so far. We've had everything from upsets (Saudi Arabia over Argentina) to annihilations (Spain over Costa Rica 7-0), cards exploding (Mohammed Kudus Obsidian RC +231%) to cards cratering (Gio Reyna Refractor RC -45%). Many collectors coming into this World Cup all had the same question: Would this make the soccer card market explode? While there's definitely excitement compared to a month or two ago, if you purchased cards over 6 months ago, the returns are… let's just say not awesome. To read about why we thought this would be the case, make sure to read our August market report.
As of the morning of December 1, just over half of the groups have completed play. So, what has REALLY happened to the soccer card market? There's no doubt some cards have increased in price. To say otherwise would just be false. HOWEVER. It does have to be a perfect storm:
The player has to be performing well. And not just performing well, but scoring goals and/or dishing assists.
 The "increases" are often 1-day, 1-week or 1-month increases. The odds a card has increased over the last six months or one year are isolated cases. Two years? That's more feasible. Here's some example
1) The BIG performance, short-term increase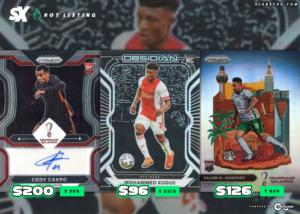 Gakpo's World Cup moment

How about a goal a game for your World Cup debut? Cody Gakpo is one of the top players in the world outside of the top five European leagues (plays in the Dutch league), and he is proving it with a goal in each group stage match. Let's see what he does against the US.
2022 Prizm RC Auto: $200 on 11/29/22. $126 on 11/24/22. (+59%)
Kudus' World Cup moment

2-goal performance to propel Ghana (#61) to a win over South Korea (#28) to pull off the second biggest upset of the World Cup.
2020 Obsidian RC /195: $96 on 11/28/22. $29 on 11/17/22. (+231%)
Al-Dawsari's World Cup moment

Match winning goal in one of the biggest upsets in World Cup history, as Saudi Arabia (#51) beat the almighty Messi-led Argentina (#3) 2-1. He also scored in the group stage finale to ensure Mexico was sent home.
2022 Prizm National Landmarks: $126 on 11/22/22. $70 on 11/21/22. (+231%)
If you were looking to make flips in the World Cup, you had to be GLUED to the matches and box scores. Example: Al-Dawsari's National Landmarks is back to $73 just one week after it was selling for $126.
2) The 2-year reward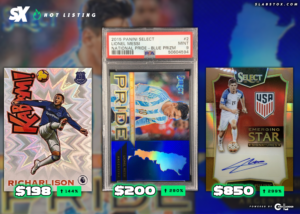 Richarlison's World Cup moment

In the 72nd minute of Brazil's opening match, Vini Jr. had an absurd pass through two defenders to the waiting Richarlison who popped the ball into the air and

performed a scissor kick to knock the ball into the back of the net. It was a goal so outrageous that it can only be described as a Golazo.

2019 Prizm EPL Kaboom!: $198 on 11/24/22. $81 on 2/13/21. (+144%)

Messi's World Cup moment

A converted penalty to open the tournament against Saudi Arabia was wasted, but his decisive goal against Mexico was not. In a near do-or-die situation, Messi kept his promise and pulled through for his nation with his sublime strike in the 2-0 win over Mexico. In the final group stage match, Messi did have a penalty saved by Polish keeper Wojciech Szczęsny, but Messi's supporting cast locked up Argentina's knockout round spot.
2015 Select National Pride Blue /299 PSA 9: $200 on 11/26/22. $51 on 11/21/20. (+290%)

Pulisic's World Cup moment

While Tyler Adams is the glue for the USMNT, Pulisic put in multiple Man of the Match performances in the group stages and clearly was the best player on the pitch. When Pulisic is on the ball, good things happen for the US. The team only scored two goals in their first three matches, but Pulisic contributed to both (scored the match winning goal against Iran). 300+ different Christian Pulisic cards sold between 11/29/22 and 11/30/22.

2016 Select Emerging Stars Copper RC Auto /49: $850 on 11/30/22. $213 on 1/4/20. (+299%)
Making a play on soccer cards in 2020 or before was the way to just about guarantee you'd be in for a treat come the 2022 World Cup. If you bought in 2021 or 2022, making the right call on a player or specific card was generally the only way profit would be seen in November.
3) The Reality
Cristiano Ronaldo 2003 Panini Mega Craques RC PSA 8: $8,000 on 10/29/22. $12,120 on 6/4/22. (-34%)
Kylian Mbappé 2018 Prizm Silver PSA 10: $1,300 on 11/29/22. $2,397 on 6/3/22. (-46%)
Neymar Jr 2018 Immaculate Prizm On-Card Auto /99 BGS 9.5/10: $930 on 11/27/22. $1,324 on 3/12/22. (-30%)
Most cards purchased in 2021 or 2022 (aside from the last month or two) did not lead to profit. The three cards above would've been classified by many as "good purchases" to sell during the 2022 World Cup, but timing is everything. And 2021 or 2022 was not the right time to buy them. Each of these cards have decreased over the last 6 months or more.
SlabStox Bottom Line: Let's bring it back to our August Market Report. For the World Cup highlight in that report, our SlabStox Bottom Line read: "Opportunity is in the air. When the World Cup wraps up, it just may lead to the best buyer's market in the past 3 years. If the soccer floodgates open with cards collectors have been sitting on, supply will far outpace demand, and prices could drop further." We are already starting to see that. Plenty of soccer cards are selling for the lowest they have since 2020. If you're trying to time the market, our best recommendation is to NOT buy the cards of players that have increased due to their World Cup performances. Any increases in November will most likely evaporate by early 2023. If you are passionate about soccer and buy within your means at the end of this year during the holiday season, it could pay off if you're willing to hold until increased performance triggers a sale.
TAKE 2: Power to collectors and local card shops 

Topps pulled off something unique and dare we say NEW in the sports card hobby. They launched a huge Topps MVP Buyback program bringing collectors to local card shops (LCS), exchanging 2022 Topps Chrome MVP baseball cards for in-store credit.
The program started November 26 on #SmallBusinessSaturday and will run through March 31, 2023, so there is still time to join the hunt for this year's MLB MVPs, Aaron Judge and Paul Goldschmidt. The cards must be from the 2022 Topps Chrome baseball set. When returned to participating card shops, collectors will receive credit. More than 350 local card shops have signed up for the program and are listed on www.toppsmvpbuybackoffer.com along with the list of eligible cards.
The Topps MVP Buyback program is simple and has created quite the card-hunting buzz during the baseball offseason. Here's how it works:
Collectors bring 2022 Topps Chrome cards of Judge and Goldschmidt, ranging from base to numbered cards, to participating local card shops and exchange them for in-store credit.
In-store credit breakdowns for both Judge and Goldschmidt cards:

Base = $20
Refractor = $40
Numbered cards greater than 100 = $100
Numbered cards less than 100 = $200
In a SlabStox Instagram post prior to the launch, we broke the program down this way:
"This will allow you, the collector, to keep your journey going even if you only have a $10 Aaron Judge refractor. Currently, if you were to buy a Judge and Goldschmidt Refractor, it'd be around $20 combined. That'd instantly turn into $80 of store credit with your local hobby shop."
After the official announcement from Topps (and SlabStox post shortly after), the Topps MVP Buyback program lit up secondary markets. Here's a quick breakdown of Judge and Goldschmidt values since the program launched:
Total Volume (via Card Ladder Sales History combining 14+ marketplaces)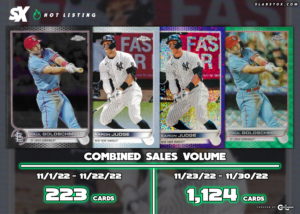 Aaron Judge Refractor Movement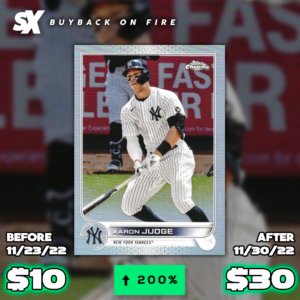 Early reports from local cards shops participating in the Topps buyback program have been positive: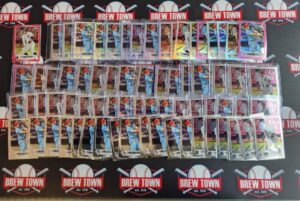 Brew Town Trading (Greenfield, WI)
Brew Town in Greenfield, WI, issued nearly $2,000 of in store credit the first weekend, buying back more than 70 MVP cards.
"This is a great opportunity for both collectors and the LCS community," said Rory Wagner, Brew Town Trading manager. "Collectors love turning five base cards into $100 store credit and use it on the hottest new products. In our store, we have no limits on the redemption amount. We view this promotion as an overwhelming positive for everyone."
Other shops posted on social media that card collectors are going all in.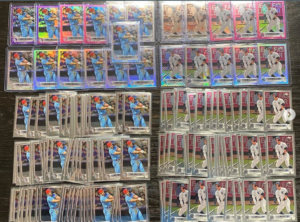 Rbicru7 (St. Peters, MO)
"Safe to say @topps MVP Buyback was a huge success for local collectors today on #SmallBusinessSaturday ! RbiCru7 issued $3220 in store credit out to collectors today who turned in these cards for the #ToppsMVPBuyback program."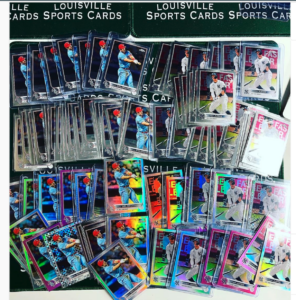 Louisvillesportscardsshop (Louisville, KY)
"Not a bad start to the #new @topps MVP buyback program during the first two days!"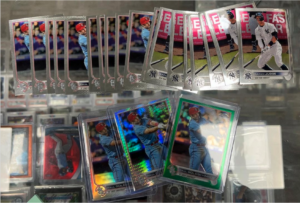 Li.sportscards (Albertson, NY)
"One of (the) customers turned these cards into $640 today – thanks @topps for this incredible promotion!"
Ryan Johnson (@CardCollector2), co-host of ONE37pm's Card Talk and owner of a card shop in Grove City, Ohio, discussed the Topps MVP Buyback program on this week's ONE37pm Card Talk Pod.
"Is Fanatics committed to the long term health of local card shops?" Johnson asked on this week's ONE37pm Card Talk Pod. "This is a big deal if you're a card store owner. Fanatics/Topps is incentivizing people to go to your local card shop. That's pretty cool."
SlabStox Bottom Line: Score two for Fanatics/Topps on creativity and commitment to the card market. One of the big questions when Fanatics acquired Topps was if the company would get behind local card shops. The Topps MVP Buyback program appears to go a long way in cementing three things:
Keeping card collectors excited about the hobby
Building lasting connections between collectors and local card shops
Creating direct relationships between Topps and local cards shops
TAKE 3: International prospects standout in 2022 Bowman Chrome 
The Bowman Chrome market has been elevated in recent years by the international side of baseball (Soto 2016, Acuna 2017, Dominguez 2020, etc). This year's 2022 Bowman Chrome release is no different, though it has an added benefit—extreme youth. Of the 110 prospect autos in the release, 44 are of players in their teens. Of those 44, 37 are international signees which are some of the biggest names on the checklist. This makes for a high-upside product; it also makes it a risky proposition.
One thing modern day prospect collectors like is youth. Prospects appearing in Bowman Chrome as 17 and 18-year-olds, many of whom haven't played stateside baseball yet, are bought at astronomical prices relative to current competition and skill levels. It has potentially become the riskiest bet in sports cards.
Top-5 Baseball Prospects (Left) vs. Top-5 '22 Bowman Chrome Intl. Prospects (Right)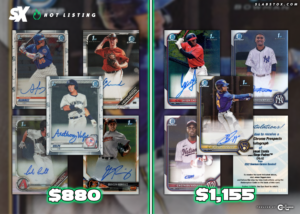 Top-5 Baseball Prospects (as of 11/30/22)
Anthony Volpe, USA, $315
Corbin Carroll, USA, $185
Gunnar Henderson, USA, $160
Francisco Alvarez, Venezuela, $145
Grayson Rodriguez, USA, $75
Total: $880
2022 Bowman Chrome Top-5 International Teen Prospects (as of 11/30/22)
Jackson Chourio, Venezuela, $495
Roderick Arias, Dominican Republic, $255
Samuel Zavala, Venezuela, $165
Cristhian Vaquero, Cuba, $155
Jaison Chourio, Venezuela, $85
Total: $1,155
SlabStox Bottom Line: Of the five international players listed, only one has played beyond Single-A and three have not made it to stateside ball yet. Buying players at these prices, years away from contributing to a major league team (outside of Jackson Chourio), is why baseball prospecting has become the biggest gamble in sports. Read SlabStox Blog for a full breakdown of these 2022 Bowman Chrome top-5 international prospects and a 2022 Bowman Chrome Guide.
TAKE 4: Card Category Updates
Here's the big-picture look back at the card market for November 2022, comparing the CL50 card market index (provided by Card Ladder) to other market indexes, and a comparison of card categories: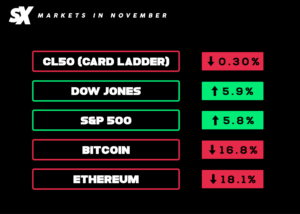 What does this mean? The Card Ladder 50 (CL50) saw little change month-over-month, down less than 1% in November. Stocks continue to trend up as they did last month prior to the national and state elections. Cryptocurrencies were hammered by the FTX fallout.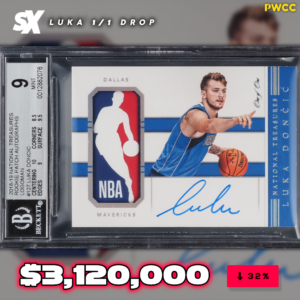 In the card market, high-end cards dropped 11% month-over-month. Best illustrating this was the Luka Doncic 2018 National Treasures RC Logoman Patch Auto 1/1 that sold for $3,120,000 on 11/17/22. The $3,120,000 sale was the first time it ever sold publicly (via the PWCC Premier Auction), but it did sell previously in a Card Ladder verified private sale for $4,600,000 (3/1/21). Note: This sale does NOT affect the Card Ladder High-End Index and is not included in the 11% drop due to it not selling multiple times in the last year.
Looking at sports card categories, every one decreased in November, indicating a soft market in a down economy, and especially with holiday season here.
Hockey: Enthusiasm for hockey remains strong, even with the season well underway. SlabStox saw it first hand when the team attended the Toronto Sports Card Expo on November 10-13. Huge crowds were at this event, with the line wrapping around the building on opening day. (Check out SlabStox's Coast to Coast Cards video from the Toronto card show.)
Soccer: The overall World Cup bounce never came in November. There might be opportunities, but it takes work to find them. Check out TAKE 1 (above), which goes deep into the World Cup soccer market.
Baseball: Compared to other sports card categories, a 4% drop in the off-season looks like a win.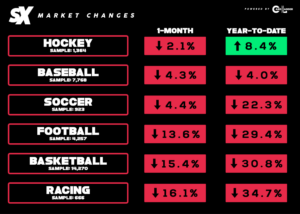 Double digit losers:  Football, F1 and Basketball have all declined double digits for the month. For football, veteran quarterbacks are taking their lumps and new players are emerging in a cautious market. F1 ended with another Max Verstappen win in an utterly dominant season. Basketball has struggled for the entirety of 2022, with many collectors pointing to it being overpriced in the first place.
TAKE 5: Who's Hot / Who's Not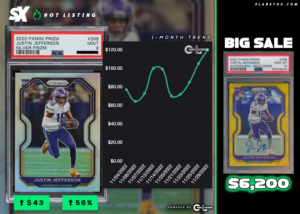 Justin Jefferson's huge month of November (480 yards, 3 TD) was highlighted by game saving/winning catches against the Buffalo Bills in an absolute thriller.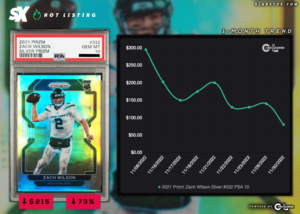 What's worse than getting relegated to the bench when your team was 6-4? Watching the next man up (Mike White) lead your team to a 31-10 win over the Bears while having a 149.3 passer rating in the game. It's not looking good for Zach Wilson (at least for 2022).
Looking Ahead: 
The next time you're reading a SlabStox Monthly Report, it'll be the final report of 2022. We'll put a bow on a wild year in the sports card market. One that really tested the strength of collectors and one which many collectors had to learn the hard way that cards don't only increase in price. Exciting news: Next month, we will be launching the prototype version of our SlabStox 100 Index (SX100). We created this index to be more representative of the general card collecting and investing market. This index will be used to gauge the health of the market in these monthly card market reports. We hope you find value in tracking it along with us!
Sports Card Shows Worth Checking Out
Jan. 6-8 
(Jan. 7) Magnolia Sports Card Show, Tupelo, Mississippi
Jan. 13-15
(Jan. 14) Colts Neck Coin & Card Expo, Colts Neck, NJ
Jan. 20-21
(Jan. 22) Colts Neck Sportscard and Collectibles Show
Jan. 27-29
(Jan. 28) Magnolia Sports Card Show: Brandon Public Library, Brandon, MS
(Jan. 28) Sebastian Sports Card Show, Sebastian, FL
(Jan. 28) Central Jersey Cards & Collectibles Show, Edison, NJ
January: Important Product Releases
Many product releases have been delayed by manufacturers due to supply chain issues. The release dates below are subject to change by the manufacturer. Dates provided by Cardboard Connection.
Jan 4:
2022 Topps Chrome F1
Jan 5:
2022 Skybox Metal Universe Hockey
Jan 11:
2022 Panini National Treasures Baseball
2022-23 Panini NBA Hoops Basketball
Jan 13:
2022 Panini Spectra Football
Jan 18:
2022 Panini Immaculate Collection Basketball
2022 Panini Impeccable Football
2022 Topps Finest Baseball
2022 Topps Dynasty F1
Jan 25:
2022-23 Panini Donruss Soccer
2021-22 Panini Mosaic Basketball
2023 Topps Sterling Baseball