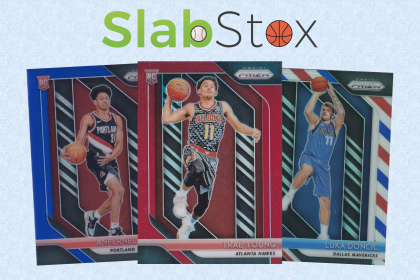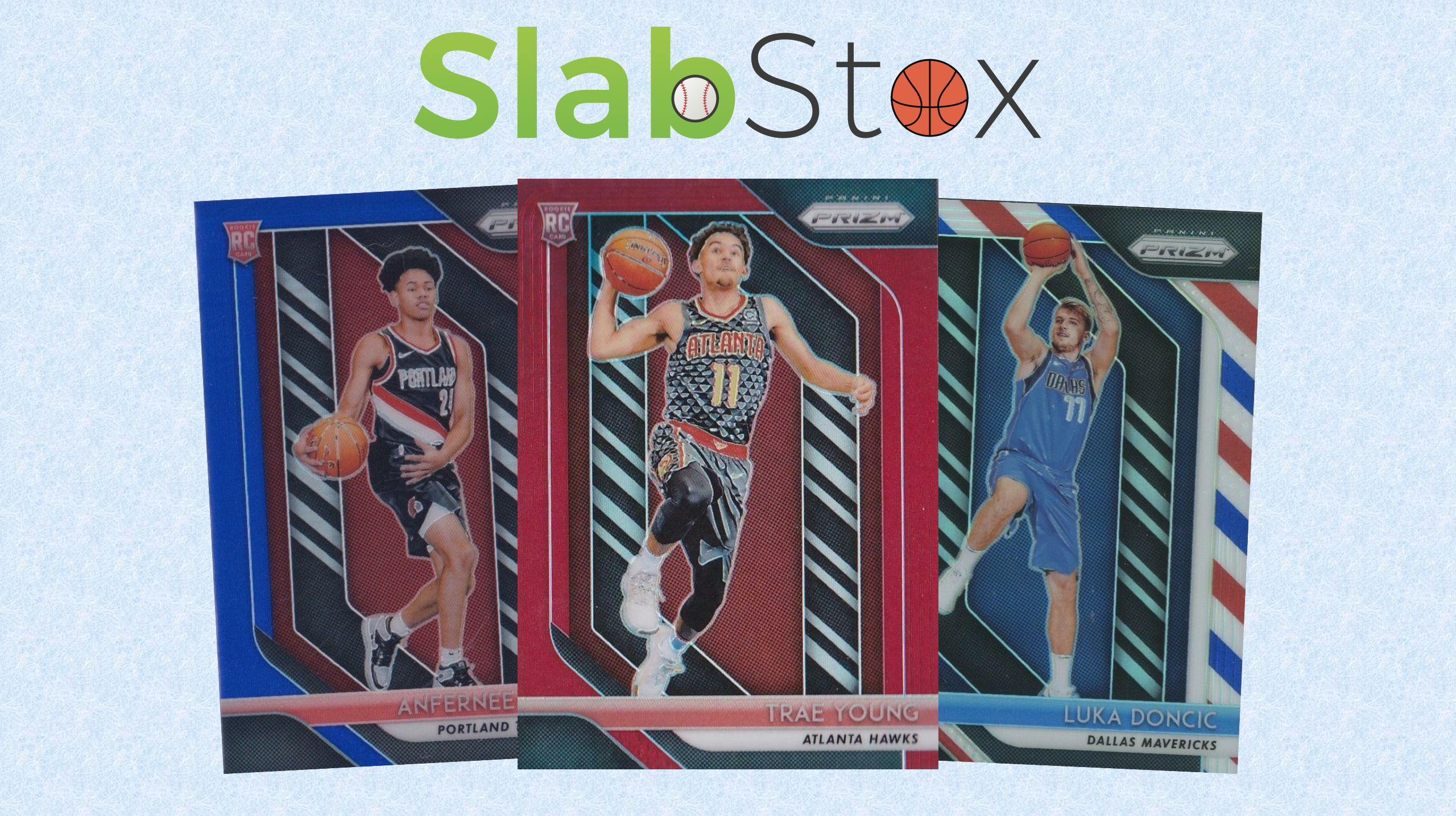 One of the first statical articles we wrote was on a Bowman Chrome Color Multiplier. We took thousands of completed sales and compiled them to come up with a realistic multiplier to find out what a color autograph could be valued at with no completed sales.
There were a few short comings of the originally developed multiplier. Those were the timeframe chosen for sales was misrepresentative of true market values (sales came too close to release date, messing up the "exclusives" like Blue 70th and Sparkle /71), there wasn't enough sales data on red to superfractor autographs, and quite frankly, the variance in multipliers was too much between high and low profile prospects. With that being said, it is still very useful, especially with the refractor /499 and purple /250 metrics (I still use those to this day).
After months of working on many different projects, I decided to dive into the color differences with the extremely popular Prizm basketball; however, this multiplier was created with ONLY 2018-19 Prizm sales, due to the print runs and values being so different between the seven years of Prizm Basketball. Because of that, only 2018-19 Prizm Basketball rookie cards can be used with this.
Some changes I made between the Bowman Chrome and Prizm Multiplier are as follows:
Only five parallels are included: Red/White/Blue, Green, Silver, Red /299, and Blue /199. The amount of sales are way too low for the other parallels that are more rare, and I thought it'd be best to not include them, as I didn't want to create false perception of value. Even the Red /299 and Blue /199 don't sell regularly, but there was enough to include it. The Pink and Red Ice were not included because it was a parallel for the first time this year, and who knows if it will last longer. Personally, not a huge fan of them.
There are 216 auction sales spanning the months of June and July, 2019 that were used to build this. Also, there was only ten players included. The ten players are: DeAndre Ayton, Marvin Bagley, Luka Doncic, Jaren Jackson Jr, Trae Young, Mo Bamba, Collin Sexton, Kevin Knox, Miles Bridges, and Michael Porter Jr. By using these players, it should get a good mix of top end sales, mid-level sales, and lower-tier sales.
Since this all hinges on how much a base rookie sells for, it was pretty difficult to come up with one true base rookie price for each player. To do that, generally I went to COMC, looked up the base of each player, and then rounded down to every .25 to .50 cents (or used a few eBay sales). Here are the base prices used for each player to build the multipliers: DeAndre Ayton ($2), Marvin Bagley ($2), Luka Doncic ($17), Jaren Jackson Jr ($2), Trae Young ($5), Mo Bamba ($0.50), Collin Sexton ($0.75), Kevin Knox ($1), Miles Bridges ($0.50), and Michael Porter Jr ($2). These can fluctuate a lot, so know these numbers are not set in stone.
The biggest challenge: figuring out how to include/not include shipping cost on the low cost parallels like the Green and Red/White/Blue. Since the PWCC database doesn't include shipping costs, I used some judgement calls in this. Know that this multiplier is not the be all, end all of value multipliers. It changes with every player, and this is a fun tool you can use if you want to see how values can change in the moment based on the Base RC values.
After running all of the numbers, this is what the averages came out to (the following numbers are a multiplier applied to the BASE RC of a given 2018-19 Prizm RC).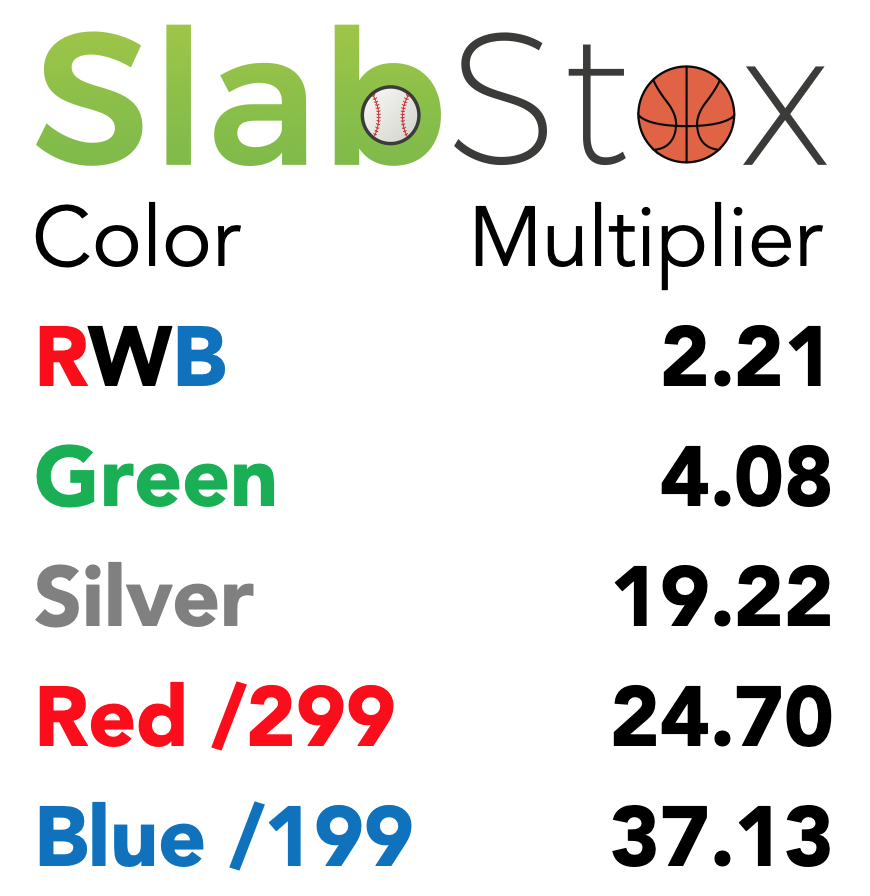 Here's an example for you to see how it works:
Anfernee Simons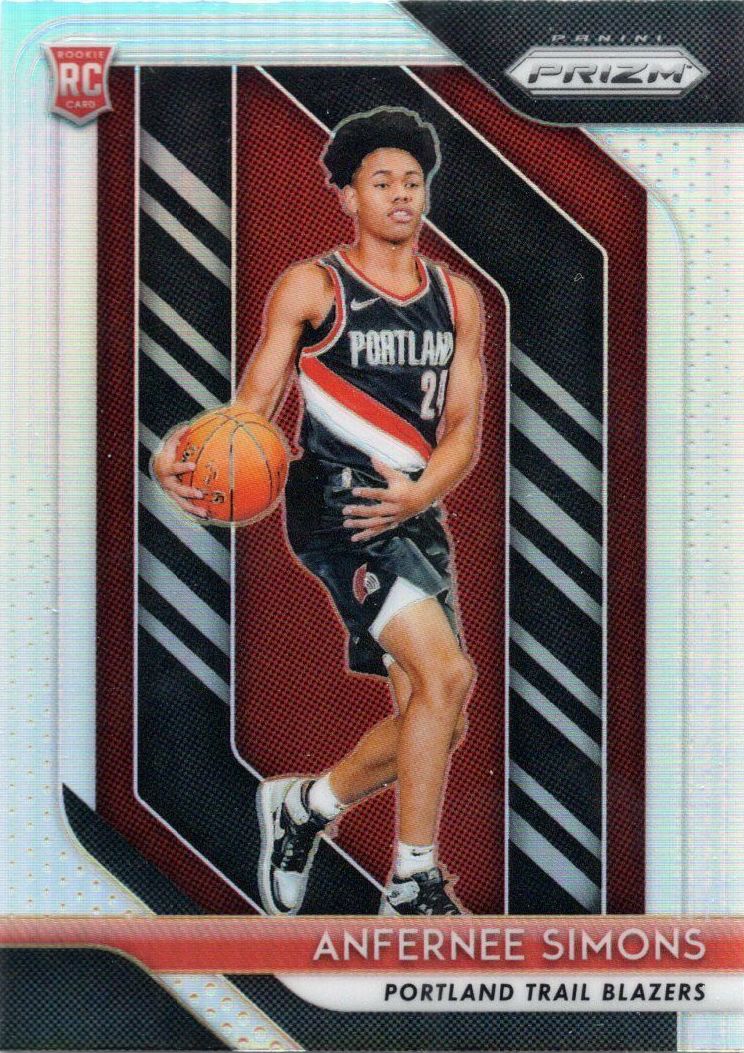 I'm going to say the Simons Base RC (not what is pictured) is worth around $1.50, based on some eBay sales and COMC pricing. With that, this is how the multiplier would work out.
RWB ($1.50 x 2.21): $3.31
Green ($1.50 x 4.08): $6.11
Silver ($1.50 x 19.22): $28.83
Red /299 ($1.50 x 24.70): $37.05
Blue /199 ($1.50 x 37.13): $55.69
Total of multiplier values: $130.99
Now let's look at what actual eBay values are.
RWB: $6.59, $4.77, $4.74… average = $5.37
Green: $7.98, $10.59, $5.99… average = $8.18
Silver (excluding an outlier of $44.19): $21.00, $23.00, $26.00… average = $23.33
Red /299 (last three sales): $34.75, $30, $38… average = $34.25
Blue /199 (last three sales): $73.94, $105 – PSA 10, $93.49 – PSA 10… if I were to use the Bowman Chrome grading multiplier of 1.90 for PSA 10, it would make the average Blue /199 sale $59.47.
Total of eBay values: $130.60
Difference between multiplier and average eBay values: $0.39
Once I did the math to get the difference, I was actually shocked to see it so close, which is great (and no, I didn't choose the $1.50 base price after I knew the current eBay values of the parallels). However, I don't expect it to work out for every player like that. By doing some calculations on the multiplier, the "multiplier" value should normally be +/- $4.18 of the eBay value. The fun thing is, you can apply this to any of your favorite 2018-19 NBA rookie and see what happens.
In the end, there can never be any metric that gets color multipliers 100% correct. Market demand and value will always be the determinate; however, this is better than nothing!
FULL DISCLOSURE:
We own a couple Simons base, two Luka Base, a Luke Silver (at PSA), a couple Trae Young base, a couple JJJ base, a JJJ Silver, a couple Ayton base, a couple Bagley base, multiple Bamba base, multiple Sexton base, a couple Knox base, a Knox silver, a couple Bridges base, a couple MPJ base, and an MPJ pink ice. While those players are not "written about," they are used in the multiplier metrics.
Stay up-to-date on all things sports card trading with SlabStox. Sign up for The Daily Slab today!