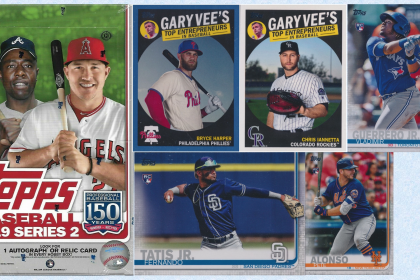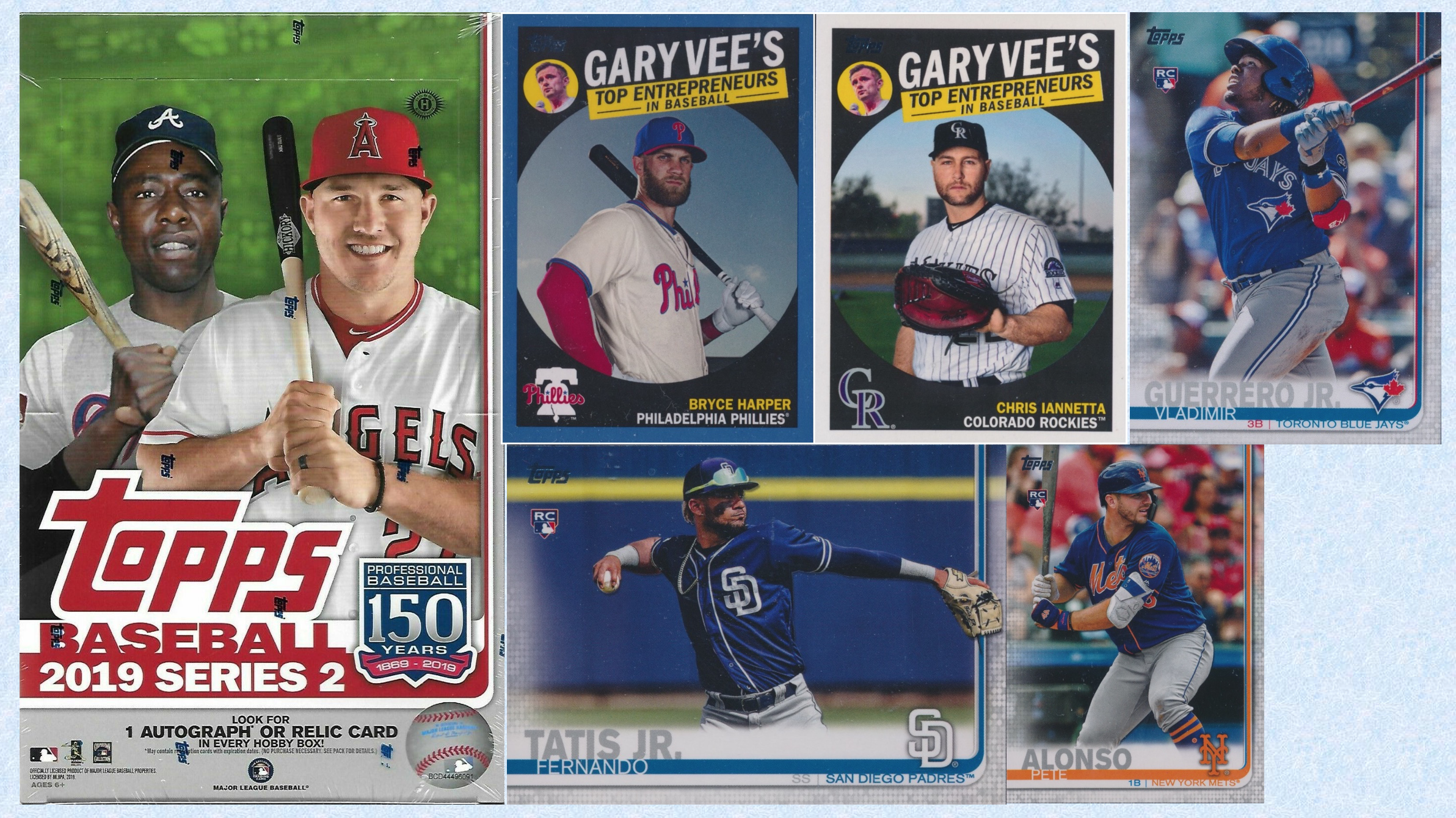 After the anticipated release of Topps Series 2 happened last week Wednesday, I knew I wanted to write an article on it, but I didn't have a concrete idea. I going to write on the pulls Nate and I had, but that would just be a written recap of the live stream and video posted on Instagram. Then I was thinking about a product review, and I'm like, "Nah, so many places already do that." So why not do what we do best, break down the value something provides!
To keep this as simple as possible, this is going to be based on some estimated odds of pulling certain cards out of a 2019 Topps Series 2 hobby box ($60 to $65 at local card shops) containing 24 packs. If you don't have a local card shop by you, check out the end of the article for some links to purchase Topps Series 2 boxes on eBay for less than $65.
I will only be using the top three rookies, Vlad Jr. SPs, and GaryVee inserts to come up with the expected value. Yes, that is leaving a lot out. There needs to be an automated system to get a true value, but this is a shot! Let's see what happens.
Base Rookies: Fernando Tatis Jr., Eloy Jimenez, Pete Alonso
On average, I've been seeing boxes hit one of each of these guys in hobby; however, to stay on the safe side, I'll say 85% of the time you'll hit one of each.
Fernando Tatis Jr: $5
Eloy Jimenez: $3.50
Pete Alonso: $4.50
If you get one in each box 85% of the time: ($13 x .85)
Expected value of the three top rookies = $11.05
Rookie Parallels:
Here are the odds of hitting a specific parallel per box. The percentage is to hit of a specific player in the 350 player set.
Gold (1:6 packs, 1.1%), 150th Anniversary (1:6, 1.1%), Rainbow Foil (1:10, 0.7%), Advanced Stats (1:89, 0.08%), Vintage Stock /99 (1:123, 0.06%), Independence Day /76 (1:160, 0.04%), Black /67 (1:78, 0.9%), Mother's Day Pink /50 (1:244, 0.03%), Father's Day Blue /50 (1:244, 0.03%), Memorial Day Camo /25 (1:486, 0.01%), Clear /10 (1:840, 0.008%), Platinum 1/1 (1:12,076, 0.0006%)
(Sale price x probability)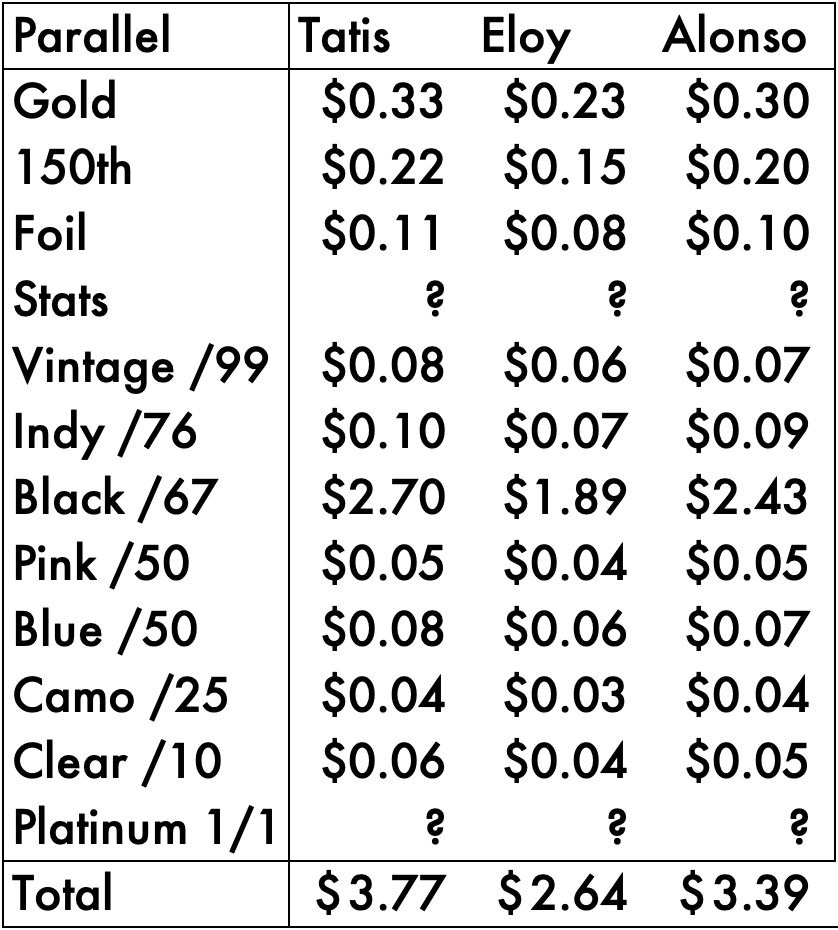 Total of three top rookies (without the ?s) = $9.80. But let's just add in $0.15 for the ?s that I can't get numbers on (and why not round up another .05 cents to get to $0.20 extra)
Expected value of the top rookies' parallels = $10.00
Vladimir Guerrero Jr. NNO (no number) SP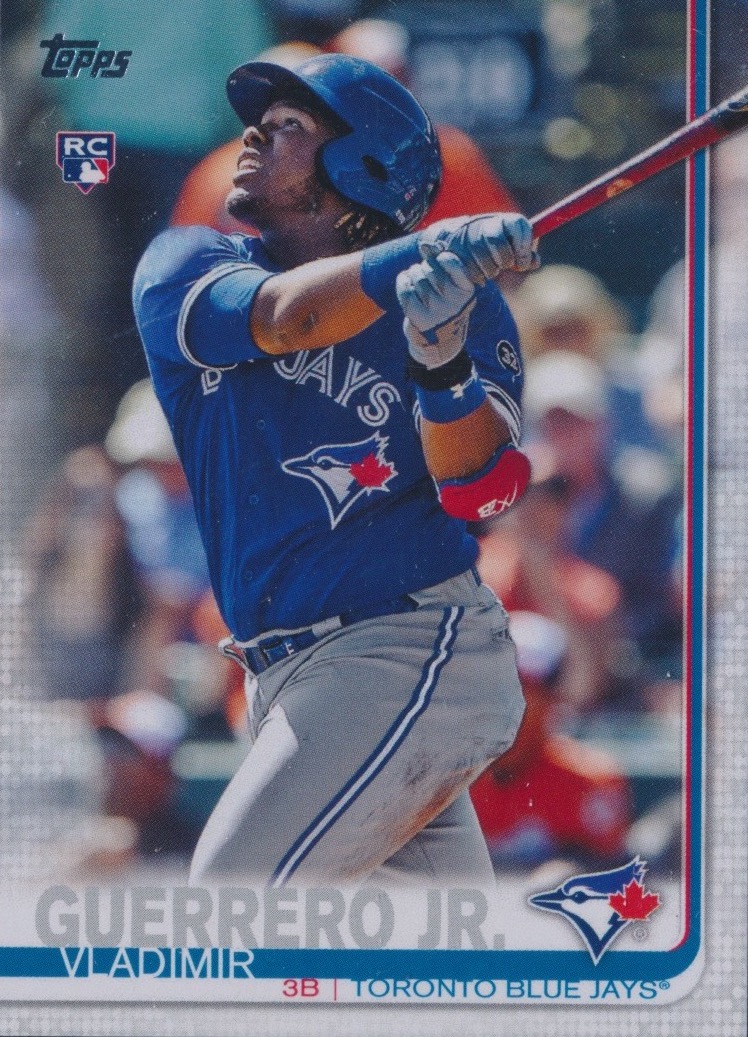 This is the Vlad Jr. SP, which isn't quite as SP as we thought it was going to be before the product released. The Acuña from 2018 S2 (Bat Down variation) sells for around $110 and falls around one per 12-box hobby case (or sometimes two).
I'm hearing the Vlad is falling around five per 12-box hobby case. This is the expected value of getting a Vlad given you're choosing boxes out of a full 12-box hobby case that has five SPs guaranteed in it.
$15 * (5/12) = $2.08
The Vlad SP is going to be an interesting card to track. With all the S2 being ripped right now, there is an overabundance of cards on the market. Once the initial flood dies down, these could rise in price.
GaryVee Inserts (1:18 packs)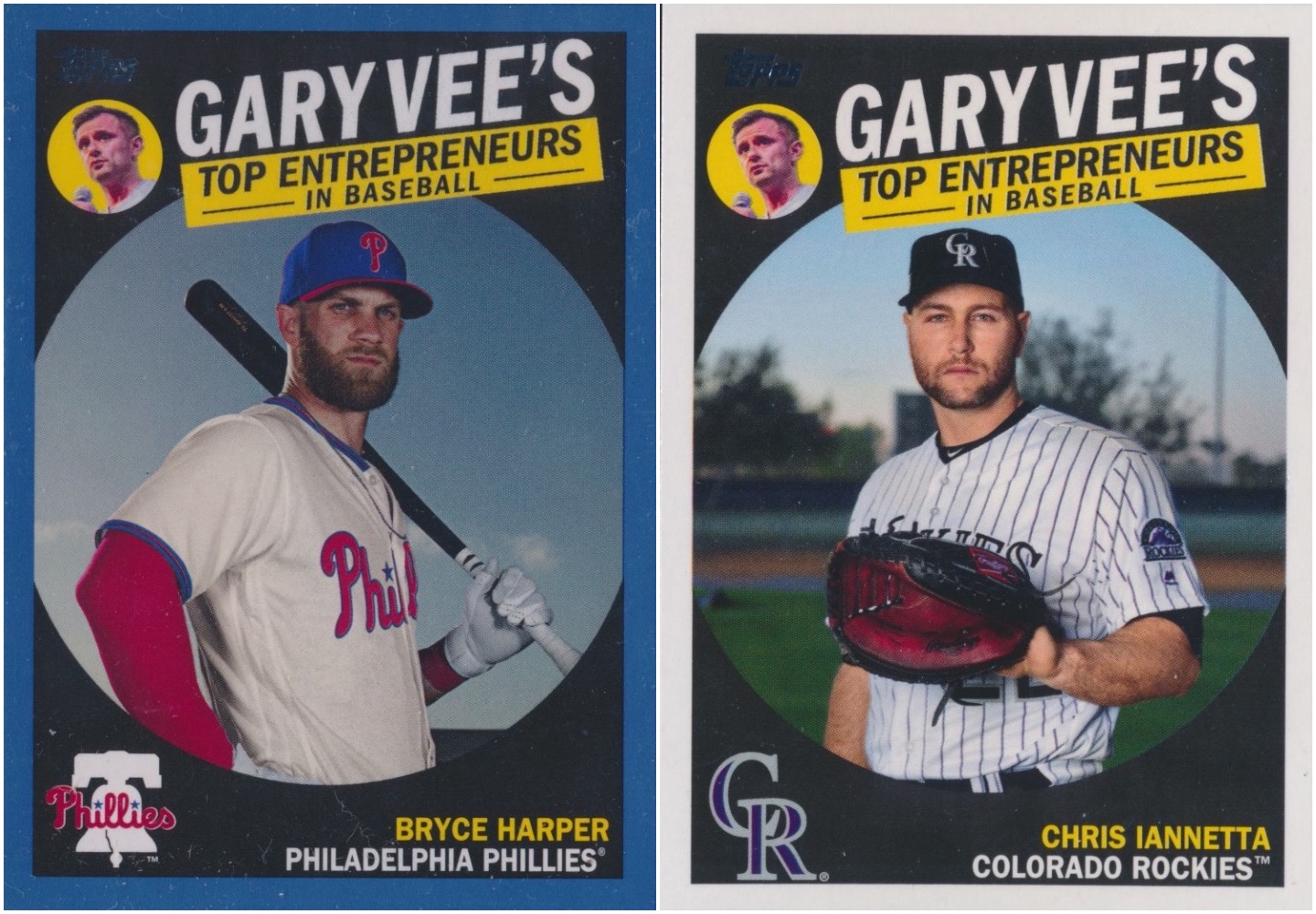 The widely popular entrepreneur, sports card lover, and social media sensation Gary Vaynerchuk got a full insert set created off of his picks for "Top Entrepreneurs in Baseball." They even made Dual Autographs of the players with Gary. Here's him pulling one of his own cards for the first time!
These fall one in every 18 packs, so you are guaranteed one per box with a 33.33% chance of getting a second in the box.
So far, the highest-selling base insert is Derek Jeter around $6, followed by Bryce Harper and Alex Bregman at $4, and Randy Johnson at $2. Those are the top four players to chase (we will name this Tier 1). To keep it as simple as possible, let's say you have a 40% chance of getting an insert worth $4 (the average of the four named), and a 60% chance of getting an insert worth $1 (the other 6 players, otherwise known as Tier 2) for your guaranteed insert. That puts the EV at $3 for your first GV insert. But wait! There are parallels.
Here are the odds of getting a parallel: Blue (1:150), Black /299 (1:294), 150th Anniversary /150 (1:3,054), Gold /50 (1:1,764), Red /10 (1:47,235), Platinum 1/1 (1:267,664)
Note: the Blue, Black, and Gold odds were part of 6 different insert set odds. I assumed that the provided odds were to hit one of those insert sets of a certain parallel, so I multiplied it by 6. Example: It said you get a blue parallel out of one of the 6 insert sets at 1:25 packs, so I multiplied 25 by 6 to get how many packs it would take for a guaranteed GaryVee blue insert.
The estimated value (by using averages and multipliers) for these are as follows: Tier 1 blue sells at $11.75. The average Tier 2 blue sells at $3. Black for Tier 1, $20. Black for Tier 2, $5.10. 150th for Tier 1, $33.33. 150th for Tier 2, $9. Gold for Tier 1, $80. Gold for Tier 2, $20. Red for Tier 1, $155. Red for Tier 2, $40. Platinum, ?.
Now if you apply those to the pack odds, the expected value on your 1.33 (on average) GaryVee insert cards is $8.95.
Total Expected Value So Far: $32.08
What I just gave an expected value on was a very small part of what you can get out of this set. It ignores all veterans, rookies other than the big four, autos, jerseys, different insert sets, and a ton of stuff. It would take a long time to find a true expected value and a ton of conditional probability which also takes forever. However, I will say this, to expectedly make up half of your box on only 14 different cards you can hit (with parallels added in and not including any autographs) is quite crazy, and something I am not sure we have seen in a while.
Another thing to add is if you do hit one of those very rare parallels of the main rookies, they go for crazy amounts. I'd say part of the value in this is the gambling of getting one of those massive cards.
After all of those numbers, it'd be great to come up with a concrete expected value; however, it'd take a lot of automated system work. All I know is that you would need to make up around $33 on average to get the money from your box back between everything else, which might not be that hard to do.
So, what does this mean?
This was a long-winded way to say that the 2019 Topps Series 2, for the cost, is a great rip. You have a chance at a ton of value between the main rookies, GaryVee inserts, and Vlad Jr. SPs. Once you add in the rest of the cards you can get, the value is 100% there.
If you haven't gotten the chance to open a box yet (and chase all of these great cards) here are a few eBay links to pick up some hobby boxes!
2019 Topps Series 2 Hobby Box – $55 OBO, 9 available
2019 Topps Series 2 Hobby Box $57 OBO, 20 available
Stay up-to-date on all things sports card trading with SlabStox. Sign up for The Daily Slab today!