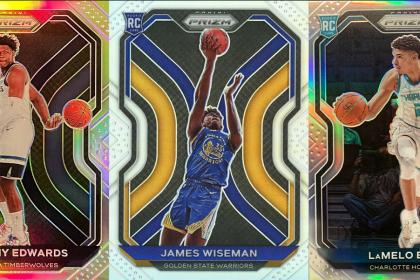 This week, Sam Dunks and Aaron shared the top-10 rookie pulls from the recently released 2020-21 Panini Prizm Basketball. They break down the best buys and potential value opportunities as this Prizm product starts to surface on eBay. Each rookie's outlook is based on silver Prizm auction prices from April 10-11, 2021.
While this breakdown is based on card market value at the time of this video, one thing is certain—card values are definitely affected by increases in grading prices and the suspension of PSA grading levels earlier this month. Expected outcomes from these announcements:
Fewer PSA 10s will surface on the market.
Ungraded or potentially inferior grading companies will start to become more available until the PSA grading backlog subsides.
Our take on card grading at this time:
It doesn't seem to be worth grading through another company if you are looking for significant returns. The safest plan is to wait it out until PSA reopens, or sell your cards raw in the meantime.
Onto the 2020-21 Panini Prizm Basketball top-10 rookies (All prices accurate as of 4/12/2021):
LaMelo Ball – $735.25
With the passing ability of LaMelo Ball shining early this season and his weaknesses less prevalent than expected, it is clear that "Melo" deserves to be at the top of this list. Averaging a respectable 15.9 points per game and a VORP (Value Over Replacement Player) of 1.4 makes LaMelo a clear starter and game-changer for years to come.
Anthony Edwards $614.63
As the first overall pick in the draft, it's hard to go wrong with Anthony Edwards. Edwards has benefitted from not only his own play, but also the injury to LaMelo Ball. Since then, his card market value has increased. His play is getting much better as the year goes on, which is all you can ask from a rookie. As the fourth-youngest player in the league, it looks like we can expect some more good things to come.  
Tyrese Haliburton – $200.50
Tyrese Haliburton is the best shooter of the top three on this list (57.8 FG%). That means he could potentially be the top rookie to come out of this class. His VORP is also 1.1 providing a lot of value over a replacement player. Haliburton is a great role player. He can find the open man or hit the bucket on his own when he needs to. Unfortunately, his upside can be limited by his lack of flashiness, but Haliburton is definitely the first value name on this list.
Aleksej Pokusevski – $190.47
The Thunder rookie is a bit of a surprise here at No. 4. Pokusevski's popularity comes from the likability of a skinny, 7-footer shooting threes, and also the abnormal passes that he makes. His cards probably shouldn't be this high but he is becoming a fan favorite, which makes him worth collecting. If stats and productivity aren't as important to you as a player's dynamic, Pokusevski might be the rookie for you.
James Wiseman – $179.10
James Wiseman's season-ending injury has certainly negatively affected his card value. He started out super hot at the beginning of the season, but inexperience eventually showed. He was demoted from the starting lineup at the end of January, as the team was 17 points worse off when he was on the court. Wiseman saw a little rebound after returning from injury and getting more minutes, but ultimately a torn meniscus has ended his season. This is going to be a longer-term play and will be for those James Wiseman believers for the next few seasons.
Patrick Williams – $151.13
As a guy who entered the league as a high upside player, he's shown a great amount of polish in his defense and passing ability on offense. Williams' problem on offense is his tendency to pass up open threes for a more contested mid-range jumper. He has a long way to go to build up his offensive game, but he has the body, physicality, and natural shooting ability that people like to see. If you squint, you might be able to see shades of Kawhi Leonard, although such a comparison this early in Williams' career is unfair to both players. He has a lot of tools, which shows a potentially promising future for Williams. From a card perspective, he is a decent risk to take at his current prices. 
Immanuel Quickly – $119.25
Quickly has impressed a lot since the draft, especially since he was drafted No. 25 in the first round. His stats don't really jump off the page, but he's a really exciting scorer and flashy passer, which has impressed a lot of fans and experts. Though he's had a rough couple of weeks, we wouldn't worry about a rookie wall for Quickly. He's a dynamic shooter in the lane and likely an exciting scorer for years to come. And since he plays on the huge New York stage, he is definitely a potential value opportunity, especially if his card market continues to fall. 
Deni Avdija – $118.20
Just like Pokusevski, Deni Avdija's on-court performance isn't what's driving his price. There's been a significant change when comparing his role with the Wizards and to his former role in Tel Aviv. Avdija is transitioning to a perimeter player instead of an all-around scorer and it has limited his productivity. Also, the Wizards are Westbrook's team, so his looks are going to be limited. It's worrisome that Avdija hasn't improved this season, but hopefully, his opportunity will improve in Washington as players move around. It is way too early to write him off. He just needs a chance to show his playmaking ability.   
Theo Maledon – $75.36
As the second rookie from OKC, there hasn't been as much attention on Theo Maledon in the beginning of the season. However, as the season develops, Maledon has been playing more, and earning those minutes because he both scores and shoots with confidence. With Shai Gilgeous-Alexander's absence these past few weeks, Maldeon has been given an opportunity to shine. The second-round pick has a lot to like moving forward.
Saddiq Bey – $65.33
Rounding out the list is Saddiq Bey. Drafted as a three and D player, he is living up to his role. Per 36 minutes, he's averaging just under 9 three-point attempts per game, but doesn't have much game inside the arc. In the last 15 games, however, he's shooting 57% in the paint which is important for keeping defenses honest. Bey is a bit older at 22 years, which may limit his upside, but he looks to be a great building block for the Pistons.
Value Opportunities
There's a lot of value as you dig deeper to 11 to 15. We're talking about Jaden McDaniels ($63.57), R.J. Hampton ($62.60), Cole Anthony ($61.00), Killian Hayes ($63.57), and Kira Lewis Jr. ($54.33).
Looking at the entire list of rookies, the main value opportunities are:
LaMelo Ball, even at the highest price point on this list.
Anthony Edwards is showing the foundation of a very promising career.
Tyrese Haliburton is proving he'll be a great player for quite some time.
Patrick Williams for $150 might be a little spendy, but his upside is promising.
In the under $100 category, keep an eye on Maledon, Bey, McDaniels, and Hampton. All are great picks. 
It's also worth noting that now, midseason, isn't really the best time to look for value. Midseason into the playoffs is when players' card prices start to peak. The best time to scoop some of these guys up is in the offseason when their markets start to fall.
Check out the full video about the 2020-21 Panini Prizm Basketball top-10 rookie pulls.