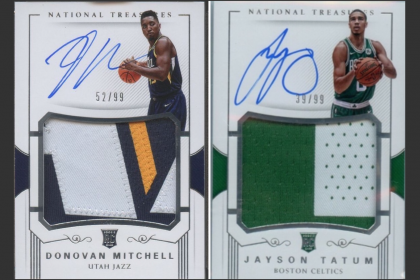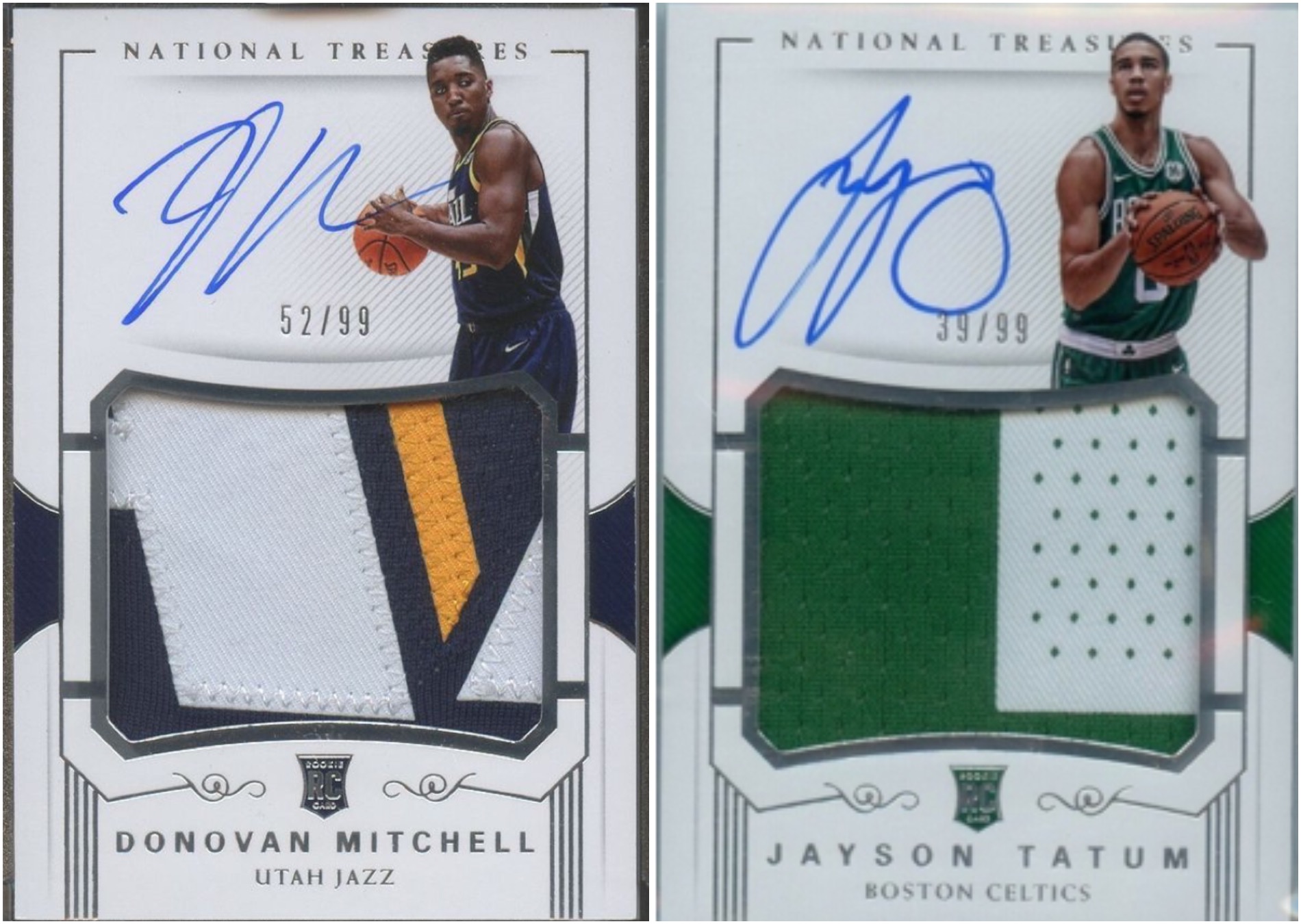 Every one has their own opinion on the famous, or infamous, National Treasures RPA. To some, it is an unattainable treasure. To others, it is a routine part of investing in a promising rookie. Certain investors will say the NT RPA is a vital part of a player stash. But is this really true? Is it worth it to drop what can be upwards of $3,000 on one card? Before I answer this question, let's look at some background information.
Panini usually releases their staple product in early May after the conclusion of the NBA regular season and in the midst of the NBA Playoffs, but this year's release is slated for mid-April. Carrying a price tag of over $500 on the open market, it is considered one of the top basketball releases. The main draw is the rookie patch autos, or RPAs. The base RPAs are serial numbered to 99, with six other parallels, all the way down to the 1/1. The set holds the top rookies, guys like Donovan Mitchell and Jayson Tatum in 2017, as well as lesser known rooks like D.J. Wilson and Cedi Osman.
If you were to look at a large stash of a rookie in the last decade, you would most likely find at least one NT RPA, if not more. Many high-end collectors hail the NT RPA as the best, or second best, product for investment purposes, second only to Prizm. But is that designation deserved?
The following chart shows the % profit a would-be investor would have made had they bought either a Jayson Tatum or Donovan Mitchell True NT RPA in the first three months of release, and sold in September, October, or December, when the NBA starts to heat up. For the most part, all data collected was of raw cards, but the designated sell months for the Tatum RPA did not have a raw copy selling, so those prices were found using the common multiplier of BGS 9.5 to raw.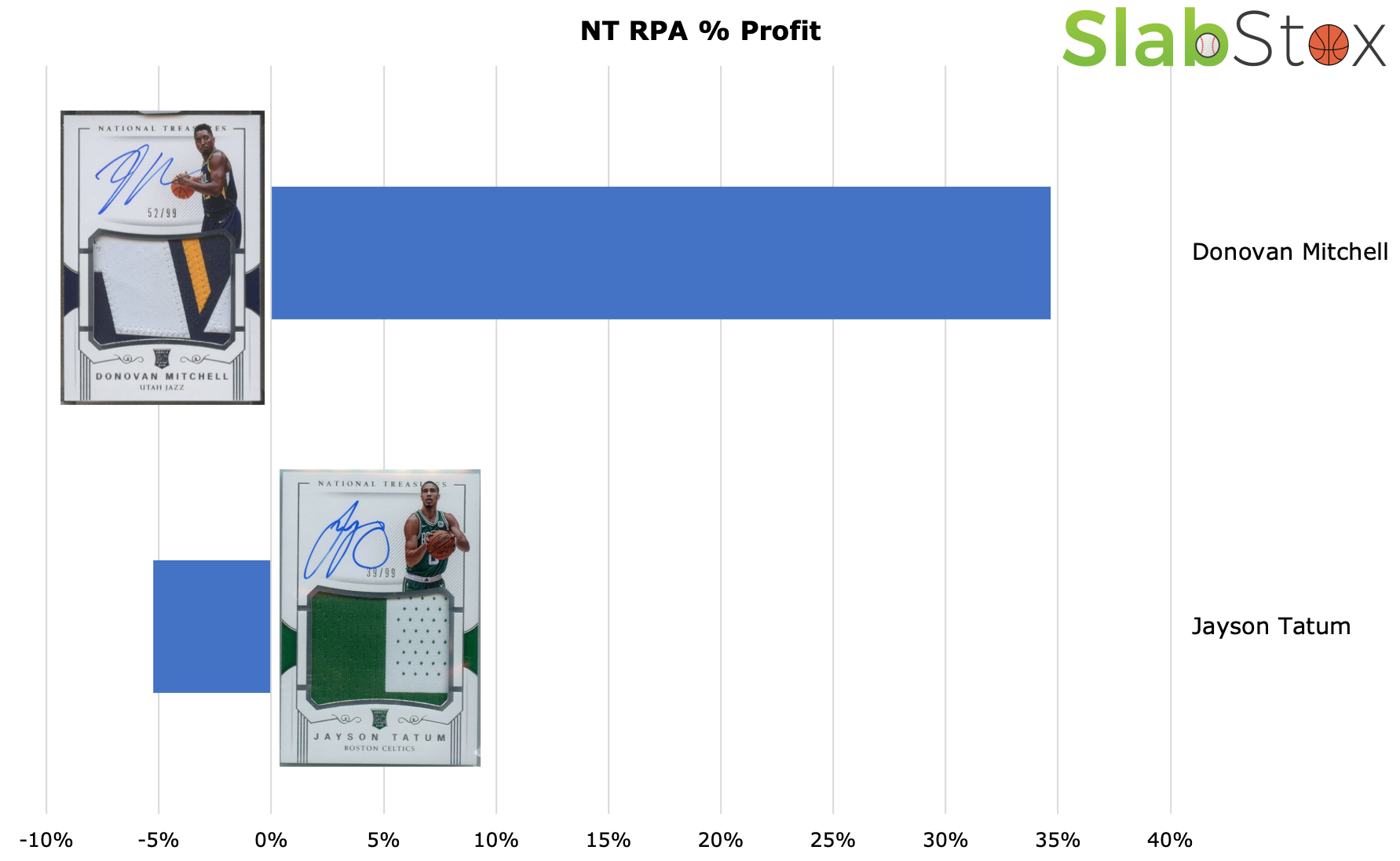 It is a simple chart that offers a simple answer: the NT RPA is not a viable short-term investment. Despite the hype of the these two going into their sophomore season, their cards did not see much of an increase. In fact, Tatum saw a 5% decrease. You may be saying, "well, that's because you tracked their prices at the beginning of their second season." But like I said earlier, the three month period I used saw the card's highest prices since their release prices. They went down from that point on, and now, here in March, both player's teams are gearing up for playoff pushes, and the prices are STILL down. If an investor had bought either RPA in the designated months, and sold in December, January, or February, they would of endured a loss of 25% for both cards. Compare that to a Prizm Tatum Silver PSA 10, and that card only dropped around 10-15%.
I think there is an easy conclusion on this topic. NT RPAs of top rookies with sky high price tags are not a great short-term investment. It certainly does not rule them out as good long-term investment. Next week, I will be looking at the viability of NT RPAs as a long-term investment, one's spanning multiple years.
Sign up for The Daily Slab email to get the most up-to-date sports card insights straight to your inbox.