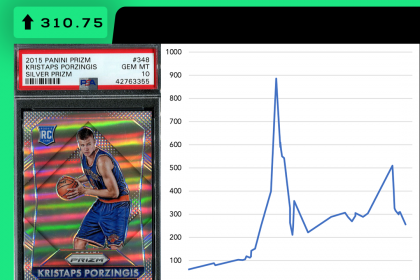 A look into the history of Kristaps Porzingis's Prizm Silver RC PSA 10 auctions provides interesting insight into the various dynamics affecting a card's value. In the chart above, you can see the very clear value peak that came in late 2017. At that point, Porzingis had seen an absurd 482% increase since the middle of the previous off-season. He was not alone. Much like the recent 2018-19 Optic Holo boom, the 2015 Prizm RC class saw a spike early in the 2017 season. Fellow 2015 first-rounders Karl Anthony-Towns (up 56%), Devin Booker (up 119%), and Myles Turner (up 156%) saw similar dramatic increases in demand.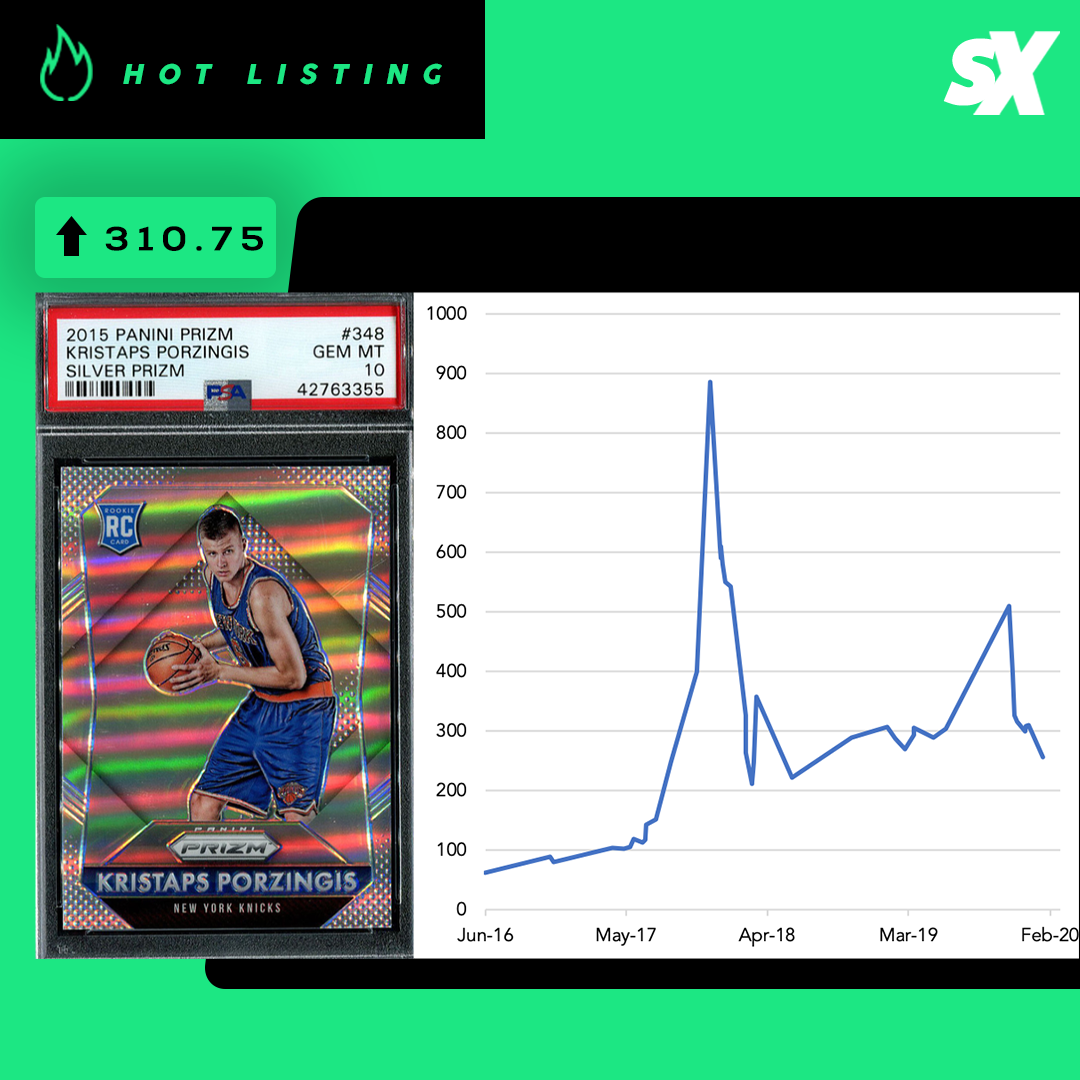 Porzingis investors were also benefiting from the New York media machine. Early 2017 was peak Porzingis hype, as the trade of Carmelo Anthony to OKC in September 2017 hastened the crowning of the Latvian big man as King of New York. By Christmas, the Knicks were 16-10 in games that Porzingis played, and 17-15 overall—their first taste of relevancy since the Melo-Kidd-Stoudemire-Chandler days of 2012.
And then came the injury that has defined a large chunk of Kristaps' career. In a home game against Milwaukee on February 6, he elevated for a dunk over Giannis and then crashed to the floor grabbing his left knee. With the news of an ACL tear, card prices had plummeted 61% by the end of February. The Knicks went 6-22 to end the year.
The trade to Dallas one year ago brought a pretty quick upswing in demand, but a somewhat disappointing season so far has resulted in a 50% drop from November's heights. It's clear that Porzingis is still a bit rusty after his 625 day layoff. Still, there is some reason for optimism. In his last three games, Porzingis is averaging 35 points and 12 rebounds while shooting 43% from deep. It's a small sample, but at least this level of play is hiding somewhere in that 7'3" frame. Additionally, his Prizm Silver RC still represents good value due to their rarity—only 109 PSA 10's out of 160 graded; 2015 Prizm Silvers were rare to begin with. Looking forward, where do you think they go from here?
Sign up for The Daily Slab email to get the most up-to-date sports card insights straight to your inbox.