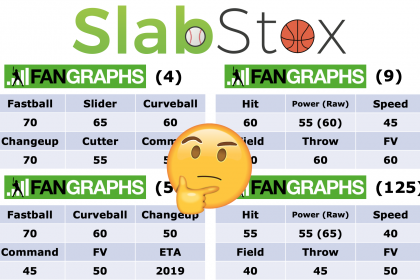 Over the last week, there have been multiple prospects called up to debut in the big leagues (Keston Hiura, Austin Riley, Brendan Rodgers, and Nicky Lopez). This hasn't been happening only over the last week, but the entire season. Since the beginning of the season, there has been double digit plus top 100 prospects to make their MLB Debut. Gone are the days of holding back young talent to maintain an extra year of control.
With all of these call-ups taking place and leading to a small price spike, this leads to the question of who's next? (MLB Debut only… sorry Luis Urias and Kyle Tucker).
Note: While these are prospects that are on the verge of making the Majors, that doesn't necessarily mean they are buys. Buying to sell at call-up isn't always a guaranteed way to make money, especially when it is this close to the possibility of debuting. Make sure to do back-end research before deciding to buy.
Here are three prospects on call-up watch:
1. Yordan Alvarez – Houston Astros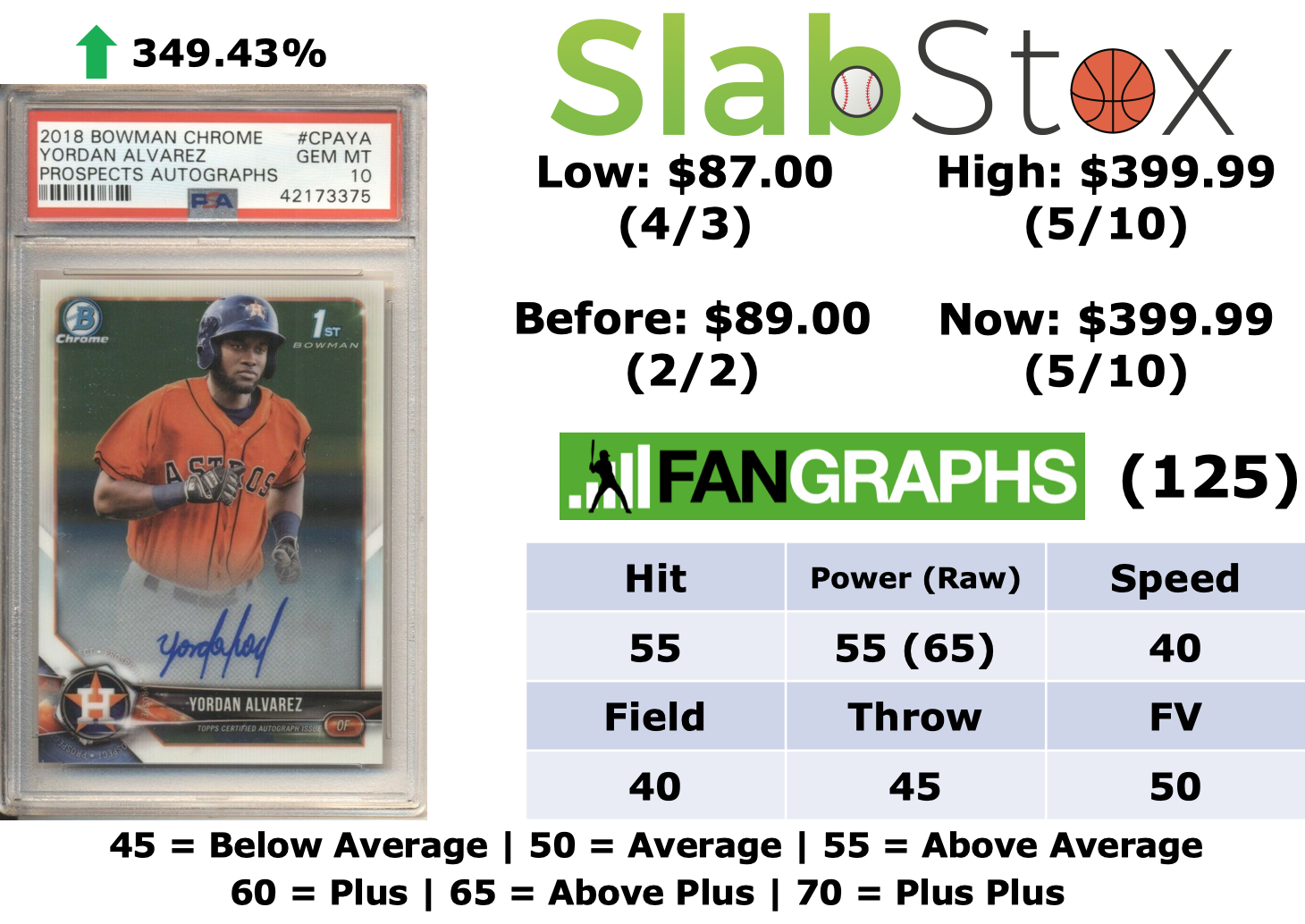 Why he's here:
Do I really even need to explain? Okay, okay. I will for those that don't follow the minor leagues closely.
The almost 22-year-old 1B/DH/OF on the Astros AAA affiliate is absolutely ON FIRE. If you remember from before the season, we wrote a Prospect Profile on Alvarez. While we were way off on how the 2019 season would go, at least we provided a detailed argument against it (and for his long-term outlook, which has changed). Clearly, Alvarez has made some insane adjustments, because instead of his K% continuing to trend up, it's trended down. That is a testament to Alvarez; props to him for making the right adjustments.
In 134 at-bats this year, he has 17 home runs, a .410 average, 14.0% walk-rate, and a 1.400 OPS. Absolutely insane numbers. It first appeared he wouldn't be given a chance until next season, considering the Astros are pretty packed full of talent. However, it is near impossible to keep someone down who is hitting AAA like this (unless you're the Padres with Luis Urias).
Currently, Alvarez fits best at either 1B or DH with the big league club. He's going to have to replace Yuli Gurriel or Tyler White to get every day at-bats. That shouldn't be too difficult considering Gurriel is hitting .269 with 3 home runs and White is hitting .230 with 0 home runs. I can see Tyler White losing those at-bats very, very soon.
Estimated call-up: By the end of May
2. Dylan Cease – Chicago White Sox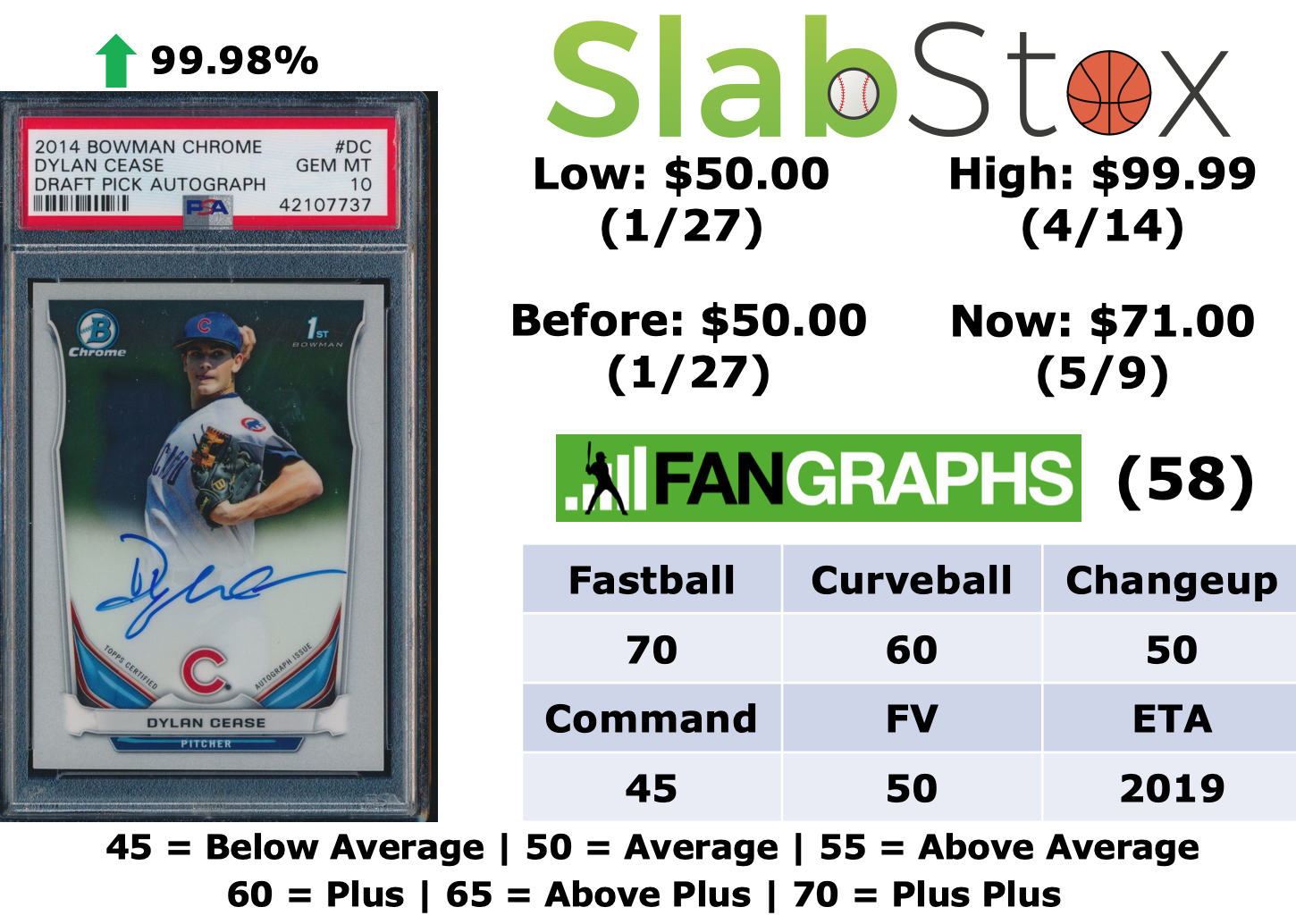 Why he's here:
Dylan Cease won the 2018 MLB Pipeline Minor League Pitcher of the Year award for his dominate season of a 2.40 ERA and 11.61 K/9. He started this year in AAA, and has had a more shaky going, posting a 3.54 ERA and 10.61 K/9 so far (albeit not bad).
While his numbers have dipped a little, the 23-year-old righty is in the perfect position to get a call-up to the White Sox soon. Carlos Rodon just went down with a UCL injury, and the back of the rotation is going to be a case-by-case basis. If Cease can string together two straight quality starts in AAA, it'll press the White Sox to give one of their top prospect arms a shot. Here's to hoping the White Sox's bad luck with prospects turns around with Cease.
Estimated call-up: By the end of May
3. Bo Bichette – Toronto Blue Jays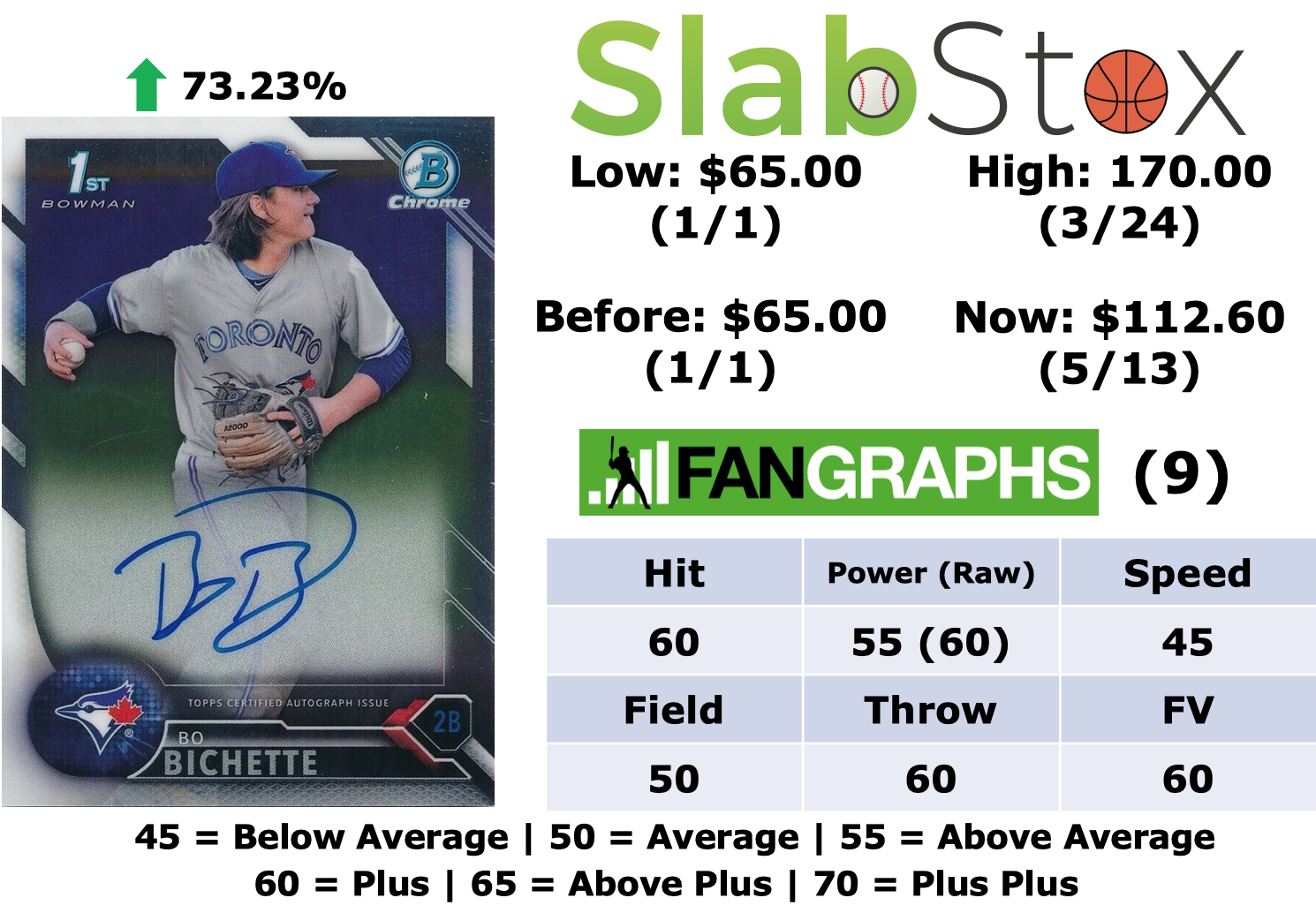 Why he's here:
For starters, yes, we know Bichette has a hand injury; however, that doesn't mean that once he returns (hopefully soon) he'll be down in AAA for long. Bo Bichette may be on the fast track to the bigs, as the Blue Jays would love to add Bichette to the infield with Vlad Jr.
After a dominant 2019 Spring Training showing great power, Bo's prices exploded, topping out at $170 a base. Since the injury, his prices have dropped back down close to $100. If there was anyone in this article I'd be looking to buy, it'd be Bichette. Currently, he is a great buy with the prices suppressed by injury.
His 2019 season numbers don't look awesome, but before the injury he was starting to get on a hot streak with some hits (and it is a small sample size, as well). Bichette will look to work out a few kinks before getting the call, but with the plus hit tool, I doubt it'll take too long.
Estimated call-up: By the end of June
Wild Card: Forrest Whitley – Houston Astros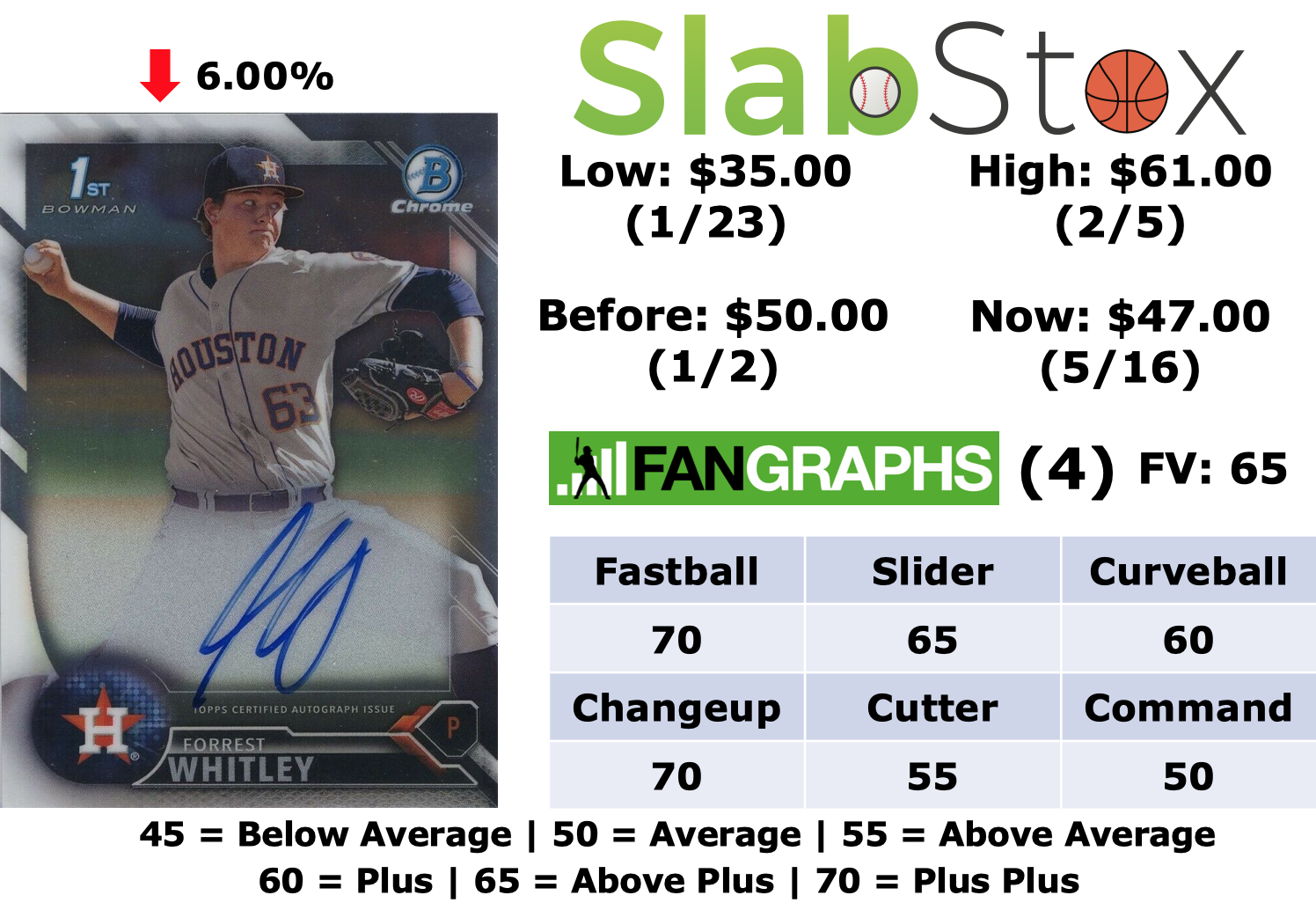 Why he's the wild card:
Whitley appeared to have a great shot to be an early season call-up for the Astros after a great Spring Training throwing the ball. He's been the number 1 ranked pitching prospect for two years now, but he has struggled badly this season. Because of that, the Astros opted to bring up Corbin Martin, who looked outstanding in his MLB Debut start.
In AAA this season, his strike out numbers are still excellent, with 11.78 K/9; however, the 4.91 BB/9, home runs per fly ball at 36.8%, and the 10.80 ERA are atrocious. He still has the ace potential; that isn't gone, but whatever is going on with the home run rate, it's got to be fixed.
He has a 5-pitch mixed comprised of all above average pitches (with four being plus or better) and average command. That is rarely ever seen. He is still worth hanging onto, and I would not panic sell (as you should never do with players you truly believe in).
With that being said, he needs to begin limiting the home run ball. He can't be given a big league shot until he does so. Once he can do that, he turns from a wild card to a probable call-up.
Estimated call-up: By the end of August (would've been end of June before the season)
Other players looking to make their debut in 2019: Jesus Luzardo, Brendan McKay, Ke'Bryan Hayes, Sean Murphy, Casey Mize, Mitch Keller, J.B. Bukauskas
Sign up for The Daily Slab email to get the most up-to-date sports card insights straight to your inbox.