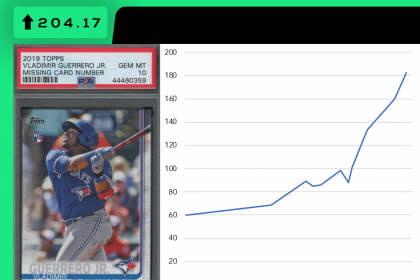 What's going on with the Vladimir Guerrero Jr. NNO (Missing Card Number) Topps Series 2 SP? At the beginning of December, the PSA 10 of this card was going for $60. Yesterday, an auction closed at $180.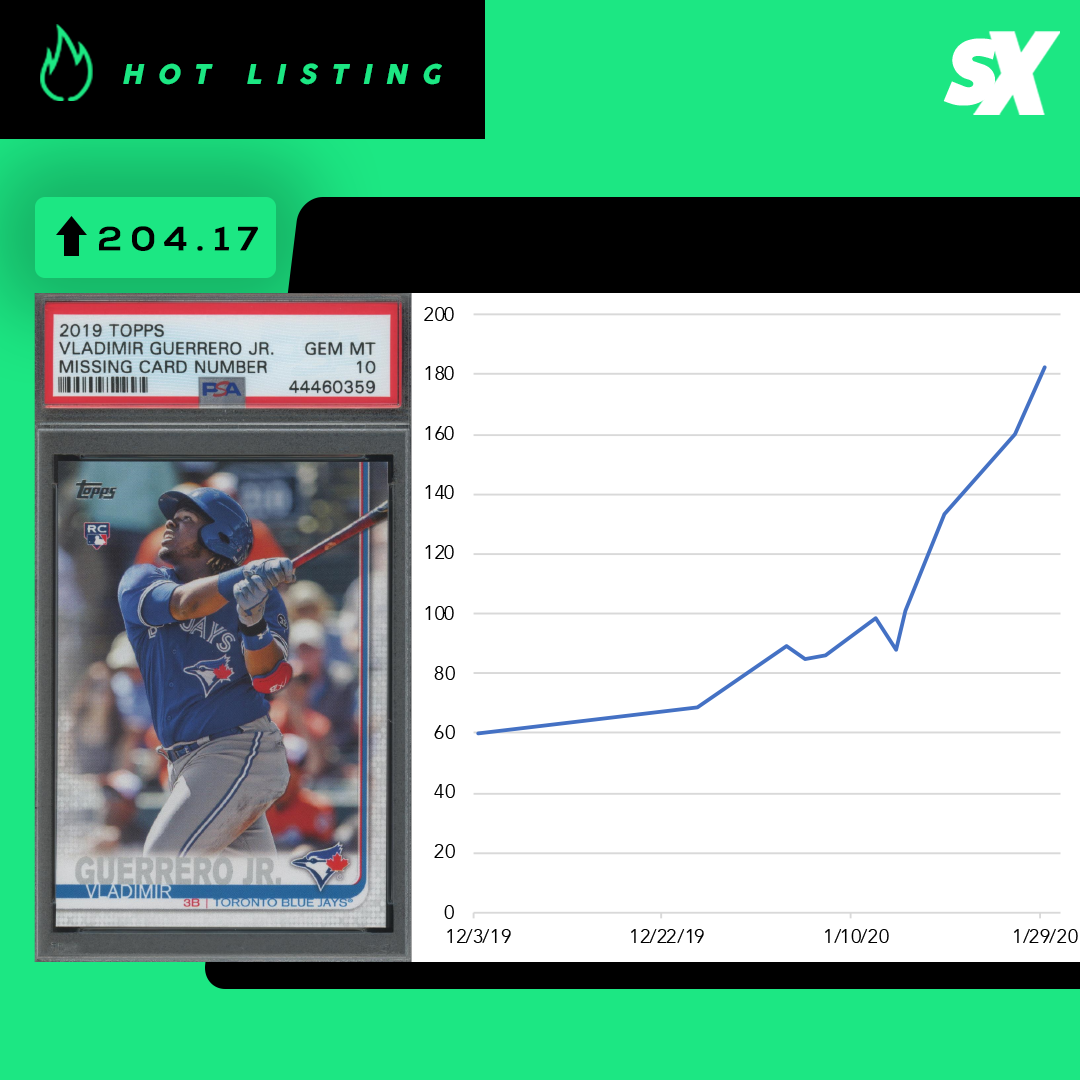 Before trying to understand the increase in value of this card, first we need to understand the origins of it and why this is "the" Vlad RC. Due to Vlad's call-up date, his first Topps flagship RC was treated much like Ronald Acuna's and Gleyber Torres' – a Series 2 SP. Ronald Acuna's SP is the iconic "Bat Down" RC, carrying a price tag of $900+ for a PSA 10. For all three of these cards, there are no parallels out there. Sure, you'll see Topps Chrome refractors out there of Vlad with the same image, but not Series 2 parallels (Black /67, Gold /2019).
The increase in price can be somewhat explained by pre-season hype starting, except this is quite early to see a card rise this much. Some of it may be attributed to people seeing the Bat Down PSA 10 selling for $900+ and automatically assuming this card can reach those heights. There are two main reasons why that's *most likely* not possible. 1) Vlad is not Acuna, 2) There are only 263 Bat Down PSA 10s out of 640 (41%). If you're wondering the Vlad NNO POP report, there are 1,558 10s out of 2670 graded (58%). Public opinion is the Ronald Acuna Bat Downs land about one per 2018 Series 2 hobby case, while the Vlad NNO land about five per 2019 Series 2 hobby case.
Could we see the Vlad NNO PSA 10 increase in price more? Sure, it's only the end of January, and this card is already on the rise. Generally, baseball cards start to increase towards the middle of February leading into Spring Training. There's a chance we could see these reach $200 by Spring Training. With the amount of demand coming into the marketplace, there's really no telling where these could settle at mid-season, especially if Vlad is going off.
Sign up for The Daily Slab email to get the most up-to-date sports card insights straight to your inbox.