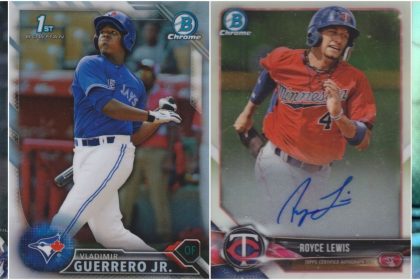 The other day, @bluechipbaseballcards on Instagram reached out seeing if we accepted suggestions for upcoming articles, and of course, the answer was yes!
He wanted to see what the market looks like for 1st Bowman Chrome autos versus autos that release later in their prospect life span (2nd Bowman). Clearly, 1st Bowman cards are far superior in value, but it is worth seeing if there is any investing potential at all in 2nd autos.
While there are a lot of high-end Bowman Chrome investors out there who won't even look at 2nd Bowman Chrome investments, there are also a lot of people out there that can't afford to sink hundreds of dollars into 1st Bowman autos of top prospects.
Recently, Topps has been including do-over prospect autos into their Bowman line. Off the top of my head, I know Royce Lewis, Brendan McKay, Brendan Rodgers, Michael Kopech, Lewis Brinson, Mickey Moniak, and MacKenzie Gore all had repeat autos since 2016.
Each were at least a top 40 prospect when their 2nd auto was released. The question is, is this a good thing to get a 2nd top prospects' auto into a Bowman checklist instead of bringing in new players, who may never have value?
That is yet to be answered since this is a newer trend Topps has been going with. While pulling a 2nd Bowman auto isn't exciting or what collectors are hoping for, there may be more value by including top-end prospects for a second go around instead of low-end prospects with a 1st Bowman.
While BlueChip was interested in the market differences for 1st autos versus 2nd autos, I took it one step further and researched 1st non-autos versus 2nd non-autos as well.
For the data collection, I compiled average sales over the same relative period of time for each card to see which increased at a faster rate.
---
First up is Royce Lewis. Royce was drafted with the #1 pick by the Minnesota Twins in the 2017 MLB Draft, so his 1st Bowman Chrome Auto was in 2017 Draft, which released in December 2017. Four months later, they add him into another set, 2018 Bowman, giving him his second Bowman Chrome auto in a short period of time.
Yeah, like you all expected, the 2017 1st auto increased 1.31 times as fast as the 2018 2nd auto. While we are all in agreement we'd rather invest in the 1st auto, that is not a slouch of an increase in price for a 2nd auto. It gives the investors with less capital a chance to still secure some profits.
The liquidity is way lower on 2nd autos (12 more 2017 sales in same period), but there is potential to make money if you aren't able to spend $100 on a 1st auto.
Next up is the 1st non-auto against the 2nd non-auto.
For this one, I went with a 2016 1st Bowman Chrome Vlad Jr Refractor and a 2017 Bowman Draft Vlad Jr Refractor. This one was a little harder to compile due to the amount of sets prospects are included in after their 1st Bowman, but this is what I was able to come up with.
In two short months, Vlad's prices went nuts. His 2016 1st Refractor increased by close to 90% as did his 2017 Draft Refractor. Of course, no one wants to buy and sell close to 35 2nd refractors to achieve the same profit, but there are small profits to make on those.
Another thing is the top prospect in baseball is only at $9 for a 2nd refractor. It would be extremely difficult to invest in an array of 2nd refractors of other prospects and realize substantial gains. For the purposes of this article, the shoe fits with Vlad to compare some percent increases to get a small peak into the market.
---
Wrap-up
I am not going to advise you to put money into 2nd Bowman Chrome cards. In fact, I don't think I have ever spent money on a 2nd Bowman Chrome, except for some Mega Box Vlad and Soto Refractors since they didn't have a "1st" on their first Mojo Refractor.
However, if you don't want to risk hundreds on a top 10 prospect 1st Bowman Chrome auto, give a look at their 2nd auto or refractor. They can be had for a bargain and still get you some profit if the player produces.
Previously on SlabStox: #StoxTrends: Spring Training Week 2
Next on SlabStox: Prospect Profile: Chris Paddack
Sign up for The Daily Slab email to get the most up-to-date sports card insights straight to your inbox.